Spending the year in Germany for a student exchange or an expat contract? Well, you're in luck! This post is for you!
With Oktoberfest being right around the corner, now is certainly not the time to lay off on your drinking game. In fact, it will be very difficult to take too much time off with so many awesome festivals year round. Every three months, Germany hits us with an out-of-this-world drinking extravaganza and you definitely don't want to miss any of them. So here are my four reasons to drink in four seasons.
FALL | OKTOBERFEST IN MUNICH
Don't let yourself get confused by its name! Oktoberfest does take place in September. This year, the Mayor of Munich will have the honour of kicking-off the festivities by tapping the first keg on 16 September 2017 at noon. The festival will last three weeks. That's three weeks of heavy drinking every day from 12:00pm to 10:00pm until 03 October 2017.
What to know
Yes, Oktoberfest is full of tourists! This has been one of the main critiques I have heard over my two years spent so far in Bavaria.
Accommodation becomes super expensive during that time of the year and so are food and drinks on-site so you might want to stuff your belly for cheap before getting there. Although Oktoberfest became a true Tourist Money Sucking Machine, it is still the biggest drinking party on the planet and you definitely need to live this experience.
Prepare in advance! This means, of course, to book your accommodation way in advance to put the grapple on the most affordable offerings.
Book your table! If you get to the site as early as 30 minutes after the tents open, you will wait a very long time before getting in. The best way to avoid the waiting is to contact one of the tents in advance and book a table, especially if you are a group. For my first Oktoberfest, I did not manage to make a reservation, but Montreal taught me well: I slipped a 20 to the doorman and me and my two friends were in within minutes. Bribery is highly frowned upon in Germany, so if you dare do it you might just provide yourself with that little edge needed to get the party started. Once you're in you will have to be at a table (and not on the passage). Just invite yourself to a group of happy drinkers as Germans become super friendly once inebriated. Although, you will witness quite a few people with the posture resembling the one of an overcooked noodle and see people – men like women – taking a wizz wherever the wind blows.
Don't miss the Opening Ceremony! If you fancy catching it, the Schottenhamel tent is the place to be, if you want to catch the official opening ceremonies.
What to wear
Although it will be full of tourists, they will be hardly noticeable as everyone plays along and dresses for the occasion. So if you don't already own a Lederhose (for the gentlemen) or a Dirndl (for the ladies), you WILL look like a tourist for sure. Not only will you look odd, but you will also feel like an outsider to the party. So, make room for this purchase in your budget and get yourself a true Bavarian drinking uniform! Prices vary anywhere between 100 euros and 2000 euros. Mine costed 100 euros and it's good enough. I've had it for two years already and it is still "in fashion" (in the world of Beer Fests).
What to drink
Beer! What else? Each brewery has its own tent which only offers one type of beer – usually blond – served in a one-litre mug called a Maß (pronounced "mass"). Kind of a one-size-fits-all type of thing. If you don't like beer… then, you're in the wrong country! You can still get other drinks such as the very popular Radler (half beer, half lemonade – kind of an Arnold Palmer, also served in a one-litre mug).
WINTER | CHRISTKINDLESMARKT IN NUREMBERG
You might know this one as the "Christmas Market". Nuremberg is very famous for having the most popular Christmas Market in Europe. Christkindlesmarkt takes place each year during the Advent (from December 1st to the night before Christmas). So, you've got yourself a large window of 25 days to try all the local delicacies the Franconian part of Bavaria has to offer.
What to know
The Christmas Market is located right in the heart of Altstadt (Old Town) on Hauptmarkt (the main market square. Walk around and let yourself being enchanted by the handcrafted ornaments for sale, the smell of sausages sizzling on the grill, the steaming cups of mulled wine. In my experience, the strongest drinks can be found at the children's section of the Christmas Market. After all, parents do need it! Don't miss the Opening Ceremony which takes place on the first day of the Advent. If you thought you'd see Santa Clause announce the beginning of the Holy Season… tough luck! Germans replaced it by a young woman dressed in white and gold, with curly blond hair, a tall golden crown and angel-wing-like long golden sleeves giving a speech right in front of Frauenkirche (Church of Our Lady) in Hauptmarkt. It is considered a great honor to personify the Christkind for this traditional ceremony.
What to wear
There is not so much snow in Nuremberg, but it WILL get humid. Make sure you wear a warm winter jacket (from a certain German sports brand with three stripes if possible… lol!), wool socks, gloves and a warm tuque. Bavarian winters have got nothing on the Canadian ones. However, if you are from a warmer location, make sure you dress accordingly. As opposed to the other events listed in this post, the Christmas Market does not have a determined outfit of predilection. Although, you will notice here and there people selling Santa Claus hats and other flashy gizmos. If the Christmas Spirit has gotten you and you feel like wearing your newest ugly Christmas sweater, then go ahead: Be "Christmassy" and have fun!
What to drink
The most popular drink at the Christmas Market is, of course, Glühwein (mulled wine). There are many types with different flavours going from the regular one to the white version of it, and even with field berries. My personal favourite – and not to make it easier for you to learn German during your stay – is the almighty Feuerzangenbowle. A long-ass name that describes a glass of mulled wine topped with a flaming sugar cube soaked in rum. An absolute "must-try" along with either a salty "Drei-im-Weggla" (three medium-size sausages in a bread roll) or a sweet Lebkuchen (Nuremberg's signature gingerbread cookie).
Good to know: Bartenders will ask you is you would like it "mit schüss" (with an extra shot in it). This could make your evening very pricy. So, a good practice my German friends taught me is to leave your home with a flask and add the so-called "schüss" yourself! Germans are indeed professional drinkers!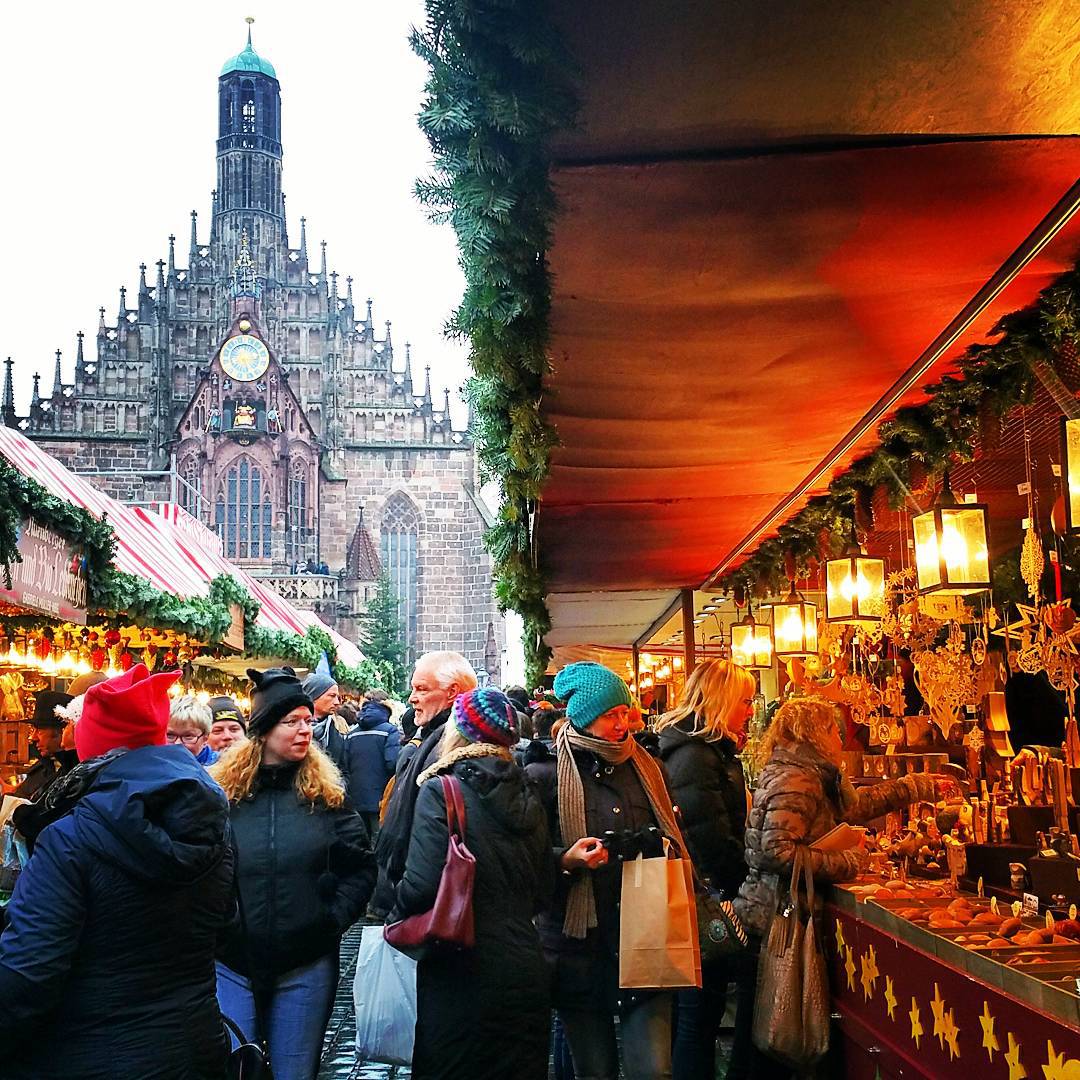 SPRING | KARNEVAL IN COLOGNE
And yet another reason to get smashed in style as the Carnival of Cologne will gladly pull you out of the mid-Winter depression into a level of craziness you have never experienced before.
What to know
This year's Karneval officially begins on November 11th at 11:11 a.m. (That's on 11/11 at 11:11). However, the festivities climax between Weiberfastnacht (Shrove Thursday, or the Thursday preceding Rosenmontag (Rose Monday)) and Ash Wednesday which, this coming year, will be from the 8th to the 15th of February 2018. Now I know that February is not Spring just yet, but being Canadian got me used to have streets overflowing with snow until May of each year. So, as long as I don't see snow anymore, that's Spring to me! After all, Germans don't refer to the Carnival of Cologne as "the fifth season of the year" for nothing! The most important event of Karneval is the Rose Monday parade where highly decorated floats parade through downtown. Sometimes wacky, sometimes political – always entertaining!
What to wear
Well, how to explain this… You can literally dress up as everything you want as long as it's crazy! I'm talking unicorns, …. anything goes as long as it's original! In fact, the most original the better, so you might want to think a bit before ending up with a costume that will be taken by other people on-site. Have you ever ran into someone wearing the same outfit as you at work? Well, it's not fun and you definitely want to avoid that during Karneval season. If you plan on experiencing the Carnival as a group, a common theme for all members is a popular option.
What to drink
The "crazy days" of Carnival are celebrated with parties on the streets, in public squares and in pubs. Closing times for pubs and bars are suspended for the duration of the festival. In other words, there will be A LOT of drinking! There is no official beverage for the Karneval so you can enjoy your favorite drink.
SUMMER | BERGKIRCHWEIH IN ERLANGEN
The Bergkirchweih is an annual beer festival in Erlangen. It begins the Thursday before Pentecost and attracts about a million people every year. It is known to be the "cozier" version of Oktoberfest.
What to know
Unlike Oktoberfest happening in tents, Bergkirchweih takes place right at the foot of a hill in open air surrounded by chestnuts and oaks. The concept is very similar to the one in Oktoberfest, although this beer fest is much more local and authentic. The student city of Erlangen comes alive for two weeks as students and young professionals from the surroundings join the party. You might have never heard of a "Pfand" before, but this concept is very common in Germany. Whenever you take part to a festival i an open area, you will be asked to give a Pfand – a deposit – on top of the cost of your beer. It usually goes anywhere between 3€ and 5€. With your beer you will also receive a token which you will need to keep until you return it with your mug. This is to ensure people don't start stealing mugs for a profit. One last thing you should know is that you will be seated at a picnic-style table. When the live band starts playing, it is allowed and even highly recommended to dance on benches. Just remember not to stand on the tables as you will get kicked out by security. Also, try and keep your balance as some smartasses will try and make you lose it on purpose. Drunk people…
What to wear
Erlangen is a student city just north of Nuremberg – about 20 minutes by train. With this beer fest also taking place in Bavaria, this means only one thing: It's Lederhose Season all over again! Just like at Oktoberfest, you definitely want to wear your Lederhose or your Dirndl at this event. Although this festival is much less known from the tourists, you will enjoy the true Bavarian experience while surrounded by proud residents of the region.
What to drink
Beer, beer and beer again! It's no time to get fancy! Grab a Maß and join the crowd as they are dancing and singing along over old 80's classics! the menu is almost a copy/paste of the one from Oktoberfest as both Munich and Erlangen offer a menu selection from Bavaria. You will notice that prices are a little more decent at Bergkirchweih.
As you might have noticed, some of those festivals are pretty difficult to pronounce. I guarantee it will get much easier after a few litres in your system. On that note, all I need to say is Prost! Viel Spass in Deutschland! And, remember to drink responsibly!
Auf Wiedersehen!
Have you been to Germany before and attend to any of these?
Have you ever experienced Oktoberfest anywhere in the world before?
Don't forget to book your travel insurance before travelling!
---
If you like this article, follow our Adventures on Facebook, YouTube, Twitter, Instagram @adventurefaktory, Snapchat AFtravels, to keep up with new posts and updates! Most importantly, follow James on Insta!