When I think of Vienna, I think of grand hotels. For the occasion, I arranged a night stay at the Palais Hansen Kempinski Vienna, which is in this beautiful property built in 1873 for the Vienna World Expo and designed by architect Theophil Edvard Hansen. It was leased by Kempinski in 2010 to open in 2013 after the renovations. The first-floor glass ceilings over the three inner courtyards was part of the addition and due to this ceiling it was impossible to hang a huge chandelier; hence the iconic upside-down standing chandelier in the lobby! This piece is quite unique and never I have seen anything of the likes before!
Lobby at night is the most charming thing about the Kempinski!
Where is it Located?
It is located in the middle of the Boerse district, straight on the popular Ringstraße Boulevard (Ring Boulevard) of Vienna, slightly out of the city. Walking to the main part of town is possible but further than if you were staying smack right in the middle. We suggest that if you're a fan of walking, when you plan a visit to Vienna, split your stay at two different properties to be able to see both sides of the city; At the Kempinski Vienna for easy stroll along the Danube River and then near to the city centre for the touristy corners!

Things around The Palais Hansen Kempinski Hotel
It is within a 5-minute walk of the Sigmund Freud Museum and very conveniently located beside the Danube Canal where I enjoyed walks along the only place you can find street art in Vienna!
There are many cafe/bars along that strip and it is also convenient to get to the popular social hot spot Tel-Aviv Beach. Unfortunately I was there during the week and it was quiet during the day. During weekends the place is buzzing with people getting some sun and beer!
There is also one of the world's best bars, Planter's Club, located just behind the hotel. If you like your whisky and cigars, don't miss this place!
For you to get a better idea, a walk from the Kempinski to the St Stephen's Cathedral (the most centre point of the boulevard!) is about 1.2km and takes around 15 minutes.
How to get around the hotel
Just outside the hotel are tram stops that allow easy access around the historic First District (Innere Stadt), so don't you worry. Schottenring underground station (U-bahn lines U2 and U4) are only 5 minutes. I recommend using Uber when staying at the Kempinski!
Eat and Drink at The Palais Hansen Kempinski Hotel
The hotel has 2 restaurants, Die Küche (The Kitchen) and The Michelin-starred restaurant Edvard. The breakfast buffet is served at Die Küche from 6:30-10:30. The custom menu for breakfast was my favorite as I was able to order some delicious dim sums and spring rolls! The selection was amazing and the DIY Juice bar was clearly a highlight for many guests that were ready to line up and wait for their turn to make a special fresh juice mix! Cool fact, on weekends the buffet breakfast takes place until 2pm, which is a huge plus and not very common at many places. The hotel has also 2 bars but you can also have your drinks in the lobby which is magnificent in the evening; clearly a very popular spot to meet up and have meetings throughout the day!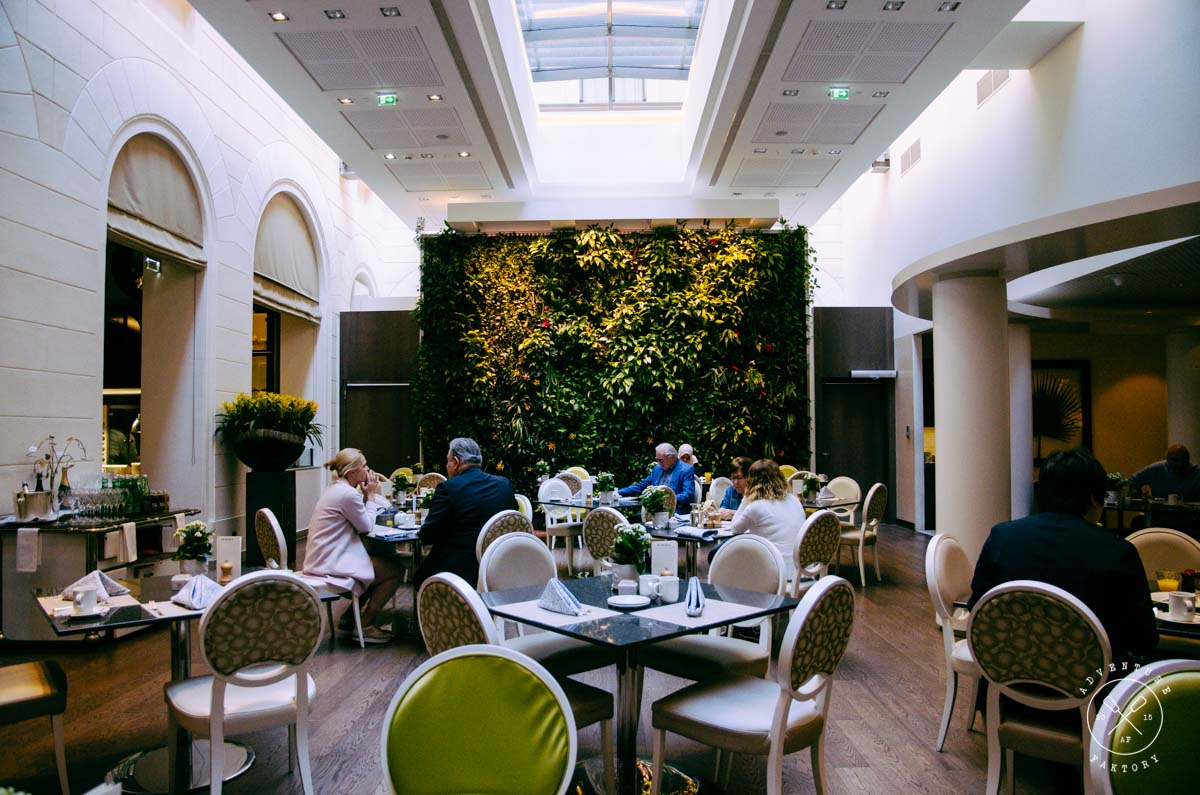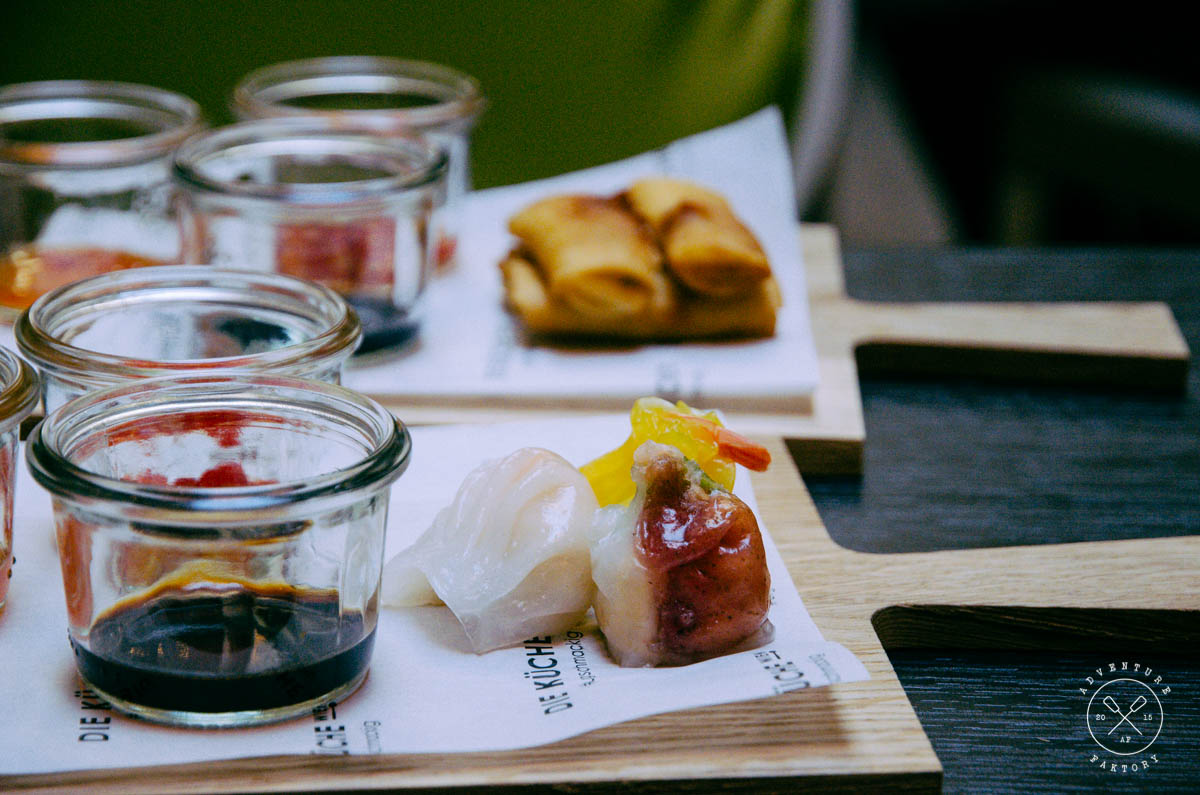 The Palais Hansen Kempinski Hotel Facilities
The Spa facilities are on the hotel's mezzanine level, with an indoor small pool they call hydro pool. From the comments gathered many people expect a big indoor pool, but once there they realize it is more of a small chill pool. With the atmosphere you find there they still end up quite satisfied with the unexpected. I absolutely loved it because of the lighting and vibe. The Spa has six treatment rooms, steam room and a "bio-sauna" with mixed and ladies-only areas available. On the same level there is a modest gym with Technogym equipment, just enough to keep your muscles working for a few days, but clearly not enough space to make yourself a circuit with body weights.

Palais Hansen Kempinski Hotel Rates
Basic rooms booked early are rated at €350 (~US$390) including taxes and surcharges. A Junior Suite like the room I was in is, at an early booking rate, around €490 (~US$550). These rates do not include breakfast. Check out the prices and rooms available now!
How was the stay?
When I arrived in Vienna, my Uber brought me straight to the hotel. He was so carried away to discuss the city with me that he missed the turn to get in the service road to drop me off at the Palais Hansen Kempinski hotel. We did a loop to finally arrive and it was getting quite late and I was tired. Check-in was very fast as they could see I needed a rest as soon as possible. The staff gave me two shots of juice to stay awake for the check-in. I was showed to my huge room where delicious treats were waiting for me. Sweets that definitely woke me up to be able to do some work before sleeping! The high ceilings are timelessly classic in the 1920s and 1930s design that was clearly reflected in my Junior Suite. Staying here gave me good sense of classic Viennese style and it was a great introduction to my first time in Austria.
DISCOVERY Loyalty Programme Member?
Kempinski Hotels are part of DISCOVERY Loyalty, an amazing program we are signed up with. From staying at many hotels & resorts from the DISCOVERY Loyalty programme, you can get to the BLACK membership which gives you many perks. To name a few of the BLACK Membership, we can get upgraded to the next room category at check-in (happens upon availability), late check-out privileges until 6pm, etc. You can get Local Experiences with the PLATINUM status as well, so don't you worry! When you are a member and have enough "points", you can redeem at the Palais Hansen Kempinski a Cigar & Whiskey experience, Luxury massage with champagne or a four-course menu at Edvard!
Disclaimer: This article contains affiliate links. We use them as a way of assisting us in maintaining our website and follow our passion.  Please use them when you are booking as it supports us greatly. We have not been paid to stay here and all opinions are our own. Thank you.