There are so many reasons to go to Bali. Some want to the white sand beaches, others want to get amongst the active nightlife. Ubud is known as the relaxing part of the island and is away from the hustle and bustle. If you are looking to get in touch with nature with a hint of luxury, staying at the Alila Ubud may be the right place for you.
Where is Alila Ubud located?
Alila Ubud is 5km away from the main part of Ubud town. It is very much out of the township and located straight in between several local rice terraces. You will wind your way through the fields until you reach the hotel entrance. There are many wonderful walking and biking paths around suggested by Alila. It is also located closer to the famous Tegalalang Rice Terraces compared to if you were staying in the heart of Ubud. Just a heads up that you will be quite isolated here, so if you have a craving for snacks, make sure to bring them in your luggage!
How to get around from Alila Ubud
The property has a buggy service to take you around if need be but the best way to discover the property and its surroundings is through the push bikes. It is not a large area so walking from your room to the other facilities is fine. If you are like us and want to explore a bit, then get the active wear on and grab a bike to stroll around! They have so many bike paths for you to cruise around and see villages; this will take you around 2 to 3 hours depending on the time and path you take. Other than rice fields, forest and villages there is not too much out this way so if you have some craving for some snacks, make sure to pack them before.
Dining at Alila Ubud
Breakfast is different everyday with many small options! They encourage you to order tons of different meals raging from the traditional eggs to Balinese local breakfast. We absolutely enjoyed trying a little bit of everything!
We tried out the dinner at the open air restaurant called Plantation over an incredible candlelit dinner. It was very dark so not optimal for those food instagrammers but the food itself was outstanding. We chose to eat the local Balinese courses made from the local chefs and they really opened our eyes to how creative and good Balinese food can be. There is plenty of coconut and spices in the dishes, both of which we love so the meal was very enjoyable.
Down at the central hotel bar they have daily afternoon teas which are complimentary to all the guests. This was one of our favourite aspects of staying at the Alila and eating the delicious different sweet treats accompanied by the tea fusions they created. You can also eat as many as you wish whilst sitting by the beautiful pool overlooking the rice fields. What an experience!
Alila Ubud Facilities
Two Words. The Pool. The infinity pool is the cornerstone of the property and is in the middle of all the action. The pool finishes at the edge of a cliff overlooking the valley below. Make sure you get to the pool nice and early as there are not too many beds so they go real quick. The bar and afternoon tea is right beside the pool which is also very enjoyable.
There is an art gallery for all those art lovers with pieces from many talented local artists. Not many resorts have their own art galleries and it sure is enjoyable when they do have a space to showcase local talents. Alila has a great spa and if it is your first time experiencing it an Alila Spa experience, worth coming prior to your treatment to discover their range of spa products. Unfortunately we cannot speak for the spa massage itself at this property as we didn't have the chance to arrange, but we have experienced it in Alila Jabal Akdar in Oman and it sure is a blissful experience.

The Alila arranges complimentary children's Balinese dance class weekly, so if you travel with your little ones, worth participating to this experience. Around the pool at the bar/afternoon tea area there are a lot of games around you can take and play, it's truly a homey central area where guests are welcome to spread their games around or bring their laptops and station there to have some little work done with an alcoholic drink!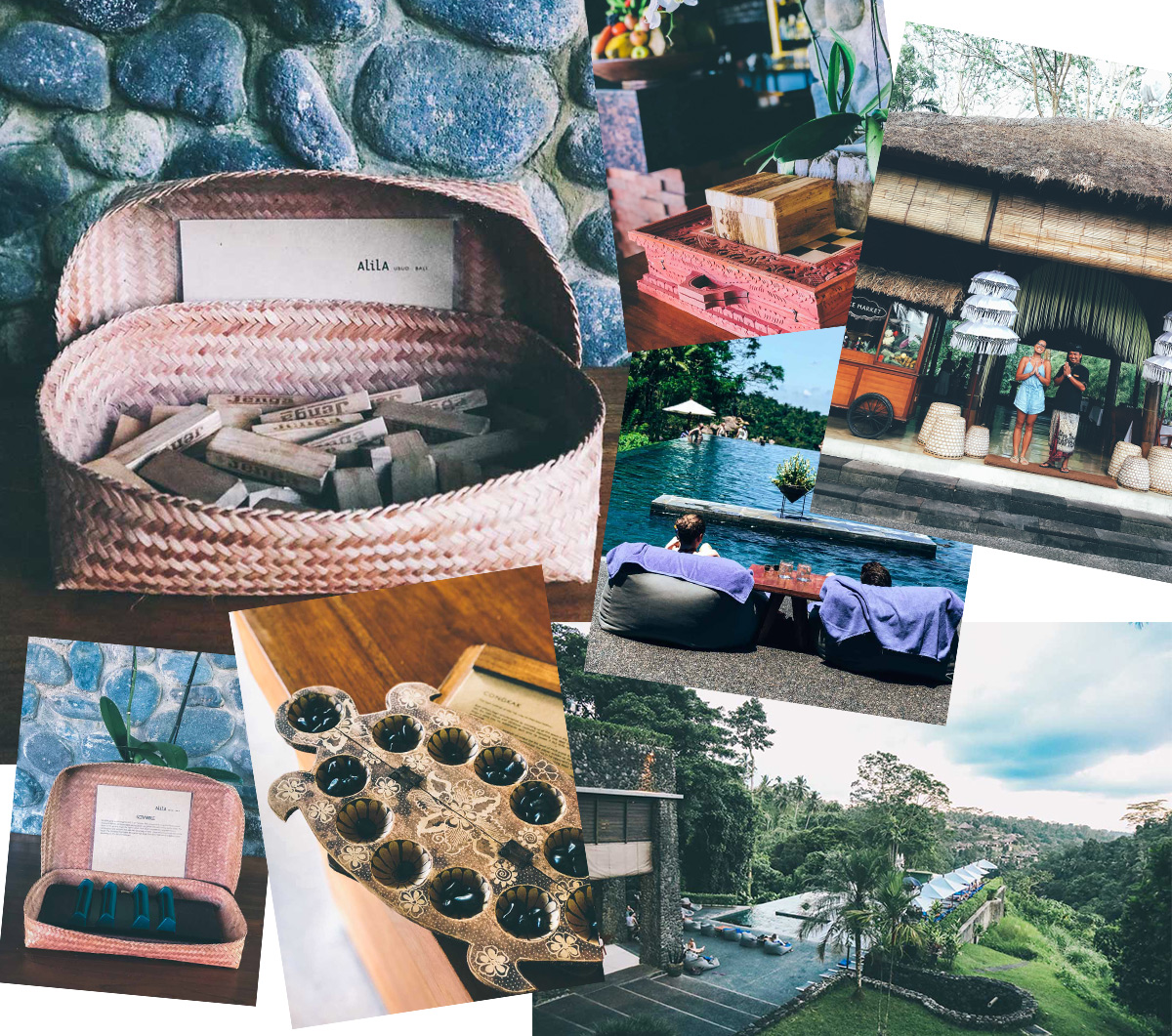 Unfortunately, the Alila Ubud does not have a gym. The alternative for the active guests would be to grab the bike and or run around the suggested tracks. There is always a way to stay active when travelling even when gym facilities aren't available!
Alila Ubud Rooms
The rooms are showing signs of age but are designed to maximise the feeling of being in the jungle. They are made out of local products and some of the villas hang out over the cliffs above the forest. The front of our room has a balcony area that faced directly out to the jungle in all its glory. We were told specifically not to leave anything out there in case the monkeys were to get hold of it. Our room itself was a little minimalistic and plain, but the outdoor shower and adjoining rainforest room were incredible additions to the balinese style rooms. Note that the Alila has a no TV policy as you come here to get lost in nature and relax! Basic rooms start from approximately 200$USD, but if you think you can beat that price, check out Booking.com and Agoda.com
Sustainability at Alila Ubud
Alila Ubud has made a real push to create a sustainable environment and this is something we really like to see. They use all international eco performance benchmarks and engage with local communities to create economic opportunities and sustain the environment. All vegetables and fruits are supplied locally and they encourage low packaging items. They also prioritize local employment with hiring 92% of employees being native to the island. There is no use of plastic bottles and straws are all reusable. Alila Hotels as a brand itself is really one among the most sustainable hotels you can currently find in the hospitality market.
DISCOVERY Loyalty Programme Member?
Alila Ubud is part of DISCOVERY Loyalty, an amazing program we are signed up with. From staying at many hotels & resorts from the DISCOVERY Loyalty programme, you can get to the BLACK membership which gives you many perks. To name a few of the BLACK Membership, we can get upgraded to the next room category at check-in (happens upon availability), late check-out privileges until 6pm, etc. You can get Local Experiences with the PLATINUM status as well, so don't you worry! The experience we went on with Alila Ubud was the Mount Batur experience (this experience isn't always available to book). The islands biggest mountain provides an incredibly beautiful sunrise and the hotel was on hand to get us there. We woke up at 2:30am and were driven to the base of the mountain. At 4am, we began our walk up the mountain. You will need a jumper, blanket, torch, a camera for sunrise shots, water and snacks. Alila gave us a food pack and plenty of water for the walk. They even had a guide who spoke to us about the history of the area and made us feel safe the whole way! We will show you that experience separately!
How was the experience at Alila Ubud?
One thing about plenty of these resorts is that you only have the option to eat there, as there is nothing around. So if you do not like the food, you may struggle. Luckily here at Alila, they can cook up virtually anything and make your stay super pleasant. They also have ice creams they bring out to the pool guests as they are lounging in the sun. From a fitness perspective, we personally like places that have a gym to work out in, but there was a huge pool you can swim laps and bike ride for days so we had enough physical activity planned. As said earlier, afternoon tea rally stole our hearts. It was amazing to sit and looking over the pool and the horizon whilst feasting on tons of delicious balinese sweets with tea.
Disclaimer: This article contains affiliate links. We use them as a way of assisting us in maintaining our website and follow our passion.  Please use them when you are booking as it supports us greatly. This stay is not a paid collaboration and all opinions are our own. Thank you.