Sometimes the best things come to those who wait. So after several plane rides, we arrived in the unique country of Mozambique. We knew very little about this place as we landed in the central coastal city of Vilanculos.
NOTE: When flying into Vilanculos, most of us travellers will have to pay a $50USD visa fee on arrival. Get off the plane quick as this process is not the most well run, so you can wait over 45 minutes as we did.
To calm our nerves, we were comforted as we were greeted by Anantara Bazaruto Island staff waiting at their very own private lounge corner at the airport with refresher towels, cool drinks and smiles all around. From the Vilanculos airport, it is a 15-minute car ride to the coast, where a speed boat is waiting for you to take you to the remote island of Bazaruto. Hope you don't mind getting a little bit wet, you may have to get into the water to get to the boat! So pro-tip, if you booked this resort, wear something you can fold up easily!
During the 45-minute boat ride, it is best to keep your eyes glued to the water as you may be in luck and spot some dolphins frolicking the water. We saw about a dozen of the little guys swimming around the boat. Even rarer, there are dugongs that are in the waters that have seldom been spotted. Guess what? We saw them! Some people have done this trip for ten years and never once had they seen them! We knew we were in for a wonderful experience.
Facilities at Anantara Bazaruto Island
There is plenty to do on the island to keep anyone busy for a week. If you like playing sports, there is a golf driving range for you to get some practice in. There is also a fitness centre which has everything you need for a good workout to burn off your breakfast bread and juices. If you enjoy water sports, they have a large range of non-motorised equipment for you to check out at their water sports centre near the Beach Grill restaurant. They have diving, snorkelling and deep sea fishing options for you. There are also several shops by the waterfront where you can pick up some presents for all those annoying aunties and uncles that are never happy with your gifts. There is also a tennis court for a casual hit and also a Beach volleyball court if you are here with a few friends.
Anantara Bazaruto Island Spa
The Spa is nestled at the very top and highest point of the island. For our last evening, we enjoyed a couples massage. The spa has the best view on all the island and is a must for the sunset drinks. If you can, try and get there earlier to enjoy the views that the sunbeds have. If you are like us, there is a Jacuzzi that is a great way to relax before or after your massage. There is a cold pool right beside the jacuzzi if you are the type of person that enjoys some ice bath therapy! Sunset is absolute magic there so grab your seat in the jacuzzi.
Rooms at Anantara Bazaruto Island
We were blown away by the sheer size of our Sea View villa. There are only 44 villas so you are totally in your own secluded space. The villa has a living room which is big enough for several chairs and a big screen TV. The outdoor deck could easily fit a large family and faced the ocean and the resulting sunset. There are two shower options, indoor and outdoor and a large in-ground bathtub with a window that gives you an ocean view as well. Make sure you get the staff to arrange a bubble bath for you with some rose petals. 20 seconds walk from your patio you have your own deck chairs that sit on the beachfront you can use any time of the day. Some villas have a private pool, good for photos and dips when you are burning during your tanning session but definitely not for laps of swimming!
View this post on Instagram
View this post on Instagram
Dining at Anantara Bazaruto Island
During our first night, the team had arranged a super romantic dinner by the beach as part of the Dining by Design experience, which can be unlocked also if you have a DISCOVERY Loyalty membership. Here we had a private setup, surrounded by candles, flowers and arches. It is a great surprise wedding or engagement set up and is highly recommended. Oh, and the food is abundant and of the highest quality, as you would expect from an Anantara resort.
View this post on Instagram
View this post on Instagram
If you are more of a breakfast person, they can also arrange breakfast on the sands, in which a platter of fruits and juices are waiting for you. The next course comes from the À la carte menu and you can order virtually any breakfast you want to have. We were so full that we didn't even bother with having any desserts. We recommend that you start your breakfast experience early as it gets warm quickly.
Golfino is the main restaurant where breakfast is served. It is a buffet style catering and they offer a host of juices and coffees. It is located in the centre of the property right next to reception and is easy to walk to. When the resort isn't too busy or when there are special occasions, there is sometimes no buffet and breakfast is served only À la carte.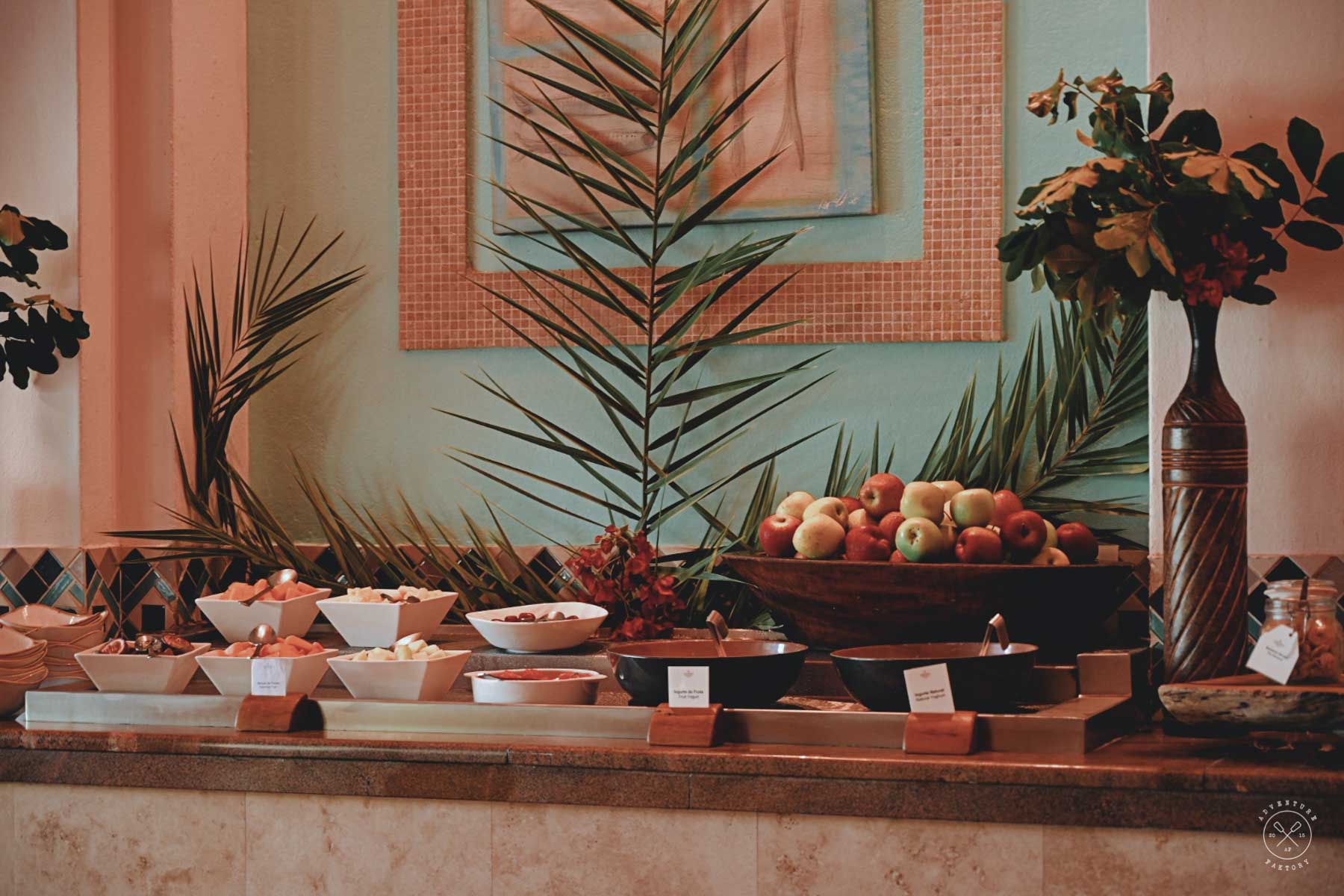 Beach Grill is the bar and restaurant where you can sit and watch the sunset in front of your very eyes. It is located at the arrivals by boat at the resort. It is a great spot for a cocktail and if you are feeling hungry, you can order some tasty seafood dishes while sipping on some wine. It is also not bad for an evening snack and drinks to see the sun go down. If you decide to do so, you might catch the musical team play some sunset tunes in their traditional gowns.
Tartaruga is the oceanfront dining experience on the front deck overlooking the water. They do not have this every night, but they are really flexible with the eating areas. If the chef feels like it, he will cook or banquet done there or back in the restaurant. It is a very casual vibe which makes your stay at the Anantara a great place to enjoy casually your food experience. Down by the waterfront you can also check out the pop-up gin bar they have every few days, make sure you ask for the special!
Sustainability at Anantara Bazaruto Island
Being on a remote island, the Anantara makes a huge effort to ensure they are being as sustainable as possible. Working with the local community, they have several projects and initiatives to assist the locals of the island. This includes building schools and making sure they have access to clean sanitary conditions. They still use plastic bottles for water here but this is due to the extremely poor water conditions in Mozambique in general so ordering in plastic water is much more of an operational decision and they are making efforts to improve this. They also have their own vegetable garden they use to cook up some fresh food.
Our experience at Anantara Bazaruto Island
Even though Mitch was extremely ill during his time here, we still managed to do so much and really experienced the beauty of Mozambique's beautiful island of Bazaruto. The team went out of their way to make sure Mitch had appropriate medication and was comfortable to get better as soon as possible. It was good that there is a nurse on the island just in case situations like the one we were in would occur.
Booking a vacation on Bazaruto Island was quite special as you put yourself in the opportunity to spot crocodiles, dolphins and dugongs. Since it's a remote island, there is no other traffic around other than the other guests, so it has a very laid back feel, and the hospitable staff always made us feel at home.
Cooking class experience
We had a cooking class with Chef Donaldson, the head chef from South Africa. We started the cooking class by walking through their very vegetable garden and hand-picked the food that we were going to use for the class. Chef then helped us cook local Mozambiquan dishes using mostly fresh seafood and fresh produce from the garden. After cooking up our dishes, we plated them and guess what? We got to eat the fruit of our labours and it tasted so good!
Horse riding experience
If you love horses, then this is a truly magical experience. Anantara can arrange a horseback ride along its white sand beach. It is a beautiful way to see part of the island. We had two horses which we rode up and down the beach and our friend Alyssa even went for a little swim with her horse!
Island Tour experience
One of the highlights of the resort is the chance to get a boat tour which takes you to some of the best snorkelling spots around the island. After an hour of seeing blue waters, coral reef and hundreds of fish, we were absolutely starving and needed some food. We were taken to another island with the "muddy sands" that resembled like makeup from the sky, or even mashed potatoes like our friend liked to call it. It looked absolutely stunning and white. We took plenty of drone shots and as that was happening, the boat crew were preparing a surprise. On the other side of the sands, they had prepared us a banquet lunch. It was full of meat, salads and other local delicacies for us to feast on. What a treat and a great way to finish our island hopping experience.
View this post on Instagram
View this post on Instagram
Dhow boat experience
For the evening, we recommend you to go enjoy a sunset dhow ride over the smooth shores of Bazaruto island. The sunset is absolutely wonderful as you would expect from Africa. The team will suggest you play your own tunes and will serve you any alcohol you request in advance or simple white wine like we simply were satisfied with. Chips, snacks, and fruits will be served during your dhow boat experience. Of course, we requested the opportunity to try to "drive" the Dhow. Was quite fun and I felt like a cool boss.
Island Safari experience
What? A safari on an island? Yes! You can hop on Anantara's safari truck and go on an island tour to see some villages, the schools they have helped build, drive by some lakes to spot the crocodiles and whole tons of birds. There are many varieties of birds in Bazaruto Island, so if you are a bird watcher, this is the place to be! You can also arrange to go sand boarding. In a nutshell, the Anantara team can arrange your itinerary exactly to what you desire to enjoy your experience to the maximum.
View this post on Instagram
View this post on Instagram
Disclaimer: This article contains affiliate links. We use them as a way of assisting us in maintaining our website and follow our passion.  Please use them when you are booking as it supports us greatly. This stay was hosted and is not a paid collaboration. All opinions remain our own. Thank you.