Upon walking into Anantara Mai Khao Villas in Phuket, you are greeted with ponds of luscious green lily pads, filled with hundreds of fish swimming, walkways over the water and smiling staff waiting to get you settled in as quick as possible. After one of their refreshing welcome drinks, the "Power" to cool you off from the humid Phuket weather, the buggy takes you and winds you through the rainforest vegetation to your awaiting villa.
Where is Anantara Mai Khao located
Anantara Mai Khao Villas is located north of the international airport of Phuket Thailand. It takes about 20 minutes from the international airport. The Mai Khao area has several luxury hotels and resorts and the Anantara Mai Khao Villas is part of it. The Turtle Village right beside is full of shops and restaurants and is about a 1-minute fast walk from the lobby.
How to get around at the Anantara Mai Khao Phuket Villas
From the Phuket international/domestic airport, getting a Taxi or GrabCar costs approximately 500 THB (15$US). This process involves some negotiation with drivers but is simple to do. If you are looking for something easier and want to avoid the hassle, Anantara can arrange luxury car transfers from 1200 THB and up depending on vehicle type. Grab in general is hassle-free to negotiate a fee as it is fixed based on demand and distance.
Our personal favourite way to get around the large property was riding around on those push bikes. The green coloured bikes are free to take no matter where they are on the property so you must just walk around, find a bike and hop on! The property is well spread out so you can call a buggy from the lobby and they will come to collect you in a few moments. Never was there a long wait for a buggy, the team is extremely fast to come to pick you up.
 

 

 

View this post on Instagram

 

 
Dining at Anantara Mai Khao Phuket Villas
Every morning breakfast is served at La Sala. There is a buffet which serves a mix of Asian, Indian, cheeses and plenty of desserts and pastries to choose from. There is also a massive juice stand that has all types of fruit juices available. There is an À la carte menu which allows you to try Asian dishes and quite a few egg dishes. We made sure to try all of the Anantara breakfast specials on the menu.
The highlight must be the man rowing his little barge around the pond offering other exotic fruits like mango and other exciting Thai desserts and nibbles.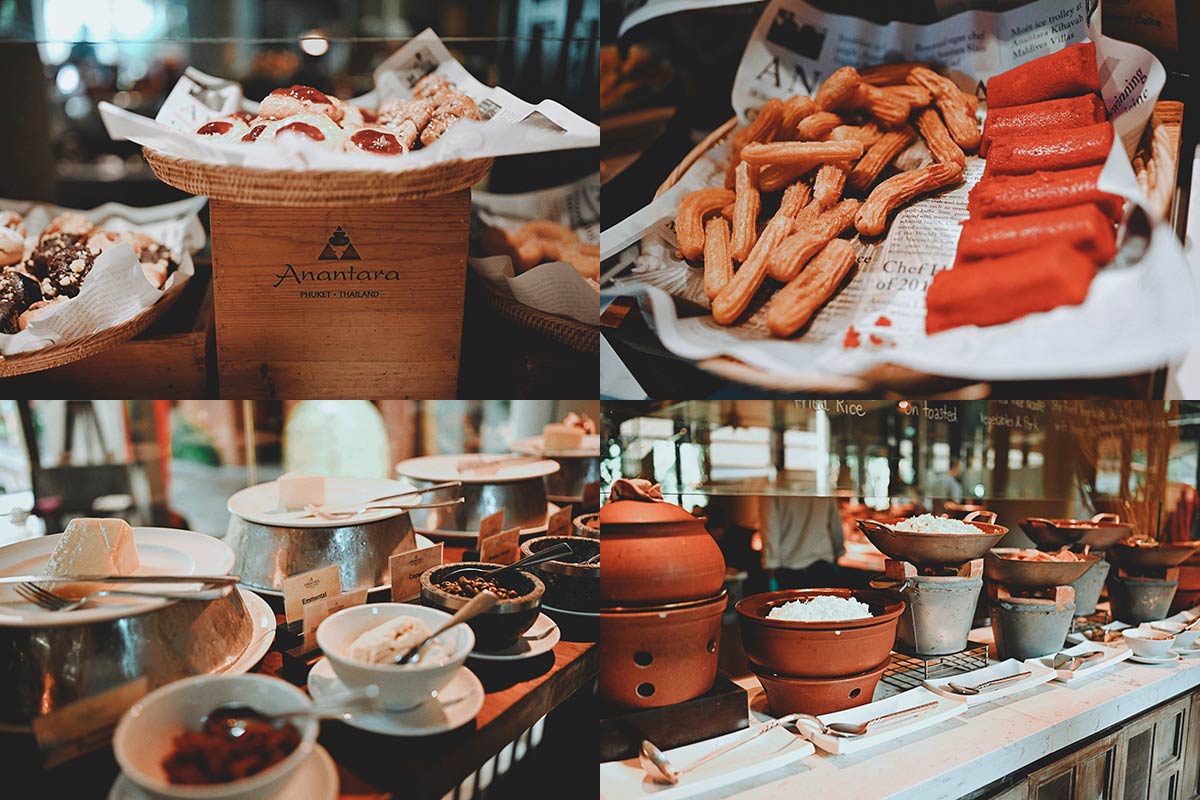 A brand new restaurant also opened while we staying at the resort. Tiffin is a brand new authentic Indian cuisine restaurant and is the first and only Indian cuisine to be found in the area of Mai Khao. We had the chance to attend the opening and the food and smells were something to die for. Lamb and chicken were being cooked right in front of us and just melted in the mouth.
The Tree House is an open plan bar which serves an afternoon tea in a giant birdcage, all while overlooking the beautiful greenery of the resort. You will have to reserve as spots are extremely limited here. The Wine Tasting room is located underneath the Tree House and can be booked out to taste a large variety of local and foreign drinks by yourself or with your friends.
Sea Fire Salt is the name of the poolside restaurant and bar area. It is located at the end of the property and is right next to the beach and large infinity pools.
There are several other eating options outside the resort area as well if you stay long and feel like something different. Turtle Village, located next door has plenty of food and drinking options, including a sports bar and fashion outlets as well.
The Facilities
Like any Anantara property, there is something here for everyone. With the focus on privacy, each room has its own Infinity pool in which many choose to spend the days here relaxing. The Fitness centre is right by the beach and is simple but more than enough required to make sure you get your workout in for the day. If you prefer other methods of fitness, there is also a Tennis court you can make a booking to get on with.
There is a poolside bar right in the middle of one of the pools and it is great to relax the day away. Make sure you are down here for a sunset, it is truly epic in nature.
The resort has a football field, Muay Thai Ring and plenty of open grass area to run around. There is a local village "next door" and you can actually get meals and goodies, just jump on your bike and get yourself there to see it! Riding the bikes around the resort and outside the property is not only a great way to get around but also makes it easy to see all the property. If your bike all the way to the left, you will find the M Beach Club.
Villas at Anantara Mai Khao
There are 91 pool villas on the resort and we stayed in the Lagoon Villa. It is an extremely impressive room that is very spacious. The king bed is big enough for 3 people (haha) and there is a separate walk-in area for clothes and luggage. However, the most dominating feature in the villa is the outdoor pool area. It is a very large area with couches and deck chairs, an outdoor shower and views overlooking the lagoon.
This area was great as it was private, comfortable, a lot in the sun and has charging stations for all the electronics as well if you choose to spend some laptop time outdoors.
The outside deck of our room also had its own jungle style shower which we actually used more often than the one inside! The bath is beautifully located next to the pool. It is connected to the infinity pool and we spent plenty of time relaxing in there. The area is so big we even could do our own work out there.
Sustainability
This is one of the few resorts we have been to that we can say are making a great effort into becoming environmentally sustainable. Our first drink e were greeted with bamboo straws, something that we really encourage with resorts. There are glass bottles in every room so we are not using any single-use plastics water bottles. In fact, I could not find a plastic bottle anywhere I looked in the whole property.
The electric buggies are quiet and can be called at any time to come and pick you up if you do not fancy a bike ride or a stroll. No plastic straws are used and in the room, soap, shampoo and conditioner are all in dispensers that are being refilled when housekeeping is cleaning the room.
DISCOVERY Loyalty Member Experience
If you go often to any of the hotels' parts of the DISCOVERY Loyalty programme, you must sign up and do like us maximizing the benefits of the programme. One of our many DISCOVERY Loyalty black membership benefits is the choice of a hotels local experience. We chose to go see the Fanta-Sea experience. It is an attraction well promoted to travellers in Phuket. As much it is not something we would usually go for, we were curious to know what it was.
After a 45-minute expedition in the minivan to central Phuket (Anantara is in the far North), we arrived at FantaSea. We had no idea at all what we were in for when we booked it. We arrived to find a whole lot of fluorescent lights, a bit overwhelming for our liking.
Imagine a theme park like Las Vegas in the middle of Phuket. So many lights, characters, arcade area and shops everywhere. The best part of the night was the actual FantaSea show. This was an incredible show that had absolutely everything. It had dancing elephants, acrobats dangling from the sky and traditional Thai dances. The magic show that is randomly thrown in there is world class and left us speechless several times as we wonder how they did it.
Usually, we are very anti-animal entertainment but we made some research that this is a well-run organization and that all the elephants are domestic, healthy, happy and absolutely no chain marks on them which usually is a sign of captivity conditions. We were unsure how to feel about it, but having a talk to the staff and realising that if they were not here, they would be in immediate danger in the wild due to poaching and other threats.
Our experience at Anantara Mai Khao Villas
We really enjoyed the property and our villas. Spacious and very beautiful. It was so fun to be able to push-bike around the property, enjoying the greenery and greetings from all the staff as the sun shines beams of light over the property. The sunset from the bar was something we absolutely loved and the infinity pool is great to enjoy if you feel like changing the atmosphere from your own room. Not only that, the level of environmental consciousness that went into the hotel is outstanding. If you really enjoy your privacy, but still want a taste of resort life, Anantara Mai Khao Villas may be the place you are looking for.
 

 

 

View this post on Instagram

 

 
 

 

 

View this post on Instagram

 

 
Disclaimer: This article contains affiliate links. We use them as a way of assisting us in maintaining our website and follow our passion.  Please use them when you are booking as it supports us greatly. This stay was hosted and is not a paid collaboration. All opinions remain our own. Thank you.