As a traveling couple with a travel website and love taking photos, we always are on the lookout for resorts with a combination of luxury and those "Instagrammable" shot opportunities. After some really quick research, we found out that Anantara is the highest rated in the South of Sri Lanka.
Where is Anantara Peace Haven Tangalle Resort Located?
Anantara Peace Haven Tangalle is situated about 90 mins from Mattala Airport and is 4.5 hours from Colombo International Airport. It is only a 2 minute drive from the peaceful fishing village of Tangalle, on the south western coast of Sri Lanka. Our tip is to make sure you fly in to Mattala as it is a long drive through sometimes rough roads to get there. FlyDubai offers flights to that airport.

Things around Anantara Tangalle
One of the main reasons we love this place so much is because it is close to EVERYTHING you need on a holiday. It is located on the beach, temples are close (Rock Temple 40 minutes away only) and a Safari Park (Udawalawe National Park) less than 90 minutes from Anantara. They provide transport to all these places so get ready to explore.
In more details, with the resort, we went to do a Wildlife Safari in the Udawalawe National Park. After stopping for feeding time at the Elephant Orphanage, we got to the National Park at 9:30am. Many earlier tours were leaving the park then so we had a clear run in there. We managed to see dozens of families of Elephants, Birds and other unique creatures. (unfortunately no crocodiles and leopard for us!)
We had a cool surf lesson with the Tropical Surf team. Before we even surfed they took us through important points to make us feel safe and gather an understanding of our levels. They took us out to a safe reef break and we had a great time, Thuymi was standing up straight away!
We also went to a local experience with our guide, Kanishka, who was also our one stop shop man for our whole journey at Anantara. We stopped by the Fish Markets before meeting a herd of buffalos out on a farm. Our highlight was the visit to Rock Temple, which as the name suggests, is a series of temples cut into a rock. It took us an hour to get to the top of the rock to give us stunning views.
How to Get Around from Anantara Tangalle?
The resort is great in arranging transport to any place you want to go, from airport transfers to visiting any place in Sri Lanka. They also have push bikes for hire if you want to venture out. If you want to go at it yourself, you can get into town and bargain prices with the local tuk tuk drivers. Very easy to do and can be very cheap. However, at least with Anantara you know what you are getting.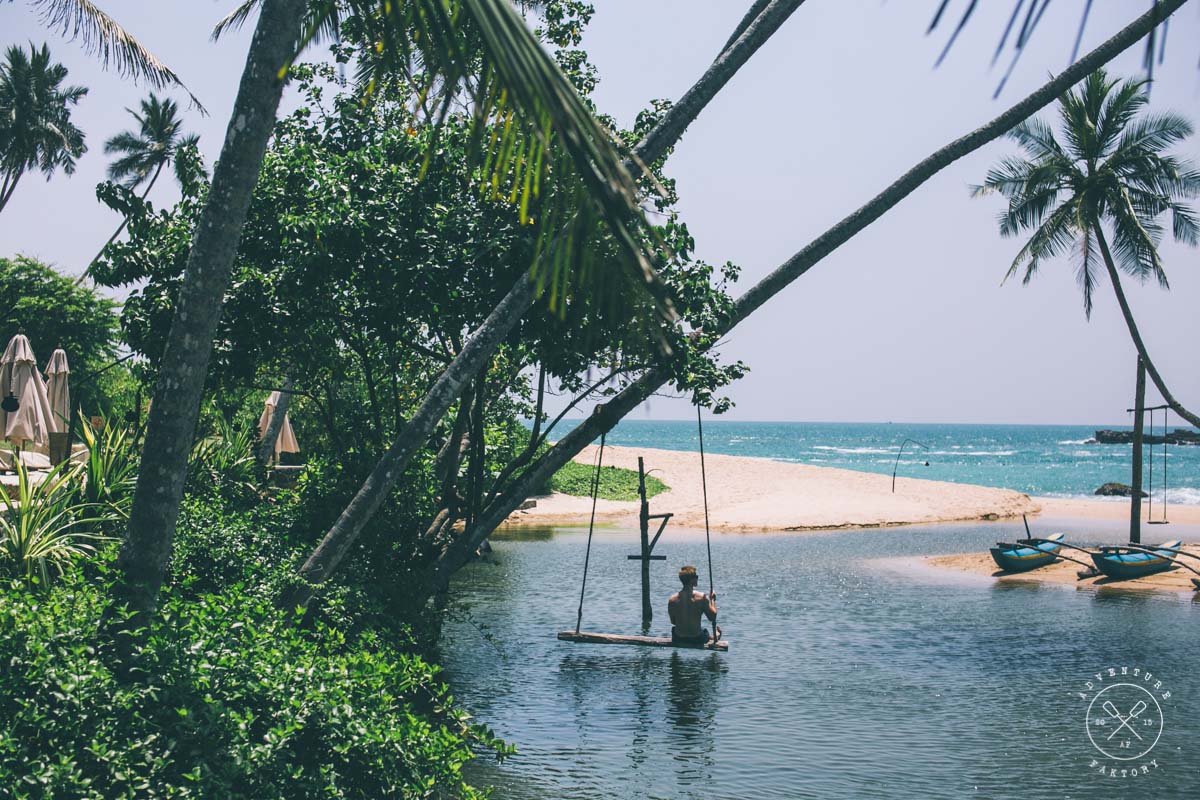 Eat and Drink at Anantara Tangalle
There are several restaurants on site that provide food for all tastes. From International Cuisine, Italian, Mediterranean, High Tea and our favourite Teppanyaki with Sri Lankan fusion, there is enough variation for satisfy everyone's tastebuds.
Breakfast every morning was at Journeys which overlooked the pool and beach. Our highlights was the many smoothies and the King Coconuts every morning.
For dinner we ate at Verale (where the pods are!), a Teppanyaki and Sri Lankan fusion dinner. We tried the Sri Lankan seafood grill and it filled us up quite a bit! The mix with curries made it special, a must try.
Another great spot you should go for a little dessert or dinner is at Il Mare, is a cool Italian restaurant on the cliff of the resort, with awesome views of the ocean. This is a romantic spot to share an afternoon drink as well!
Anantara Tangalle Facilties
24 Hr Gym, Infinity Pool, Yoga Sessions, Surf School (Tropical Surf), Clothing Shop, Bikes and Tuk Tuks around resort, Spa Facilities, Teen and Kids Club, Sri Lankan food cooking classes, Tennis Courts, Wine Cellar, Library, Gift Shop, Meeting Room, Poolside Bars, Cooking classes, Wedding facilities.
Anantara Tangalle Rates
There are many types of rooms to enjoy at Anantara and the pricing will reflect how luxurious you want to be. We stayed in a villa with our own private pool and had an amazing experience there. You can compare prices with Booking | Agoda.
How Was The Stay?
Our biggest regret was not being able to stay there longer. Our villa with its own plunge pool made our experience even better and would highly recommend getting these rooms if possible. The beach water was a little rough but 50m around the corner is a safe swimming beach. FACT: all beaches in Sri Lanka are public property!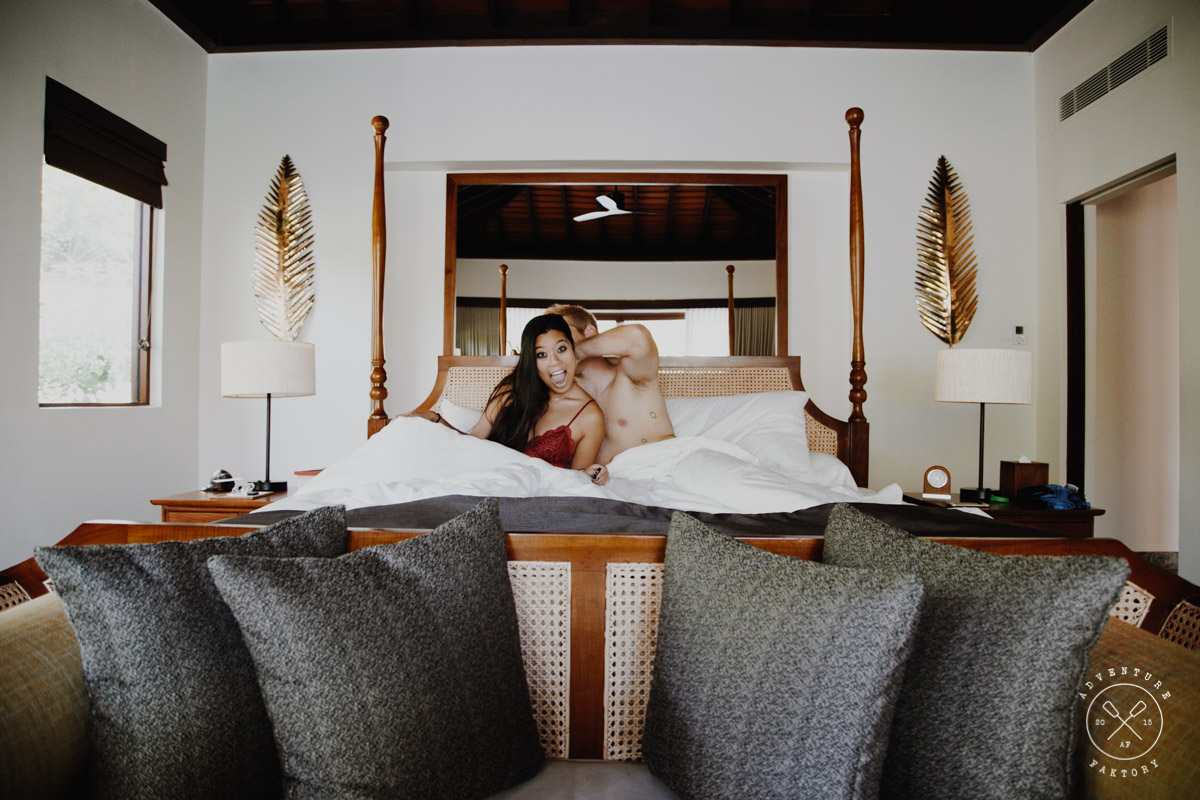 DISCOVERY Loyalty Programme Member?
From staying at many hotels & resorts from the DISCOVERY Loyalty programme, you can get to the BLACK membership which gives you many perks. To name a few of the BLACK Membership, we can get upgraded to the next room category at check-in (happens upon availability), late check-out privileges until 6pm, etc. You can get Local Experiences with the PLATINUM status as well, so don't you worry!
Ayubowan!
Have you ever visited Sri Lanka?
Where did you stay last time you visited?
Would you give this place a try next time you visit?
---
If you like this article, follow our Adventures on Facebook, YouTube, Twitter, Instagram @adventurefaktory, Snapchat AFtravels, to keep up with new posts and updates!
Disclaimer: This article contains affiliate links. We use them as a way of assisting us in maintaining our website and follow our passion.  Please use them when you are booking as it supports us greatly. This stay is not a paid collaboration and all opinions are our own. Thank you.