The Aria Hotel Budapest by Library Hotel Collection is among the top 10 Luxury Hotels In Europe, voted as the #1 actually, by TripAdvisor's Traveller's Choice 2017. Our choice for this property was for its theme, expected colourful furniture and art all around the place!
When choosing our hotels, we have a few characteristics that needs to be met. Although, we are not difficult and do not expect all of them to be ticked off the box, will share with you this list one day!
Location was the second reason why we chose The Aria, as it is close to our favorite place in Budapest, the Jewish Quarter, where all hip coffee shops and bars are situated.
Where is The Aria Hotel Budapest Located?
It is located at a premium spot right beside the St. Stephen's Basilica, right in the city centre of Budapest. Less than 50 meters away is also the famous Akvárium Klub, a popular meeting point for many tours and flea markets! It is also conveniently situated not too far from the very important metro station Deák Ferenc tér (It's the only transfer station for the M1, M2, and M3 lines)

Things around The Aria Hotel Budapest
As mentioned before, it is 30 seconds walk to the St. Stephen's Basilica, 3 minutes walk from the Akvárium Klub, 4 minutes from the Deák Ferenc tér metro station, but most importantly, 0 seconds away to its beautiful sky bar, the High Note SkyBar, that probably appeared in your Google search of "Best Rooftop Bars in Budapest"!
How to get around The Aria Hotel Budapest
As simple as BMW! Bus-Metro-Walking! Everything is so relaxed to get around, don't even think of taxis and Ubers are not available in Budapest unfortunately! Have to say that public transport was our main way of transportation. Perks of course with the Budapest Card, it cover all types of public transport and some more free access. Make sure to learn more about it here.
Dining at The Aria Hotel Budapest
Breakfast is always complimentary for all guests of the hotel. The best part is actually the free Wine & Cheese daily from 4pm to 6pm for all the hotel guests, no exception. This is an amazing extra offering that we have seen no where else unless you are a Club Member or such category. The hotel is quite exclusive on its own with only 49 rooms, so all guests are exclusive!
There are 4 F&B venues, the High Note SkyBar, The Music Garden (it is the lobby area, where you have breakfast and wine & cheese), Stradivari Welcomes ONYX and Gerbeaud right beside the lobby area and the Satchmo's Bar & Library at your right when you enter the hotel!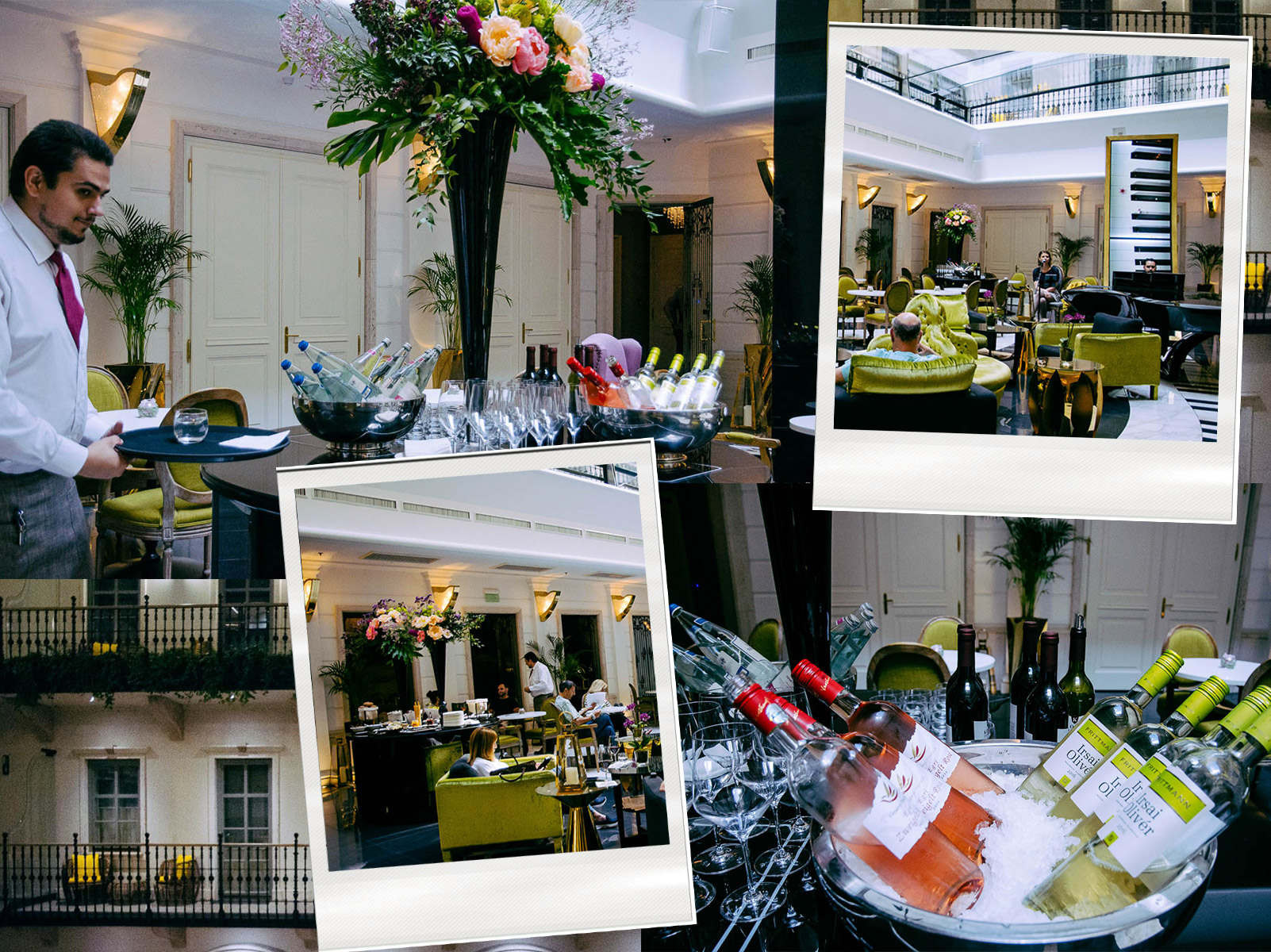 Aria Hotel Budapest Facilities
Breakfast, Wine & cheese and Coffee/Tea/Fruits in the Music Library are complimentary for the guests. The turndown service is absolutely cute with Fine Chocolates left on your bed! There is a tiny Fitness Room available with treadmills and free weights if you need to be a little active! The Space looks AMAZING with its pink colour. It has a heated mini pool with a jacuzzi, steam & sauna. Sure did used it to the max before checking out of this beautiful place!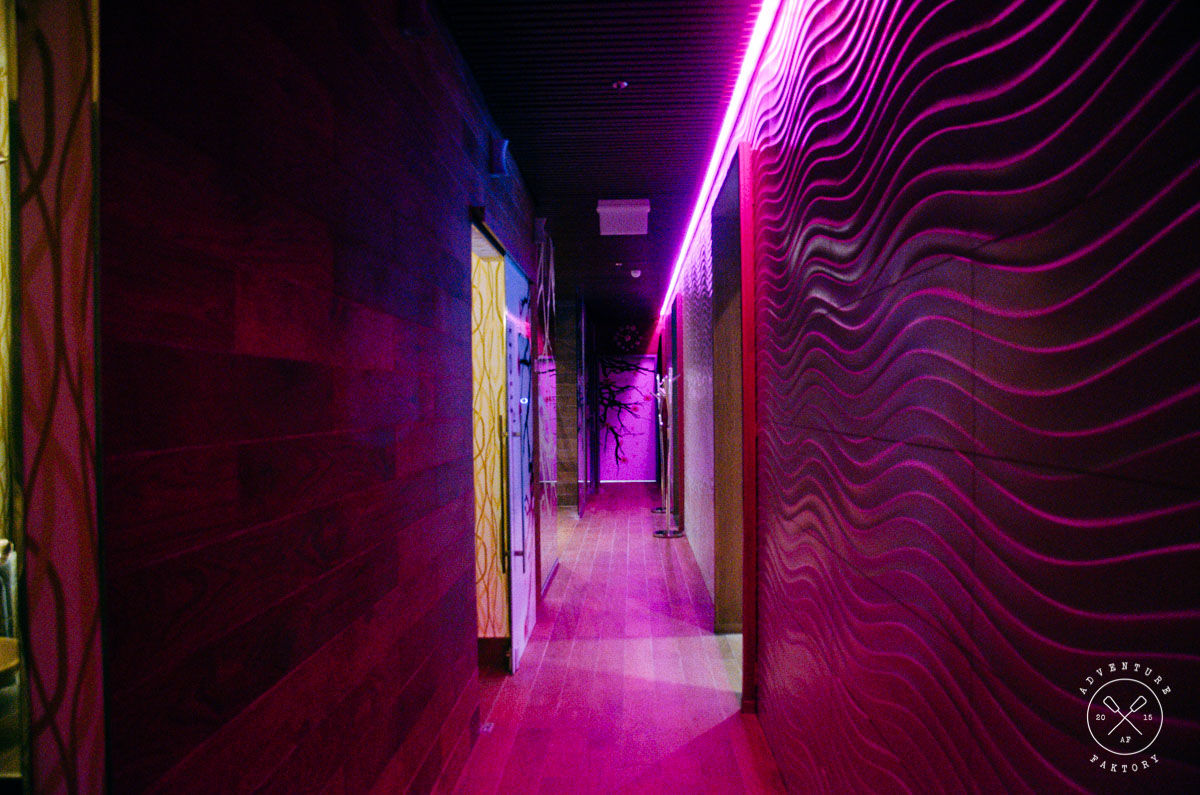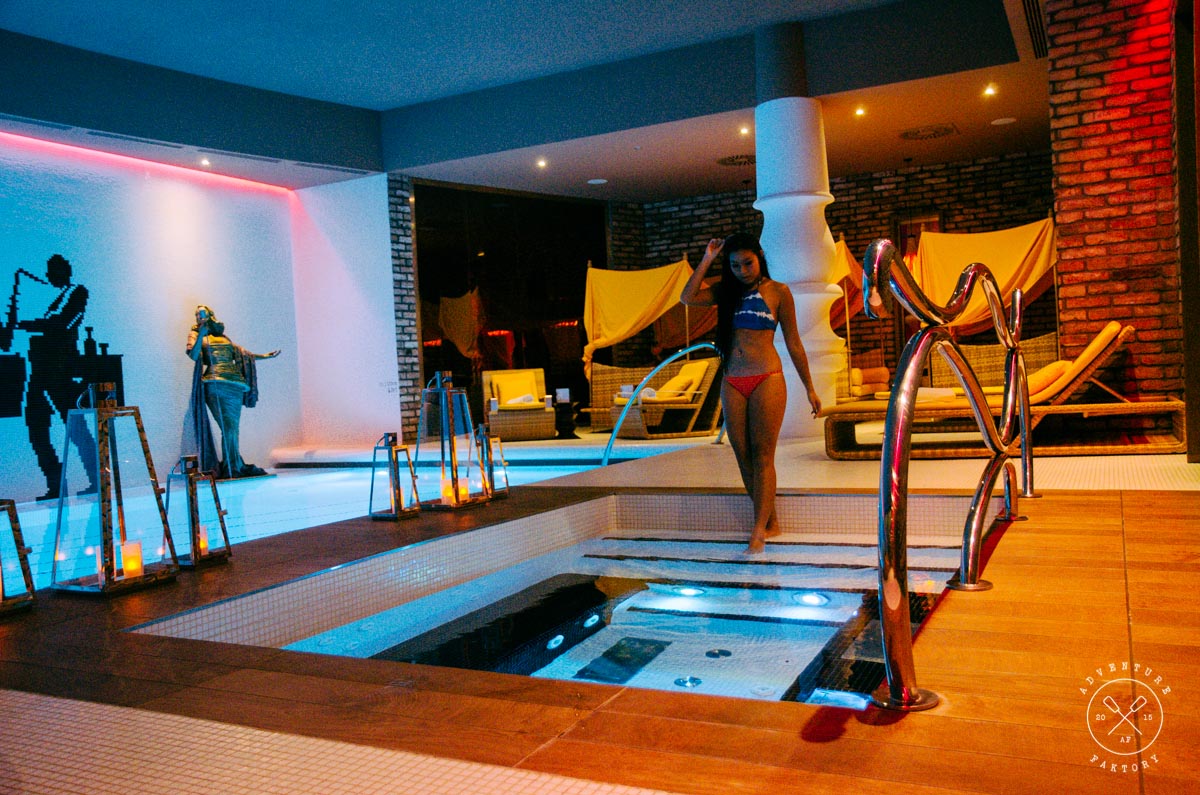 Aria Hotel Budapest Rooms
Rooms are not gigantic, but looking very cute (you will love the decoration!) and cozy. Weekends are always more expensive and mostly during high season of April to July. So on weekends, price for a night can range from €350 to€580 (390-650$US or 1500-2400AED) … don't book last minute we will tell you that! Weekdays are better for the wallet at €250 a night (280$US or 1025AED).
Our experience at Aria Budapest
It was a great feeling to wake up and walk out the balcony. It probably wasn't a city view, but looking in the middle architecture of the hotel, typical of Budapest, is so charming and wonderful! The sunlight is still there and powerful, you wish you could walk out with nothing but then you would scare your room neighbours haha! Must say we absolutely adored the wine and cheese. Usually this type of treatment is for club members only and this was exclusive to all the guests of the hotel, which made everyone quite exclusive. If you plan a few nights in Budapest, make sure the Aria Hotel Budapest takes at least one of your nights!
Disclaimer: This article contains affiliate links. We use them as a way of assisting us in maintaining our website and follow our passion.  Please use them when you are booking as it supports us greatly. We have not been paid to stay here and all opinions are our own. Thank you.