After driving the rough roads from Namibia to Zambia through the desolate and barren African continent roads, we had our eyes set on our Victoria Falls stay at the AVANI Resort. With the Victoria Falls being one of the most wondrous sights you will ever see, there is no closer location than the AVANI resort and its sister property Royal Livingstone to be staying at. In fact, from AVANI you get automatic free access into the national park, so in 5 minutes you can be from your bedroom to the mighty falls.
Where is AVANI Victoria Falls Located
The AVANI is smack bang right in the middle of the Mosi-Oa-Tunya National Park, a UNESCO World Heritage site with its own entrance to walk to Victoria Falls entrance. It's pretty much the only place you need to stay for a convenient visit of the falls without taking any car, buses or any other type of lifts. Not only guests are near the falls, but they can also enjoy free and unlimited access to the falls, one of the world's largest waterfalls. With that, it is within 46-hectare grounds with many zebras, giraffes, impalas and monkeys roaming around. They are not shy and do roam very close to the rooms so you get to spot them easily and take plenty of pictures too. It is very well briefed to not feed any of the animals as well and we noticed that guests are very respectful of that.
The hotel has a helicopter pad so if you fancy a ride or arriving in style, that can be arranged by the team. The Harry Mwaanga Nkumbula International Airport (formerly known as the Livingstone Airport) is a 25-minute drive away. At your arrival at the hotel, Ngoni Warriors will be performing traditional songs and dances to welcome you, so make sure you have your cameras ready.
If you are driving yourself around Africa as we did, it is only 45 minutes to 1-hour drive (60km) to the Kazangula border post to go to Botswana. If you plan to book a Chobe National Park day tour, this is the border post you will take to cross over by pontoon.
You can read more about crossing the border from Zambia to Botswana by car.
Dining at AVANI Victoria Falls
Staying at the AVANI is great for dining experiences. You won't run out of places to go eat and dishes to try based on what you feel like from Italian, European, Seafood, local Zambian food, etc.
Teddy's is your main central restaurant where breakfast is served daily. A buffet will always be served for all 3 meal times a day. Breakfast has a large range of healthy options in addition to your traditional breakfast options such as an egg bar, salad bar, bread station, waffles made on the spot and much more. There are plenty of options good for the whole family.
The Morrocan Lounge
The Moroccan Lounge offers a comfortable and photogenic place to relax. It is the perfect setting for drinks throughout the day or sipping on cocktails before dinner.
Poolside grill and bar
The central restaurant pavilion with the Chapiteau is a great place for lunch time. Sometimes, there is a fun buffet with international cuisines and bold African specials with live music to pick up the mood. Don't miss the wood-fired pizzas. It is also a great place to catch afternoon cold drink whilst going back and forth for a dip in the pool. Private BBQ, Braai, cooking classes or bush dinners can be arranged there!
Boma dinner experience, a must
The Mukuni and David Livingstone Bomas, designed in traditional Zambian style, serves themed dinners in a setting imitating a Zambian village. It is an experience we recommend to anyone staying at either the AVANI or The Royal Livingstone as it is a great way to enjoy delicious local and regional cuisine and drink on local brews. We loved trying the local way they cooked the oxtail, Mopani worms, crocodile, impala, etc. If you are a DISCOVERY Loyalty member and staying at The Royal Livingstone, you can actually unlock this great Local Experience to enhance your journey in Zambia. This experience only happens twice a week so make sure to book in advance.
Wellness at AVANI Victoria Falls
We personally had to go to the spa, which is located at The Royal Livingstone, a few minutes away walking distance. The AVANI doesn't have a gym but if you really need one, you can use the one at the sister resort too. In the back of the hotel, there is a fitness trail which you could also do to burn off all the calories you've eaten during the day! If you simply want to walk, there is a nature trail you can take which can reward you with some wildlife spotting.
Rooms at AVANI Victoria Falls
With 212 rooms and suites at the AVANI, they all have a balcony and if you are staying at the bottom floor, you can simply walk out of your patio to walk straight into the garden, hopefully with some giraffes, zebras or other animals around eating on your grass! Your view will either be of the pool, the African bushveld or beautiful gardens. The hotel design is a harmonious blend of African culture with some Greek and Moroccan influences. We loved the contrast of the buildings with the green gardens and the zebras we could occasionally spot around.
Things to do at the AVANI Victoria Falls
If you plan to travel with kids, AVANI is the perfect place because they have AVANIKIDS, where young kids can experience Zuba's Adventure Camp where they'll enjoy a safe jungle playground, pack walks out in nature and interesting trips, all under the watchful eye of trained childminders, who also offer babysitting services to give parents some quiet time out.
There is no fitness centre but there is a running trail with a fitness circuit you can use at any time. The trail has a TRX machine and pull-up bars as well. Avani has an absolutely huge swimming pool in the middle of the resort and this is the central point of everything. Many of the restaurants are around the pool and if you are lucky, there may even be a zebra or 5 resting by the pool.
There is a gift shop, also by the pool that you will most certainly fill up your suitcase with goodies to bring back for your friends.
If laying by the pool the entire day is not your thing, there is a Day activities centre you can go to arrange all sorts of activities. We were able to book an experience which was an animal safari along the mighty Chobe River, the river that flows over the Victoria Falls. The experience includes a guided tour, looking for hippos, birds and any other creatures we could find. We also had a little dinner with some local food on an island in the middle of the river, watching the water race past us. We were then dropped off right at the waterfront of the sister property so we could have a drink at the bar and watch the sunset. If you are staying even longer, you might be able to consider organizing a day trip to Chobe National Park in Botswana for a game safari.
Of course, last but certainly not the least, you can go and see the Victoria Falls any time you like. You have your own gate into the national park, and that is open from 6:30am-6: 00 pm. At the gate, there are also plenty of souvenirs shops where you can bargain as much as you like for gifts.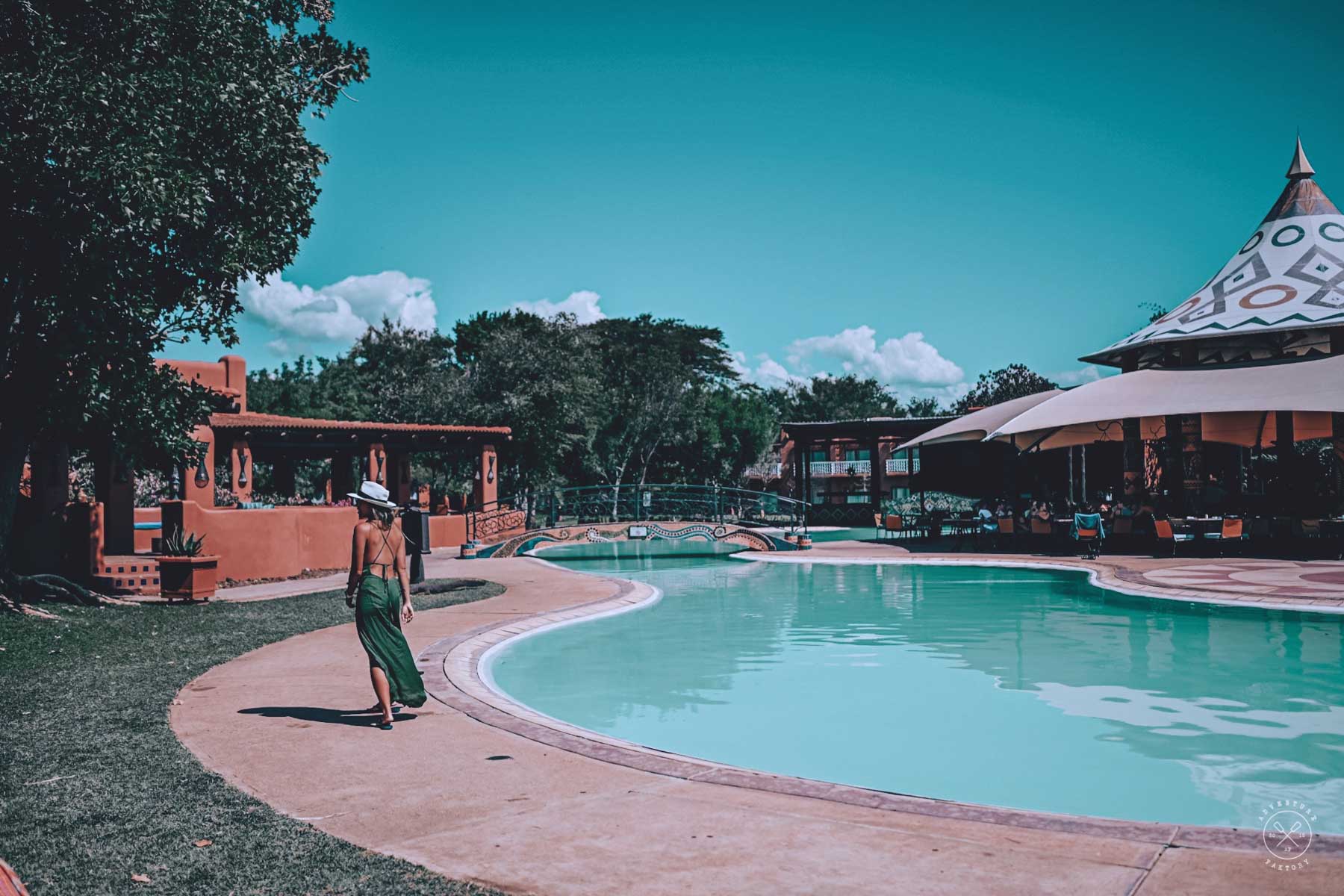 Sustainability at the AVANI Victoria Falls
The AVANI offers daily complimentary glass-bottled water but unfortunately still produces plastic water bottle which they distribute at the restaurants when you order still or sparkling water. Good news is that the tap water is filtered and guests can safely drink from it. Like many other resorts, towels and linens are encouraged to be kept during your stay instead of a daily change, in order to save water. Parts of the property leverages hydro-electricity which means they use the Zambezi River to try to create energy from it.
It is important to know that initially back in the day when the resort was built, every tree that was removed to build the area was immediately replanted to pass an environmental impact assessment.
Our experience at the AVANI Victoria Falls
We absolutely loved our experience at the AVANI Vic Falls that we decided to extend two nights to stay at their sister property, The Royal Livingstone. We were very lucky during our stay to be able to spot all the animals on the property, our favourites being the zebras and giraffes. When we were doing our cooking class, they were just nonchalantly crossing by our experience, which made it completely unique and exceptional. The convenience of the resorts' location was impeccable and surely made the visit to the Victoria Falls an enhanced experience by simply being near. Having unlimited access was nice for us to be able to go back and forth and do the different trails at different moments of the day. Having that flexibility to go at very early morning or night was exceptional.
The food experiences we had at the AVANI made us quite full! We fell a little bit in love in eating crocodile and experiencing local Zambian cuisine and cooking it all was the cherry on top of our culinary journey at the AVANI Victoria Falls.
Massage experience at Royal Livingstone
We had a massage which was by the river over at the sister property at the Royal Livingstone. From our tables, we could see out to the river as we were indulged in a Zambian massage to loosen the knots from our huge drive. The ladies who massaged us were firm but always checking to see our comfort levels, a highly recommended activity while you are here.
Water Safari experience on the Zambezi
The experience includes a guided tour, looking for hippos, birds and any other creatures we could find. We also had a little dinner with some local food on an island in the middle of the river, watching the water race past us. We were then dropped off right at the waterfront of the sister property so we could have a drink at the bar and watch the sunset.
Cooking experience with Chef Victor
This is a self-cooking class is next to the pool and is a great way to experience the local culture. With the chef, you learn how to cook Zambian dishes such as Crocodile, Kudu and Shima, a white high carbohydrates dish that most locals eat for nutrition. You are standing there cooking and learning and if you are lucky, all the zebra will come over for a sneak peek at what you are cooking. It was so cool to see them come and check it out!
Bungee Jumping Experience
Probably my most memorable experience of my life, let alone the resort. AVANI had organized us to do the bungee jump off the Victoria Falls bridge. This was terrifying enough for me as it was as I am scared of heights. We soon found out that we were doing the whole package, The Zipline, The Swing and the Bungee. This will be in a separate article but we can assure you it is scary as but one of the most rewarding things we have ever done. Totally worth it.
At the end of the day, we were just blown away by the number of animals all over the national park. This is something truly unbelievable as we got to see, zebras, giraffes, impalas and monkeys all over the property. It's like you are in a Disney movie with all the animals!
Disclaimer: This article contains affiliate links. We use them as a way of assisting us in maintaining our website and follow our passion.  Please use them when you are booking as it supports us greatly. This stay was hosted and is not a paid collaboration. All opinions remain our own. Thank you.