Looking for a nice bar or restaurant for a date or a night out between friends in Singapore? I've heard echos of Barbary Coast and after visiting it, I was pleasantly happy with the experience and the journey I went through.
Read more about the where to have a drink in Singapore
Located in the heart of Singapore's bar district, Barbary Coast is a unique 2-bar concept that is definitely worth your while to come and visit. Inspired by the Goldrush San Fransisco district in the mid-1800s, the top-level is representative of the rich and the bottom level showing the life of the unlucky miners. Both floors are diametrically opposed but fundamentally are the same.
Barbary Coast is another great project from the entrepreneurial team that has bought us other great bars such as 28 Hong Kong Street in Singapore.
The Lower Level: DeadFall Bar
The lower level of Barbary Coast is Deadfall, and is the first one you see when you enter the premises. The term "deadfall" goes way back to the goldrush days, where miners would often get their fill at the most basic of pop up bars.
In a very dimly lit setting, you can feel like you are in an underground spot, yet, it is quite charming. I quite enjoyed the feeling of being on a dock with the decorative ropes, brick walls and wood panels. There's also an outdoor long bar, where people can gather as well. Best part? You can bring your fur babies if you sit outside! There is an indoors long bar that also connects to the outside, so no matter where you are sitting, you can get a drink with ease.
As we sit down into our long bar seating, there was a menu ready and drinks ready to be recommended by the energetic staff. Our advice to you is to PLEASE order the House Nachos (S-S$12 L-S$25), as you also get unlimited cheese (queso) sauce as you wish, so no chip goes in your belly without some sauce! The staff is actually very eager to top up some of the cheese for you too, so keep eating and they will keep cheesing!
On top of nachos, we had the Artichoke and Spinach dip (S$14) which went very well with the bread that was served. The Cynar Cream cheese really smoothes it all out as well.
For drinks, we went for the Blush and Ms Crimson (all cocktails downstairs are priced at S$20). The Blush is a combination of Plantation 3 Star Rum and Dark Rum, Champagne, Strawberry and Citrus. The slushy drink tastes strong and sweet. The Ms Crimson contains Beefeater Gin, sweet vermouth, Prosecco, Rhubarb and Dill. This fizzy drink was my favourite out of the two.
The Second Level: Barbary Coast Ballroom
After a good feed and cocktails, you can make your way to the more exclusive and upstairs bar, the Barbary Coast Ballroom. It has a totally different feel from DeadFall. The music is much more relaxing, talking isn't strained. Although looking more "boujee", I felt the vibe upstairs is a lot more low key. In any case, if you choose to pay a visit, a night at Barbary Coast can't go on without a visit to the sister concept on the second floor!
Decor wise, it is a Grand Victorian feel with opulent furniture and seating. The wall of mirrors heading towards the bathroom is something special as well to see. The bar service upstairs is exceptional, filled with great chats and cocktail knowledge being shared. I felt we were at school learning new things about drinks with every passing minute! Bar experience-wise, we had a preference for upstairs and we would definitely recommend sitting by the bar. It is always a more hands-on experience to be sat by the bar and it gives you that chance to get more attention and chats with the lovely bar staff.
A visit at the Barbary Coast Ballroom isn't complete without ordering the Cheese platter. I dare say that it is so far the best cheese board we've had here in Singapore. You can tell serious thought is given to the arrangement and choices of cheese and charcuterie on the board. The meats are all cured in-house and the whole platter is served with rustic bread and delicious homemade smoked butter. Noting was left behind! The Ultimate Charcuterie and Cheeseboard comes in three sizes, Petite (S$50), Less Petite (S$98) and the La Grande Dame at (S$148). The Petite Cheese was plenty enough for both of us, considering we had some food downstairs.
Cocktails are made to cater what we like the most. Based on the descriptions and recommendations, we went for the Stay Puft (S$23), due to my enjoyment of bourbon. It is a blend of Michter's Bourbon, Buffalo Trace (a Bourbon from Buffalo), Cherry Bark, marshmallow, lemon and champagne too.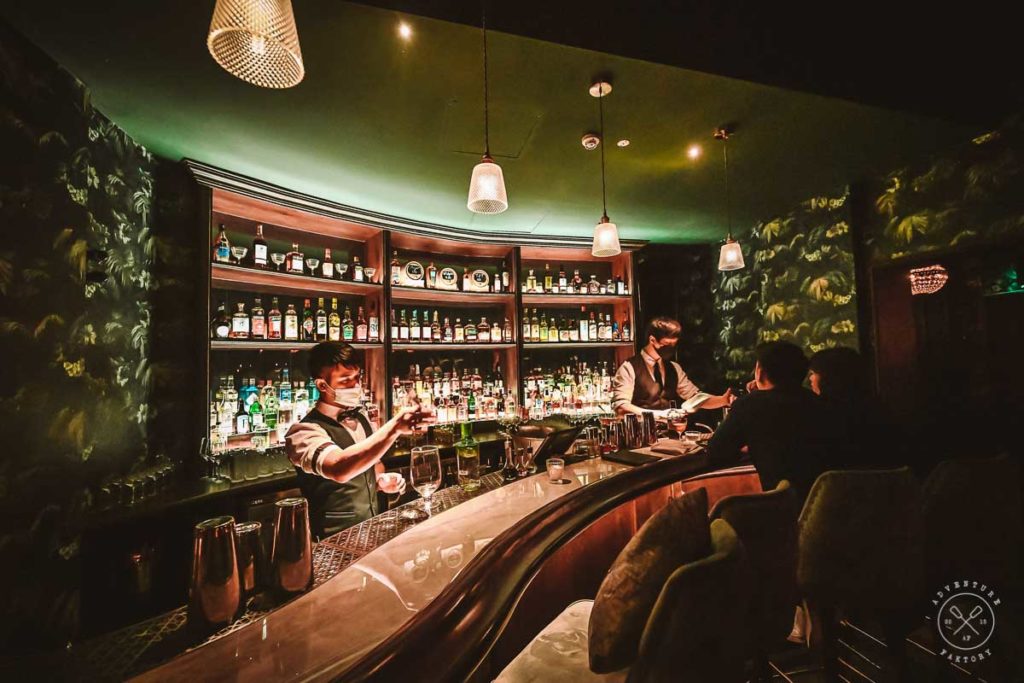 Thuymi went for the Pea-Ness (S$23) which contains the Perry's Tot Navy Strength Gin, Beefeater Gin, Fermented Apple (or Facto-Fermented like says the menu), Pea water and Lemon. Even though the name is quite funny and doesn't sound like it would taste good, it was very tasty and I certainly stole more than a sip from her drink!
We also went for a Tommy Tomate (S$22), a margarita-inspired drink with a tomatoey Mezcal Vida, kaffir agave and lime. Because we nibbled the cheese quite slowly, we also tried the A'a Waiu, made of Reyka Vodka, Hendrick's Gin, spiced tea syrup, spent husk marmalade, lemon balm leaf & clarified milk. Like we didn't try enough drinks, we sipped on the Ballroom Cobbler (S$22), made with a mix of Spanish wines, Fino, Amontillado, Oloroso, Perdo Ximénez with pineapple husk, citrus and berry compote.
If you are not familiar with Spanish wines, Oloroso, is a wine made from palomino grapes whilst Amontillado is a variety of sherry wine that is darker than Fino but lighter than Oloroso, Fino is the driest and palest of the traditional varieties of sherry and Montilla-Moriles fortified wine. As for Perdo Ximénez, it is a white Spanish wine grape variety grown in several Spanish wine regions. If you like your wines, the Ballroom cobbler is a must cocktail!
Our Experience at Barbary Coast
It was our first time attending a venue with double concepts. We didn't know what to expect when we knew that we would be going to both floors in one same night. Now that we have done it, we would defiantly recommend you to experience both places in one night. Perhaps start on the first floor and then move upstairs! The Barbary Coast staff are joyful, knowledgable and deliver good quality food and drinks. The staff really enhanced our overall experience. As we mentioned, we probably had the best Cheese Board in Singapore at the Barbary Coast Ballroom. Little note from Thuymi, the ladies room upstairs has a bowl of Mentos and OB Tampons, which she thought is very thoughtful for the ladies!
We don't go often to Boat Quay, but Barbary Coast and its cheese board has become our new excuse to visit Boat Quay when craving for a cheese feast paired with well-thought cocktails.
If you had to only choose one of the two venues? Go for the Barbary Coast Ballroom! Go check it out and let us know in the comments section your thoughts!
Read more about the BEST places to have a drink and relax in Singapore
While there is no dine-in available at the moment, you can order Barbary Coast bottled cocktails online. See the full list of Singapore Bars doing cocktail deliveries during this period.