There is no better adrenaline rush than to bike down the 53 most dangerous Km's of your life! In Bolivia, you will be able to the this adrenaline rush by riding down the Death Road, not too far away from the capital, La Paz.
Before building a much safer road, Bolivia used to claim to have the most dangerous road in the world.  It is still very known and a very popular tourist attraction. The Death Road is officially named the Los Yungas Road. It is commonly known like it because before the safe new stretch of road was built, we can estimate over 200 people that died every single year. You will note many crosses and graves while taking the road.
Many tours offer the bike trek through the Death Road. From the research we have done, this is the only planned activity type that enables you to visit The Death Road. There are no such things as a tour bus that gets you there. Of course, we wouldn't be surprised that you could find your own way to go by hiring a daring driver, but believe us, you shouldn't do it by yourself! Doing the Death Road bike ride takes courage, common sense and nerves of steel. It also really helps if you have done mountain bike riding before, but it is not essential. There is a 4,650 metre drop so you want decent equipment.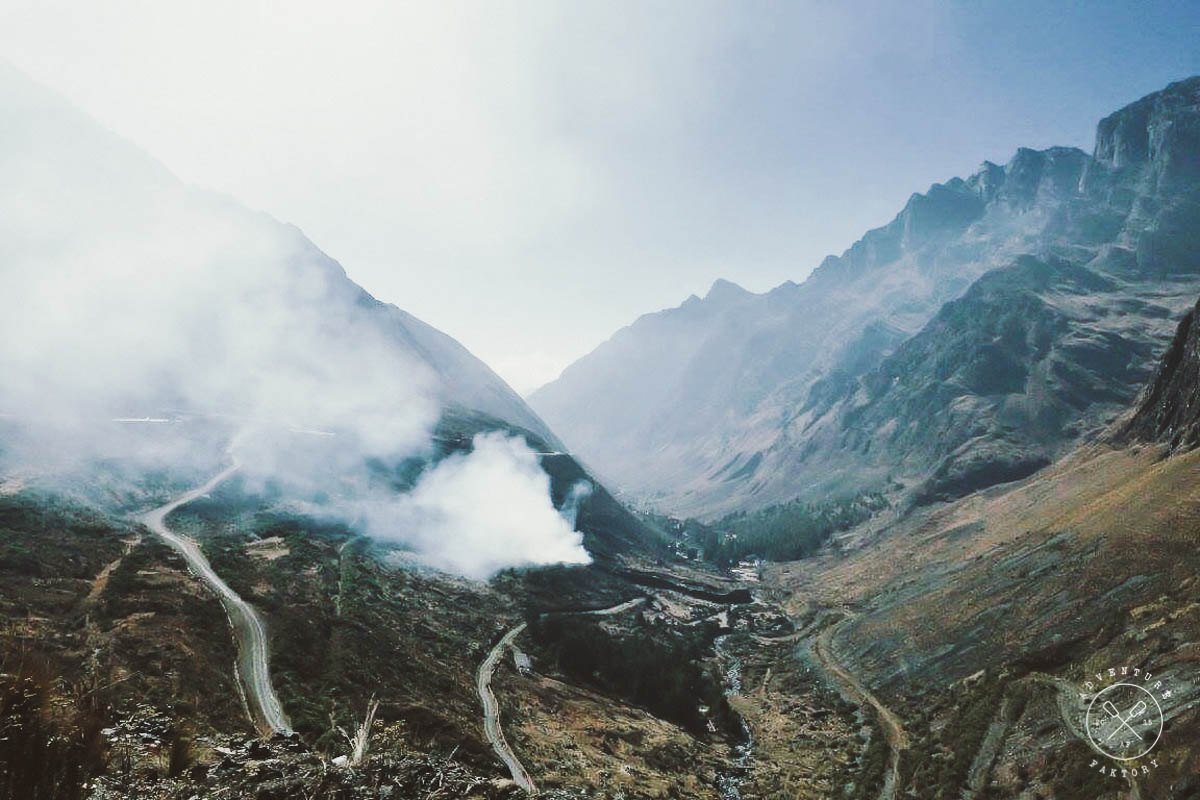 Our experience
Ok where to start, I definitely know how to bike, but I do not own one and only bike if while I travel it requires me to. In my case, Death Road Bike Tours was my first excuse of the year to ride a bike. G.E.N.I.U.S!
The Death Road is on both our bucket lists and there was no way Mitch was going to not do it, so I had no choice to put up my game face and go for it. Important note, the ride is around 53 KM, with 99% of it going downhill. This may sound great but many parts are very technical as there are plenty of potholes and obviously the road is very bumpy. You also build up some serious speed! If you use the brakes brusquely you might not look the same as you do now or take a leap into the nothingness over the cliff.
Personally I never had my fingers on the front brakes to avoid any confusion that could injure me or even worse!
Some people go through it very fast, some like me take their very long time haha. Poor Mitch wanted to make sure I was safe, so he had to go at my pace all day.
Accidents do happen, but if you get a good guide that explains you very well the technique, you won't have a problem. In our group, another girl went very slow as well but as I was biking, I saw her face planted in the ground, it wasn't a great sign but she happily got out of it with only a few scratches and a big bump on the front arm.
Gotta say this experience was one of the scariest things of my life, biking that long of a distance, holding your bike so tight in the thought of "You better not lose control or you are off the cliff!"
When we were done, our tour operator is the only one where the driver rides the bus back up The Death Road so the participants can see and actually enjoy the ride since during the time you bike you mostly think of your life on the line!! Seriously, during the ride up and seeing the drops, we kept thinking why the hell we have put our lives to such a test!
Nonetheless, this was one of the greatest things we have done in our lives and the views are breathtaking, you really need to do it!
The tour we picked
Mitch did a lot of research and the big winner is Gravity Tours, the first and original tour for The Death Road. His decision made me proud. We had a great Aussie guide, his assistant guide was very supportive for our safety and the status of our bikes during the whole journey and not to mention Santi our amazing bus driver that has been doing The Death Road for over a decade. That sure made us feel safe and trusting. The best part is obviously having the chance to get back up The Death Road after our ride. Only Gravity does it. Note that the tour takes plenty of picture of you, so no need to carry your camera.
The Death Road tour schedule in a nutshell
7:30 Leave meeting point to destination
8:30 Entry tax 25 Bs per person
9:00 Bike and equipment test
9:30 Bike down a slick perfect road for 21 KM as practice to make sure all bikers are comfortable with their bikes and breaks. Fall is on the right hand side.
11:30 lunch, if your guide suggests you to get a Trucha for 30 Bs, DO IT! ok ham and cheese sandwiches with mayo and mustard rock, but man Trucha is so good!
12:00 Real deal biking begins, the road is bumpy as hell for the rest of the 30 KMs of the actual Death Road. Not wide at all, drop is on the left and as a rule you have to bike on the left so people can pass by you on the right hand side… Scary as!
There are many checkpoints to rest and have pictures taken.
3:30 When you are done, you deserve tons of free beer courtesy of the tour.
4:30 Shower, Towels, Soap, Dinner all served!
5:30 Ride back to La Paz through the Death Road
8:15 ish we were back in town on time to catch our 9 pm bus to Uyuni!
If you don't mind taking these kinds of risks, please enjoy our photos and vlog episode on The Death Road!
We really recommend you to do it! Will it be added to your bucketlist? Would you do it?
Get back to our AdventureFaktory Bolivia Guide.
Considering we have been a long time ago, you can read more updated information on Cycling the Death Road in Bolivia through our fellow other blogger friends.