Before going into details about my experience during Fogueira's Big Brazilian Brunch, I think it's my civic duty as a Brazilian person to explain our national cuisine. With that in mind, I have created the below glossary, if you will, to explain some of Brazil's most traditional dishes.
Everything you need to know about Brazilian Churrascaria
| | |
| --- | --- |
| Description | Description |
| Feijoada | One of Brazil's most traditional dishes, which's origin stems from slavery. This black bean and pork stew as created by slaves using the leftovers given to them by slaveowners. |
| Coxinha | Its name literally translates to "little thigh". This starter is made with shredded chicken wrapped in dough in the shape of a teardrop. |
| Picanha | A popular Brazilian cut of beef from the top of them rump, also named top sirloin. |
| Polenta Frita | Deep fried polenta, in the shape of a thick french fry. |
| Farofa | Tossed cassava flour, typically eaten alongside feijoada and white rice. |
| Banana Frita | Deep fried banana, Brazilians typically eat it with rice and black beans. |
| Caipirinha | Brazil's most popular cocktail, made with cachaça, lime and sugar. |
| Caipiroska | A reinvention of the caipirinha, but instead of cachaça, it takes vodka. |
| Brigadeiro | Brazil's most popular desert, made of condensed milk, cocoa powder and butter. The mixture is rolled up into a ball and wrapped in chocolate sprinkles. |
| Quindim | A baked custard made from sugar, egg yolks and grated coconut. |
| Beijinho | Traditional in Brazilian birthday parties, this dessert is made from condensed milk and grated coconuts, rounded into a ball and covered in coconut. Its name translates to "little kiss". |
| Pudim | A type of pudding traditional to Brazil, made out of condensed milk. |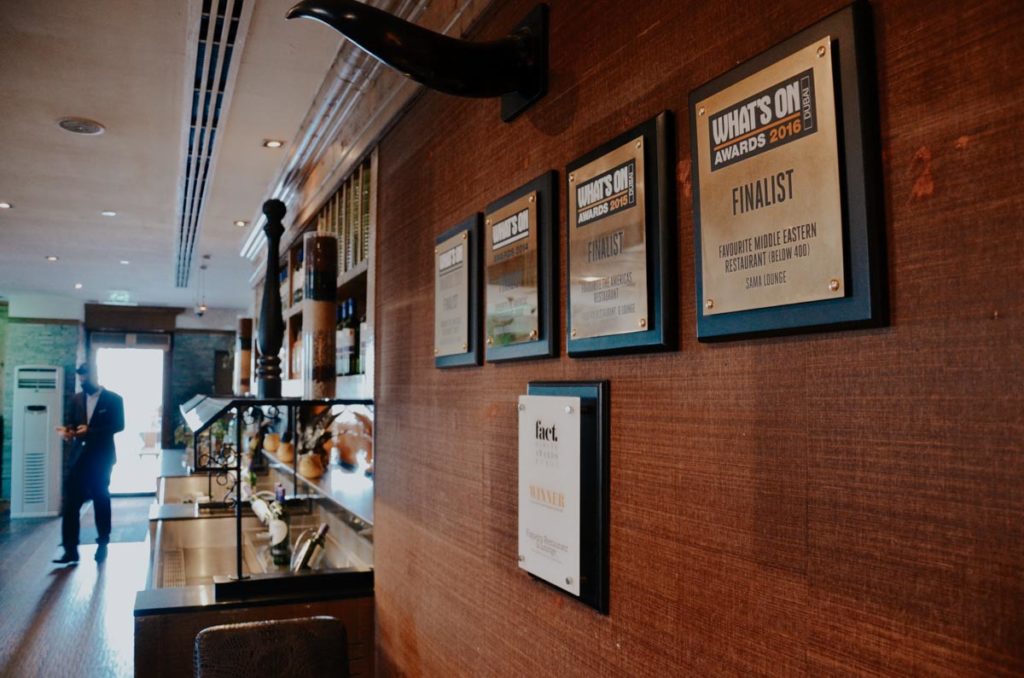 Now that you're all caught up, let's chat about how stunned I was with Fogueira's perfect execution of Brazilian cuisine and their lovely service.
I fancy myself a connoisseur of Brazilian food, flocking to every new spot in town that promised an authentic feijoada and the sweet taste of brigadeiro. The fact that I had yet to make a visit to the award-wining dining of Fogueira was a personal shame.
My first pleasant surprise was the ambience. The interior of the restaurant took me to the authentic Churrascaria – or Brazilian steakhouse – aesthetic. Wooden walls and small picture frames set the mood to what could only be a real and exciting experience. I was taken aback once I stepped into the restaurants terrace, where I would be enjoying my brunch. A stunning view of the JBR beach, Dubai Marina skyline and the famous Dubai Eye waited for me, framed by blue skies of the Dubai winter.
In order to ensure guests' safety during the era of COVID-19, the brunch which would traditionally be served as a buffet was changed to a set menu serving small portions of traditional Brazilian dishes. I definitely appreciated this format as it generates a lot less waste and the team was happy to bring more of whatever my favorites were, keeping the "all-you-can-eat" promise of brunch very much alive.
The starters brought a very welcome surprise – the most authentic coixinha I have ever tasted outside of Brazil. This small fried dish sounds simple enough, but I have never seen it done right in any other restaurant outside of Brazilian soil – my highest compliments to chef David. This was served with other traditional starters made to perfection: polenta frita and fried cheese balls.
Laura, our waitress – like chef David – was from Brazil. The advantage of having staff who are nationals of the cuisine is that they can explain the dishes like no other. Additionally, Brazilian people are known for their friendliness and I love to be greeted with a warm welcome in any restaurant I visit. She soon brought a caipiroska, a drink which I happily enjoyed as I waited for the main course.
The most distinct characteristic of a Churrascaria compared to other steakhouses is that the staff will circulate with large pieces of meat on a stake offering you a variety to pick from, and will cut a slice straight into your place. All you have to do is signal with a piece of plastic on your table, flipping it from red to green. It means you're ready to feast.
The picanha was barbecued to perfection and I got to enjoy it alongside what is my favorite dish of all time: feijoada. This bean stew has its roots tracing back as far as slavery, telling the story of Brazil with every bite. I have very high standards when it comes to feijoada (and would even argue that my grandmother makes the best one in the world) but Fogueira's did not disappoint at all. If you're wondering the right way to eat it, it's simple: pour the feijoada atop of white rice, some farofa on the side and banana frita for the full authentic experience. Fogueira had it all.
After feasting on a meal that felt like home, the brunch came to a close with an array of Brazilian desserts. Brigadeiro, quindim, beijinho and more sweetened my lips and brought out childhood memories.
I already look forward to returning to Fogueira, to enjoying its flawless Brazilian dining, breathtaking view and familiar staff one again. One of the most highly recommended brunches, in my opinion, for anyone looking to enjoy a real experience with the food of my homeland.