Brunch? Vietnamese? Yes please! Good winning combination for Mitch & I that is in love with Vietnamese food and just can never get enough of it! So we went with a couple of friends at Shangri-La Hotel, Hoi An to attend to their 50 Flavours of Vietnam Saturday Brunch.
Read more about Hoi An in our review for the evening service
The brunch is À La Carte style, that you choose from the menu a set of appetizers, following by the soup, some salads, mains and desert. Don't forget at the end to grab the traditional Vietnamese Coffee. I think it is not promoted enough, but it is delicious and made just like how it is in my motherland.

Appetizers
The list you can chose from is quite long, but the essentials are there. We asked the team to serve to each of us one bite of everything so we taste what we like and perhaps get more!
Our picks you have to try:
Hoanh Thanh Tom Hum: Kind of a fried Dumpling of Canadian Lobster with dried scallops and shiitake mushrooms
Viet Cuon La Lot: Grilled duck and foie gras rolled wrapped in pepper leaves
Ga Xien Nuong: Chicken satay with peanut sauce
Nem Hai San Chien Gion: Deep-fried crispy spring rolls with crab, shrimp, shiitake mushrooms
---
Soup + Salads
Mitch went for a giant bowl, because he can, but mostly because he LOVES Pho Soup and last time the waitress gave it to him for not getting a bigger bowl! The rest of the table we were just fine with a small bowl! Just enough to move on with Salads. Don't skip the Rolls, they are so fresh and good.
Mains
There are many main dishes to choose from in this brunch. Since we were 5, we decided collectively to select 5 different meals to try them all out. The best of all was definitely the sea bass (Ca Nuong La Sen).
Desserts
Again, we all went for both available deserts on the menu in small quantity. We like to try everything so it only made sense to have both. Delicious ice cream in mango (Kem Soai Nuoc Cot Dua, chilled mango puree with coco milk serve with a scoop of coconut ice cream) and sorbets to wash it all up! We bet they rotate their desserts time to time. Top all of that with a Vietnamese Ca Phe Sua Da! What is Ca Phe Sua Da?
Read more about Ca Phe Sua Da Coffee in Vietnam
Free valet parking is available. The Entertainer has one 2 for 1 brunch voucher and if you have the Shangri-La Essence card, you can get a discount of 25% off your total bill. You can apply on their website.
We originally went there for dinner and were totally blown away how much this tasted like the real deal, knowing many spices for Vietnamese food is missing in Dubai. Note that many traditional dishes are modified to add an extra glam to it, just like the Vit La Lot, in which they add some Foie Gras (yuummm).
Although the brunch is amazing, we absolute loved the evening service of Hoi An better.
Read More about our À la carte evening experience at Hoi An at Shangri-La Dubai
---
Shangri-la Hotel – Sheikh Zayed Rd – Dubai, UAE | +971 4 405 2703
[$$]
145 AED Food only
175 AED Food & Soft Drinks
265 AED Food & House Beverages
Mon – Sun:  7 PM-12 AM | Midnight Saturday Brunch: 12:30-4 PM
Follow them on twitter.com/ShangriLa_Dubai
---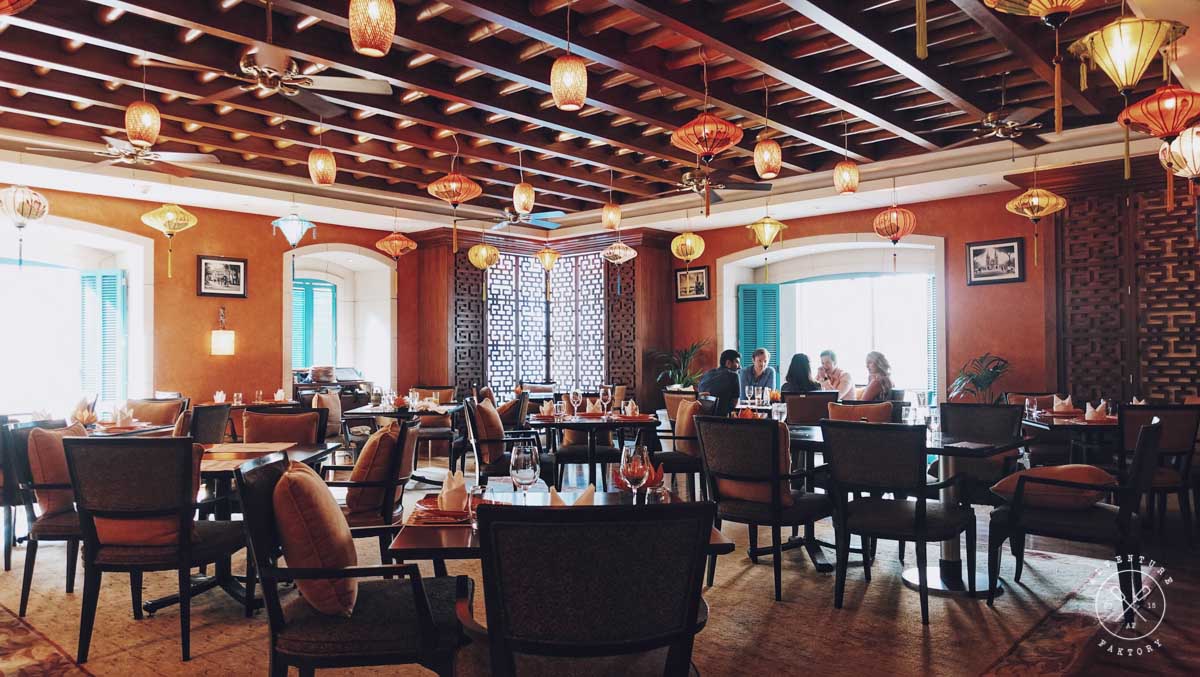 Did you ever try did brunch before? If not, what do you think about Vietnamese food?