Where has Thuymi been?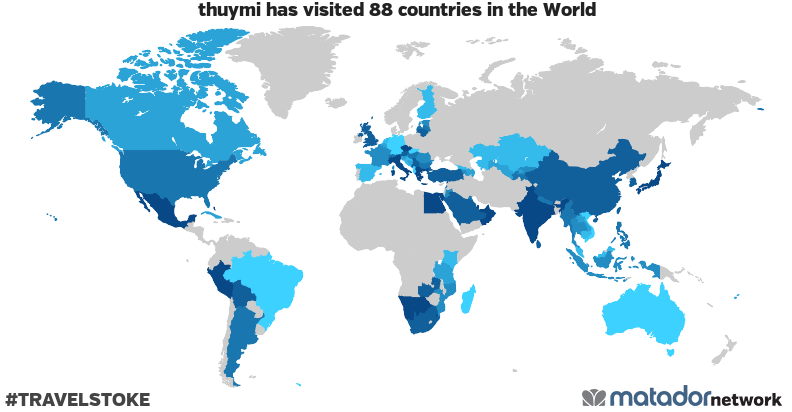 Where has Mitch been?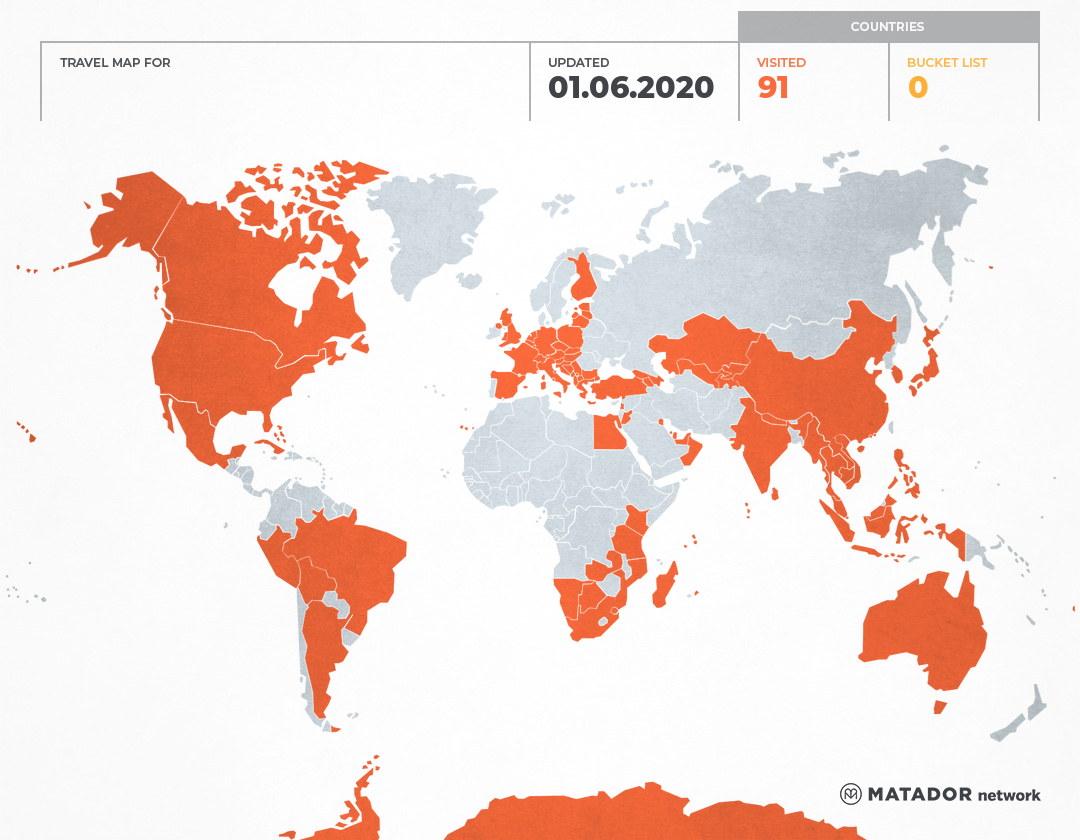 Mitch has been to Vatican and Poland, which both Thuymi hasn't been. Thuymi has been to Saudi Arabia and Romania, two destinations Mitch has not done yet. Together they have a total number of 90 countries visited.
Thuymi & Mitch's Bucketlist
A bucket list is crazy. We believe it is never to be completed until the day we die and when it's on the list, it never can go off until it is done.  We've been creating new goals and revising old ones and we will share some of it with you.
We think the scariest thing is that you have so many things that are undone, but if you never write it down, you might forget to do it. We are young, there is a lot of time ahead to do what we want. Some of the things are probably unobtainable and could be ridiculous, but hey, it's AdventureFaktory, Create opportunities and do crazy things!
Sail on a boat in Ha long bay Vietnam (completed July 2013)
See Niagara falls (Completed May 2009)
Climb Christ the Redeemer, Brazil (Completed August 2016)
Climb Machu Picchu, Peru (Completed August 2016)
Machu Picchu Inca Trail, Peru
Visit the Uyuni Salt Flats, Bolivia (Completed August 2016)
Bike the Death Road, Bolivia (Completed August 2016)
Yoga in Bali (Completed August 2013)
Visit the Amazon, Peru
Party in Ibiza
Boat cruise around the Caribbean's
See Victoria Falls in Africa
SkyDiving in Dubai, UAE
Iguazu Falls, Argentina
Visit the Galapagos Islands
See the sunrise in Bagan, Myanmar (Completed May 2015)
Watch the Oia sunset in Santorini, Greece (Completed July 2012)
Take a horse ride on the Fiji Beaches (Completed December 2014)
Camping in the Costa Rican rainforest
See Mount Fuji, Japan
Tour the temples and gardens of Kyoto, Japan
Cross the famous Shibuya Street in Tokyo, Japan (Completed)
Set foot on Antarctica (Completed November 2018)
Tour Patagonia, Chile
Horseride Mongolia
Swim at the Ocean Dome indoor swimming pool, Japan
Go to the Rio Olympics 2016 (Completed August 2016)

Go to the Pyeong Chang Olympics 2018 (Failed)
Go to the Tokyo Olympics 2020
Go to the Superbowl
Go to a Montreal Canadiens Stanley Cup Final
Attend a NHL All-Stars Event (Completed at the Montreal All-Stars)
Attend a NBA All-Stars Event
Ride a camel in the United Arab Emirates (Completed April 2016)
Stay at Burj Al Arab hotel, Dubai
Stay at Marina bay sands hotel, Singapore
Surf the Sand Dunes in Mui Ne, Vietnam (Completed July 2013)
Go to North Korea (Completed March 2015)
Visit properly North Korea
Marathon run in North Korea
Attend the burning ceremonies at the city of the Gods – Varanasi, India (Completed February 2015)
See the Taj Mahal, India (Completed February 2015)
Visit an Indian city dressed in their colourful beautiful gowns (Completed February 2015)
Get into Berghain night club in Berlin
Climb the Mayan ruins in Mexico
Swim in Jacobs Well Texas USA
Drive the Great Ocean Road, Australia
Visit Easter Islands
Visit the Holy Land
Ice fishing in Alaska, USA
Go to Tomorrowland, Berlin
Go to Osheaga, Montreal
Spend the night on a rooftop in Paris
Pic Nic on the grass in front of the Eiffel tower eating bread and cheese
Do the Great Wall half marathon in China (Mitch completed the full marathon already)
Do the Angkor Wat half marathon in Siem Reap, Cambodia (Completed December 2014, fun run because of an injury)
See the Northern Lights, Iceland
Hike the Na Pali coast, Kauai, Hawaii
Stand on the edge of Preikestolen rock, Norway
Stand on Kjerag Bolten rock, Norway
Visit Iran
Climb to base camp Mount Everest (Trek through the Himalayas) (Completed December 2017)
Meditation in Tibet
Spend some happy times in Bhutan
Eat deep fried insects in Bangkok, Thailand
Try dog meat in Hanoi, Vietnam (Completed July 2013) Ok not really a bucket list, my friend forced me
Swim in Szechenyi Baths Budapest
Swim in the Devils pool Victoria Falls, Africa
African Safari (Completed in Kenya 2016)
Witness the Serengeti's great migration (Completed in Kenya 2016)
Shop at the Grand Bazaar, Istanbul Turkey (Completed May 2016)
See the Blue Mosque, Istanbul, Turkey
Visit the Tiger temple or the Tiger Kingdom, Thailand (Completed May 2016)
Visit the Elephant zoo, Chiang Mai (Completed February 2014)
Drive a car on the wrong side, Any country (Completed in Australia December 2014)
The list is still quite long… Let's stick to this for now!