Bulgaria is a country worth a visit. There are many great cities to discover other than the capital Sofia and Sozopol is one place we would like to introduce you to discover.
After Sofia and Dimitrovgrad, my Bulgarian trip started with Sozopol, one of the oldest cities on the Bulgarian Black Sea Coast. It is located about 35 km south of Burgas. We were there just long enough to dip our feet in the sea, which means not long at all. It is a very popular destination for Bulgarian tourists in the summer months of May-September. Still not major for the average traveller as people don't spend as much time in a country like Bulgaria other than for cities like Sofia, Plovdiv & Veliko Turnovo. Keep reading for Things to do in Sozopol, Bulgaria.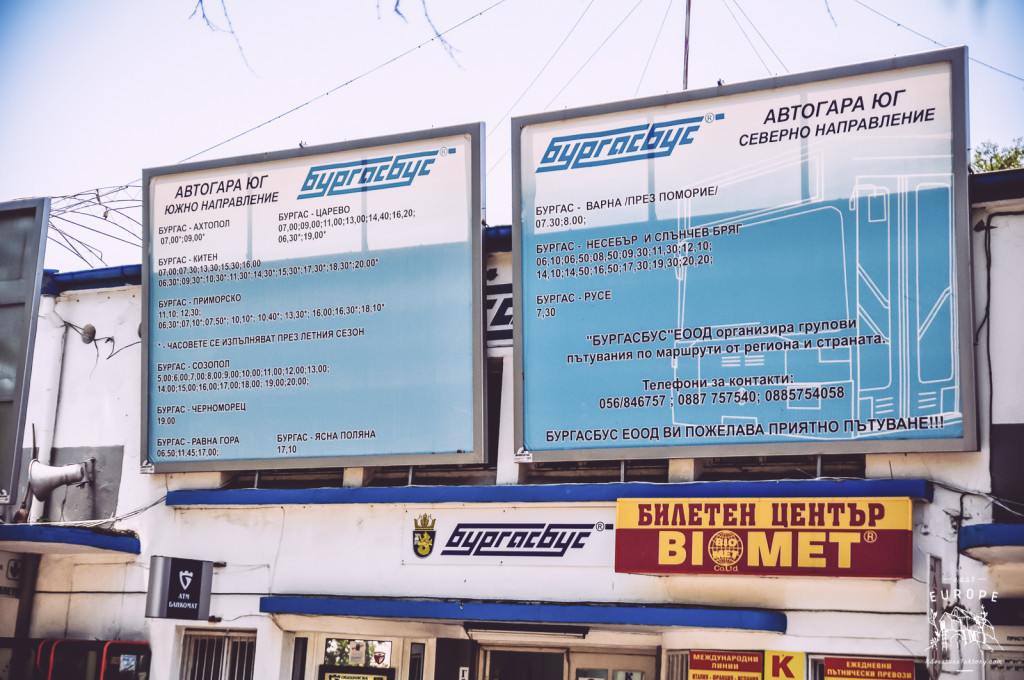 The Cost of visiting Sozopol
Being a visitor in Bulgaria is quite awesome because the change rate is awesome and things can be very cheap, specifically in smaller cities like Sozopol. Food & Accomodation is very reasonably priced. In Sozopol, everything is pretty close. You can walk to the city center (which is the old town) and along the coast to find restaurants. A lot of Russian tourist are to be found in Sozopol. The Bulgarian Coast is definitely one of their top destinations for some beach time aside from Nha Trang and Mui Ne in Vietnam!
Transportation in Sozopol Beach
Sozopol isn't too far from Burgas, 33 KM apart from each other. At the central Burgas station, board on a bus to Sozopol and voilà. At the time, the bus ticket cost less than 5$US per person, from our quick Google research, it should be the same average today!
Food in Sozopol Beach
When in Sozopol, take a walk and try to find a local restaurant in which they are dancing and playing live music. You can also ask a local, but if you don't feel like it, get adventurous like we did! Here are some picture of the restaurant we found. It was great real Bulgarian food and we obviously witnessed live musicians dancing and inviting all the customers to dance. It was a great hit of Bulgarian culture.
A must eat and specialty along the coast of Bulgaria is to eat fried fish. It is so good. Do not miss it! This is probably something I'd get every day. They don't fry it too much and you don't feel guilty eating it. Oh dear I miss Bulgaria for this, Asian beaches seriously doesn't give you this kind of seafood, but we can all agree it is a different experience. For y'all out there in Asia, you can't say I'm wrong until you come to eastern Bulgaria to try this!
Also, I woke up a few times early in the morning to go sit down by the beach where you can find a good amount of café/bistros. A digital nomads routine dream!
If you are a foodie, there are plenty of restaurants where you can taste the variety of dishes offered at the Black Sea Coast. The Shopska salad is a Bulgarian must, fried zucchini with garlic sauce and the fresh fish! To go full Bulgarian, for main course get the traditional dishes of stuffed peppers, moussaka, and tarator (LOVE tarator, it's walnuts, garlic, cucumbers and yogurt, so refreshing!).
Sozopol Architecture
You have to stroll around the Old Town to feel the historical vibe of Sozopol. My favorite is the wooden houses with upper stories that are over 100-year-old. So I said before Sozopol was an old city, but I didn't show much of it on my photography. Looking back at my pictures, I didn't take too many of the architecture. I use to not focus as much into architecture back in the days! Crazy how we change the way we travel the more the travel experience grows
Sozopol Beach
The beaches of Sozopol are less crowded than in Burgas. The beach is also right in the centre of town. If you are feeling adventurous, there are beaches of the nearby camping sites, Kavatzi & Smokinya.
Sozopol is not a party destination
To be honest, it was pretty much it! Don't expect to go there to party. Party places are in the bigger cities like Burgas and Varna, therefore that's why you hear the Chalga singers naming those cities in their songs! If you are looking for less touristy places, Sozopol is to be considered!
This is some other Bulgaria pastry that I can't quite remember the name of it. Also, meet one of my Dunny's, part of my photo project. I will tell you more about it in another post.
The first time in my life I saw outdoor gyms. Actually my first one was in Dimitrovgrad, but I didn't take any picture of it. At the time, I thought this was pretty odd, but now that I've been travelling lots, oh hell that concept is simply normal!
The following 4 pictures were taken at the beach restaurant Deja Vu (дежа вю). Painted all in white, this place clearly made me feel so Zen. It was the perfect place to enjoy my fried fish, drink some Bulgarian beer and enjoy the sea breeze.

The following is the great view of our hotel to the horizon. I loved it so much… to wake up early to sit on the balcony and write on the blog before heading down to the beach.
This guy was super adorable. Not to mention his t-shirt had nothing to do at all with being "Mr. Grumpy. Super sweet and, hey, can't say anything negative anyway to the man that was making your crêpes right?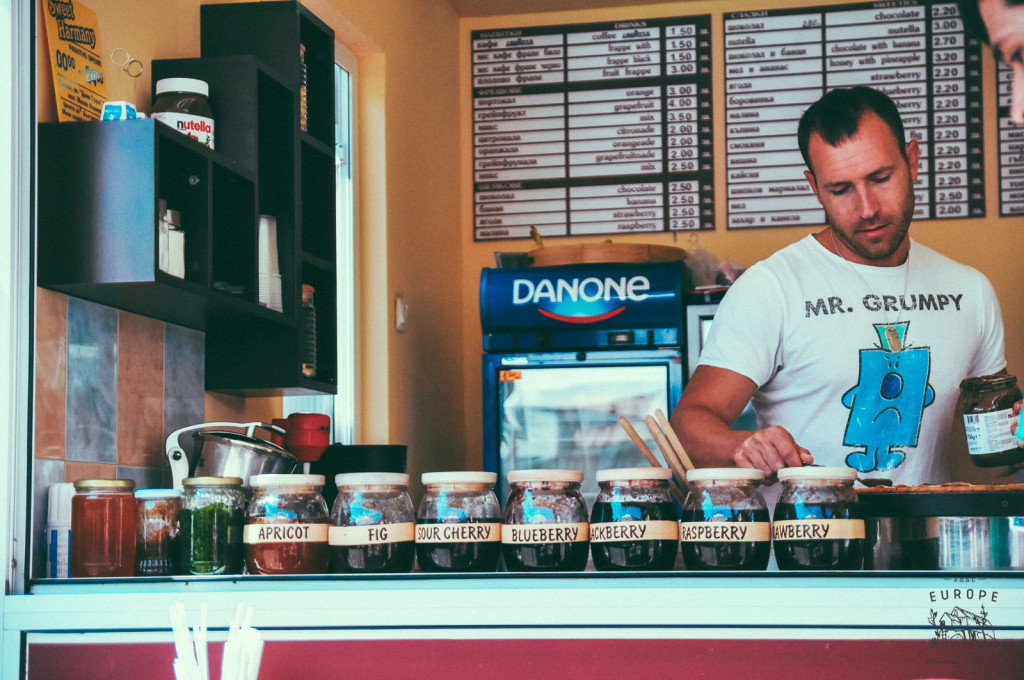 This is box title
That's all for Sozopol! Please tell us if you end up going!
Would you go visit Sozopol?
Have you been to Bulgaria before? Tell us more about your own experience!
---
If you like this article, follow our Adventures on Facebook, YouTube, Twitter, Instagram @adventurefaktory, but most importantly sign up to our E-mail list to keep up with updates and travel trends + deals!