As you wind your way north of the main island of Seychelles, Mahe Island, you will no doubt find the incredible property of Constance Ephelia. It has its very own peninsula, so you will be away from all the hustle and bustle of the tourists. On the South Beach, you have a beautiful sunrise and on the North beach you can have a fantastic sunset. The Constance on Mahe is a big property having all types of accommodation to fit all types of budgets. You can splurge on the big presidential villa, get a private villa with its own golf buggy to drive around, family villas, suites or regular rooms.
Our check-in process was fast and convenient. Don't get us wrong, we came at a perfect quiet time but can tell if a group arrives, it can be quite busy as you have to do the formalities at the lobby instead of an in-room check-in. Accompanied by a wet towel and a sweet welcome drink, we received information about the property. You are to be provided with a welcome letter and a booklet providing you with all the information about the hotel. You can also find discounts for the spa and postcards that you can send home complimentary from the resort. All you have to do is to write your note to your friend/family plus destination address and they will take care of the rest.
View this post on Instagram
Where is Constance Ephelia Located
30 minutes from the International airport on the western side of the island, Constance Ephelia is one of the large properties on this side of the island. To reach the west side, you need to go over the mountain range which is a winding road with some incredible views. Taxi prices on the island are jacked up for both locals and tourists, so the best bet would be to make sure you arrange a transfer in advance if you don't like to haggle prices. PS: Make sure to not spend too much time on the phone, it can be quite windy roads and you can actually feel not great.
View this post on Instagram
View this post on Instagram
Facilities at Constance Ephelia
If you are looking to stay active and to stay busy on your holidays, then Constance Ephelia is a good idea for your vacation. There are so many things to do, it means you will hardly spend any time in your room. There is a tennis court with a professional coach if you want some lessons and have a hit around. You can borrow racquets anytime you wish free of charge as long you have a court reservation in advance. Same applies for the squash court, which is located next to the fitness centre and we played quite a while in there. Needless to say, it was super fun and a great fun fitness session you should do during your vacation.
The fitness centre is fully equipped with all the gear you need for a tough workout with plenty of machines, free weights and a ton of equipment for all those cardio peeps out there too. Constance also has a lap pool by the fitness centre so if you are not a fan of swimming in the ocean then you must swim a few laps here.
Turtle Feeding
We went to visit the turtle enclosure where 8 turtles laze the day away. At 4 pm every single day, you have the chance to hop into the enclosure and feed the turtles and enjoy their company. They actually move quite fast and they love a neck rub, so be ready to scratch them on the back of their long neck, definitely a special experience!
Buggy Service
You can rent the bikes from the fitness centre for 10$US a day or you can call the buggy service to take you around the resort. It is a big resort, so a buggy service will come in handy for getting around. We thought it was quite slow and not always the best way to get around in such a big property. Not that the buggy service is like a bus going around the resort and there is a transfer require in between south and north lifts.
The North and South beaches
Constance Ephelia is located in a peninsula so you have two bays on each side of the resort. So depending on where you staying (north or south side) there is a beach very close to you. The North beach is where is the sunset usually. Although, it is a public beach so you might rather chill on the South side where fewer non-residents are if you like your privacy.
The golf course at Lemuria
If you are a keen golfer, you can also visit their sister property, Lemuria on the adjoining island of Praslin. You will need to catch the ferry to get there but you will be able to play on the only 18 hole golf course in Seychelles, and it is a beautiful course. Free green fees is always a winner and a huge perk for many that are looking for a place to stay that they can play golf. If you do come just for golf, it is a good idea to book directly at the Constance Lemuria property for convenience. At that property there is also nested one of the most beautiful beaches of Praslin Island of Seychelles, Anse Georgette. Anse Lazio is meant to be the most beautiful but many like Anse Georgette more because it is smaller, quieter and even clearer water. Of course, opinions can vary on how and why you like a beach better than another.
Swimming pools
In nearly every single section of the property, there is a swimming pool. For a property with that much capacity, it is only smart to have that many swimming pools around. Many of the villas have their own private pool. You can choose to go to the one near the beach, or you can find a quieter one with hardly anyone around the North side of the property since most people use their in-villa pool.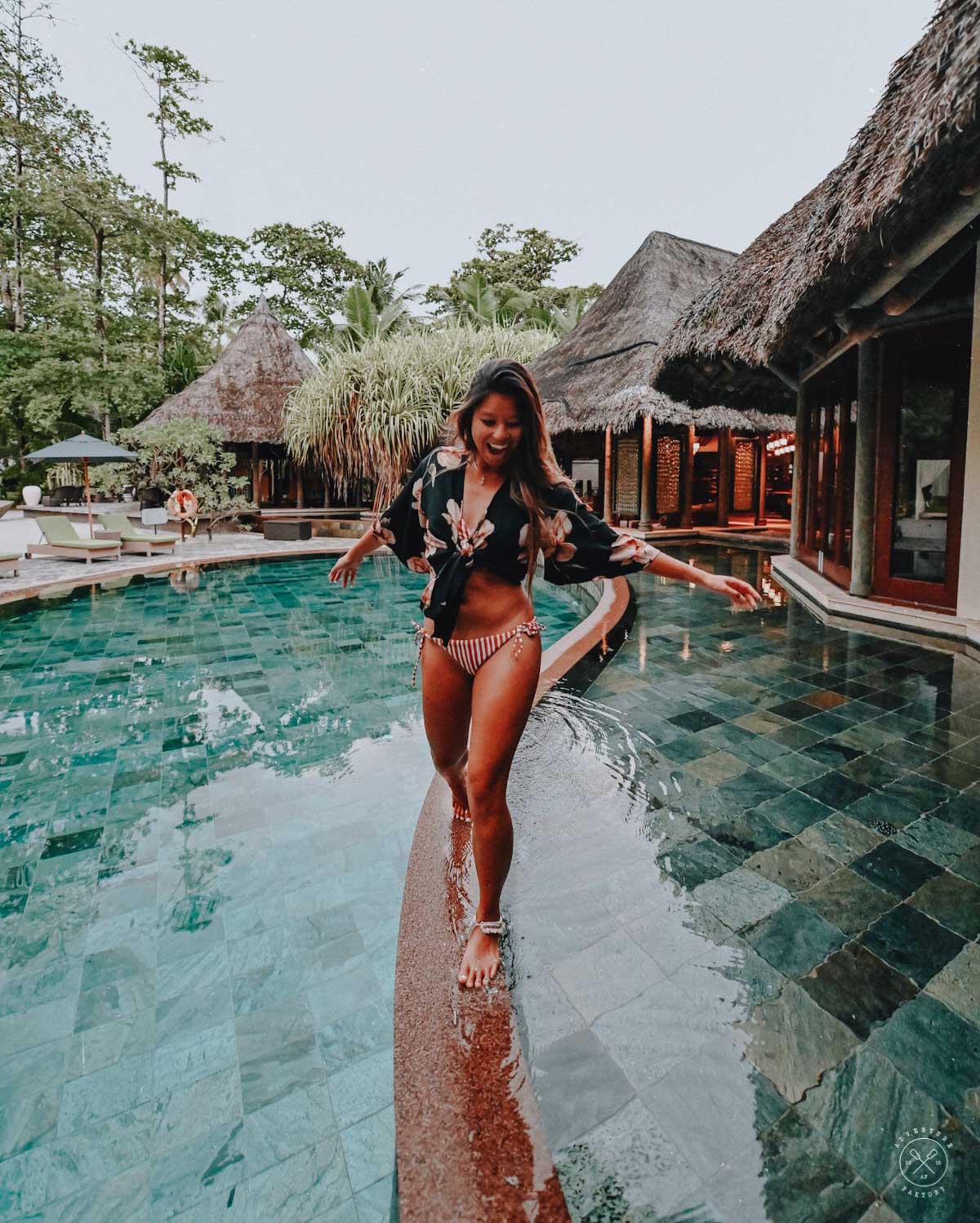 Ziplining Experience
Constance Ephelia has its very own Zipline course inside the property. We went to experience it for ourselves. This was definitely a first for us as we have never been to a hotel property being able to offer this. Our instructors took us through an introductory line where we learned to brake with our hands, something we had never actually done before. After this, we hopped in. A buggy then a small 5-minute hike up the hill to begin the course. Just as we started, the rain came. It poured. But we kept going nevertheless. Thuymi and I were the first ones on all the lines so we could go at our own pace. There were 8 individual Ziplines all going through the rainforest canopy and it was such a different ziplining experience than any other we have done. One of the eight lines you had indeed to brake a little bit by yourself which was really weird!
Constance Kids Club
There is so much to do with the kids. There are themed programs, cooking classes, movies on demand, you will never ever see your kids as they will be too busy having a ton of fun. They have fully qualified staff who will look after your kids while you relax.
Our Spa experience at U-Spa
U-Spa is one of the Indian Oceans premier spa locations. With 18 private cabanas for massages, it is one of the busiest places on the resort. Yet you never feel of it at any stage during your treatments. We headed in for a 45-minute massage. We sat down and talked about what we wanted to massage and how firm I want it. It was so refreshing to have a personal chat before about what we wanted. Always book in advance or you miss the couples massage rooms! Even after your massage is over, you are able to use and access the wet area. This place includes a jacuzzi, thermal pool, steam room, and an infinity pool to chill out and relax. If you have an appointment, you can actually stay here and relax all day. If you don't have an appointment, you are still allowed to go between 10 to 2 PM but first come first served on the list!
Dining at Constance Ephelia
To cater for that many people, Constance Ephelia has no choice to have many food and beverage outlets. In our few days there, we were able to go around and try the best ones.
Helios
This was the place for the Sunday brunch with a pool and live band. You can decide between the alcoholic or non-alcoholic package. The concept is live cooking which makes everything so fresh and delicious. The food there is a mixture of seafood and Asian fusion and we ended up spending plenty of time here enjoying the afternoon. The chicken and vegetable skewers and the lobster lasagna are our personal favourites here. There was also foie gras, Thuymi's favourite but not so much mine.
Cyann
This is the fine dining restaurant which comes with an award-winning chef. They have won awards here and have delivered top quality service. It was also our anniversary and the team made it a special night by making a cake for us, which I can safely say was delicious. We had a three-course meal which was complimented with a South African bottle of white wine. Dining here is extra in your all-inclusive package but worth every extra penny. Some guests actually book this every evening they can.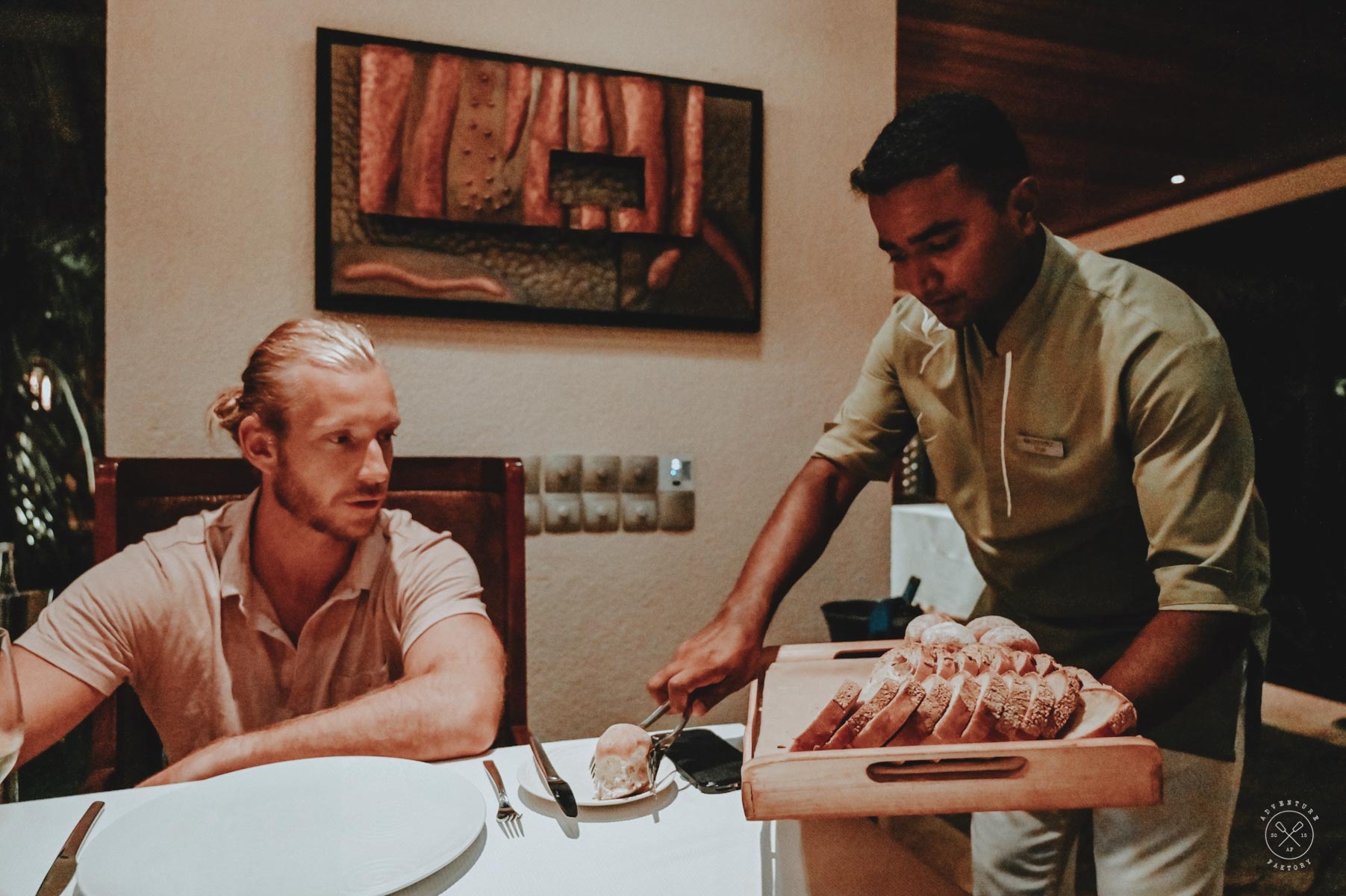 Selewana
Probably the most popular place of all the restaurant, largely due to its fanatic location on the north most beach. Selewana offered us the Fishermans buffet dinner which included crabs, lobsters, shellfish, prawns, squids and salads and anything else seafood. It was pouring down rain the whole time but it was enjoyable and tasty. All themes for all restaurants are available on the board so you can plan all your restaurant bookings accordingly. Make sure to always book in advance because restaurants do get full.
Corossol
Corossol is the main restaurant of the whole property and also the place to have breakfast every morning. It does not serve lunch. We ate dinner there once and it was a Middle Eastern style buffet, with a wide range of desserts to go along with it. As we are from the Middle East, we were actually impressed with the amount of quality food on offer. It even had lentil soup with crunchy pita!
Adam and Eve
This is a poolside bar with a casual menu for a light eating experience. We were here in the mid-afternoon and grabbed a few cocktails, mocktails and sandwiches. It is a relaxed atmosphere and a quite pleasant place to have dinner.
Rooms at Constance Ephelia
We stayed in a Junior suite. The room was spacious with a large bed and a terrace which was perfect for watching the world fly by. There were plenty of spots to lie all the suitcases down but to be honest, the room is not the centrepiece of the resort, it is about all the activities. We were centrally located, with only a 5-minute walk to the main reception and main breakfast area. To be fair, it was lucky we were located where we were on the property. You could be placed further and since the property is quite large, it can be a pain to get around.
Not all the rooms have a bike, only villas and family villas do, in addition to a golf cart if you are staying in a villa so you can drive around at your convenience. The presidential villa is quite a fun place we got to spend some time in. It has its own mini gym, sauna, two pools and three bedrooms.
Sustainability at Constance Ephelia
Like many of the other resorts we have visited in the Indian Ocean, there is a contentious effort to persevere and maintain the environments. They have even achieved Green Globe certification, so you know they are doing an incredible job as an eco-luxury hotel and resort. Unfortunately, plastic bottles are still distributed in the room and to the guests. Like many properties in the world, this is a work in progress. It hasn't been the most sustainable hotel we have stayed at but if you are really into it, there could be better options out there.
Our experience at Constance Ephelia
This certainly had more of a resort feel compared to some of the other places we have stayed in Seychelles. This place focuses on the whole experience, making it wonderful for families. Getting around on a bike was much more enjoyable than the buggy and I highly recommended to get one. Do try out all the restaurants as they all offer something different and special. There is a dance floor every night and shisha bar at the main bar which is of great entertainment. If you are a couple, we highly recommend you to book the villas as they provide with way more privacy and you can have meals ordered to your room for a much more relaxing and secluded experience. If I was on a honeymoon, I'd avoid many of the main all-inclusive restaurants because it can be quite busy and would rather eat at Cyann. Not only the food there was fantastic, but you might also want to try everything on the menu like us.
Disclaimer: This article contains affiliate links. We use them as a way of assisting us in maintaining our website and follow our passion.  Please use them when you are booking as it supports us greatly. This stay was hosted and is not a paid collaboration. All opinions remain our own. Thank you.