Great news! Disneyland®Paris announced a phased reopening of the resort starting with the Disneyland Park, Walt Disney Studios Park, Disney's Newport Bay Club Hotel and Disney Villages on the 15th July 2020.
The reopening has been planned all in line with the guidance and governance from French government and health authorities. The main focus continues to be on making sure that the health and safety of Cast Members and guests are a priority.
Disneyland Paris also announced the scheduled phased reopening of several other Disney Hotels including Disney's Hotel Cheyenne on 20 July, Disney's Hotel Santa Fe on 3 August and the Disneyland Hotel on 7 September. Disney's Sequoia Lodge Hotel and Disney's Davy Crocket Ranch will remain closed during the summer with reopening dates announced at a later time.
"All of us at Disneyland Paris are excited to be on the path to reopening over the next few weeks," said Natacha Rafalski, President of Disneyland Paris. "Making magic means even more, as we reflect on the resilience of our Cast Members and community, the enthusiasm of our guests and fans, and the positive momentum of many reopenings in the tourism industry across Europe. We are looking forward to the return of our Cast Members and reopening our gates for guests to once again enjoy."
Safety Measures and Experience at Disneyland Paris
The phased reopening will incorporate deliberate approach to safety, with enhanced health and safety measures implemented for both Cast Members and guests. This will include limits on attendance and require advanced ticketing and reservations to accommodate controlled guest density that supports government guidance on physical distancing. As a result, some experiences, shows or eventswill not be available or may be modified upon reopening depending on the evolution of the safety and sanitary measures and recommendations from public authorities. This includes offerings such as Disney Stars on Parade and Disney Illuminations night timespectacular which will return at a later date.
Note that character meet and greets are going to be temporarily unavailable but Characters will be in the parks in new ways to entertain and delight guests. Other experiences such as playgrounds and makeover experiences will remain temporarily unavailable. Additionally, FASTPASS services are going to be suspended in order to allow for the necessary queue management on attractions. Cast Members and guests ages 11 years old and older will also be required to wear a face mask while at the resort.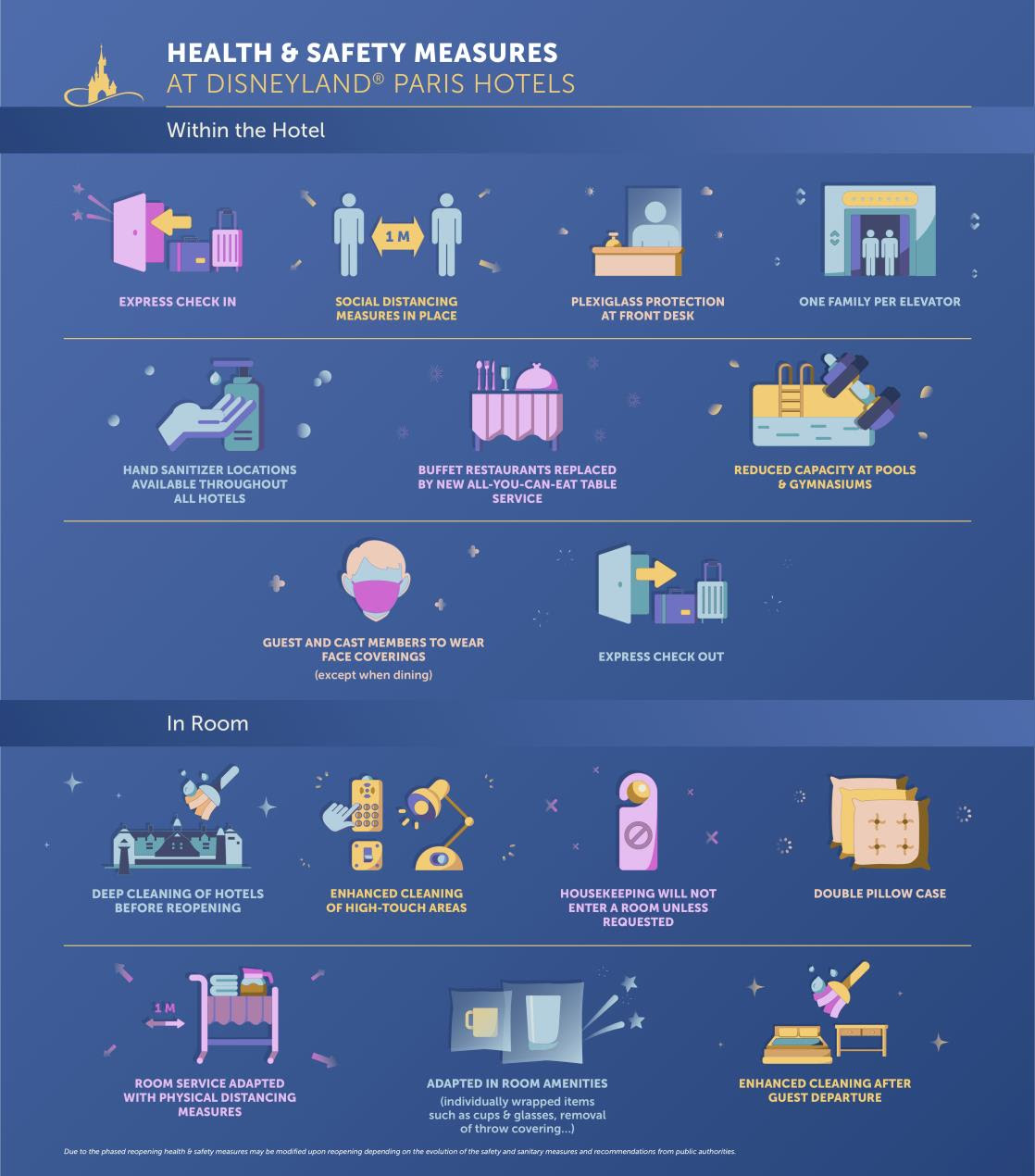 Everything you should know about Disneyland Paris' Ticketing and Reservation System
As Disneyland®Paris welcomes guests back to the magic with a limited number of tickets available each day during the initial reopening, a new online reservation system will be available in early July. To ensure admission, guests in possession of or buying non-dated tickets, and Annual Pass holders, will need to register on this new online reservation system to obtain a reservation for park entry prior to their arrival.
Guests who already have a dated ticket, do not need to register and reserve a date. Likewise, guests with packages that include park admittance will receive admission for the duration of their stay and do not need to use the new online reservation system.
Tickets and packages are now on sale on the resort's website, Disneyland Paris call centre and official travel partner channels, with a limited number of tickets available each day during the initial reopening phase. There will be no ticket sales available on site.
To provide guests with maximum flexibility, new booking conditions are now available to include cancellations and modifications without fees (excluding transport), on stays in the Disney Hotels anytime up to seven days before the arrival date. Specific details are available on disneylandparis.com
If you can't travel to DisneyLand Paris, you can still enjoy the At Home Experience at DisneyLand Paris on their website or you can also virtually go on the Disney Rides around the world on his link!