Are you on the look out for a comprehensive list for your Everest Base Camp? We have just come back from completing Everest Base Camp and have all the information you need to do it yourself as well! Now warning, it is a lot harder going on your own with no guide OR porter, but we wouldn't have it any other way, but it is something that takes a little bit extra planning.  If you want to go with a guide – send us an email and we know the perfect person to help you 🙂
So below is the list we used to get us to Everest Base Camp, which has been compiled from hours of research and many chats with hiking/trekking experts such as our friends at AdventuratiOutdoors.
We have broken it down into 5 categories: Trekking equipment, Clothing, Footwear and Accessories and Technology
Things you need to pack for Everest Base Camp
Packing for Base Camp is a tough task as you will need to find the balance between making sure you have everything and only packing what you are prepared to carry. In saying that, if you are taking a porter this choice is a little easier and you will be able carry more of everything but we believe that carrying your own equipment gives you a full appreciation for the nature of the hike. You don't want it to be too easy right?
Just a little note: like most lists, they also need to be tailored to individual needs so if you are in a group you can share the lifting on some of the sharing items. Also if you plan on trekking in the colder winter months of end of November, December through February, you will definitely need to pack a bit warmer like we did (three layers).
Recommended Trekking Gear for Everest Base Camp
1 Backpacks with water proof capability – 70L (50-60L for girls)
1 Backpack cover (in case of rain)
Travel Wallet- photo ID, Credit cards, passport (Waterproof!)
2 Trekking Poles (Ideally especially if you have any weaknesses at knees or back)
1 Sleeping Bag – must be 4 season and be -20 degrees quality because you will indeed freeze when closer to EBC (especially if you go from Dec-Feb)
1 Sleeping bag liner – essential for warmth
Things to wear to trek Everest Base Camp
The choice was really easy to decide what brand to use for clothing. We knew by reputation that Marmot was the brand used by most mountaineers that summits mountains so we made sure to get the most out of them. Columbia is also a great reputable brand for outdoors wear, but mostly for footwear. The weather when we were up there was under -26 degrees celsius on some days, it was not time for cheap and unproven clothes. There is a reason why this gear, when bough original, is pricey and useful to keep you warm. My favourite piece of gear was my green 800 goose feather jacket as it was the only thing I trusted to not let me frost. Let's move on to our list of clothing for EBC:
Headwear: 1 Beanie each + 1 sunhat from Marmot
Neck Gaiter: These were very useful, it will keep your face and neck warm while also. There is this "Khumbu cough" you don't want to catch as you breathe in the cold mountain air!
Underwear: make sure you get breathable and moisture wicking material. For underwear, get around 5 pairs of quick dry underwear from Columbia and for ladies, get 2 wicking quick dry sports bras. Thuymi went for 2 regular pairs of sports bras and it was all good
Base layers: this is important for higher altitudes and colder parts of the trek. This means you will probably not use it during the first and last parts of the trek, but smart to pack. You need 1 each midweight long underwear non sweat bottom and 1 each midweight long underwear top. We got thermal leggings and tops from the Columbia store and also from Marmot, from ZSI Trading in Dubai.
Insulation layer: commonly called your soft shell jacket, this layer is always made of fleece type material. You will need 1 each midweight fleece
Third layer: usually looking like a bomber jacket, you will need this layer that will bring you warmth. Not all of them will be waterproof, but if you can find one, it will be great. This outer core layer will mainly be used for higher altitudes of the trek or when the weather gets very cold and/or rainy. Special love to my Marmot one that folded to become a pillow at night. You will need 1 each person
Waterproof Shell Jacket and Trousers: we had 1 each a lightweight waterproof / breathable rain jacket from Marmot. These we awesome for the day we went up to EBC as we did not want to wear our third layer and wanted to wear something lighter. There was also a very windy day and these jackets were lifesavers. You don't really need these layers unless you plan to go from June to September which is definitely not recommended to trek in the region during these months. (More likely to rain)
Windproof top – Marmot Driclime
1 each convertible hiking pants (useful for mornings when it's quite cold)
1 each insulated pants from Columbia and Marmot (We did not use them as it wasn't as cold as expected)
Gloves: You will need them and it is recommended to have 2 layers during winter. We had 1 pair fleece gloves – inners  from Marmot and 1 pair waterproof/windproof Outer Insulated Gloves from both brands.
Normal sports leggings (Thuymi was wearing them most of the trek when she removed her hiking pants when it got warmer)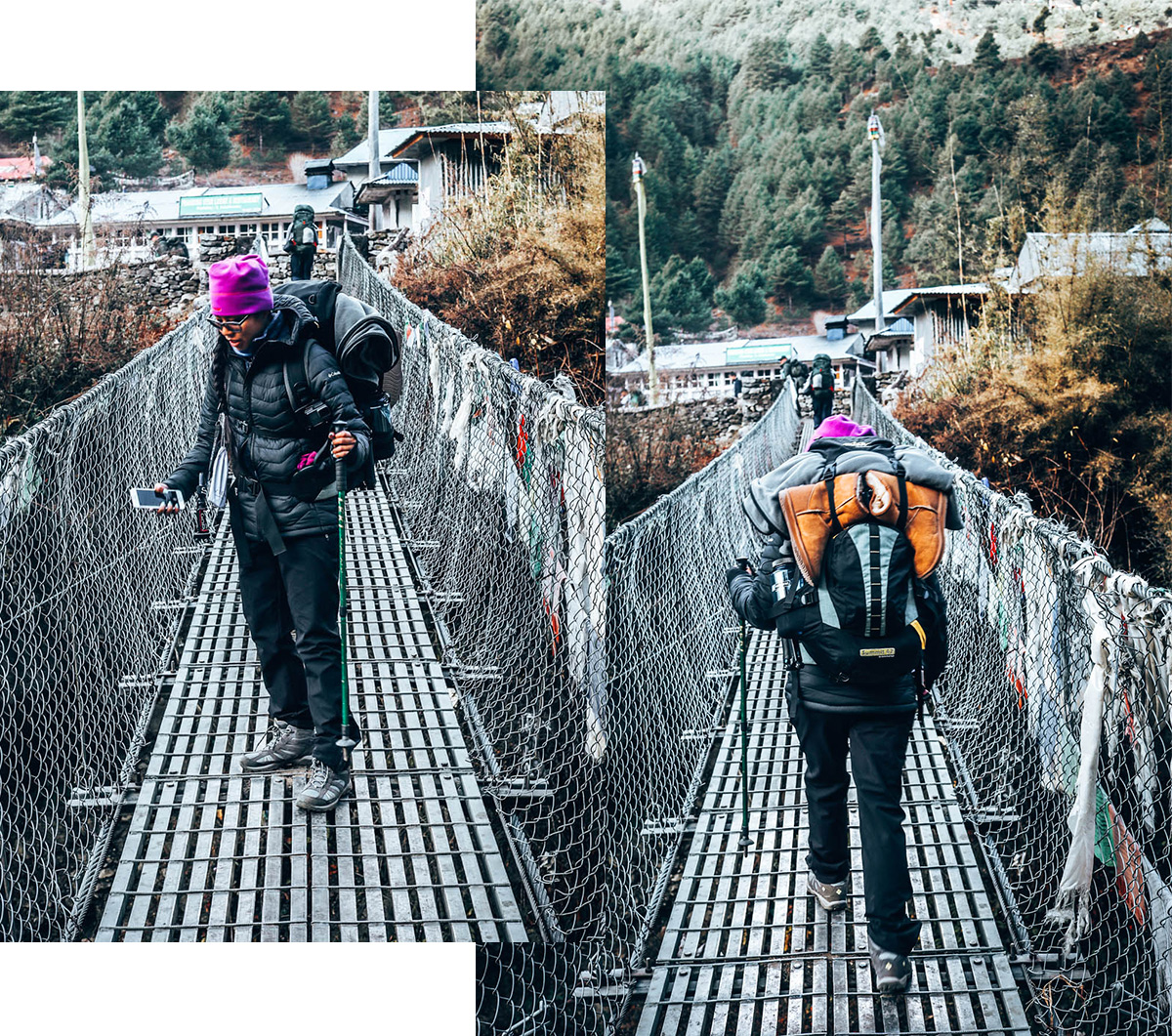 What shoes to wear for Everest Base Camp trek
Footwear is one of the most important pieces of gear that you need to get right so don't cheap out on it. Your feet are what get you to Base Camp and back step after step, so you want to make sure you have comfortable trekking boots. Aches and blisters are horrible and would be a nightmare on such long trek.
Pair of Hiking Boots – waterproof and lots of grip
4/5 pairs midweight wool/synthetic socks
Change of flip flops/loose shoes end of the days trekking. Thuymi decide to bring her very light Emu boots
Lightweight spikes – optional, you won't really needing them if you only do EBC
Do you need gaiters? Not for EBC… even when we went during the coldest time for EBC, we didn't feel like we ever needed them.
Now the shoes that we chose to wear for our climb was from Columbia. They seriously have a massive range of shoes and I didn't even wear my regular shoes at all during my Nepal trip. In saying that, it is because I needed also to be wearing them several times before hike to make them blister free and comfortable. Brand new boots will give you blisters 100% so do wear them out before your hike. The hiking boots were amazing and stayed strong the whole trip. We also got some thermal underwear and socks that are breathable and moisture wicking. Anything made from cotton is a NO NO. You will definitely need both of those to make it! The socks get my feet warm all the way up the mountain, the regular sports ones wont.
Accessories you will need for EBC
Going around Dubai trying to find all of these items would be extremely time consuming, so we used the help of Souq.com, which is like Amazon (Souq is basically owned by Amazon!) in the Middle East. Using their quick delivery system, we able to order a whole bunch of equipment that was essential literally less than 3 days before we left! Other than the medical stuff, every single item was available from Souq. The sunglasses (and extra set), Padlock, hand sanitizer, vitamins and baby powder really came in handy whilst up in the mountains.
Showers. Enjoy them before you climb. Up there you will not have that luxury to shower every day. We used Sephora products to keep up all hygienic and fresh. Their wet wipes were our saviours! You will get dirty just walking and showers in winter will be totally out of the question, get quality health products!
1 pair each of UVA protected sunglasses
Water Bottle – we took 2 each, water gets expensive up the mountain – NALGENE brand bottle is a must which we grabbed from GearMeUp.com
Water bladder to sit in backpack for more water supply
LED headtorch on Souq.com
2 Small combination padlock that fits kitbag zippers
2 international plug adaptor for recharging purposes when in teahouses from Belkin and One Adaptr (TWIST+ World Adapter DUO)
Multitool device – army knife
Wet Wipes
Toilet Paper, don't make the mistake to not bring some!
Multi Vitamins, yup if you want all your vitamins, do bring them as we recommend you to avoid eating meat during your trip.
Our favourite coconut lip balm from Sephora
Suncream
Solar charger – easy and cheaper way to recharge up mountain
SD cards – for all those photos
Camera (We had a Canon 5D Mark IV but also shot a lot with our iPhone 8 Plus)
Phones
hand and toe warmers (only if you get really cold, but we didn't need them)
Waterproof case for phone (you won't really need it)
3 Belkin portable power battery including one that was able to charge my Apple watch.
Energy Bars / gels / electrolytes. We picked up some amazing Picky Bars from America on GearMeUp.com
Water purification tablets
Baby powder to avoid smelly feet and keeping them dry
Vaseline, bring only a little for potential blisters on feet
Travel Towel, yup you will need that one, no home stay will provide you one!
Little bags to put your smelly clothes. We do recommend you take reusable bags.
Personal first aid kit- just basics – immodium, rehydration tabs, paracetamol, aspirin, ibuprofen, band aids, Eno indigestion, moisturiser
Altitude pills (Diamox) are a MUST.
Anything you want to celebrate with at Base Camp, example a Flag, toy etc.
Technology for Everest Base Camp
We thought we would also chat about what tech to bring on a journey where literally every gram of weight needs to be considered. If we had our time again, we would have bought solar panel charger with us as we found that charging our chargers every time we needs to got increasingly hard. In saying that, we had Belkin battery packs and they managed to have an incredible battery life despite the rough cold conditions. We charged them up on the first few days. bit after that we were on our own with them as guesthouses start to charge you around 5$US to fully charge your power banks. We also had Belkin accessories on the mountain such as charging cords as well which were very high quality.
If you want to know what we usually take on a traveling journey, read this about the technology we usually take with us on every journey.
As for cameras, we brought a lot. We wish we could bring the drone, but it is illegal to fly unless you have permission in the national park. Here is our list of photography equipment:
Canon 5D Mark IV
14-35mm lens and 40mm lens
GoPro HERO 5
iPhone 7 Plus + iPhone 8 Plus
Ollo clip for the iPhones (super wide + ultra wide lenses)
 Food and Snacks for Everest Base Camp
Due to the high amount of walking, you have to get as much energy as possible on the road. We chose to eat Picky Bars every day of the trip. Not only were they full of protein, they tasted so amazing that we even bought more after our trip and use them within our work days. To give us an advantage on the mountain, we also made sure we had Beet it bars and juices to help us. Beet it is beetroot concentrate, mixed in with nitrate to allow you to use your oxygen better when up on the mountain. We found that when we used it, the day was usually better physically.
So there it is, that is the list of exactly what we took to conquer Everest Base Camp on our own without guide and porters! It is a comprehensive list and you may find that this list might even get shorter if you are going during a warmer period of the year (March to July). Perhaps one less layer required. Pack all this and you are well on your way to climbing that mountain!
Disclaimer: This page contains affiliate links. We use them as a way of assisting us in maintaining our website and follow our passion.  Please use them when you are booking as it supports us greatly. This is not a paid review and all opinions are our own. Thank you.