Monkey Shoulder has recently launched its Smokey Monkey in Singapore, a new peated malt whisky with a twist on the original Monkey Shoulder, offering a sweet, smokier taste, as well as a new and playful way for people to sip, mix and enjoy peated Scotch.
While the Smokey Monkey bottles are not yet available for purchase, if you are a whisky lover and do fancy some cocktails do make your way at any of the 15 of Singapore's great bars across Singapore, who have each created an unique cocktail to be featured on their menus. At the same time, you can take part in the giveaway to win a swag bag including a bottle of Smokey Monkey, Monkey Shoulder and Monkey Shoulder branded glassware.
Win the new Smokey Monkey Bottle*
To win the bottle here are three simple steps:
Head down to one of the 15 Smokey Monkey partner bars from 16 March onwards and try one of the delicious Smokey Monkey cocktails.
Snap a photo of your receipt, upload to the Smokey Monkey Giveaway page, answer the four subsequent questions, and fill in your details.
The five most creative responses will be chosen!
*Giveaway terms and conditions apply.
Participating outlets with the new Smokey Monkey in Singapore
Ah Sam Cold Drink Stall
Anti:dote
Employees Only
Heart of Darkness
IBHQ
Junior The Pocket Bar
Potato Head
Sago House
Smoke & Mirrors
Tess Bar & Kitchen
The Bar at 15 Stamford
Tippling Club
3) Chimp Off The Old Block @ Barbary Coast
At Barbary Coast, the drink is made of clarified Cherry and Cherry Heering create the top notes to balance out the punchy base of Smokey Monkey. A dash of lemon brightens up the drink while the carbonation adds a delicate effervescence.
Combined with smoked water ice cubes to further enhance the peated notes of the whisky, this drink is served on a smoked ice spear, and garnished with a dehydrated lemon wheel.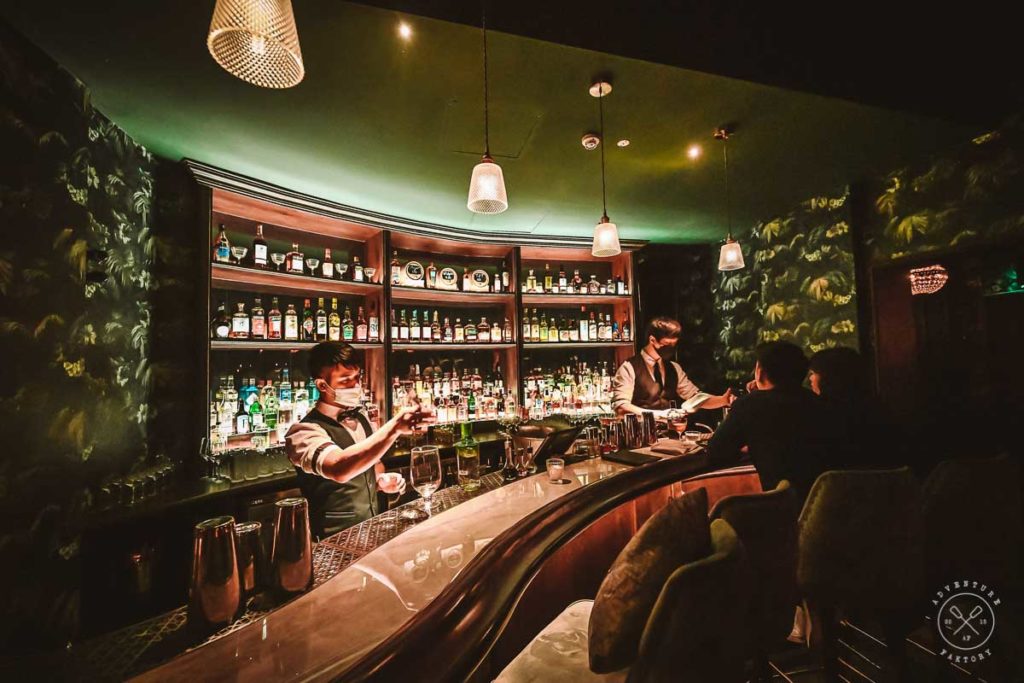 6) Nardus @ IB HQ
A twist on the classic Whisky Sour, this drink emphasizes floral and leathery notes of lavender. Perfect on its own or as a complement to bar snacks, the Nardus is also a great "dessert for adults". It is made of Smokey Monkey, Coconut, Citrus, Lavender and Egg white.
7) Escape from New York @ Junior The Pocket Bar
What better way to experience smoke in a cocktail than a classic sour? At Junior The Pocket Bar, you will be able to try the Escape from New York made with Smokey Monkey, Banana Puree, Fresh Lemon Juice, Luxardo Morlacco Cherry, Rich Demerara, Foamee, Argentinian Red Wine and Angostura Bitters.
8) Sugba @ MO Bar
At one of our favourite Singapore bars, MO Bar, find the Sugba, which means grilled in the Philippines, made of Smokey Monkey, Grilled Sweet Corn, Grilled Sweet Potato, Milk, Pandan, Butter, Calamansi, Sugar & Salt.
Read more about the MO Bar Experience
9) Monkey See, Monkey Taro @ Nutmeg & Clove
At Nutmeg & Clove, the unique drink made for this initiative is made of Smokey Monkey, Passion Fruit Rum, Taro Syrup, Clarified Passion Fruit and Lime. Rich and moreish, a hint of fruit and acidity makes this drink easy to have, and to have again.
12) The 3 Monkeys @ Smoke & Mirrors
Join Edu and Mel for a great time at Smoke & Mirrors and to try their Smokey Monkey special concoction, which is a twist on the classic Golden Rush and New York Sour combination. Find fruity flavours from the Cabernet Sauvignon and sweetness from the honey, leaving you with a dry and refreshing finish. The drink is also made with some lemon and egg white.
13) Chunky Monkey @ Tess Bar & Kitchen
Come and try Tess Bar's Chunky Monkey! Smokey Monkey's deep vanilla flavour coupled with earthy notes makes one desire a chocolate pairing. Inspired by a classic cocktail, the 20th Century, the Chunky Monkey was born. The dry, smokey, lingering flavours on the back palate are paired white cacao, with vanilla and citrus to balance.
14) Undead Monkey @ The Bar at 15 Stamford
Located at 15 Stamford Road at the Capitol Kempinski, come try the Undead Monkey made out of Smokey Monkey, 151 rum, Homemade falernum, Banana liqueur, Orange juice, Lime juice, Cherry brine, Angostura bitters. The inspiration for this drink was built on the lush and fantastic history of Tiki cocktail culture, with Smokey Monkey giving this modern tropical classic a breath of smokey life. Expect a rich spice mix, a cacophony of luscious fruit flavours and just a dash of showmanship.
15) Brass Monkey (That Funky Monkey) @ Tippling Club
Come over Tippling Club for their unique Brass Monday made of Smokey Monkey, Hazelnut, Banana and Xocolatl. Infusing the rich smokey aroma of Smokey Monkey with oven-baked hazelnuts and bincho-toasted bananas elevates the nuttiness and tropical fruit notes into an enriched old fashioned cocktail.