To be very honest with you, before moving to Dubai we probably never have said the word "Azerbaijan". The idea of travelling there and to its capital Baku wasn't something that ever crossed our minds.
Most of the people that travel to Azerbaijan is because they are based in the Middle East and have easy access (for example with airlines like FlyDubai from the United Arab Emirates). The other reason why you would think of travelling to Azerbaijan would be because you are either biking or driving through the country as it is one of the main gateway towards Central Asia. Azerbaijan is actually very gorgeous with a lot of nature, wellness retreats and other activities to do.
As many of you reading us come from Dubai, we really encourage you to keep a long weekend free to book a cheeky flight on FlyDubai to Baku. Four Seasons Hotel Baku is certainly the place to stay for so many reasons, make sure you check their website for deals they regularly have.  With its exquisite indoor pool and great spa facilities, you can escape the UAE and add another country to your list of visited countries.
If you are on a road trip of some sort like we were, Baku is where you can get your last hit of luxury on the coast of the Caspian Sea before entering Central Asia. Picture yourself on the balcony of a building overlooking the waterfront, with the ancient city walls joining at the rear and you are starting to get a feel of what Four Seasons Baku is like. Plus, if you are there during the summer time, is a complimentary shuttle to the sea as Four Seasons has its own private beach resort called Sea Breeze.
Where is Four Seasons Hotel Baku located
The Four Seasons Hotel in Baku is a centrally located on the Promenade. Even though the city of Baku is quite small, there are many major tourist attractions that are in walking distance of the property. With that great location convenience, we recommend that you walk around the city as much as possible. The Carpet Museum, Promenade and Little Venice are all within a 10 minutes walk. The famous city wall actually backs on to the hotel and the UNESCO World heritage listed Old City is only 500 meters walk from the hotel. The monuments are dated around 9th to 12th century and are great for photos.
Getting Around from Four Seasons Hotel Baku
There are plenty of options outside the hotel for you to use. Taxis line up outside the hotel all day and night so they are there if you are not in the mood for walking, they are cheap; just make sure that they turn on the meter first. We had our own car and the valet service was fast and efficient. The location is great so you will be able to walk around to most of the popular sights.
Dining Experiences at Four Seasons Hotel Baku
We enjoyed a few late sleep in's and some long breakfasts. They had a buffet style selection with many cheeses and meats to serve from. There was ample bread to choose from including some yummy chocolate muffins. The juice selection was first class and had a range of mixtures that you could drink like a shot glass. My personal favourite was the orange juice with ginger, lemon and honey. There was another drink with turmeric, honey, water, ginger and coconut butter. The breakfast is a bit of a struggle if you are lactose intolerant or gluten free.
We also enjoyed the Quick Lunch where you can choose from a select menu of a starter, main and dessert. It is not like any regular lunch, in fact the bring out 2 or 3 courses within 25 minutes so business men and tourists alike can get back to seeing the sites or work.
For our starters we had Calamari, Beetroot Salad, and Vegetable tartar. Our mains consisted of chicken breast, beef stroganoff and chicken schnitzel. The beef was our preferred choice out of the three mains but all were tasty. Not only it is convenient for guests if you don't feel like leaving the property and enjoying good food, it is the perfect place for locals to have business lunches or a casual one with friends.
In the evening, go outside in the garden with the comfortable couches and a large drinks menu. There is often live music playing here which is not too loud so you can still have conversations. It is a great way to wind down from a day of touristing.
Facilities at Four Seasons Hotel Baku
Like any Four Seasons hotel, we knew we were in for a treat. The first place we checked out was the indoor pool which has a giant roof that has the light shining through. When you walk in you have the feeling of being in a Roman Bath. The side area of the Jacuzzi was where we spent most of our time. It was above 30 degrees and was tempting to have a snooze. There were also cabanas with charging points that we could relax and get some work done by the pool. Also for those photographers, the whole pool area is very photogenic and there are many shots to be had.
There is a spa facility that is stellar and you must book in a treatment. The private jacuzzi in the changing area is the most relaxing you can get and so photogenic. You can read more about the spa experience we had at the Four Seasons Hotel Baku to get inspired for your upcoming journey.
The fitness centre is as complete as you can have in a hotel. There is a large range of machines and free weights. There is even a stair master, a boxing man to punch and a charging station for your phone. There is also nuts and dried fruits for you to eat during and after your workouts.
Rooms at Four Seasons Hotel Baku
We had a Premier Room which consisted of a King bed (of course, super comfortable), a balcony with a view of the bay and the street views below. We also had a large space in the middle of the room where we could all put our suitcases out and still have space to move around. The room was enormous. The bathroom itself was wonderful with a design that would make you feel like royalty. A bath was in order! To check out some of the prices of these rooms, you must regularly check  Four Seasons's website or Booking.com & Agoda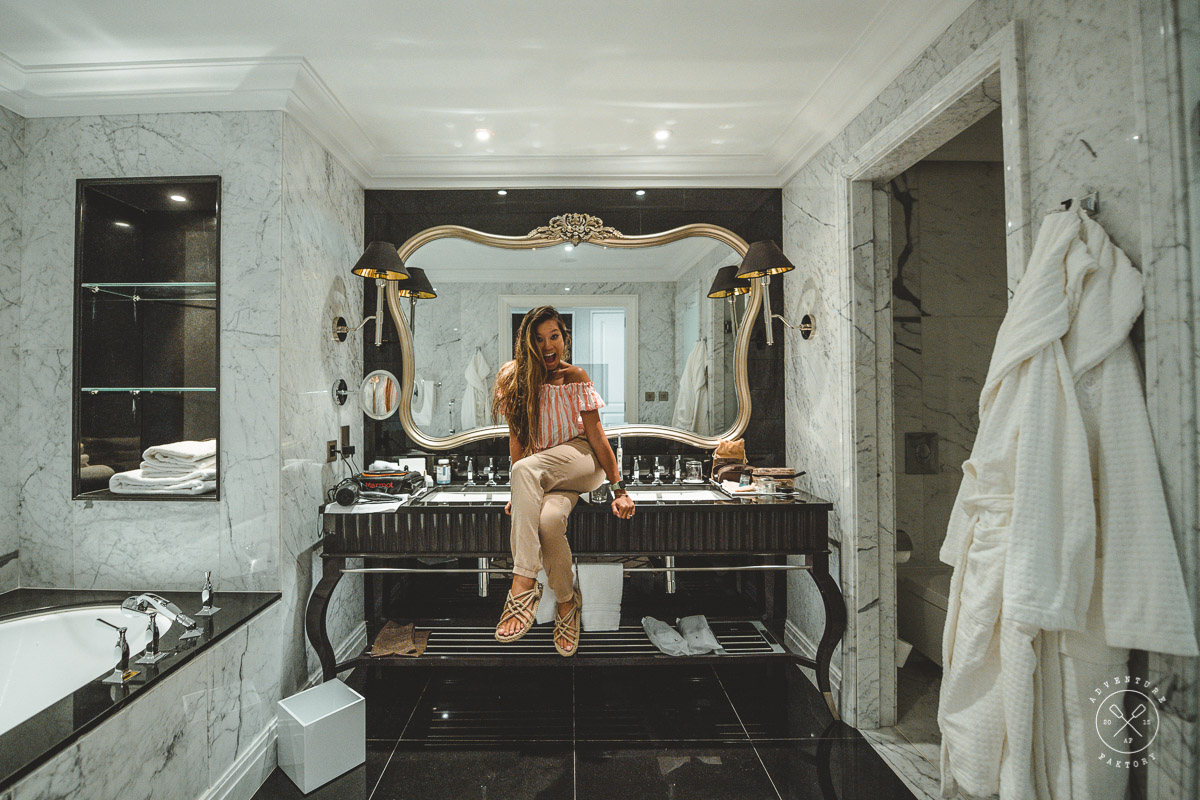 Sustainability
Like most places in the region, plastic bottles are an ongoing issue on the property. There were plastic bottles throughout the hotel, but we know that Four Seasons Hotel as a group are moving forward with plastic free properties in the future, something that we are quite excited about. You also have the option to keep your linen throughout your stay so they do not wash it everyday, which is now standard sustainability move in most quality hotels. Our hotel room had energy efficient lights and the energy to the room cut off whenever you departed which we liked.
Our Experience
Nothing beats a stay that has personalized service and attention to detail from the hotel team. We had one of our friends staying as well with us and it was great that the team noticed from check-in that it was his birthday. Without any prompting, the team took us to a room and surprised him with a birthday set up. The culinary experience throughout the stay and the noticeable presence of the team all around the property was refreshing. A huge shout-out goes to the Concierge Team at the FS Baku. The Chief Concierge, Vusal, spoke perfect English and went out of his way to make sure we were looked after with the language barriers we had. Since we were driving our car, we needed assistance booking tickets to the notoriously inconsistent ferry to cross the Caspian sea. They called them several times a day to figure things out for us and managed all the conversations in Azerbaijani, something we would've never be able to do. They certainly went above and beyond the call of duty to give us a smooth departure. Our stay there was memorable and highly recommended.
Disclaimer: This article contains affiliate links. We use them as a way of assisting us in maintaining our website and follow our passion.  Please use them when you are booking as it supports us greatly. This stay was hosted and is not a paid collaboration. All opinions remain our own. Thank you.