Located in the premium location of downtown Kuwait lies the Four Seasons Hotel Kuwait At Burj Alshaya and it truly needs to be seen to be believed! With sky high arches and ceilings, there are details and artwork all around the property which makes it truly enjoyable. The 5-star resort has everything you need whether you are visiting for a weekend to discover a new country on the list and enjoy a wellness getaway from Dubai, like we did or for business. In fact, we strongly recommend to book a weekend journey at the Four Seasons as a perfect wellness weekend to relax yourself. You will not even have to leave the hotel, although it is still interesting to go discover! The concierge team will be able to show you the cutest places they curated to recommend to guests. And if you love your Starbucks, well it even has one right next to the reception and it is the most beautiful one we have seen! If you like details, staying at the Four Seasons Kuwait is exactly just what you need to book next.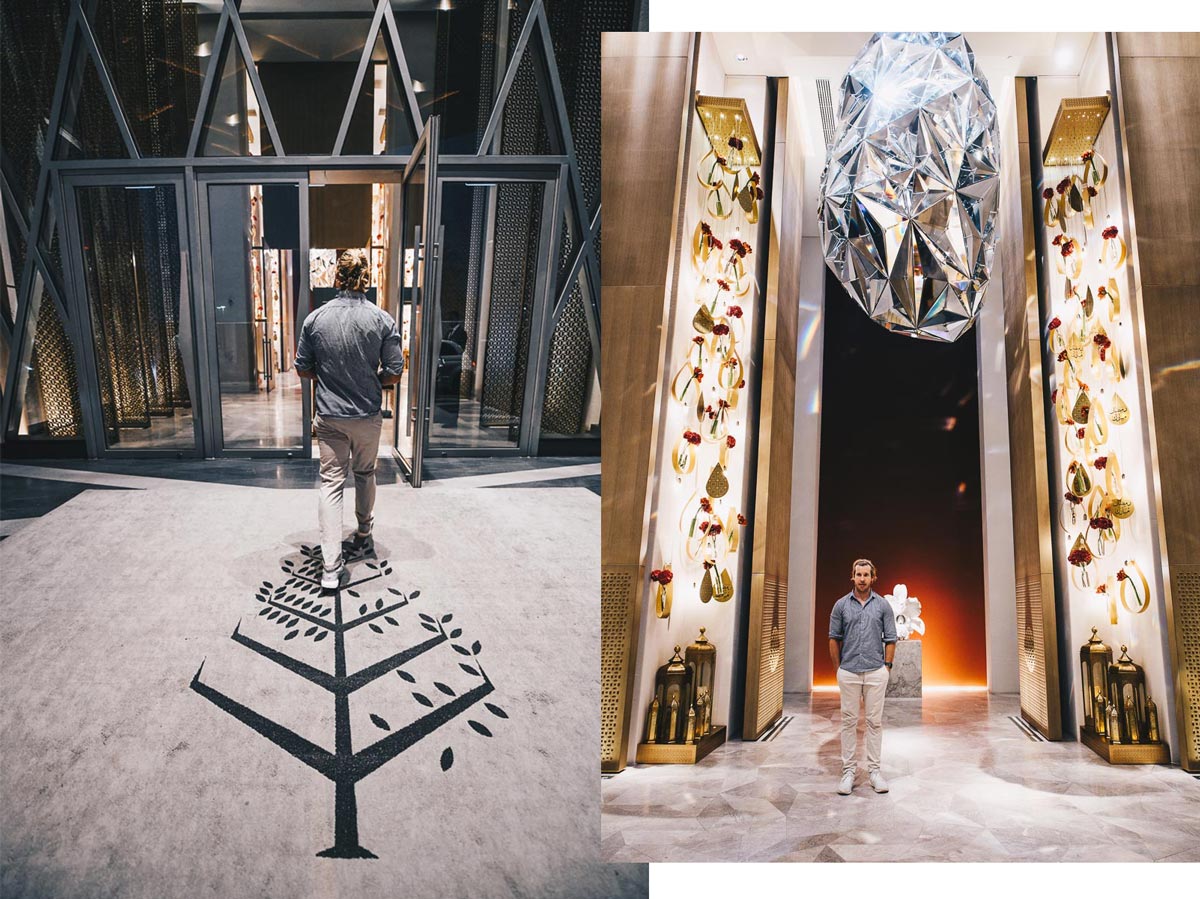 How to get around from the Four Seasons Kuwait
Four Seasons is about 25 minutes from the international airport and just a note, there are 2 airports with a brand new one being built so make sure you know which one your plane is going to. The FS can arrange pickup service including visa for Kuwait. With its central location, there are several landmarks, such as the museum that can be accessed by walking. But just a reminder, Kuwait can be warm. We are talking like 50 degrees in the summer warm but no worries, it's dry hence bearable!  Taxis can be used for transportation but we also recommend going with the private car of the Four Seasons and is the best way to see Kuwait at your own speed and to locations you request on demand. The team can organize all of this for you.
The Four Seasons Kuwait Facilities
Firstly, the design of the property with its marble walls and winding staircases that look like ice cream are all incredibly breath-taking. It is like an artist has come in and created a masterpiece. Every wall of the Four Seasons Hotel is worthy of its own Instagram post.
The gym of the Four Seasons Hotel Kuwait is one of the most beautiful ones we have seen. It is truly a first-class facility with everything you need. Residents of Kuwait can actually have a membership there that is quite exclusive. It is well resourced and totally complete as gyms that we use regularly. They have Kettlebells, stair master, anti gravity machine, free weights, juices, infused water, food all for the guests. The snacks and juices are in the fitness lounge area set up like a healthy bar.
We came to stay in sync with the International Wellness Day, so being active people, we got on our training kit and participated in the day. Guess what we got to do? An anti-gravity class! Something I never thought I would ever do. It was great to stretch out our bodies and work out our core. These classes are available whilst staying here as well.
As the only hotel in the city with both an indoor and outdoor pool, make sure you bring your swimmers. In particular, the indoor pool is so relaxing with relaxing beds that are quite private from each other to take it easy. Make sure if you are staying in the warmer months to book your cabana when chilling in the outdoor pool area.
Four Seasons Kuwait Spa Experience
Our spa experience can hardly be put into words. In a super luxurious and comfortable setting, we both received an one hour deep tissue massage that I can safely say was the top massage I had in my life, and I have been to many. It was our first Four Seasons Spa experience and we crave for more at the moment. Thuymi's therapist previously worked at Four Seasons in Malaysia and had an amazing technique plus knowledge in raki which made the experience extra enjoyable. As for me, it was personalized and thorough, the aromas were soothing and it got out all of my knots from recent stress. The staff made us feel great and looked after us well. To wrap things up the relaxing area is like no other, filled with healthy snacks and several options of teas and drinks. Another highlight was the Spa robe, it is very soft in the inside like those blankies you love to have as a child. A lot of guests actually end up buying them. If you are feeling a bit like a makeover, then there is a beauty salon and barber shop for you.
Dining experiences of Four Seasons Kuwait
Not only this property is great for wellness, it is also a foodies destination. We had dinner 21 floors up overlooking the city at Dai Forni restaurant. Here we met the chef and were fed absolute delights of Italian dishes and salads. The view from here looks over the entire city and you can sit outside during the winter months. You can see the chefs live at work at their stations with the huge ovens for the pizzas.
A fact you should know about Kuwait is that it is completely dry. It is not like in Dubai and that you would think alcohol would be served at hotels, it's completely dry. Hence, the mocktails are exceptionally creative and delicious to the taste. We had to try many of them. At the outdoor pool area is the restaurant/shisha lounge Al Bandar. Food is more international and perfect for a little date or just casual evening food to enjoy with a shisha. A very cute and delicious thing to order even though we don't promote plastics, they have drinks that are put in plastics bags like when you buy a little fish at the animal shop!
There are more restaurants including the pan-asian Sintoho and Elements with international cuisine.
The 24 hour in-room dining selection was just what we needed as we wanted to have a sleep in on morning. The breakfast menu was extensive and came quickly as we ordered pancakes, juices and coffees. We even tried the lunch in room menu with some tasty soup.
Rooms at the Four Seasons Kuwait
We stayed in an Executive Suite with a great view of the city, which was absolutely spectacular at night. We got greeted to the room was delicious berries and sweets and Mitch spent an hour eating them all. Our room had a separate living room space, couch and TV all away from the main bedroom.The in room I pad tablets are like your own personal butler. You can get your room cleaned, drivers organised and food ordered all at the click of the button.  The bathroom was massive and it even had a built-in TV in to the mirror for you to watch while brushing your teeth! The king bed is so comfortable we sunk in it and didn't wake up for hours! The curtains can go into blackout mode so if you want to sleep they will help you! Check out some of the prices at Booking and Agoda. Actually if you book directly 2 nights, get the third one complimentary, perhaps make it a long weekend ?  Many good offers can be found and worth to have a look at to plan your trip.
Sustainability at the Four Seasons Kuwait
Like most hotels, Four Seasons Kuwait are working on becoming as environmentally friendly as possible. However they are still replying on plastics for their water which will need to be worked on. They allow you to re-use linen which saves water and energy throughout the hotel.
Our experience at the Four Seasons Kuwait
Our Staycation in Kuwait was made all the more ideal by the team at Four Seasons Kuwait Hotel at Burj Alshaya. They personalised our stay and treated us like family more than customers. The hotel is central, but there is not much around the place so keep that in mind when booking. Four Seasons will take you wherever you need to go in the small city, so arranging a market visit through the hotel is recommended. A first class hotel and will be coming back no doubt!
Disclaimer: This article contains affiliate links. We use them as a way of assisting us in maintaining our website and follow our passion.  Please use them when you are booking as it supports us greatly. This stay is not a paid collaboration and all opinions are our own. Thank you.