South Africa is one of the most beautiful countries in the world. There is so much environmental brilliance around it is certainly worth your time to visit and stay. After spending several weeks driving the continent, we needed some well-known luxury to come to unwind and detox from road life. As we drove into Four Seasons Johannesburg, we were greeted by a hotel that resembled a boutique hillside village. As we were unpacking and unloaded our bags, it had the feel of a New York hotel as the concierge hurried over, taking bags and welcoming us into reception for a pleasant check-in and the Four Season Hotel at Westcliff, Johannesburg.
Where is Four Seasons Johannesburg Located
Four Seasons Johannesburg is located in the affluent district of Westcliff. You are only a few hours away from the world-renowned Kruger National Park and is a great stepping stone to see other great national parks and the landlocked countries or eSwatini and Lesotho are only a few hours drive away. You are very close to some major attractions that the team can help you get there. Around the property, there is the South Arica Zoo, Shopping malls and Botanical gardens all within a few minutes.
If you are flying into O.R Tambo Airport, FS can arrange an airport transfer for you. If you like the budget option, Ubers are cheap and ready. The trip is approximately 30-45 mins by car if you avoid traffic.
Dining at Four Seasons Johannesburg
The View is a place to eat; If you take the lift (glass elevator like in Charlie and the Chocolate Factory) up to several floors. Our breakfast was one of the best quality ones we have ever had, and that is no exaggeration. We were welcomed with views of the green of Johannesburg, and we overlook the botanical gardens. We got to breakfast at 7:30 am and we were the only ones there. Late risers here! We sat down and were offered champagne (we had to say yes to that) plus juice and coffees. There was a buffet and we could also order a-la-carte menu. So we ordered some dishes that were truly memorable. We tried the Roumulade, Eggs Benedict and the Fillet Mongon (Yes, for breakfast!), You can also eat at Flames restaurant which also has a great view (not during breakfast) and you can go to the Deli to get snacks and pieces of bread throughout your day.
View this post on Instagram
View this post on Instagram
Facilities at Four Seasons Johannesburg
Like any Four Seasons resort, there are plenty of quality facilities for you to enjoy during your stay. The Fitness room is located centrally next to reception and is a well-equipped room for someone looking for muscle gain or just to do some cardio. There are TRX machines for those who want a non-impact workout as well. Next to the fitness room is the Spa area. You can go and get a range of spa treatments, it also has a jacuzzi (outdoor), ice shower, sauna and steam room. We spent lots of time in the area as we wanted to sweat out all the canned food and toxins we had accumulated during our massive road trip. The spa also has a relaxation area you can use to be in silence with some hot healthy flavoured teas and wish the world away.
There is both a family pool and a lap pool, perfect for families and swimmers alike. Due to the property being on a hill, make sure you get to the pool before the shade comes over for the afternoon. If you are a workaholic, then there is a business centre also available for you to finish any of those pesky emails.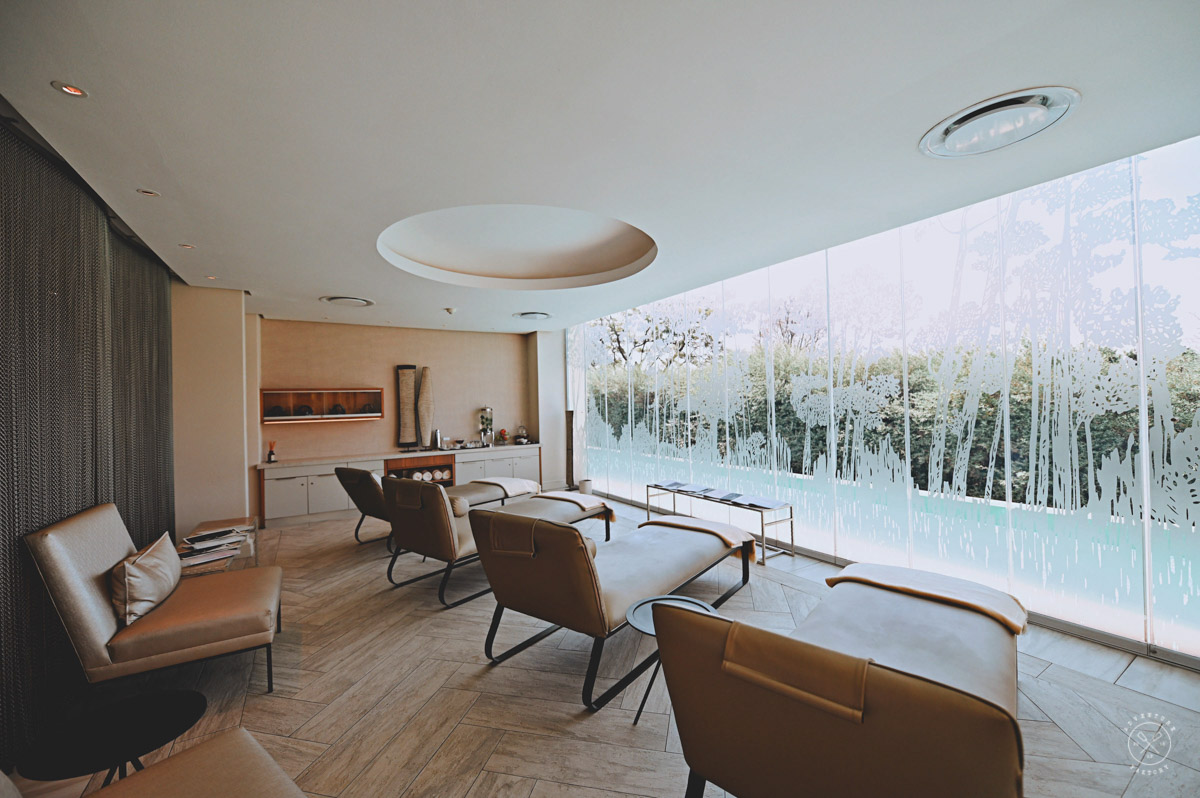 View this post on Instagram
View this post on Instagram
Rooms at Four Seasons Johannesburg
Located on a hill so many of the rooms have a great view of the opposite hill. Panoramic Deluxe View Room with a cosy King-sized Bed, We had a view overlooking the botanical gardens and also the communal pool below. Designed in inspirational Arica themed room, there are bright colours everywhere to make you feel like you are on safari. The balcony has a great view of the property and is a nice way to have your morning coffee as the sun hits your face. Like all good hotels, there is more than enough space for several items of luggage and a lounge area at the foot of the bed to chill out and watch TV or read a book.
Sustainability at Four Seasons Johannesburg
Four Seasons is one of the industry leaders when it comes to trying to make their hotels sustainable. Each room comes with glass bottles and filled up coffee and kettle ready for use. They also encourage each customer to drink safe tap water in order to avoid plastic bottles. The linen is only changed on command the room is cleaned on request.
Our experience at Four Seasons Johannesburg
After the best part of a month on the road, we needed a place of luxury. The breakfast morning on the View is where we spent most of the morning with its limitless coffees coming out to a perfect green view of the city. The other place we stayed the most was the Spa area. With guests free to use as they please, we tanned and worked here for hours, enjoying the great Johannesburg weather and even better hospitality.
Disclaimer: This article contains affiliate links. We use them as a way of assisting us in maintaining our website and follow our passion.  Please use them when you are booking as it supports us greatly. This stay was hosted and is not a paid collaboration. All opinions remain our own. Thank you.