As I am leaving this beautiful uprising city of Saigon, new little gems are glooming very fast.
A new MGallery has been established; the Hotel des Arts Saigon opened its doors August 2nd 2015. At the soft opening stage, not many know the gem that is hiding on the rooftop.
I have only stayed at a MGallery once before, it was at the Muse Hotel Bangkok. They had a stunning infinity pool overlooking the busy city of Bangkok.
You will be served the same treatment at the Hôtel des Arts. At the top floors are the new terrace and pool of the hotel. Hip decoration and an amazing view of the city with an inviting infinity pool will make you want to stay there all day to sip a glass of Veuve.
Hôtel des Arts Saigon has already won "Best hotel development" at the Vietnam Property Awards 2015.
The Social Club's pool on the rooftop is already getting a lot of attention from the "Saigonese" spotting photos on Facebook and Instagram, but is exclusive to hotel guests only. This is very standard, I wouldn't want a crowd of people hanging around the pool if they were not guests. The Social Club Lounge itself will be opening in the beginning of November, but for now you can go enjoy a drink at the terrace.
If you fancy a breathtaking sunset view by the city highest infinity pool, this is your destination. If you fancy a rooftop? Forget your old destinations, come visit The Social Club.
// Saigon, cette ville en constante changement, elle va me manquer énormément. À tous les mois, des endroits merveilleux ouvrent leurs portes.
Un nouveau MGallery a tout récemment ouvert ses portes; l'Hôtel des Arts de Saigon, un hôtel-boutique au coeur de Ho Chi Minh.
J'ai dans le passé séjourné dans une MGallery à Bangkok, l'Hôtel Muse. Une piscine infinie avec une vue splendide sur la ville animée de Bangkok.
Vous pouvez dorénavant recevoir ce même traitement à Saigon. Allez à l'étage de la terrasse et de la piscine, au Social Club. Comme tout établissement, la piscine est réservée aux personnes séjournant à l'hôtel.
L'ouverture du Social Club Lounge se fera au début du mois de Novembre, mais pour l'instant vous pouvez toujours aller boire un verre sur la terrasse. C'est encore très secret et calme, c'est comme votre terrasse privée. Après cet article, allez-y vite, car ça va devenir populaire très vite!
De plus, l'Hôtel des Arts de Saigon a déjà gagné le prix du "Meilleur développement d'hôtel» par le Vietnam Property Awards 2015.
Si vous avez envie d'une vue à couper le souffle pour regarder le coucher du soleil, ceci est votre destination. Si vous avez envie d'un rooftop? Oubliez vos anciennes destinations, venez visiter le Social Club.
Hôtel des Arts Saigon
76 78 Nguyen Thi Minh Khai, District 3
Ho Chi Minh City
Viet Nam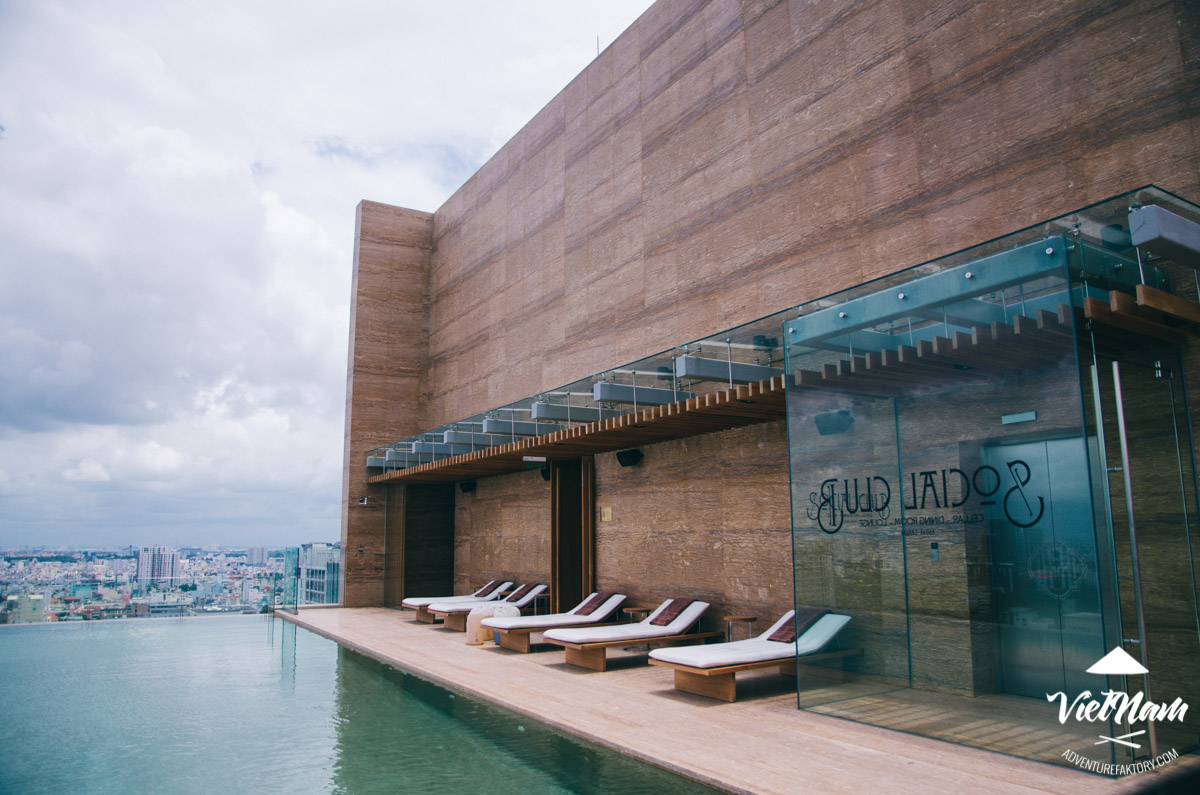 More about the Social Club soon.