Montreal in the summer is one of the best cities you can visit. A stunning European city in Canada, French being spoken everywhere with some of the best foods you can imagine. Thuymi is from Montreal, so we get to go back in the summer all the time so we have local knowledge on our side. One hotel that everyone always mentioned was the Omni Mont-Royal Hotel as an amazing place to see the city.
Where is Omni Mont-Royal Hotel Located?
It is located right in the heart of the city in the most central location possible, on Sherbrooke Street. It is within walking distance of everything, and is an especially good position for the Jazz Festival or Comedy festivals that are held every year during the summer time. It gave us a chance to walk around and discover Montreal which is truly alive and kicking during the summer season.

Things around Omni Mont-Royal Hotel
There are several very close attractions that are definitely worth your time while you are staying here. If you are in to your art like Thuymi you can try the Fine Arts Museum or even the McCord Museum of Canadian history. Chinatown and the famous hockey mecca the Bell Center are all 10-15 minutes stroll away and easy to get to. The Bell Center tour is great for any sporting fan as you can see the Montreal Canadiens Locker room! My personal favourite is taking a 15 minute walk to Old Montreal, which is located right on the water. It is full of cobblestone roads, cute little cafes, ancient churches and a great outdoor vibe.
How to get around from Omni Mont-Royal Hotel?
Our best advice would be to walk everywhere. Being designed like an European city allows Montreal to be discovered on foot, with something different around most corners. Taxis are available very easily from the valet section of the hotel who go above and beyond the call of duty to help you out with city tips and tricks. Of course, don't forget the public transport. It is one of the best ways to get around and the system is on point. Rare will busses be late unless you are going during the winter.. for obvious reasons, snow slowing down everything at times!
Food and Drink at Omni Mont-Royal Hotel
There were 2 places that stood out for us at Omni. Every morning started at the Le Petit Opus café for our breakfast, which is a French bistro inspired eatery. The pastries were eaten very quickly by us and they also made really healthy and tasty omelettes.
Our favourite place to have a quiet drink was definitely the Alice Bar. Located right next to the lobby, it is a super comfortable spot to relax and unwind. The Jazz festival was on at the same time we visited and they had a famous jazz musician play there every night into the early hours. This was perfect to sip a drink to and listen to one of the best in the business.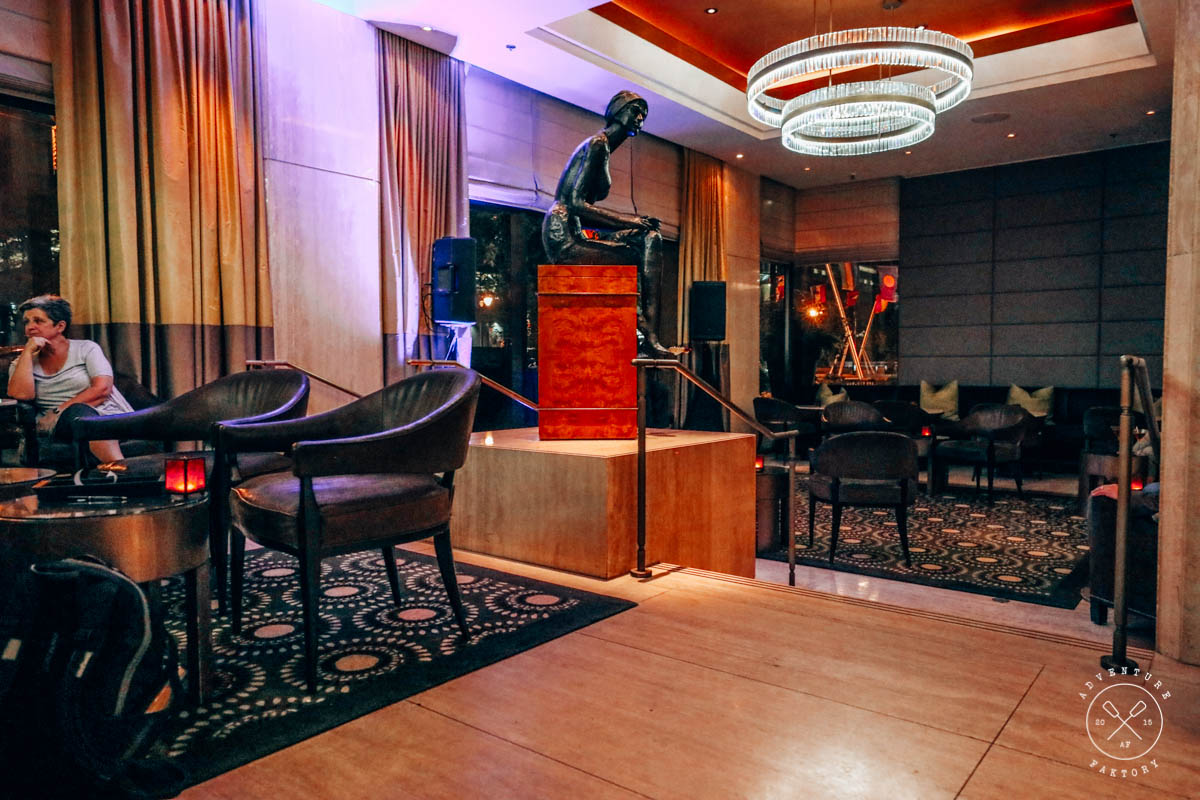 Omni Mont-Royal Hotel Facilties
As you step in to the hotel, you are impressed with its welcoming valet service (who knows virtually everything about the city) and can order you a taxi in seconds. The lobby is grand and backs straight on to Alice Bar, perfect for a welcome drink. As fitness nuts, we always check out the gym areas and were satisfied how well they used the space and how much equipment they had. The outdoor pool is cool but the best feature is the tunnel to the heated Jacuzzi. Was "lucky" enough for a rainy day to shoot the location without any souls in the pool haha!
Omni Mont-Royal Hotel Rates
Hotel prices in Montreal tend to increase during the summer season due to the much better weather conditions but also due to the plethora of festivals and activities that are on every day. We found the prices extremely reasonable for the high quality of hospitality and its premium location. The rooms are a little on the classic/old fashioned side, but in saying that, it certainly is not a bad thing! It didn't change our views on the stay one little bit. The best price you can get for a simple room could be from 150 USD. We stayed in a room size that was absolutely enormous which was great as we had friends over and we could host several people with ease. You can compare prices before booking on Booking or Hotels and Agoda. The Executive suite we had is priced from 290$US, which is a bargain for all the space (514 sq. ft.)!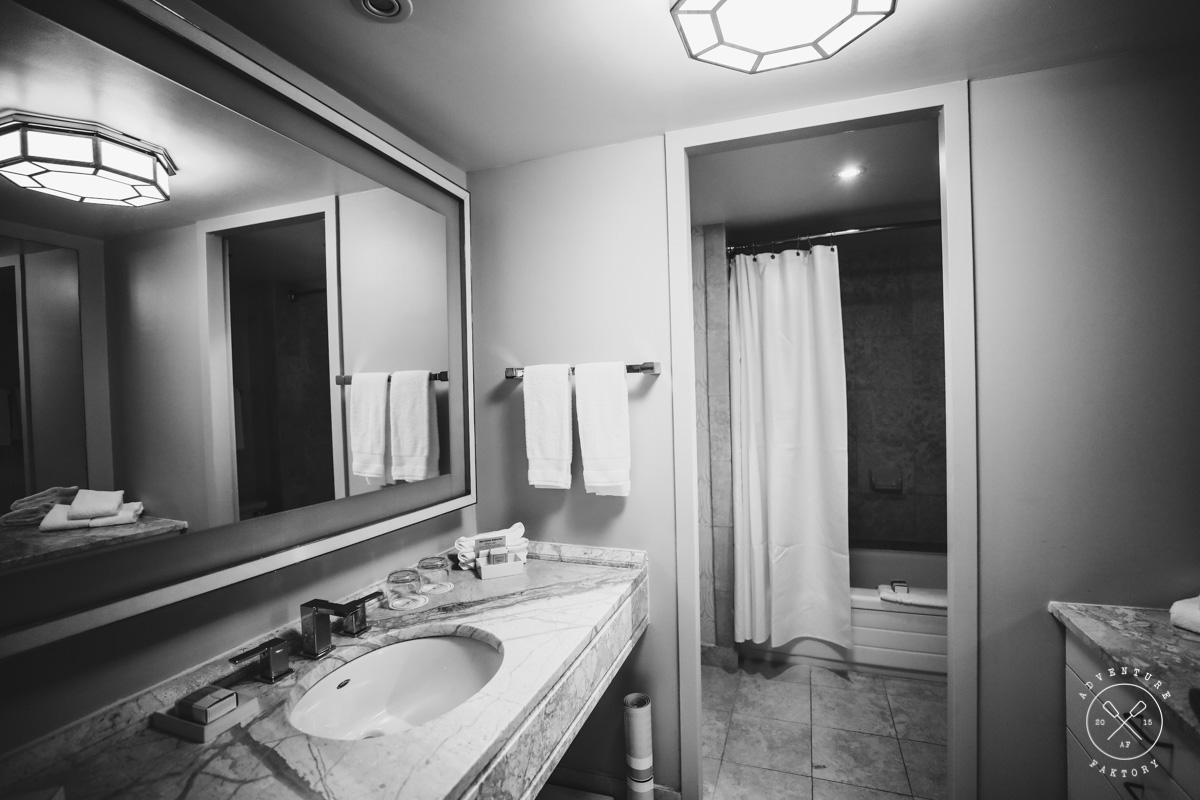 How was the stay?
Montreal in the summer is one of the best places you can visit. Winters are absolutely romantic as well with beautiful white snow everywhere (ignore the slush on the streets though, haha). The weather, the food are all first class all year long and the people are super friendly. Omni is so conveniently located downtown that a cab to all attractions is quite affordable, not to mention the metro is a small walk away. One thing that really stood out was how knowledgeable and helpful the staff were and they were so happy to put up with my lack of French.
DISCOVERY Loyalty Programme Member?
Omni Montreal and Omni Hotels are part of DISCOVERY Loyalty, an amazing program we are signed up with. From staying at many hotels & resorts from the DISCOVERY Loyalty programme, you can get to the BLACK membership which gives you many perks. To name a few of the BLACK Membership, we can get upgraded to the next room category at check-in (happens upon availability), late check-out privileges until 6pm, etc. You can get Local Experiences with the PLATINUM status as well, so don't you worry! When you are a member and have enough "points", you can redeem at the Hotel Omni Mont-Royal a High Tea & History or a tasty food experience a a surprise restaurant!
The Local Experience
While we stayed there, we unlocked the High Tea & History experience! it was nice to get to visit a museum and learn more about Montreal. However the best part of it all was to hang in the oldest part of the city and go the bakery Bar à beurre (it means butter bar!) for High Tea. It was so good! They had reserved seating for us and we began straight away to dig in delicious nibbles and teas!
Note that the hotel will provide you with 2 taxi vouchers to go back and forth from the hotel! We decided to take advantage of being in the Old Port to get pampered at Bota Bota, a very premium spot and Thuymi's favourite! You can read more about it here!
Disclaimer: This article may contain affiliate links. We use them as a way of assisting us in maintaining our website and follow our passion.  Please use them when you can as it supports us greatly. Thank you 🙂