The fires in Australia are still going on at the moment. Many homes have been destroyed, over thousands of people are stranded without a place and over 10 people have died. An estimate of almost half a billion (480 million) animals have lost their lives due to the bush fires. This figure came from Prof Chris Dickman, an expert on Australian biodiversity at the University of Sydney. Here's what you can do to help those affected by the devastation.
Help the Firefighters
Donations can be made to the firefighters in both NSW and Victoria. Donations to the NSW Rural Fire Service directly benefit the volunteer firefighters on the frontline. You can contact your local brigade directly or donate here. Victoria is also affected so to support the Victorian firefighters, you can donate to the state's Country Fire Association here.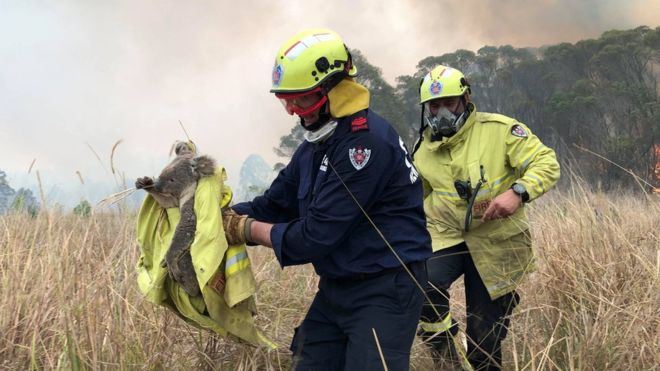 Help the Wildlife
Sydney University has estimated more than 480 million animals have died in Oz since September, due to the bushfires. "Ecologists estimate that about 8,000 koalas have died since the fires started, as the slow-moving animals are unable to escape the flames. The marsupials are one of the country's most iconic animals, and have contributed between $1.1 billion and $2.5 billion per year to tourism in Australia, according to government data," says cnbc.
WIRES
To help the NSW wildlife victims, donate to the NSW Wildlife Information, Rescue and Education Service (WIRES). They are tax-deductible donations and will go toward protecting native animals.
Port Macquarie Koala Hospital
The Port Macquarie Koala Hospital is one place we support strongly. They have raised more than $2 million for the wildlife affected in that area, with the initial aim of using the money to distribute automatic drinking stations in the burnt areas to help in koala and wildlife survival. The organization is also now sharing the funds with other wildlife organisations in the fire-affected regions across NSW. This is the Port Macquarie Official GoFundMe. Beware of the other scam links.
RSPCA
To help the wildlife more generally, including kangaroos, pets fleeing, and native fauna, you can donate to the RSPCA.
Help those affected by the bushfire crisis in Australia
The Salvation Army
To donate, you can call 13 SALVOS (13 72 58), donate at any Woolworths checkout, or donate online.
Australian Red Cross
"The Australian Red Cross launched a joint disaster appeal with the ABC to support the communities affected by fires, and have raised more than $2 million already. While they are heartened by donations of food, clothes and people offering to open up their homes, Red Cross say they're not in a position to take and distribute these items.", published News Corp Australia.
Money donations at the moment are encouraged more than the donations as they can't handle all the physical donations at the moment. You can donate here.
Vinnies
From News Corp Australia, "The St Vincent De Paul Society is also running a bushfire appeal, to help those affected rebuild their lives with food, clothing, furniture, other essentials, and funds to pay bills. You can donate at any Vinnies store or head here."
Givit
"Charities like Givit specialise in goods, where the exact items people need are listed via charities and the public can match that or register the items they have, in case someone has use for them.
Givit is currently running two specific campaigns supporting NSW and Queensland bushfire victims." News Corp Australia.
Foodbank
"Foodbank is delivering emergency food relief and water to East Gippsland, helping firefighters and local communities caught up in the bushfires. It is fundraising to send about 5,000 food relief hampers in the coming days.
You can donate here." News Corp Australia.
Gippsland Emergency Relief Fund
"The Gippsland Emergency Relief Fund was established in 1978, and is operated by local volunteers for Gippsland communities affected by natural disaster events. Donations can be made via Paypal at gerf.org.au, at any branch of the NAB across Australia, or in person at Alan Wilson Insurance Brokers at 40 Argyle St, Traralgon." News Corp Australia.
Bendigo Bank Bushfire Disaster Appeal
"Bendigo Bank have partnered with The Salvation Army to establish an appeal that will raise funds for fire-affected communities including East Gippsland, Hume, southeast New South Wales and Adelaide Hills. You can make a donation here." News Corp Australia.
Airbnb helping Australians affected by the bushfires
Airbnb have set up pages to share free accommodation for people who are evacuating the fire zones. Those in need can find emergency housing and list their properties to help on these two pages: NSW or Victoria. The free accommodation will be available until 16 January 2020 as of the latest news.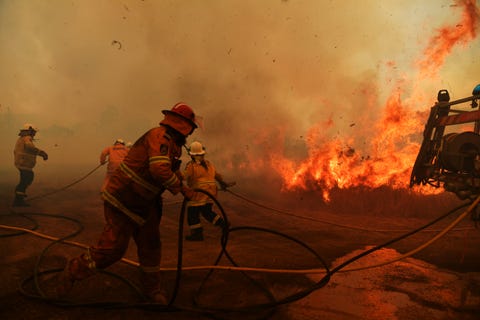 Contribute to Celeste Barber's fundraiser on Facebook
Comedian Celeste Barber has led a bushfire fundraising campaign on Facebook that has hit $20 million already. You can donate as well on her page.
"I'm raising money for The Trustee for NSW Rural Fire Service & Brigades Donations Fund and your contribution will make an impact, whether you donate a lot or a little. Anything helps. Thank you for your support.", says Celeste Barder. P!nk and even Nicole Kidman have donated significant amounts to support.
Any help counts
That you donate 1$ or 100$ or any dollar, your help counts. Thank you so much for being part of this collaboration movement into helping Australia during this hard time.