This article is not an itinerary for you. It's not the ideal itinerary either to spend 5 days in New York City but it is our blog about how we spent our 5 days in the Big Apple. As much as we travel to see everything and chase beautiful locations for photography, for some places we like to go and enjoy and not necessarily try to see everything. So beware, don't be disappointed about this, it's more for those who are curious to follow our exact footsteps during this exact trip in NYC!
New York City for me is so much more than just shopping and chasing Instagram spots. NYC is the first place I've travelled alone without my family. My first time in the Big Apple was in 2005 and the trip was all about shopping. I've learned with experience of visiting this beautiful city (and other places around the world) that there is so much more to do and see than to fill your suitcases with materialistic goods.
Everywhere you stroll around there are hidden gems. Small restaurants, speakeasy bars & quirky shops. New York City is like an oasis of food, people and experiences, nothing like the rest of the USA. Every visit since to New York City has its must visits like The Halal Guys. I also try to see other things that are on my list of: "I will check next time I am in town" because I am lucky to actually have Montreal as a hometown which is very much close to travel back and forth to NYC.
Day 1: Driving to NYC from Montreal
As we drove into NYC, we went straight to find parking right on top of the Central Park in Harlem where we were staying in an incredibly cute studio. Prime location, 1 minute walk from the red line, express metro straight to Downtown. We dropped our bags and took the car out to drive to Brooklyn where we had a good visit of Williamsburg and walk around the Brooklyn Bridge Park.
Where we went
1) Salt + Charcoal for dinner in Williamsburg
2) Walk along the Brooklyn Bridge Park for sunset and at night
3) Late night meal at the famous The Halal Guys on W 53rd St & 6th Ave
See more photos on A day in Brooklyn 
Day 2: Roaming around SoHo and South of NYC
We stayed in the Upper West Side for the second night. We returned the car very early and went to have a relaxing coffee break at DTUT. Coffee shop by day, bar by night. Then then walked around SoHo where I had to go to the KidRobot shop. To my complete surprise and I had to learn it the hard way, the store closed down a while back. I was so disappointed. We ate at delicious Freeman's. We then had a second late lunch at a Michelin recommended Dim-Sum joint beside a speakeasy bar I wanted to check out in the heart of China Town. It is The Nom Wah Tea Parlor, a must visit on your quest for dim sum in the city. Beware, it can get very crowded on weekends and holidays. The interior dining area is super charming and has a non-Asian feel. It looks like a retro "diner" spot. You would not think it's a Dim Sum joint. After enjoying a delicious meal and then a drink at Apotheke, we ended the night around the Financial District.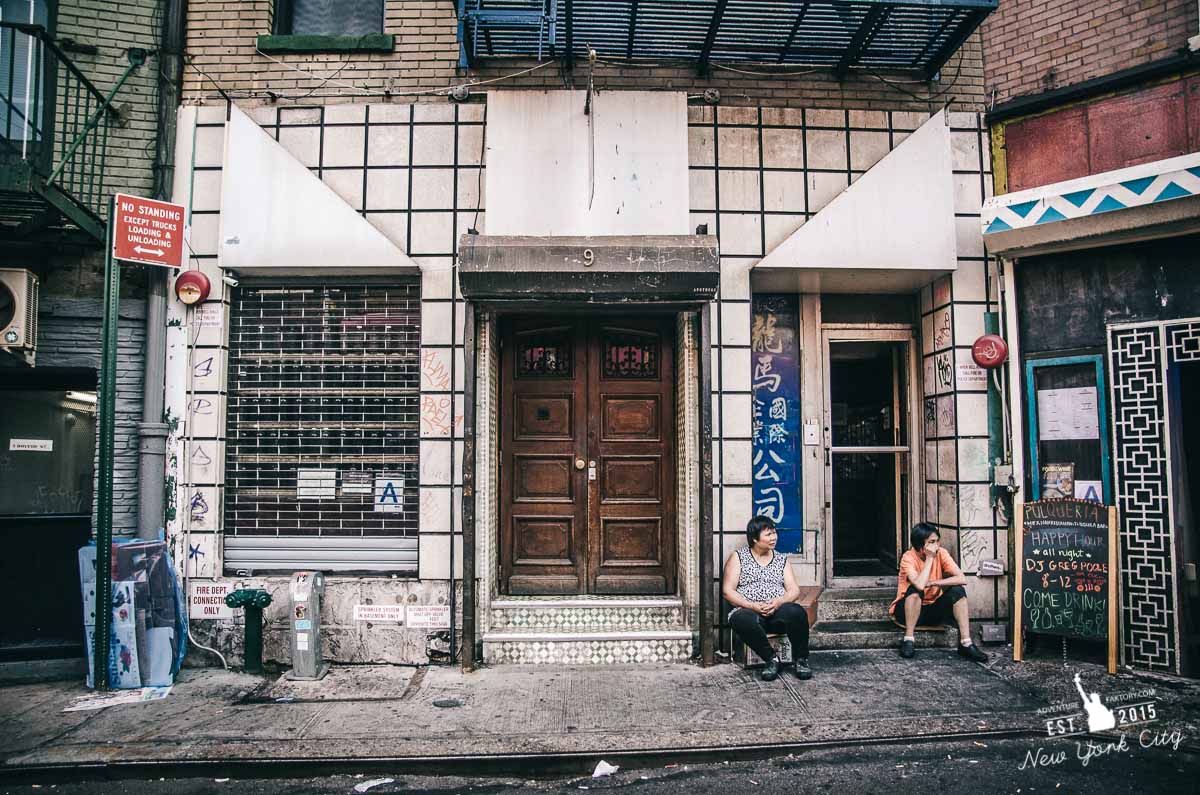 Where we went 
1)DTUT for coffee in the Upper East Side
2) Awesome Pork BLT at Freeman's, 191 Chrystie St #2F
3) Eat at the first Dim Sum joint in NYC, Nom Wah Tea Parlor, at 13 Doyers St
4) Speakeasy bar Apotheke, just beside the Dim Sum joint for a unforgettable cocktail
Day 3: Freedom Tower
On that day I had an appointment at SidLee, an incredible advertising agency in NYC. Then throughout the day jump places to places to shoot photos and visit sites we have never been before like the Freedom Tower. You can read more about it on our Guide.
More picture on our post about the One World Observatory, where you can find our vlog filming the intro film of the tour.
Where we went
1) Breakfast NY demo presentation @ Creative Agency Sid Lee New York
2) Ate lunch at Beach Street Eatery in TriBeCa
3) Visit the new Freedom Tower at One World Trade Center and 9/11 Memorial. Tip, during the summer make sure to be at the 7:45 booking to see the sunset
4) Eat at the Dallas BBQ in Time Square. This is like an old tradition of mine, I've been to this place once at lest for 4 visits in NYC.
5) Walk around Time Square
6) Have a cheap drink in the best bar in the area of Time Square literally. Jimmy's Corner, bar of former Muhammad Ali trainer Jimmy Glenn. My favourite bar in NYC and a real hidden gem.
Day 4
Already it was Wednesday. My meeting at Google got canceled and I will have to reschedule. I guess another time Google New York! So instead what we did was to walk more around NYC and of course end up on the High Line park, one of my favourite places in the Big Apple.
Where we went 
1) Coffee in the Upper East Side
2) Walk the High Line
3) Watch a Mets game
Day 5
This day was hectic as we woke up at 5 AM to run down around the NBC Studios to stay in line for the Jimmy Fallon Live Tonight Show tickets. Getting these tickets are a real adventure on its own for your New York City trip if you plan to attend on the live show. We actually wrote to you everything you need to know and do to be able to attend The Tonight Show hosted by Jimmy Fallon.
Where we went
1) Watch The Tonight Show with Jimmy Fallon at the NBC Studios
2) Fly out back to Asia!
Voilà ! That was the last time Mitch & I went to New York City together with all the things we've done. It wasn't as touristy as you probably hoped to get tips but I will make sure to make other guides for you about NYC since I have been there many many times. Until then, stay safe and travel more !