Are you planning to visit India? Agra seems like a must destination to visit the famous Taj Mahal, but then are you torn between other incredible cities and don't have enough time? Look no longer, we have the best guide for you to do Agra in 1 single day.
Before we start, let us give you some background on why we did Agra only in one day. We basically had very much limited time and it was important for us to not skip Mumbai, Varanasi and of course it was a place we had to pass by even though our schedule was very tight. We basically went to bed in Varanasi, Woke up in Agra and went to bed in Jaipur. This is our guide to a day trip in Agra … or in other words, 12 hours guide ;-).
Take an Overnight Sleeper Train
At the time, it was quite complicated to book train tickets for Indian trains. Now you can simply show up and get a ticket at the Foreign Train Booking spot inside the train station. Ideally go a day before to book your tickets as there are a lot of visitors and you don't want to miss out on the exact timing you want. From Varanasi, the train will take you around 13 hours. There are many classes you can book upon availability, make sure to book the best class if you want confort. If you don't want to pay more, you will have to cope with no A/C or be with many strangers around.
Traveller's tip: We advice you to not take the bus to get there but to take the train or fly into town.
Where to store luggage in Agra
It is advisable to book accommodation to drop your belongings. If you are on a budget, get the cheapest hostel or guesthouse you can find simply to store your things and being able to refresh yourself. If booking anything isn't your plan, you can leave your bags at the train station storage facility. It's clean, organized and secure. Although, note that if your train will depart from the other train station that is not the main one, you have to leave it at the other place ideally and the storage room isn't as "glamorous". Note that there are lockers located outside the gate of the Taj Mahal, although this is small, not made for your luggage. If you want to be more lush, book a stay at the Oberoi Amarvilas Agra Hotel.
Make sure to arrive early in Agra
If you don't arrive early enough, you will catch the crowd, intense crowd! In our case, we arrive in Agra at exactly 6:50 AM to then catch our taxi to town, which is quite late considering we booked a room. You can either go safe and book in advance or do like us verify in advance how many rooms they have on your phone and drop-in to negotiate them to give you  a better rate just for the day so we can drop our bags and shower. The staff was all confused how we knew about the available rooms left but ended up giving us a deal.
Traveller's tip: Always ask! Worse that can happen is a "no" to your request!
Total hotel cost: 1500 Rs (~23$US)
Arriving to the Taj Mahal
At the time we didn't care much to arrive early at monuments or landmarks to have photos without anyone. We entered at 9:30 AM. Note that it opens at 6 AM to 6:30 PM except Friday because it it closed for the muslims to attend prayers.
Taj Mahal entry cost: It will be 1000 Rs (~15$US) and recently the government just introduced a 200 Rs (~3$US) fee additional if you want to access the main mausoleum. Note that at the time we paid 750 Rs (~11$US) without the mausoleum cost. Prices did hike up!
Grab a quick bite
Don't starve yourself. After a rush morning arriving in Agra and going to the busy Taj, you will want to recharge with some curry in your system! We simply went to a random little restaurant close to our hotel that was recommended by our driver. The place was named Quality, horrible name, but food was good. Some delicious palak paneer, more kinds of vegetarian curry and some cheese and garlic naan.
Visit the Agra Fort
Agra Fort entry cost: It will be 550 Rs (~8.50$US) and you honestly don't need to spend too much time there. You can make a visit with 30 minutes, although if you want to picture perfect photo, you might need to be more patient and not be afraid to ask people nicely to wait while you take your photo.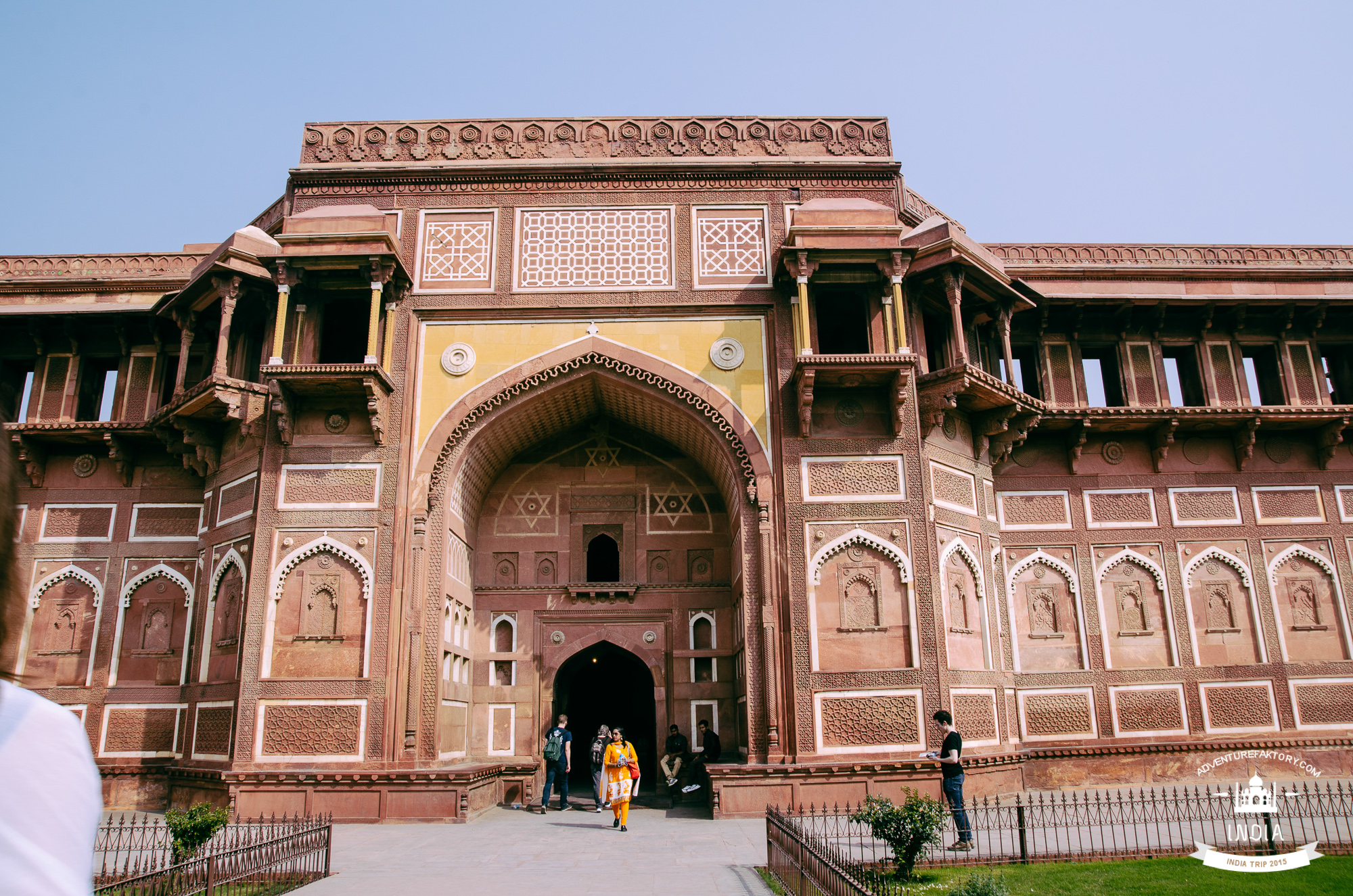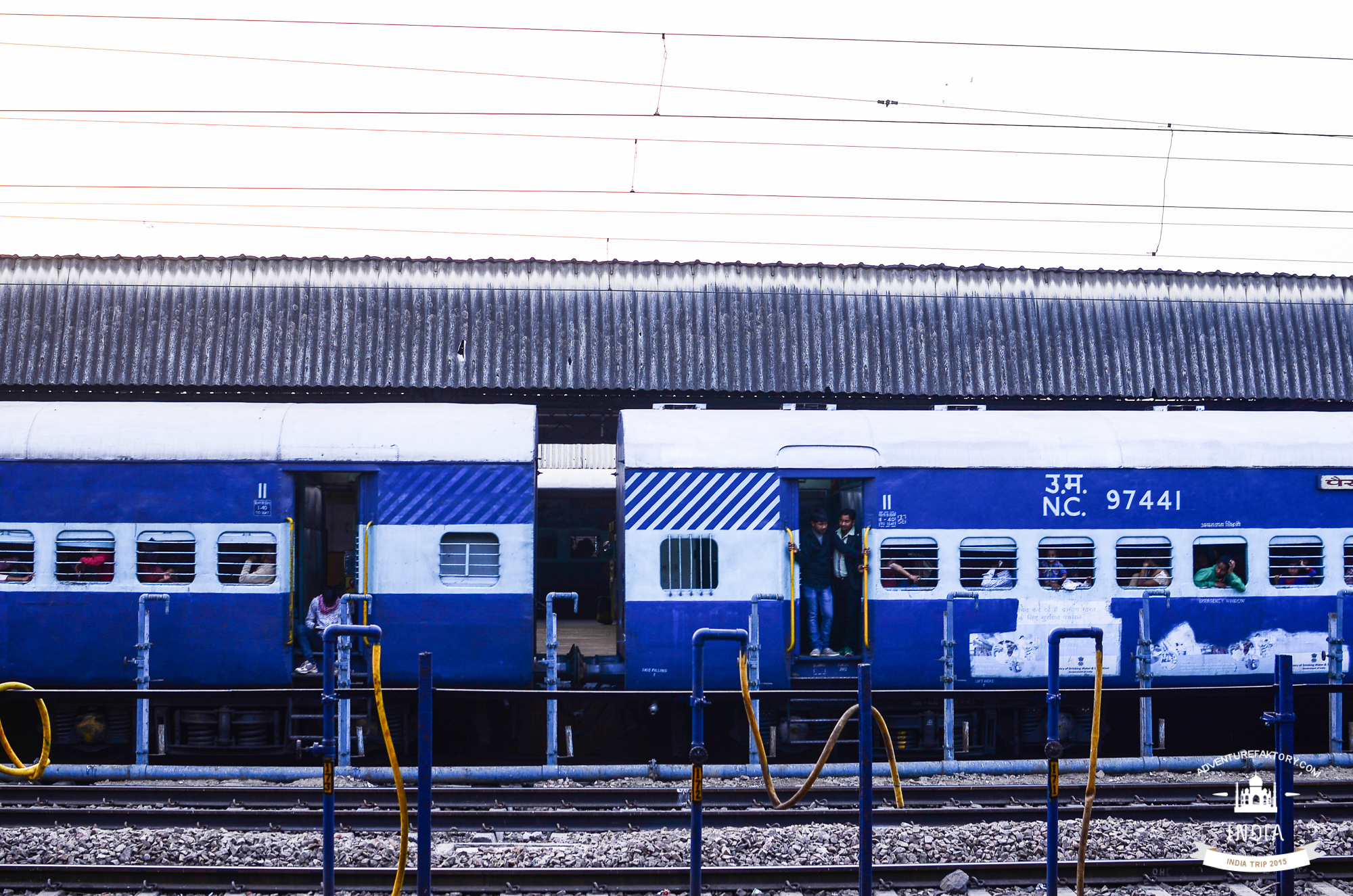 Time to go to your next destination
If you plan to go see the Taj Mahal, this is pretty much what you should do during the day and have it quite relaxed with no rush. We had our train scheduled for around 6 PM and made it perfectly on schedule. We arrived in Jaipur around 10:30 PM. Note when you take the train, make sure you have all your luggage and be ready to jump out as soon as the train stops because once people are lining up to get in, you will be stuck in the narrow train alleys as people are pushing in to go to their spot and you will struggle!