Looking for a island in the Maldives that offers absolutely everything for the whole family? While still offering the seclusion we come to expect from this part of the world? Well Kuramathi may be the place for you!  Kuramathi Island was the largest we visited during our time in the Maldives and they have filled it up with as many activities as you can pack in to an island. This island is so big that they had to split up into 3 parts, each comprising of their own lobby, restaurants, gyms and beach areas.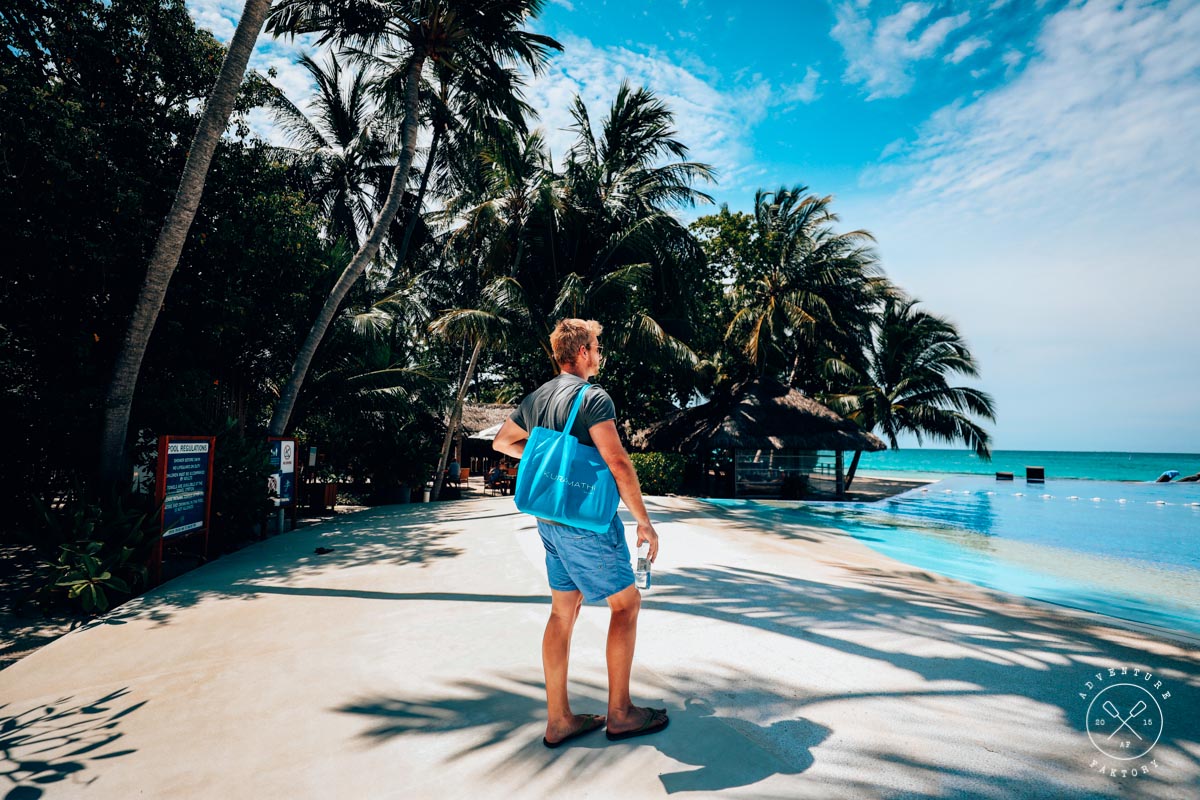 Where is Kuramathi Located?
Getting to Kuramathi involves a once in a lifetime experience of taking a 20 mins over the ocean small plane from the main Male International Airport. If you do not like small planes, then this may be a little tough but we can assure you that is such a great view looking out over the clear blue water and thousands of islands that compose the Maldives. Once you land at the smaller airport, you jump on a speedboat for a short ride to Kuramathi where we are greeted by the welcoming team.
Things around Kuramathi
One of the unique points of the resort is the permanent sandbank at the top of the island, which many resort goers head for sunset. People walk along here all day and enjoy the lovely weather. If you are a photographer, this is a great place to take your beach shots as the contrast in colours can be outstanding.
As we mentioned, this is the largest of the islands that we have been on in the Maldives, being over 1.1km in length, so they have accommodated the visitors by having a regular buggy service with stops and they circuit around the island several times an hour.
The island is actually broken up into the 3 parts, so all areas are treated like their own mini resort. You are free to roam around wherever you want.  Each section has gyms, pool, restaurant and relaxation areas. One of our favorite things to do was to go to the sandbank and chill at the pool of the main bar!
Food and Drink at Kuramathi
There are 9 restaurants to eat from, all quite different from each other. There are cuisines from Japan, Thailand, Italy, Maldives, and other international options. Some of the restaurants are even over the water, making the meal even more memorable.  One option you can use here is choosing the all inclusive package which allows full access into as much food as you want in a few outlets. If you are on the romantic side, as you all should be, you can do a Private Dining Experience on the beach… super romantic and you could maybe even ask someone an important question?
We had a magical meal at Island BBQ and make sure when you are there, someone MUST order the Diane Steak. There is a reason why it is the crowd favorite! Did we also mention there are 6 cocktail bars around the island too? Laguna Bar is another great place to sit and watch the sunset. Another bonus with this bar is that is has an infinity pool which is great for some early morning shots too!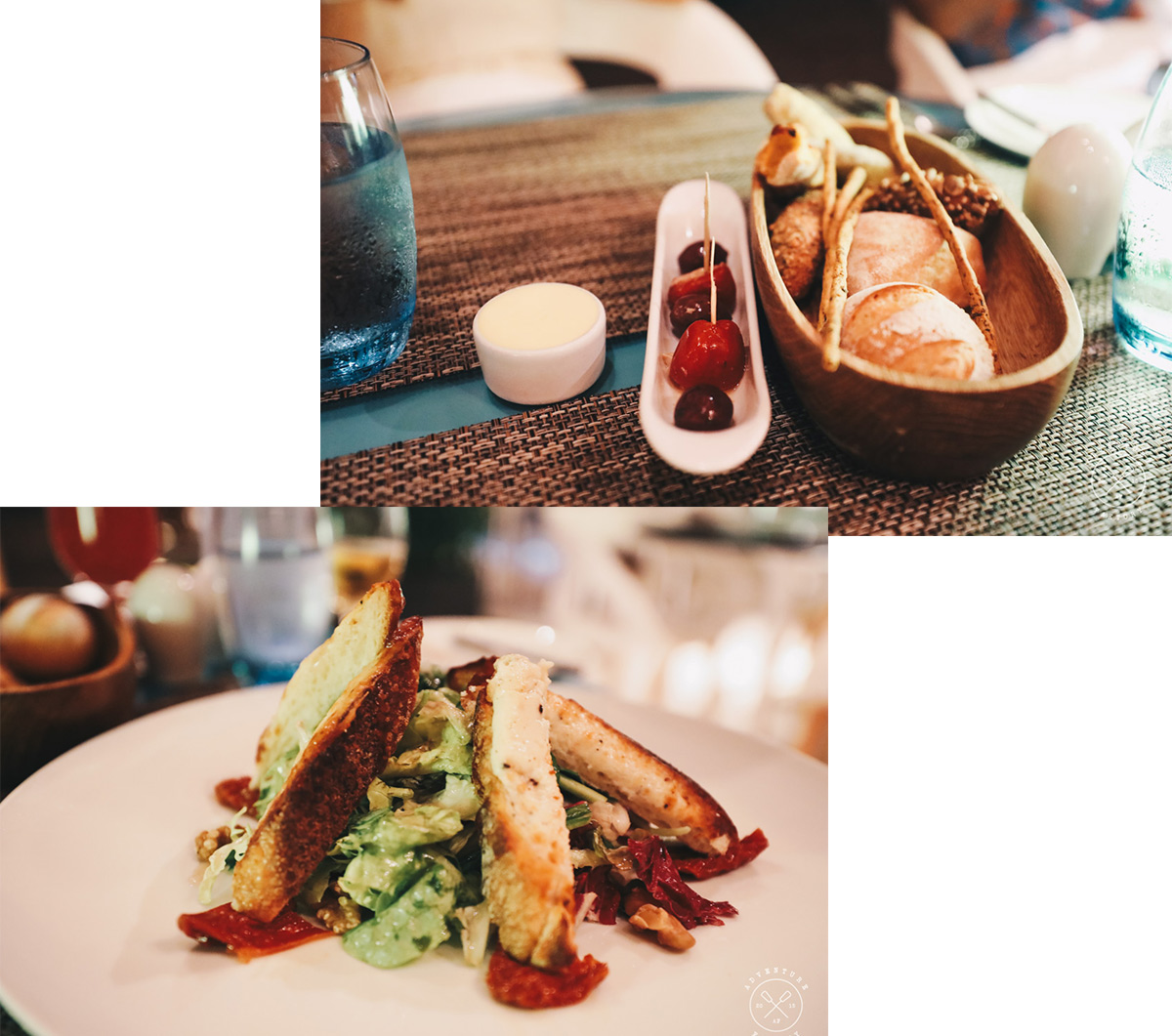 Kuramathi Facilties
We liked the amount of activities that Kuramathi had to offer us. The spa session we had was well needed. We got a couples massage which we always enjoy to have at every hotel stays we go to. You can also complete your diving qualifications to get the most out of your stay here. If anything goes wrong, there is a hyperbaric chamber on the island which is a great comfort. There are full time doctors on the island just to keep your mind at ease. There's a variety of watersports from windsurfing to stand up paddle-boarding and kayaking. We paddled out along the reef and checked out all the coral and sea creatures at play. The guys at the sport centre are a cool bunch so make sure you get down there and check out what they have available.  The gym is very complete and has all the equipment you need for a full proper workout. There are free weights, machines for all and enough space so we were not all closed in. Universal Resorts are known for there kids play area and the kids club at Kuramathi is no exception and has amazing facilities for them, so you can enjoy your alone with your loved one! As for pools, there are many and you will see them throughout the page!
Let's not forget the Eco Centre! As you arrive the island and embark on your buggy lift to your villa, there's a huge wooden building on the left and that is your Eco centre. The purpose of it is to teach everyone about how nature works and the importance of preserving our environments. It's a must to go down and do a session here while you are visiting! There is even a "whale" of a surprise waiting for you.
Kuramathi Rates
There are 360 rooms available, it is a busy island but you can always rent the villas to feel more secluded. We wouldn't recommend Kuramathi for those that want perfect privacy. Although, it is perfect for groups of friends and families. As for couples, this would be a good budget option to enjoy the Maldives. We stayed in a water villa, overlooking the clearest blue waters with a massive balcony focus to relax and watch the world go by…. snorkelling! When sitting out on the balcony you could look down and see the reef which was teeming with fish. Every guest gets free snorkelling equipment. We think that the water villas are our favourite accommodation at Kuramathi and you can find them priced at approximately 970$US depending on the season.
You can compare prices before booking on Booking or Hotels and Agoda. The Beach Villa we had is priced from 537$US, which is a bargain for all the space and an entry straight to the beach!
How was the stay?
Even though Kuramathi is by far the largest island we have visited in the Maldives, you still get that personal feel at each place you visit. The Eco Center is a concept that is unique to the Maldivian islands we have previously visited and really promotes environmental conservation in the area. There are many German tourists who come here so many of the staff can also speak German as well as Arabic dialect.
The sand bank is a great point of difference to relax or have a great photoshoot like we did. If you can get to the infinity pool early as the sun sets, you are in for an incredible view.
Pros & Cons
Pros
– The bar area of the middle of the island (Laguna Bar) is stunning and has an infinity pool + good music
– The sandbank is so beautiful and makes it worth a visit to the island!
– You can fly*technically* your drone at the sandbank

Cons
– The island is so lengthy the lift can be long to wait, so don't be in a rush to get anywhere!
– The island can be quite crowded, we felt less in a place made for honeymooners and people that really want full privacy

Disclaimer: This article contains affiliate links. We use them as a way of assisting us in maintaining our website and follow our passion.  Please use them when you are booking as it supports us greatly. This stay is not a paid collaboration and all opinions are our own. Thank you.