Looking for a vacation to disconnect from everything? The Maldives is a place you should always consider! There are so many choices, you can decide to spend your time at one resort or many, but first, let us show you one option you can go for that is the first ever resort built in the Maldives!
Like we said, Kurumba was the original resort in the Maldives when they opened 45 years ago! They have been doing this for a long time so we were quite excited it was our first ever resort to visit in the country. We only had a short stay here, only night and one day, so we had to pack in all our activities in at once. Lucky for us Kurumba is nice and close to the airport so we didn't lose too much time for the transfer prior arrival.
Where is Kurumba Located?
Kurumba is very close to the international airport (only 10 minutes by speedboat), making it a quick getaway for those a little short on time. The island itself is really tiny, it only takes you about 30 minutes to walk all the way around it. You may have the feeling that you are on a secluded island due to its small size, but you will indeed see planes landing in Male and notice it if your overlook far away. Many potential guests are worried about that fact, but we didn't find it personally annoying. We can understand for some guests expectations, if you want 100% privacy setting, you might not like that fact.
How to get around from Kurumba?
As mentioned before, Kurumba is only a short speedboat ride from the "mainland". This is both a positive and negative. Positive because it means maximum time at the resort and a later check out. One of the downsides of the island being close is that there is regular boating traffic, but we can assure you that this does not affect the feeling of being peaceful and quiet.
Food and Drink at Kurumba
There's a wide range of cuisines offered to the guests. Although, we did not get to eat at every single one, we had the pleasure of dining at Thila. Out of the 8 themed restaurants,  Thila is an award winning one and we sure confirmed that with the delicious dinner we had. With the lights looking down, we also watched the fish and black tip sharks circle around us as we ate scrumptious seafood.  There 2 areas for breakfast. You can go premium for a wider range of food by paying extra and have a view of the crystal blue water, no wonder we were there for hours.
Kurumba Facilities
They have snorkelling sessions where they take you to a nearby reef 5 minutes from the island. We went with a small group on the hunt to find stingrays and other marine life. Snorkelling is a safe and great way to check out the colourful ocean floor, clear waters and unique marine life like the bright yellow horror movie looking eel creature we saw! For hours we hopped on and off the boat, visiting reefs and enjoying the cloudless days.
Back on the island there is also much to do. Water volleyball in the protected area is a crowd favourite and great with the sunset too. One really smart idea from management is allocating your own seats by the beach for each bungalow. Everyone can leave everything at the beach while you go and have lunch and not worry about your spot being taken.
There is a spa that you can book treatments, although it doesn't have spa facilities (jacuzzi, hot/cold pools) and the relaxing area is quite small.
Kurumba Rates
We stayed in a cozy beach villa surrounded by a garden, backing on to the ocean. Every time we looked out from the bed, we could see palm trees, white sand and a beachfront just waiting for us. The bathroom is huge and has an outdoor shower which felt like you were out in the rain. Make sure you hit up reception as you arrive to indulge on the best Coconut ice-cream!
You can compare prices before booking on Booking or Hotels and Agoda.  Rooms start from 392$US a night for a Deluxe Bungalow room.


How was the stay?
We always ask ourselves before we write this, "what added value did we get by staying here?" Many people come here because it is the first ever resort, but also as it is close to airport and you literally have a cocktail in your hand less than half an hour after the plane landing. The reef around the whole island is great for wading. It is a small island, so if you're looking to be busy the whole time, then maybe try another island. But if you are looking for relaxation and speed from the airport with a great experience overall without too much over the top luxury, then Kurumba is a great place to be considering the quality/price.
EXTRAS: The premium photo shooting time on the island we found was the beach on the morning, a great time to take pictures. The famous picture is the Kurumba Sign picture but make sure you wait to the tide is low so you can swing from it!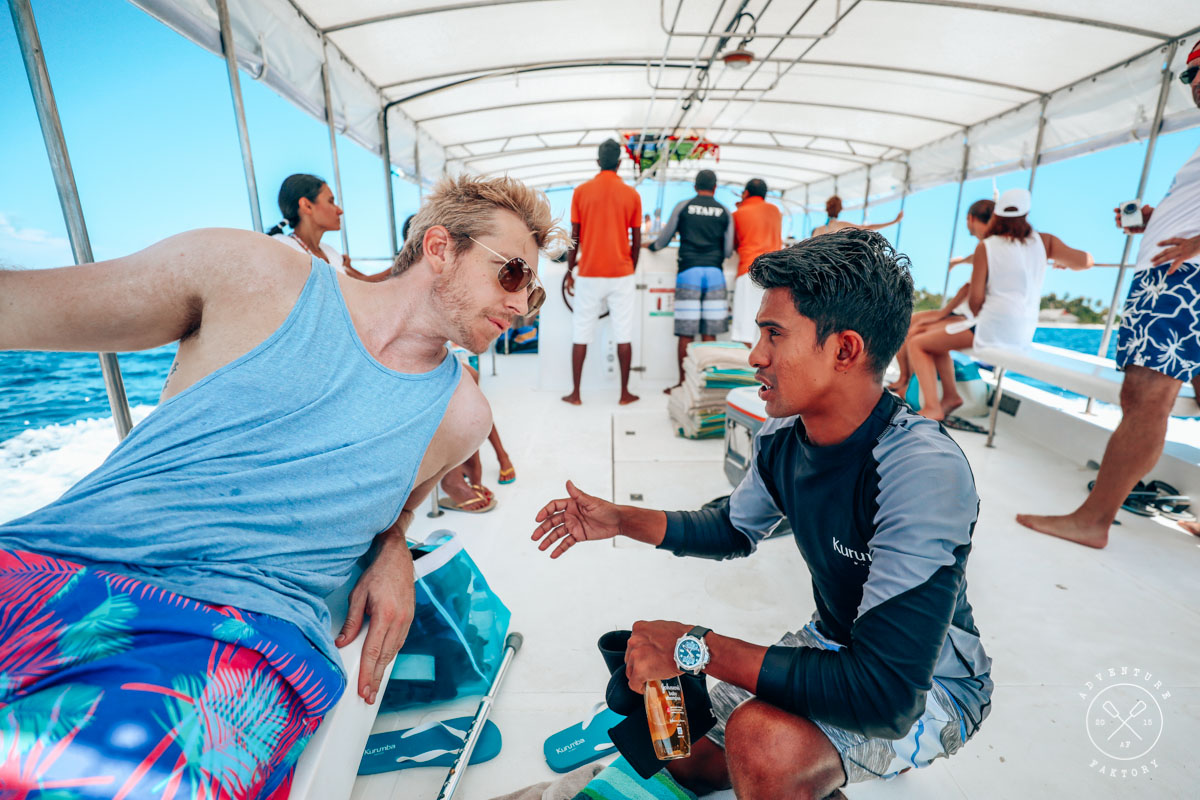 Disclaimer: This article contains affiliate links. We use them as a way of assisting us in maintaining our website and follow our passion.  Please use them when you are booking as it supports us greatly. This stay is not a paid collaboration and all opinions are our own. Thank you.