United Arab Emirates like to do things on a GRAND scale! In Ras Al Khaimah they launched in January 2018 the longest Zipline in the world and this is everything you need to know before going!
So are you a bit of an adrenaline junkie? Always up for an adventure of the highest order? If you are swinging through the UAE, make sure you book a ticket to get on the longest Zipline in the world with Toro Verde and Ras Al Khaimah Tourism.
ToroVerde is a new "adventure park" where there are plenty of places to gets your views of Jebel Jais, the highest point of the UAE. Not only can you get views but also the place where you do the worlds longest zip line. The reason why we say it's an adventure park, is because there will be way more exciting thing coming up, but that's a surprise!
The Ras Al Khaimah zip line is 2.8km long which is over 25 football fields long and launches from one of the only "public" highest points in the UAE (by public, we mean only ticket holders!). You will be traveling at close to 160km an hour and the whole experience lasts 2.5 minutes. If there is wind, you can reach a max speed of 180km/h.
Important information
When: 7 days a week 9-5PM (this is subjective to weather and holidays)
Cost: 650 AED + VAT (682.50 AED after VAT which is ~185.82$US)
Cost to lend a GoPro: It's a GoPro HERO 5 and will cost you 135 AED (~35$US)
Who can do it: You must be 18 years old with a minimum height of 122cm and weight between 45-130kg.
How to get to the longest zip line in Ras Al Khaimah
1) Put on your Google Maps Jebel Jais and drive to the max up you can until you see the parking number 10. You will see a green sign of Toro Verde as well announcing that parking is exclusively for ticket holders. Park you car there.
2) There will be a little white container and in there you will sign waivers and then a bus will transport you up the mountain to the welcome centre of Toro Verde zip line.
3) At the centre you will get briefed, get all your equipment and fix your GoPro if you rented one. You will also get a chance to see the zip line with great view of the valley on the deck. You will need to wait for the other group to go down and then it's your turn. Meanwhile, you can look at all the other zip-liners zooming past. Note that part of your equipment is a backpack that you carry the first harness, so you can bring you phone to be able to take photos and videos of the experience. Note that during the zip line you will have to put it in your backpack!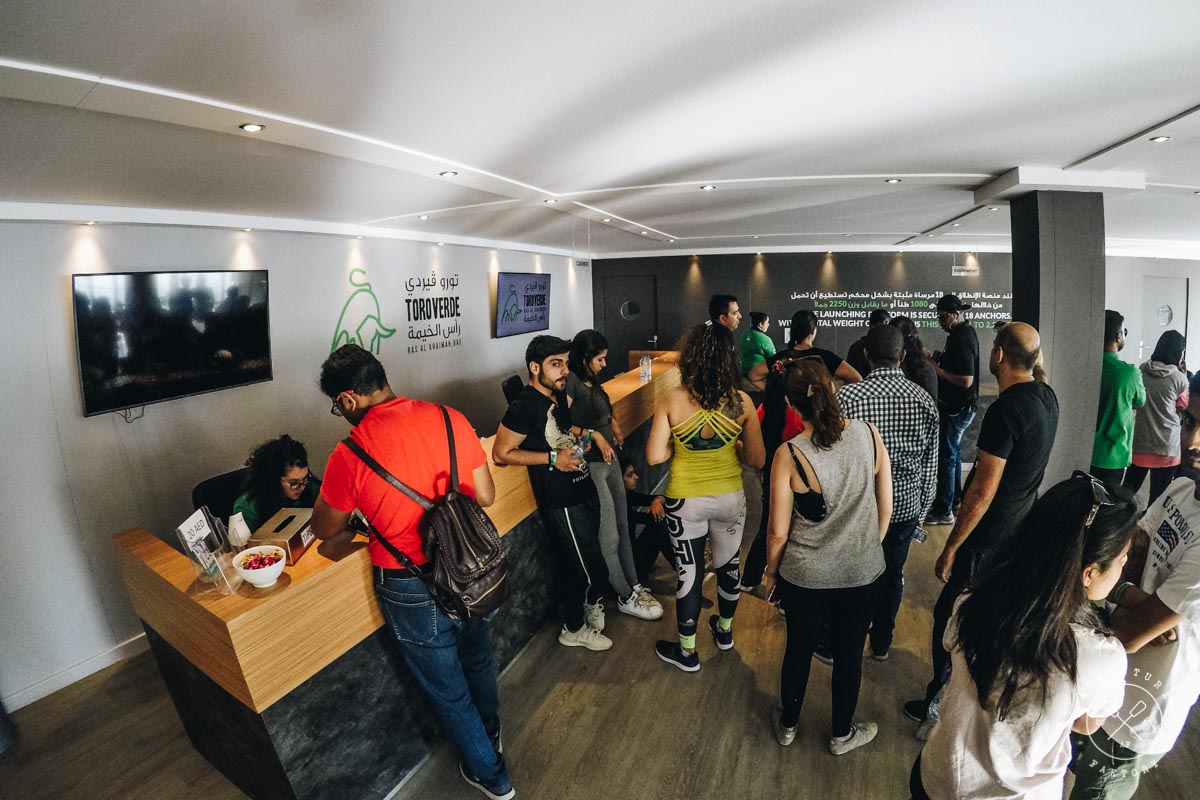 The longest zip line experience
Expect from leaving the bus to head towards the zip line deck to arriving back to the welcome centre after your flight a good hour.
1) From the welcome centre, when they are ready, you will be transported to a higher point and to the launch platform. The driver drives a bit crazy on purpose, you will feel like on a roller coaster!
2) They will put harnesses (that you carried in your provided backpack) on everyone. Once the whole group you are with is ready, they will brief you on how to position yourself (superman style with arms behind your back), then you are ready to go!
3) The best bit… is that after your flight, it's not over yet! After doing the longest zip line, you land on a suspended platform on a cliff face. They put you on ANOTHER zip line, which you will be seated to get back to your final destination, where you will take a bus again back to the welcome centre to remove you equipment!
4) When you are leaving, they will take a photo of you on the wall with the Guinness World Record certificate and get a little badge that mentions that you have done it! You then take the bus back down to your car and ready to go home!
You get a backpack so while there are lockers, take your phone with you!
If you have a partner/friend, there are two lines so you can go at the same time
Get someone to go in front of you so they can take footage of you finishing, this is something we wished we did!
Bring your own GoPro, if not you will pay 135 AED to borrow one
Bring a GoPro clip if you want another angle other than the helmet view
Do not panic. These guys are so good at their job they know what they are doing!