Are you looking into travelling to Laos and stopping by Luang Prabang? Experience what it is like 50 years ago by staying in this French Colonial property, the Luang Say Residence.
The Luang say Residence is a member of the Small Luxury Hotels of the World, a boutique colonial hotel located in Luang Prabang in northern Laos. The heritage city itself is a UNESCO listed area and the cultural capital of Laos. The city is a mixture of old french architecture, temples and plenty of greenery. There are 33 wats (temples) that anyone can go and check out and is the Laos home of Buddhism.
Where is Luang Say Residence located?
Luang Say Residence is located in a quieter part of town, but only 5-10 minutes drive from the centre of town where are the night markets. They are only located 15 minutes from the international airport, so no long drives which is always a bonus. The 5 star hotel covers 14,000 Square metres, however when you are on the property you do not even notice the enormity. The grounds are covered in tropical gardens surrounding the accommodation.
How to get around from Luang Say Residence?
They have plenty of options for you to use. You cannot walk to the centre from Luang Say Residence as it can be quite far, but the hotel offers free shuttle services (with free wifi!) regularly there and back, dropping you in front of the post office and night markets, which is great. They also have push-bikes you can use anytime, which was our favourite way to get around. Make sure you go into the city at night to experience the famous night market madness.  If you are not much of a car person, then they have push bikes where you can ride around on your own clock as there are plenty of temples and monuments to go and see.
Restaurants at Luang Say Residence
They have a delicious à la carte breakfast with a French and Lao inspired menu in the mornings at the La Belle Epoque restaurant. This is right off the main reception and is the first thing you see when you walk into the hotel. The 1861 bar is a great place to get a cocktail or a coffee with big lounge chairs have a quiet drink. A great initiative with the food is that much of it is from the organic garden they tender for everyday. If you are staying for a longer stay, the concierge will sure recommend you good other restaurants to go try if you have gone through their whole menu already!
Luang Say Residence Facilities
There a beautiful large pool in which you can lounge for most part of the day and go to the bar right there to eat and order drinks. Although, there is no spa or gyms available here, as that is not the focus of the place as they specialize in making sure you have high quality experiences in and around Luang Prabang. Luang Say Residences provides organized activities such as Mekong River cruises, waterfall & caving expeditions and elephant trekking. If you do not want to do anything, it it perfectly fine to spend time at the pool or chill in their beautiful library bar.
Luang Say Residence Rooms
We were in the Explorer suite which is located in the main building on the 2nd floor. This room is absolutely huge (biggest of the property) and has a large balcony which overlooks the rest of the property with the mighty hills rolling in the background. In fact our room was 73 sq/m which is more than even a couple needs. With a large bathtub, rain drop shower and massive bed it had everything we needed and more! Luang Say has 5 pavilions holding 28 pioneer suites and 4 Exploratory suites.
We were in the Exploratory suite and we found the lowest for this room at approximately 282$US. Check out Booking.com and Agoda  for the best deals for Luang Prabang.
Luang Say Residence Facilities
This 5 star resort is not a place where you lounge around all day and do nothing. They specialize in making sure you have high quality experiences in and around Luang Prabang. Luang Say Residences  provide activities such as Mekong River cruises, waterfall and caving expeditions and elephant trekking. If you do not want to do anything, there is a great pool with a bar that you can lounge at all day with a care in the world.
Sustainability
The hotel distributes their room soaps in dispensers. Unfortunately the water is in plastic bottles. Straws were not reusable. On a positive note, Luang Say Residences grows its own produce for the kitchen to use in the meals served at their restaurants and in-home dining. In a nutshell, the Luang Say Residences still have some progress to do to be a sustainable hotel.
Our experience at Luang Say Residences
The boutique hotel is a blend of French colonialism and personalized luxury accommodation. This is definitely not a party hotel or a backpacker stay, but a relaxed oasis in the middle of Luang Prabang. We enjoyed walking around the greenery of tropical gardens within the property of the hotel. It gave us the feel that we were staying at a family's estate from the 1960's and not in a hotel. It is definitely a place to enjoy your evenings after a day of exploring the town and its surroundings. We really enjoyed taking their bikes and go wander around, but also to lounge at their pool.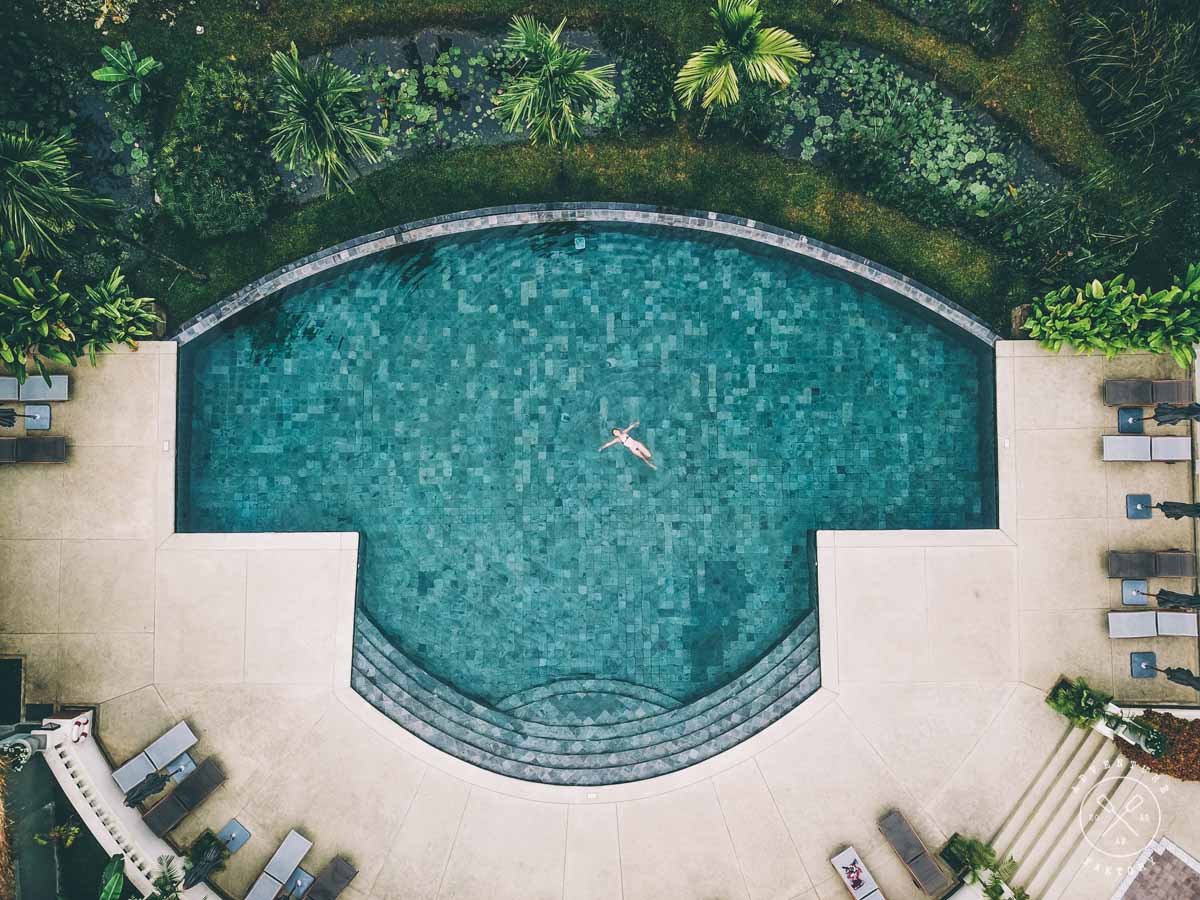 Disclaimer: This article contains affiliate links. We use them as a way of assisting us in maintaining our website and follow our passion.  Please use them when you are booking as it supports us greatly. We have not been paid to stay here and all opinions are our own. Thank you.