As you pull up around the corner to the drop off site in Robertson Quay, we are met by a myriad of colours and patterns. Stepping in the front of M Social hotel is like walking into a modern art museum. With Spanish-influenced tiling, artwork and funky drawings all over the walls, I felt like I would be having a chill journey staying there.
In light of our current Pandemic dilemma, the M Social Singapore has quickly become one of the popular spots of Singapore's staycation culture. This means you potentially need to expect slight delays upon checking in. We got there early and managed to avoid any sort of wait at all. We constantly checked the queues and the team were well drilled and never had people waiting at any stage. Check-in is from 3 PM, and check-out is until 12 PM. You can ask for late and early requests and they will oblige if it is available.
Where is M Social Singapore Located
M Social Singapore is located in the famous Robertson Quay, in the heart of Singapore. The area is full of dining and partying options, walkways, river views and convenience stores within a stone's throw from the hotel. It is approximately 20 minutes from Changi Airport.
Rooms at M Social Singapore
Standing "only" 10 floors high, M Social has loft-style rooms that are unique and we have only rarely experienced in our travels. It is a great use of the small 22m squared and separates the living area (downstairs) with the bed situated upstairs. There are actually rooms with the bed downstairs and the living area upstairs, as some people do prefer having the bathroom on the same level!
In the room that we stayed in, the Loft Premium Room, all facilities are down at the bottom level. They include a vanity, fridge, storage for bags, leather couch, workspace and TV, toilet and shower area. There are charging points (Singapore Plug) but limited convenient space to plug usb's by the couch. Upstairs is the bedroom space, which is quite limited and small, with enough space just for the bed! There you can have control of the light and charging points, all on one side.
The bed itself isn't huge, but this is to be expected due to the layout of the room and being in the loft, but we like the cozy feel. In saying that, being over 6ft tall, I could still stand up with ease. The toiletries are all from CO Bigelow and they provide coloured cups that are a great way to make sure you don't confuse them with your partner if you are one of those people! In the room, there is a Nespresso coffee machine with pods that get refilled every day with the tea. We always love the coffee pods 🙂
I think if we had to choose between bed up and bed down we still would have chosen the bed upstairs as opposed to the downstairs option. It is just a little more viable, spacious and good to walk into the room and see the living room space. But you have the option of either.
Facilities at M Social Singapore
For a small hotel, they really manage to pack in several facilities for the size. The 5th floor has the majority of the facilities, with the outdoor infinity pool located on this level. There are several lounge chairs with umbrellas to laze the day away with views of the adjacent skyscrapers.
The pool is relaxing, well exposed to the sun and very quiet. The Gym area is small so you must book a slot through reception. Because of the size of the gym, two people only are allowed at a time. There is enough equipment in there to get a workout, even if it is just on the small side. I recommend that you do your weights in there, but don't use the cardio equipment as you should be having a run by the river, which is at the doorsteps of M Social!
The centrepiece of the 5th floor, nestled conveniently between the pool and the gym, is a Bar! While we didn't have a drink there, it is a great spot to be close to the pool and hidden from sun if you don't fancy a suntan! They have all sorts of drinks and beers, a great spot to enjoy the sunset.
Dining at M Social Singapore
M Social has a beautiful central eating area that encompasses both Breakfast, Lunch and Dinner. Beast and Butterflies is the premier location and the sole location to order food in the restaurant. You are not short of dining options around the hotel, but we strongly urge you to try out the various menus they have.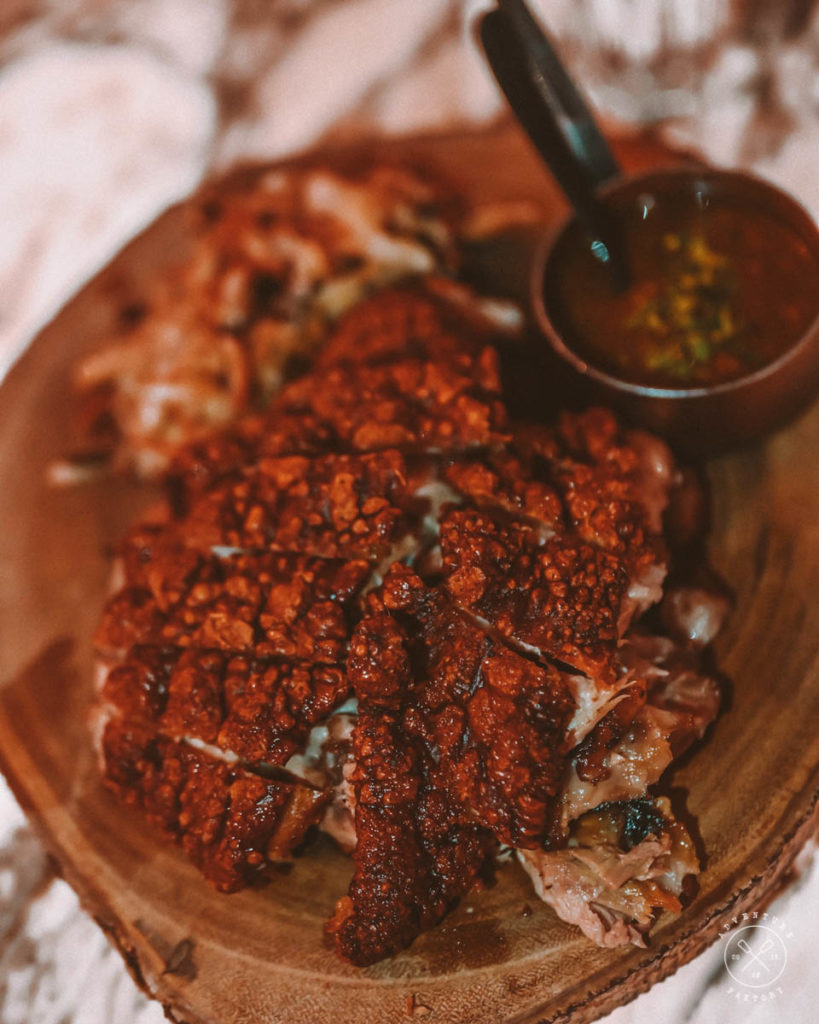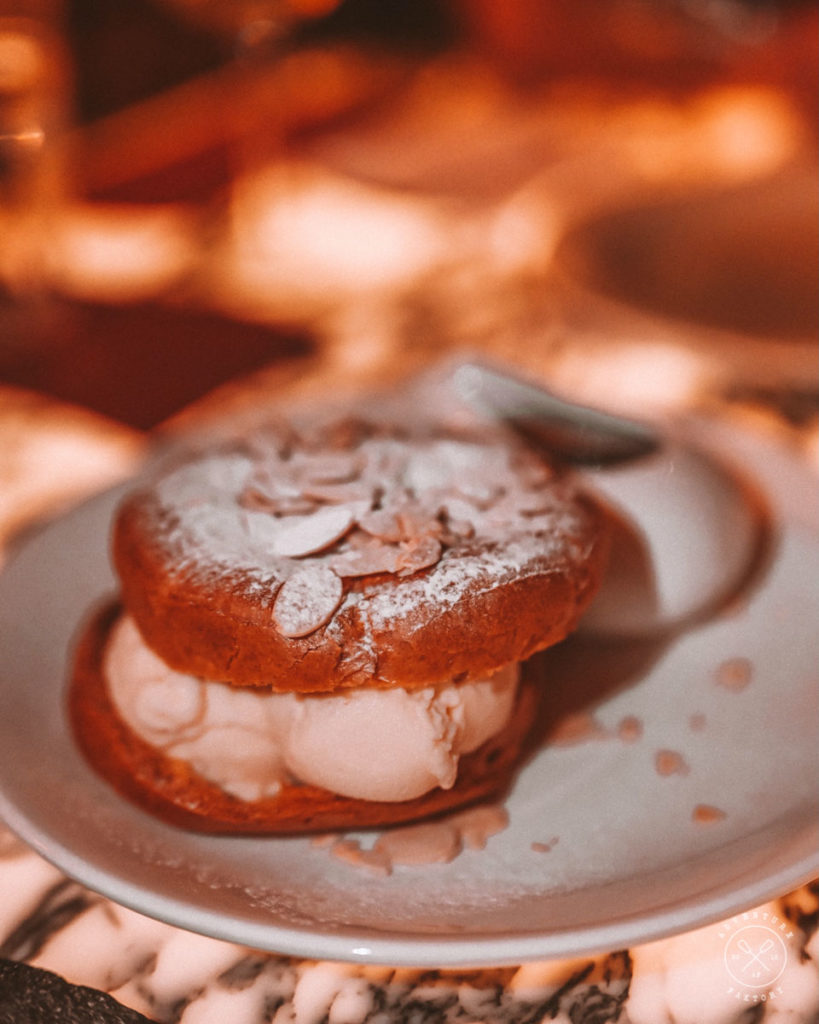 For Lunch, you can go with an Asian style or Western depending on what your flavour is. We really love both our dinner and lunch experience at Beast and Butterflies, compared to breakfast. Don't let the breakfast make you feel down about booking in for lunch or dinner because the food is really worth it for those service hours! I went for the classic Beast Burger while Thuymi went for the Asian style dishes of Lobster Bisque. We shared the Lobster Porridge, which is a masterstroke idea! Additionally, for appetizers we had the Salmon and Avocado Tartare and this was eaten very quickly
Leaving our thoughts of breakfast to last, it is more of a standard offer than the regular menu. It offers 3 variations of breakfasts, very traditional in Singapore. It is served à la-carte buffet basis (as it is the case currently in every other hotel in Singapore we have visited lately), so order once and can keep ordering as you wish. The three choices are American breakfast / Continental and Asian Breakfast.
Experiences at M Social Singapore
Mixology Cocktails Class
With the resident bartender Vlad behind the bar, with the booking of your room you can choose in between two experiences, our favourite being this one! You will be able to learn how to make your very own cocktail from scratch, starting with choosing you base all the way to the garnish to make your drink beautiful. Starting with some animation to get everyone familiar with the bar, and with each other, Vlad will make sure to also ask about what you like and don't like in terms of alcohol and mixers while you will be sniffing on them to guest what they are. The glasses are not labelled and you completely have to rely on your senses! After we all try to guess the alcohol and the bases, you get to choose your base.
Thuymi, Whiskey lover that she is, went for the Scotch. With many mixers available, Vlad lets you choose with your preference and gut and will assist if you ask him if your ingredients make sense. Thuymi went for lemongrass, lemon, ginger and with the recommendation of Vlad, added some honey. After learning how to balance the drink and to taste test it before shaking, it was the time to learn how to close the mixer, how to shake properly and how to open that mixer to pour! To end the session, we were taught how to make a caramelized garnish! How? Using anything between an orange, lime or lemon, cut it half, poor a tiny bag of sugar to cover the surface of your lemon and use the torch until it caramelizes and voilà, you've got a garnish to add on top of your cocktail!
M Social actually hosts several of these Cocktail sessions a week based on the guests' bookings. The cocktail making session is a ton of fun and would really recommend you to try it out if you have no idea how to make a good drink! We were with another couple and a friend so we got to see how they made their drink and also got to taste theirs!
Making your own Perfume Experience
One of the experiences you can do during the stay at M Social if you don't go for the Mixology class is the Make Your Own Perfume experience. On the 5th floor, there is a room full of oils that we get to try and experiment with! Choosing the scent is one of the most interesting and unique parts of the experience. You actually start by taking an online test (by scanning a QR Code) in the room. This will determine mood, characteristics and smells you like. From there you get to play with all the scents, mix and match until you find your winning combination. We smelled so many! Trying to get the best combination possible that you like is part of the fun and exploration of your smell sense.
In the end, I made up one with Ocean Odyssey and Bergamot Blast and Thuymi went for the Immortal Incense, Sage Sun and Ginger. For someone who doesn't normally do experiences like this, I found it fun and learned plenty about scents and perfume… and now I have a cool perfume to bring back home that I proudly made!
Overall Experience at M Social Singapore
Even though it is a short stay, M Social is a cost-effective way to enjoy a staycation while in Singapore. With all the basic amenities, quality facilities and plenty to do in and around the hotel, there is no reason why M Social Singapore should not be on your must-visit list. Beast and Butterflies offer a great menu for both lunch and dinner.
Pros
A great place for a mid-price staycation in an often expensive city
Colourful, neat and modern hotel
Plenty of facilities that are available
Great extra activities that are unique and interesting for the current staycation packages
Cons
If you need size, the rooms are compact
We found the breakfast to be very limited and basic, but lunch and dinner there is absolutely great
The size of the rooms is small, so if you are doing a family stay, best to find a bigger option
If you are a smoker, there is no smoking in any areas of M Social, you must go outside the premise of the hotel
Leaving you with some photos of the loft layout with the bed at the first level so you can make up your mind on which configuration you would prefer! Again, our preference is to have the bed upstairs!