During our stay in Cape Town, we chose to spend a couple of days in Century City, slightly out of town to be able to attend a few meetings and be secluded from city centre distractions to get things done. Even though it isn't in the centre of town, it has an incredible overall view of Cape Town's Table Mountain and surrounding hills. A beautiful place to be for sunset and sunrise.
View this post on Instagram
View this post on Instagram
Where is Marriott Crystal Towers located?
From the Marriott Crystal Towers, you are approximately 15 minutes to the centre of the city of Cape Town with no traffic. It is 20 kilometres from Cape Town International Airport and it takes about 20 minutes to get there with no traffic. It is located in a suburb of Cape Town at Century City with many big companies having offices there, including a huge shopping centre Century Mall, one of the largest shopping areas in the southern hemisphere. Century City is also a residential area with some restaurant and bars.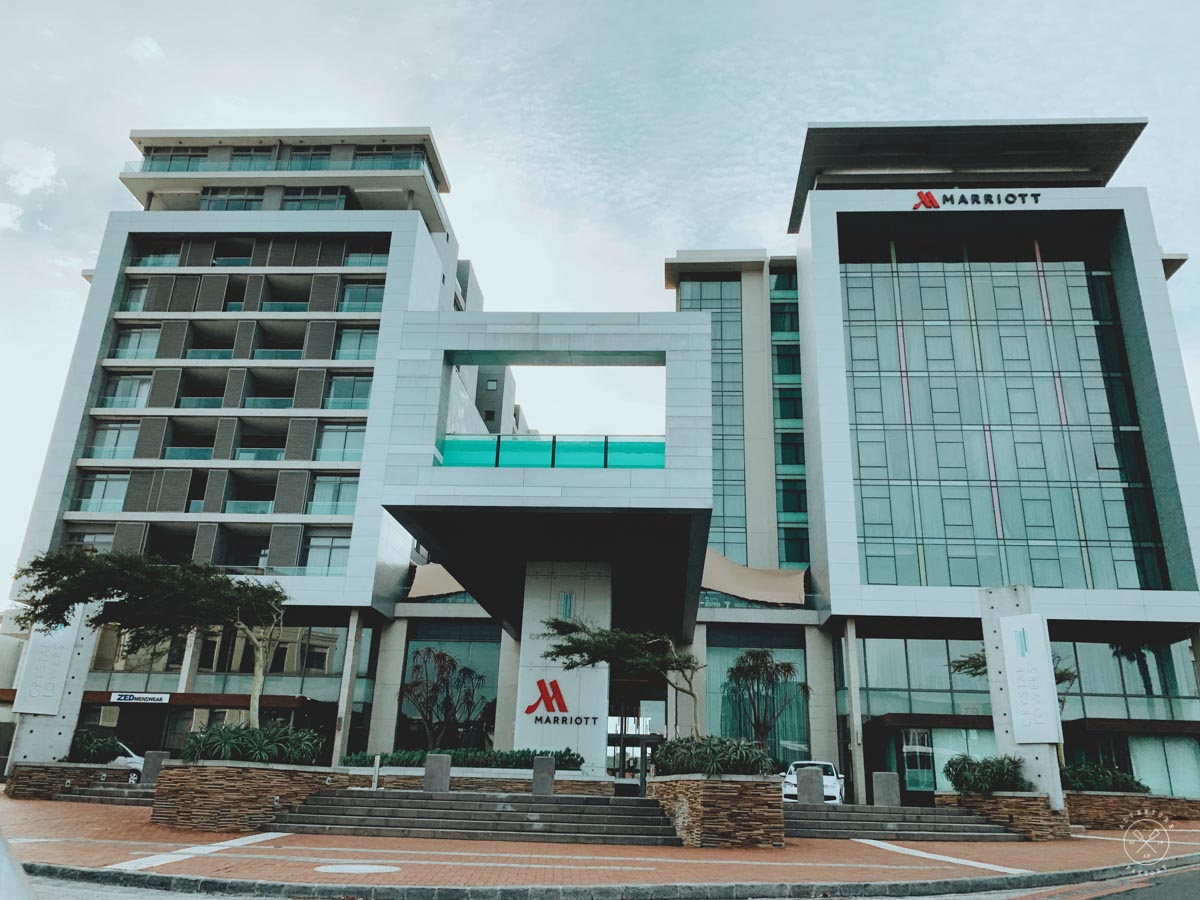 How to get around Marriott Crystal Towers?
Cape Town is quite a large and expansive city so car transport is vital to see the best things in the city. Taxis and Uber's are readily available in Cape Town and are relatively cheap so that is the way to go. Public transport is present but we have been recommended by several locals to not bother with that. An Uber from this Marriott Crystal Towers to the Centre of Cape Town is around R100-125 (8.50$US).
Dining at Marriott Crystal Towers
The main dining facility is on the ground floor and serves a traditional buffet breakfast, with the option of additional a la carte dishes at your own cost. Dinner at the same place can be quite a fine dining experience with three-course meal dinners if you chose to. Just by the restaurant is The Greatroom and Deli open 24 hours and serves a selection of deserts, light bites, deli sandwiches, and fresh pastries.
Also on the ground floor, Orah Bar & Lounge opens in the late afternoon/evening for crafted cocktails and many options of single malt whiskeys. Orah has a room dedicated to South African artists David Kramer (singer) and Kingsley Holgate (explorer, humanitarian and author), as they both donated the decorations to form the space. Other than that, you can also get served at the Acara Poolbar and restaurant on the 4th floor.
If you feel like walking around, there are also plenty of places within a few minutes walk from the hotel. Knife Meathouse is a steakhouse attached to the hotel and is a great place to have local and international meats.
Facilities at Marriott Crystal Towers
There is an outdoor swimming pool overlooking the surrounding area and a small far view of Table Mountain. It is a nice way to relax and take it easy. It is not a heated pool, so be ready for some cool South African waters if you are there during the winter. Life Day Spa is a third party spa if you need treatments during your stay.
There are work stations located all over the first floor, so if you are here for a business meeting, you will have plenty of spots to get your work done in peace and comfort. As you enter Marriott Crystal Towers, there is also a coffee shop, which is the perfect location to get a quick cup on the way out. If you are a fitness buff, there is a gym here to get a good workout in.
As a business hotel, Crystal Towers has a fully equipped space for meetings and functions. Conference floor has three rooms to be used separately or together to host about 350 people. The mezzanine floor has nine meeting rooms and the lobby space or Orah Lounge both can be set up for smaller functions.
Rooms at Marriott Crystal Towers
Marriott Crystal Towers is a business hotel but also offers some leisure for its guests with its spa and pool facilities. It has 180 rooms split over 8 floors. Being on the 7th floor, we had a beautiful view looking out to the canals.
We stayed in a Larger Guest Room overlooking the Century Mall. The room is very spacious and easily fit two people in here, each with large luggage. The king size bed was a marvel to wake up to. It felt amazing to leave the blind open and wake up to the beautiful sun rays. Our bathroom was in a semi-open area and the shower is in a large cylinder in the middle of the space which we really liked the design. At least, the toilet itself is in a separate closing door room.
Convenient and needed for business, it has a big glass work desk with plugs conveniently there to charge up all of our technology. At the end of our bed is a big TV stand with our TV but the view of the mountains (and Table Mountain!) behind are way more attractive! Then, of course, free Wi-Fi, a must for any good hotel.
Sustainability at Marriott Crystal Towers
The movement towards sustainability in hospitality is popular. You can replace shampoo bottles by soap dispensers, etc but most hotels are not there yet. The Marriott Crystal Towers still distribute soaps in disposable containers but other than that, the property has no straws distributed unless you demand it and no plastic bottles. Water in the room is in glass bottles which is great and the optional Linen change option is available to save water. Plastic coffee lids are still distributed for your coffee to go.
Our Experience at Marriott Crystal Towers
It was a great stay for us to attend meetings. In our short time here, it was also great to be able to be secluded from city distractions to accomplish the maximum work we could before jumping into our road trip From Cape Town To Johannesburg Passing Through Nambia, Zambia And Botswana. We recommend people to stay here if you want high-quality facilities with a slight discount considering it is not in the city centre. If you have your own car, this is perfect with the free valet parking for your rental. If you like being in the middle of the city, you might have to reconsider other accommodation options. In general, we really enjoyed our stay, the service was up to our expectations for a Marriott International property. The staff was really accommodating with our guests that pass by to say hello and also the warm welcome we received made it all even better!
Disclaimer: This article contains affiliate links. We use them as a way of assisting us in maintaining our website and follow our passion.  Please use them when you are booking as it supports us greatly. This stay was hosted and is not a paid collaboration. All opinions remain our own. Thank you.