As huge fans of Starwood, part of the the Marriott International brands, we had a stopover at Le Méridien Vienna. After our stay in Ho Chi Minh City, it was no doubt that I had to spend some time discovering another property while in Austria. Lucky enough for me, it relaunched in 2016 and I got to experience the newest makeover! For those who probably have been in the past, they completely transformed the facade (moved it from one side to another), reception obviously got a makeover, plus restaurant, bar and new meeting rooms!
Where Le Méridien Vienna Located?
Le Méridien is located between two historic parks on the front end of the Ringstraße beside the Museum Quarter, which is very convenient for those who want to be right in the middle and start visiting the museums in the city. It is easy walking distance to the Opera, shops and cafés (pass by Hotel Sacher!) and public transport (U-Bahn is a block away!). You can also rent bikes and scooters at Le Méridien, which is super recommended as Vienna is beautiful to stroll on those! Among other hotels we stayed at, Le Méridien was also the one closest to the Naschmarkt Market with its 16th-century origins, with over 100 food & vintage stalls. Don't eat before getting there as you will probably want to sit at one of the restaurants there and do some "people watching".

Eat and Drink
The You restaurant is a very cosy restaurant right beside the lobby where you can conveniently have meetings and drinks afterwards. The atmosphere made me feel like I was in a speakeasy bar, with its dimmed light and dark green feels, added to it was a mini library and funky sofas. Some people were comfortably installed with their laptops and sipping on a drink. The menu is quite international with some fusion twists. I went for the Edamame and Pan Mee Beef, a signature dish consisting of whole wheat noodles with coriander seeds, palm sugar and spicy soy sauce topped with a poached egg. Didn't even go for desserts since I was quite full! The drink menu updates quite often so make sure to tell them what you like and they will come up to you with something very special!
For breakfast, we ate at the buffet on the ground floor. I wish it was at the Moet Champagne Bar, as it is much more cozy and less "business" feels than in the main breakfast dining area.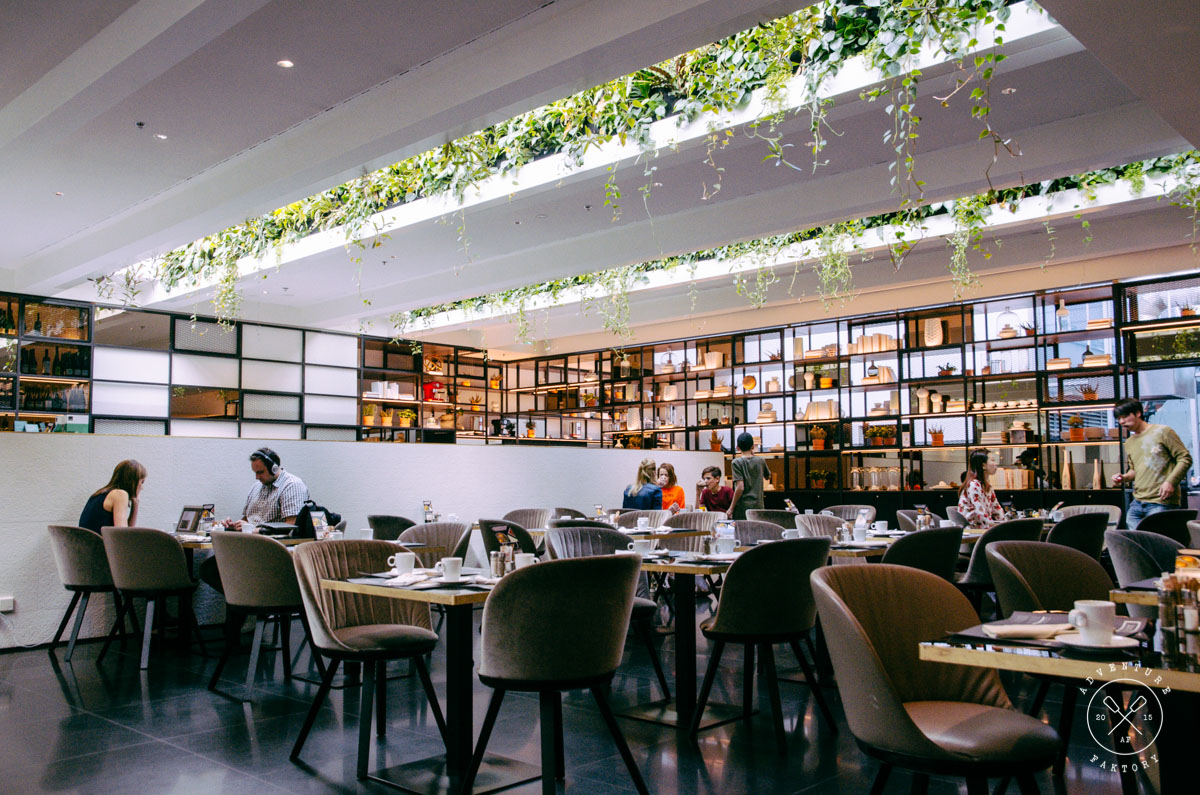 Yes, there is a Moët Champagne Bar! The place is super lovely and this is definitely a place you can come over as a guest or not to enjoy a breakfast or drink with delicious sweets! The Le Méridien éclairs are highly suggested. Of course… they even have a website for it that looks just too yummy you may want to eat it!
Le Méridien Vienna Hotel Facilities
The Wellness offering of Le Méridien Vienna is quite impressive and was above my expectations. I rarely travel with high expectations, I love to get surprised and rather expect nothing to avoid being disappointed! I spent a good hour in the jacuzzi without having other guests joining. Going in the early morning is always a good idea! Wasn't fan of the ambiance, but the relaxing session was extra. Gym is good size for the hotel capacity and you can also book a personal trainer at the price of 48€ (~55$US).
Le Méridien Vienna Hotel Rooms & Rates
Le Méridien has plenty of space for a Vienna hotel with 294 rooms. Many hotels in Vienna are known for its traditional past and are very vintage. You can't really find a huge range of modern and trendy hotels, so the Méridien is quite a great one for getting that new age feel! If you can stay in an Executive City Room, you will love the attic shaped style, making it even more "homey"! The bathtub is in a victorian style shape and it is.. PINK. Totally Instagram-worthy bathtub. It obviously has free high-speed Internet access (is it a normal hotel without this included!?), but also a free mini bar which is quite a good extra.
The rates ranges from 195€ (~230$US) for a Superior City View Room with queen bed (323 ft²) to 390€ (~460$US) for Family Suite, King + Queen Sofa Bed (807 ft²). Add to those prices 20 bucks for breakfast included. In August it is quite hot in Vienna and the low season for hotels. These prices my vary for the high seasons. Make sure to do what we always do and compare prices on the hotels' website, Agoda, Booking or Hotels to make sure you have the best price suited to your needs!
How was the stay?
Le Méridien is considered as a modern brand, a kind of luxury that is discrete and makes you call your room, "your home". The room felt very big and a little bit empty at times as the decoration is very simplistic. I really enjoyed the warm welcome, the lovely staff and they helped me to book my train to Slovakia. An entertaining team at the restaurant made sure to make my dinner time fun even though I was alone! They kept suggesting me to try new drinks, but I am beyond NON-capable to drink over than 2 drink within an hour! A thing that doesn't come around too much these days when you book a room is a free mini bar (for all guests)! You get few beers, water, soft drinks and juices. Enough to last you actually a few days. It was a perk that sure made my last day in Vienna quite enjoyable!
Le Méridien Vienna is very artsy and modern, affordable for those that requires the mint service, but don't have high expectations in decoration and fluffy extras. Got a little cute piece of chocolate for the turn down service, which I always love. The only thing I didn't like was the fact that staff came into my room 5 seconds right after a single knock on the door, it was lovely they wanted to leave me something, but should've waited for me to scream that I was in the room! Oops! I'm sure this happened to you before, this wasn't my first time at all.
Auf Wiedersehen!
What is your favorite part of this hotel after the read?
Have you ever visited Vienna?
Share with us your Vienna story!
Don't forget to book your travel insurance before travelling!
---
If you like this article, follow our Adventures on Facebook, YouTube, Twitter, Instagram @adventurefaktory, Snapchat AFtravels, to keep up with new posts and updates!
Disclaimer: This article contains affiliate links. We use them as a way of assisting us in maintaining our website and follow our passion.  Please use them when you are booking as it supports us greatly. We have not been paid to stay here and all opinions are our own. Thank you.