Set in the iconic Singapore Duxton hill area, full of bars, restaurants and heritage buildings, Nemesis is a brand new concept bar with a menu to rock your socks off. The Nemesis Bar is a concept by the talented team behind Junior The Pocket Bar.
The Nemesis Bar idea is respecting traditional ideals, however, giving it a more playful and fun mix, truly appealing to the businessman as well as the joker too. With the bar covered in the greatest classical artwork, which has been "defaced" with colours and modern-day graffiti, this makes for a great juxtaposition inside the bar.
The menu is split into two parts: the Green menu is the drinks menu and the red menu is bar snacks.
For those wanting to pick up the vibe but also not feel left out, all the cocktails have a NOLO component, which means they can also be offering non-alcoholic alternatives to the cocktails on the list.
Our first drink coming out is the Sunset Drip (all aperitivos are (SG$19) which consists of Shiraz gin, bitters, spiced orange and mint. The Sunset Dip was easy to drink and reminds me of a cocktail at the beach with its fresh nodes.
To compliment our drink an Antipasti dish is the next dish out. Olives (SG$12) but not just any olives. These ones are battered with beer batter. A caveat, now usually I HATE olives, I just never ever eat them, However, deep-fried olives with lemon zest and goat cheese tasted incredible. I would actually order more of these, and that is the ultimate compliment.
Our next meal on our tasting list is the Bitter Leaf (SG$12), consisting of radicchio, endive, pear, walnut, blue cheese and goat cheese. Now, this is something that normally would not have caught my mind on a food list, particularly at a bar as I am not usually a massive fan of the ingredients. Surprisingly, they all seemed to work as they combined together in my mouth. The radicchio and endive mix well with the sauce and cheese and the pear keeps it crunchy.
The drinks still keep coming thick and fast with the Iaso (SG$19), a fruity concoction of gin, gentiane, apple, orange and honey. The drink itself contains dehydrated fennel and you can eat the garnish, which we totally love doing with all our cocktails. Another point, the gin replacement and fruits mix really well so it still felt like we were having an alcoholic beverage.
Certainly, the most memorable dish of the whole night has to be the Fried lasagna (SG$14) This bad boy looks like a club Sandwich with all the layers but tastes even better. They have crumbed it and then fried the pieces. This just looks so good on the menu and yes.. it tastes better than it looks. All these layers just taste so good and crunchy. I don't think I have said this about bar food before…. but I would probably come back here for just this.
To chase down that lasagna dish we had the Manly Glass (SG$23), which is a clever play on the traditional Negroni. The Manly Glass is consisting of Gin, bitters, strawberry, vermouth sweet and sherry. It is a very good twist and easy to drink than the traditional negroni, maybe due to added sweetness.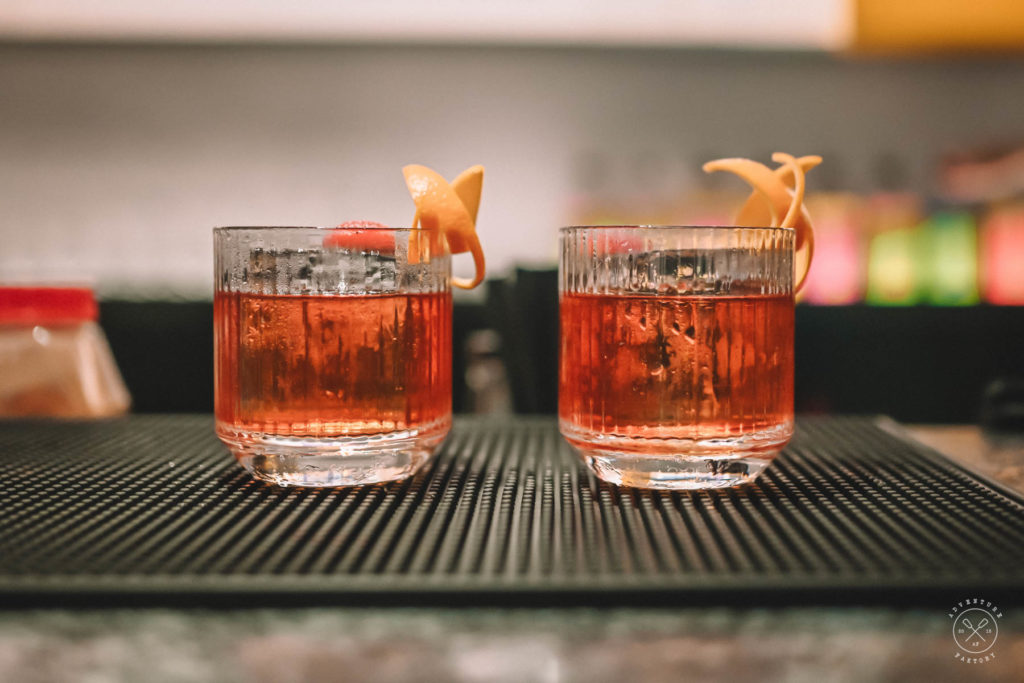 Next, we moved on to the Martini List and tried the Wise Crack (SG$25), a sherry nutty flavour with elderflower bringing in the sweetness. The Wise Crack has Gin, dry vermouth, sherry, sage, and elderflower. If cocktails aren't your thing, but you want to come to devour these bites that are super well priced, then Nemesis has a selection of craft beers and wines on the drinks menu too!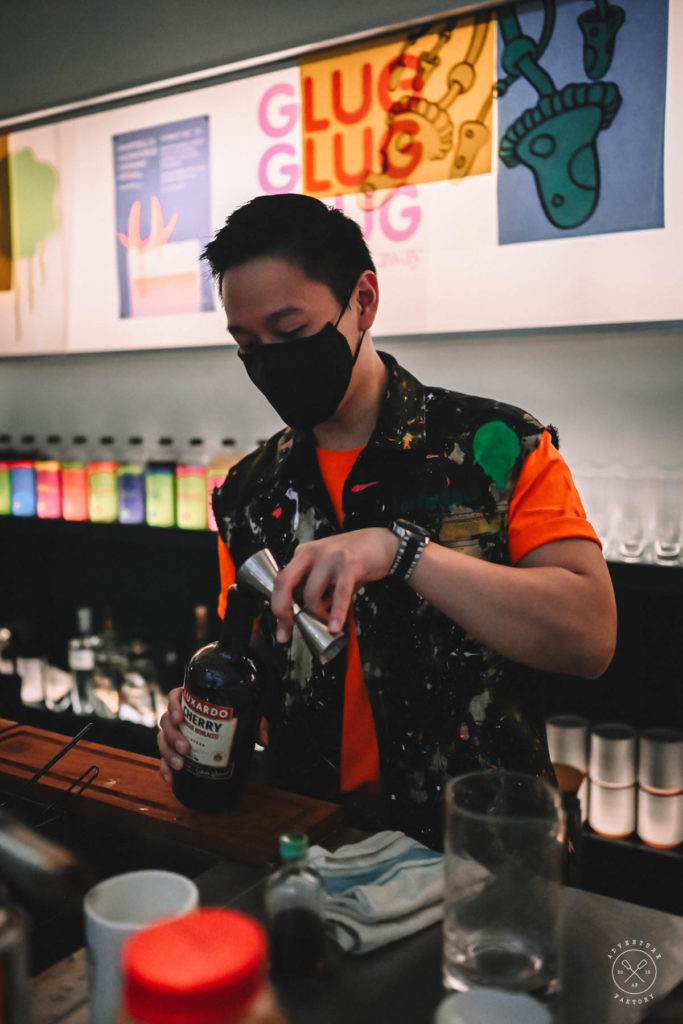 Last but certainly not least, our main dish arrives, one classic pizza and another less than traditional and more unorthodox. Priced at SG$18, we had the Pepperoni and Potato pizzas. They also put brown butter on the edges so that every bite has immaculate colour "from tip to brown butter crust". These unconventional pies, by Andrei Soen & Matt Kuhnemann of Park Bench Deli, unapologetically deface pizza traditions in the name of flavour and texture.
Even though this place has only been open for a month, there is a great feel to Nemesis and great energy. The team is super playful and are willing to experiment with drinks. The wait staff are fast and always knowledgeable. With the current restrictions, seats are limited, so the best way to check out Nemesis Bar is to make a reservations or slide into their DM's @nemesisbar.sg or call +65 8028 3697. You can also check out the full menu of Nemesis Bar on their website.