Singapore is currently home to great new concepts and we have to say that we are quite blessed to be here during the pandemic, allowed to go out and about, even if it is limited to until 10:30PM! This time, we bring you to Rails, is located at the heart of Tanjong Pagar, which was initially scheduled for take-off in April 2020 as a bar and dance club, but with the current Covid-19 restrictions Rails launch as a vibe dining and drinking spot.
Rails is a Phat Cat Collective baby by Singapore-born entertainment and lifestyle group founded in 2017 and also same owners of the vibrant and fun retro arcade bar and discotheque, NINETEEN80 and Pinball Wizard. The steampunk-inspired bar and lounge is inspired by Tanjong Pagar Railway Station and Jinrikisha Station within its locale. The team's inspiration for Rails was to bring the spirit of the old world and merge it with the idea of being a transient station for new adventures.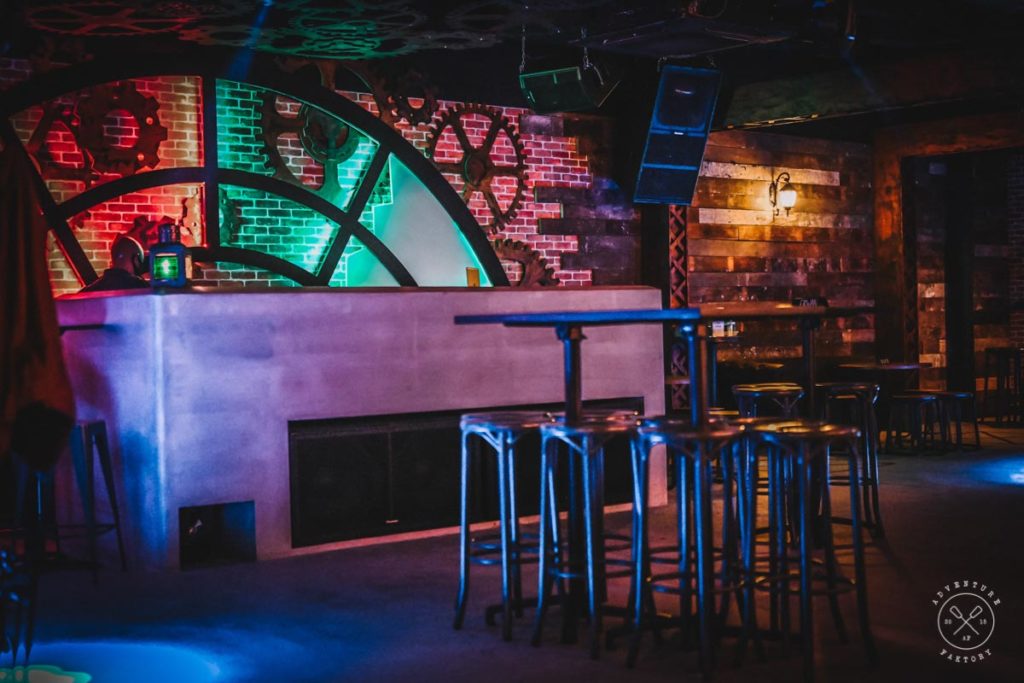 Vibes at Rails sure makes you want to dance, but with the restrictions, we will have to wait a bit longer! The bar is pretty unique in Singapore with an elongated glass-paneled counter with exposed brass pipelines with a concave brick wall on one side and, on the other side, an LED-lit installation of a steampunk clock tower, studded with gears and cogwheels that trail up to the ceiling that form the DJ console. You can also find all around the space treasured assortment of curious inventions and long forgotten vintage artifacts which really makes the place funky and somehow approachable!
The Cocktails at Rails Singapore
The cocktails at Rails are sectioned into four categories to guide drinkers. In Sparkling Like The Hopeful Light Of Tomorrow, find fizzy refreshers; in Creamy, Dreamy, Satin Cruisin' you get velvety milk-based sips; in Stirring, Spirituous Blends For Bracing Times, find more spirit-forward drinks and, finally, Curious Experiments. Fortune Favours The Bold: for audacious yet delicious pours
During our visit, we tried quite many cocktails, starting with the World of Tomorrow (S$16), a combination of prosecco, spicy mango, banana milk, and chocolate bitters. It is surprisingly well-balanced with the fruitiness from the spicy mango and the banana milk which creates a thin foam on top of the prosecco. Midsummer Dystopia (S$25) is also a perfect drink to start the night and for those with a penchant for fruity drinks, with its tart bright, cloudy yet clean palate of smoked vodka, pisco, pear liqueur and muddled pear enriched with drops of umami bitters that is best enjoyed with bites of the caramelized pear between sips.
Concocted with the Jinrikisha rickshaw station landmark in mind, the Jinrikisha Spritzer ($18) is a medicinal take of the gin spritzer with a traditional rejuvenation of house-made honey-fermented lemon, preserved lime peel and coconut water that is perfect for a post-work perk-me-up.
Personally, I have a preference for lighter cocktails the Clockwork Sago (S$16) was something quite different that marked my journey at Rails. It is a nod to the nearby Sago Lane and a boozed iteration of the nostalgic Burbur Cha Cha, made with tequila, taro, pineapple juice and coconut water topped with sago pearls and peanut powder.
If you are a Negroni fan, you will be happy with the Portmanteau (S$18) which also has the fruitiness of a Sangria. It is made with herbaceous sips of port, Irish whiskey, Campari, Amaro and dashes of fresh orange juice.
Moving on to the list of Curious Experiments, we had the Apothecary (S$24) which carries a familiar oriental and minty remedy of cognac, Amaro and the house-hold remedy Pei Pa Kao. For the locals, this will be quite familiar to you!
I also quite liked the mezcal-based and Mexican railway tribute El Chepe (S$22) because it has yuzu, which I am a fan of. It has a smoky and citrusy profile with raw honey and yuzu.
To fit even more the theme of Rails and inspired by the namesake book, the Murder On The Orient Express (S$25) is a dark potion with an acquired, liquorice lace of absinthe, coffee liqueur, pear, pineapple and orange juice shaken with activated charcoal that is ominous at first glance but surprisingly vibrant.
It's not it, the menu is quite extensive and on that day we did try many of them! Steamed & Hammered (S$25) was on the list, a floral drink with molasses rum, sweet vermouth, elderflower liqueur with dashes of umami bitters for a savoury hint, and a garnish of candied winter melon for sweet pauses to hammer through.
Rails is full of special cocktails for all different types of people. You can check out the full cocktail menu at Rails to plan your voyage there in advance!
Read more about the BEST places to have a drink in Singapore
Food at Rails
If you're thinking to grab some food with your drinks, grubs at Rails are by Chix Hot Chicken, the Jalan Pisang joint famed for their Nashville fried chicken. If you're familiar with them, you'll be quite happy to know that this outlet ithin the Rails space comes with a wider menu selection! It is actually on the back of the bar, where you can also go to dine-in at the space, with a dedicated back alley entrance vivified with graffiti-lined walls.
Chix Hot Chicken's at this Tanjong Pagar outlet will have few extra exclusive items, including vegetarian options with meat-alternative Quorn for those that don't want meat!
Chicken Sandwiches are a must with their generous proportions of fried chicken wedged between two butter-swiped bun halves. The must-try ones include their signature Soul Slider (S$8.90) for a crunch accented with a smoky 'Pink' sauce comprising of paprika and mayo, layered with an earthy cumin and coriander slaw; and The Pepperjack (S$9.90) for an oozy, cheesy drape of peppery Monterey Jack cheese with a yuzu-zested Chix 'White' sauce.
Every bit of these sandwiches are to die for, with full flavours, smokiness and juicy because the buns are stuffed with tempura battered boneless chicken thighs that have been marinated in a secret tea and spice mix 24-hours ahead of deep frying.
Among the exclusives is the B.L.T. (S$9.90), a hot dog with Chix's signature juicy crispy chicken tenders, with a generous helping of chicken bacon, lettuce, cheddar cheese and honey mustard sauce. Another exclusive is the Wakie Brekkie Wrap (S$12.90), a breakfast burrito stuffed with a thick strip of crispy chicken tenders, scrambled eggs and tater tots with comeback sauce, all wrapped up in a cheese crust blanket, YUM.
Chix Hot Chicken's signature sides which include the Hot Wings (S$9.90 for 3, S$18.90 for 6 and S$36.90 for 12), drizzled in different heat levels across Mild, Medium, Hot and Insane. If you are like me and love tater tors, make sure to order Dirty Taters (S$9.90) for a medley of potato tater tots, fried chicken bits liberally drizzled with cheddar and gouda sauce and a heat of Comeback sauce. The Melt (S$12.90) is also a recommended dish. It is a sandwich that's fiend, dusted and LOADED with cheese.
There are no desserts at Rails but you can simply go for a "boozy dessert" with the Clockwork Sago!
Rails: come for the vibes!
While Rails is not going to be the club it wanted to be (yet), you can still come for great bar vibes and good beats, which the Phat Collective group is known for! Thin of a range of House and Disco, Downtempo and World music to bring the ambience to life! The music is curated by reputable DJs including A Phat Cat Collective co-founders Joshua P and Aurora, veteran Brendon P, James Selva and a host of contributors from the local scene.
Rails, 21 Tanjong Pagar, Road #01-02, 088444 | +65 8725 6789 | Send an email for reservations | Open Tuesdays to Saturdays: 5PM – 10:0PM, Sundays 3:30PM – 10:30PM, closed on Mondays. Dress code is Smart Casual, No flip flops, beach and active-wear.