It's been a bit over a year now and we are absolutely loving our journey to discover great Bars in Singapore. For those seeking a new space to enjoy some drinks in a setting that feels quite homey, say no more, I have found your spot at Maduro. You can sink into the comfortable sofas and sip on cocktails made by Head Bartender Rajesh Kumar.
We have made our way all the way to Dempsey to discover The Trouble Clef, the cocktail journey and the new menu, at Maduro Singapore. It is beautifully known as a cocktail ballad of Mr P, composed by Rajesh.
The man behind Maduro Singapore is Peter Ng. What is supposed to be a great live Jazz bar, thanks Covid, is no longer able to play great live music, but a destination that has made it a point to reinvent itself to draw the crowds back. Maduro was known to be a listening lounge devoted to preserving the virtuosity of classics but now evolved into a cocktail bar, where Mr P can now share his passion for music through alcoholic concoctions.
A cosy nook on Dempsey Hill
The space is cozy but also colourful in its own way with pink sofas and mustard armchairs. They somehow fit very well with the bright coloured art from Mr P's personal collection. At the far end of the room, find a grand piano that reminds us of the good old days of live music before the pandemic.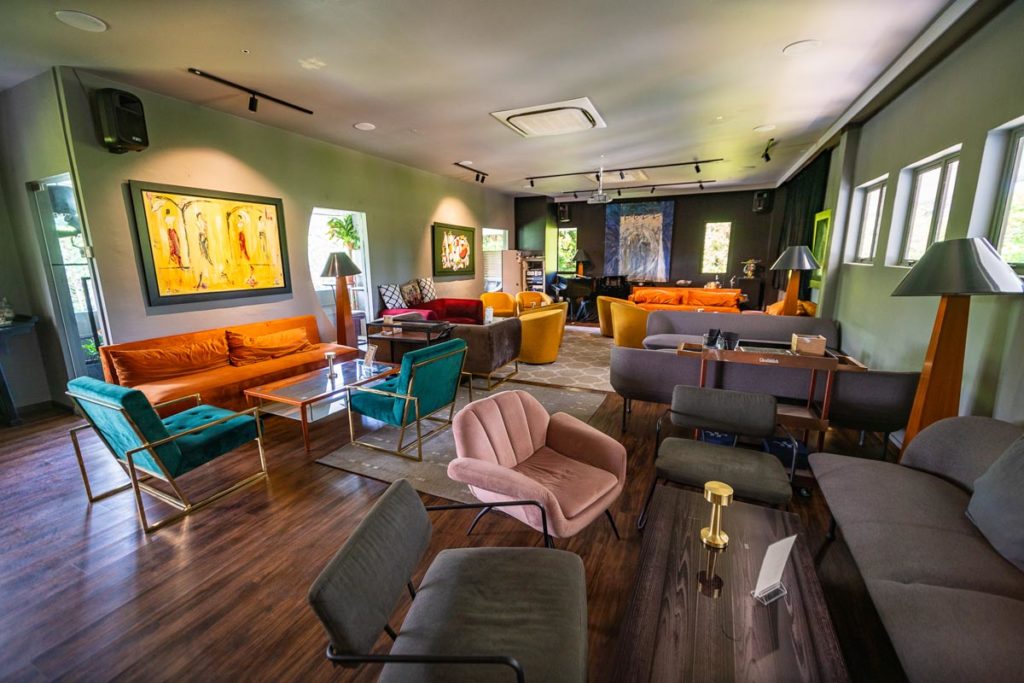 We had good times sitting with Mr P, to learn much about him and how Maduro is his first-ever F&B concept, born out of love for live classical and jazz music. Spending his days brokering deals for prime properties in London, he obviously enjoys spending his leisure time to host and share his passion for music. Mr P doesn't just loves Jazz and music, he has studied in the field and is also Singapore's most sought after jazz pianists during the 1980s. Going to Maduro is like going to his home, so if you see him, wave at him and he will come for chit chats with many stories to tell!
The Cocktail Menu at Maduro Singapore
Most of the elements are inspired by Mr P and aim to bring you on an interactive and experiential music journey. Through the names of each cocktail, you can notice the venues love for music. Hopefully soon we can again enjoy some live classical and jazz music.
Discover more delicious cocktails around Singapore
Highlights of the new cocktail menu include the gin-based Strange Fruit, named after Nina Simone and Billie Holiday's iconic song, made with Stranger and Sons Gin, Earl Grey Tea, Peppermint, Fresh Oranges and Lemons, Lavender, Honey and Apple Cider Vinegar. The team wanted to explore the idea of a Hot Toddy but done with a tea brewing method. My first ever hot cocktail that is not mulled wine, and it was a delicious one!
For desserts, you can go on the sweeter side with the Cereal Notes, made of Skyy Vodka, Cereal, Milk, Cacao, Simple Syrup. An ode to Mr P's sweet tooth, this cocktail takes on the likes of a Chocolate Martini.
My favourite is the Oblivion on Himalayan, which is inspired by Mr P's love for the serenity of the Himalayan mountains. It is described as a drink that is a breath of fresh air that makes you want to surrender your soul! It is made with Smokelab Vodka, Citrus Medley, Lemon Essence, Ginger Syrup, Sea Salt and a delicious Meringue, which I wish I asked for more as it's combination with the drink is a great treat! Drinks are also made based on Mr P's favourite candy, the Himalaya Salt Mint Lemon Candy!
Dine at Maduro Singapore
At Maduro, not only the cocktail menu is new, but the food menu as well! With some homey classic stews to be added to the menu soon, meanwhile do snack on the nachos and a delicious cheese board to accompany the drinks. After trying a few things on the menu, I will have to say that the highlights are the Truffle Brie and the "Piggy In A Sleeping Bag", with a tantalizing iberico pork tasting like delicious charsiew with parsley in a crispy freshly baked baguette. It really reminded me of a delicious Vietnamese Banh Mi and I really wanted more!
Maduro, 40C Harding Rd, Level 3, Singapore 249548 | +65 9756 4775 | Open Monday to Saturday 3PM – 10:30PM, closed on Sundays.