Sometimes you just need to have a hearty meal somewhere you know and trust. We may be new here, but we will take recommendations of people that know the spots in Singapore! Having been around since 1989, Da Paulo is a staple here in Singapore. They have recently opened at Great World, the 8th and latest addition to the Gastronomia concept, with a brand-new experience centred on an expanded all-day dining and retail offering.
As you enter the shopping centre and find the outlet, you are greeted by the Gelato station looking right at you. If you are disciplined enough to avoid that (for the time being) then you can move forward to the retail section at the entrance is lined by food. There is a range of baked treats (focus on more Italian style and Italian-inspired breads including sourdough variations and wood-fired options in a full range of fresh daily bakes and seasonal specials), cronuts, donuts, meat and cheeses from their store all available for purchase as an everyday customer. The pre-made meals are cheap and easy to arrange, so a must for the busy person. The area is modelled after an European marketplace, full of Italian favourites waiting to be savoured. To this day, Gastronomia draws from the family's decades of operating restaurants and personal connections with Italian producers and artisans nurtured through the years, some spanning generations. 
Stock up on Da Paolo's preservative-free products made from scratch including handmade pastas, fresh pasta sauces, meal prep essentials and ready meals. Discover boutique and artisanal brands from Italy and other parts of Europe that the family has fallen in love with.
As you walk further into the back of the store, you can sit and dine in to enjoy their extensive menu in a room that is decorated to look like Tuscany, the home of wine in Italy. There are vines everywhere and you could be mistaken to be in a dainty little cafe somewhere in the region.
But did you know that Da Paulo also has an Aperitivo bar as well? You can't see it from the entrance but accessible once in the restaurant. It is perfect if you want to come for a work drink or a romantic dinner with a loved one. The bar has dozens of options to drink and a bartender at the ready for your drinking pleasure. You should actually join the Happy Hour specials for daytime imbibing as the locals do on a beautiful summer day in Tuscany. Maybe a few Aperol Spritz can be perfect to open your appetite! You can also try Da Paolo's renditions of the Spritz from the popular Bridge of Sighs (SG$18) to the Negroni inspired cocktail The David (SG$20). The beverage team made sure the cocktail menu showcases the flavours of Italian bitters and liqueurs in a variety of contemporary cocktail creations. Italian beers include a craft selection, and spirits feature aperitifs, digestifs, grappa, and vermouth. On weekdays (except public holiday and PH eve), relax over Happy Hour specials before 6PM with the Aperol Spritz, aperitivo and negroni at SG$15 per glass, and citrusy light Peroni Nastro Azzurro at SG$9 per ½ pint and SG$12 per pint. 
Da Paulo has also added a specific Pizza Bar featuring a live station to make pizzas just as though you were in the Italian countryside! So make sure to order from freshly made hand-stretched and stone-baked Roman thin-crust pizzas.
We start off with a host of starters, all of which are on sharing platters, just to give us a taste of what is to come. The highlight was the Da Paolo's Signature Beef Meatballs (SG$14)! They have juicy meat, they are big and the sauce has no preservatives. They are made of Australian beef (80-20 meat to fat ratio), parmesan, milk, housemade fine breadcrumbs, eggs, fresh rosemary, thyme and sage. The only disappointment with this dish was that I had to share it with other people. They also have an Impossible plant-based meatball version also available at $SG16.
For starters, the Fried Squid with black ink (SG$22), which on the first appearance, the sauce looks odd with the colouring but absolutely tasty. The whole squid is cleaned, trimmed and cut then deep-fried. They make sure to do it quite lightly, so it is not a heavy dish and not oily. It is seasoned with salt and pepper and the squid ink mayonnaise is actually garlic aioli and squid ink. This dish was light and easy to eat, a perfect start when pizza and pasta are usually up next.
Our main dish had to be pizza. But not just some Pizza thin base is Romania style Rucola e Crudo (SG$28). The pizza is topped with 24-month aged parma ham, shaved parmesan and locally grown rocket leaves, then drizzled with extra virgin olive oil. The Da Paolo Tomato Sauce is Italian Roma and San Marzano tomatoes are blended with fresh rosemary, thyme, oregano and basil.
Italian Salumi & Cheese Board (prices depend on what you get and how much) We also get to design our very own board of salumi and cheese; choose from a carefully curated selection from Italy at the Deli counter. We actually had the owner there to give us some recommendations as well according to our preferences. Have you ever had Chocolate whiskey Cheese? Well, we tried that one as well and it is our new favourite.
So, as the night proceeded, we went back to the house-churned gelato station to choose a few options of our favourite tastes. The gelato is made in collaboration with Chocolat Milano, a 60-year-old artisanal Italian gelato brand. Our table chose 4 to enjoy and went with the Ricotta, Hazelnut, Pistachio and lastly the Caramel Salted option. Here are the other flavours currently available:
– Fragola (strawberry)
– Nocciola (hazelnut)
– Presca (peach)
– Pralinato Mediterraneo (Mediterranean mixed nuts praline) – Tiramisu
– Caffe (coffee)
– Cioccolato Fondente (dark chocolate)
– Ricotta e Fichi (ricotta cheese with caramelised figs)
– Nutellone (nutella)
– Mango
– Pistacchio (pistachio)
– Vaniglia (vanilla)
– Stracciatella (milk & chocolate ribbons)
– Caramello Salato (salted caramel)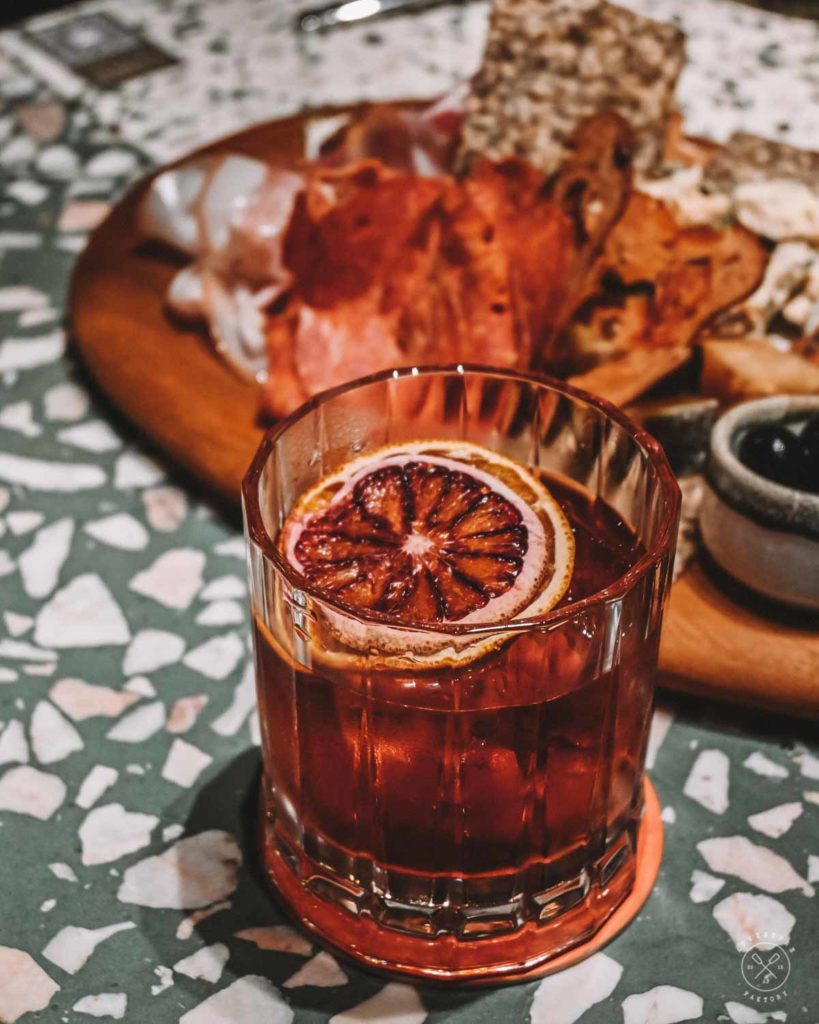 There is so much more to the food here than just sitting down and eating, There is a story behind everything. Like, their Gelato's are made in collaboration with Chocolat Milano, a 60-year-old artisanal gelato brand. And the original owners, The Scarpa family, have a home in Milan that is mere steps away from Chocolat, so a visit to the shop became a daily ritual for a delicious cold treat made fresh with quality ingredients and original recipes. Just sitting down and hearing these stories made us relate to the food and the experience of enjoying a meal here.
Even if you need to eat on the run, they have large fridges out the front full of quality food that allowed you to pick up and run. Certainly, an enjoyable and surprisingly fun night out and will definitely be checking out the rest of the menu on our next visit.