It's done, it's 100% open, The Oberoi Al Zorah adds itself to the list of luxury hotels you must stay at in the UAE. So you are looking for a weekend luxury getaway that is only a stones throw away from Dubai? A place that has access to a white beach and a host of activities to keep you busy for the whole weekend? You need book the Oberoi Al Zorah.
Where is the Oberoi Al Zorah located?
Oberoi is located in Al Zorah, a district in Ajman, only 45 minutes from Dubai and less than 30 minutes form the international airport of Dubai. Al Zorah had a panoply of activities for you to do as a couple or as a family. Our favourite ones were wakesurfing with Quest Adventure and the kayaking on the mangroves tour. 
How to get around from Oberoi Al Zorah
Once you are here in Al Zoarah, the hotel can organize all the transport you need. To get to Marina 1 and other Al Zorah locations, the hotel will have to book you a car, unless you really feel like a good walk (definitely not recommended during summer!) There is also an electronic buggy that can pick you up and take you around the resort if you really don't feel like walking around. Other than Al Zorah, Ajman has quiet malls that we recommend you to skip and save the shopping for your Dubai journey.
Dining at Oberoi Al Zorah
When staying at the Oberoi in Al Zorah, it's a must to have lunch at Aquario, which is the seafood restaurant by the beach. The breeze in incredible and the food is fresh and filling (the portions are quite generous so don't over order!). Even though it is by the beach, don't worry as it is shaded by a pagoda. The setup is quite cute as well for candlelight dinners. (There is also an indoors area if you happen to visit during the Middle Eastern summer). Breakfast and all day dining is at the Vinesse restaurant. It also offers afternoon tea if you fancy it! The best part is to sit outside to have a beautiful elevated positioned view of the ocean. The menu ranges from Indian delicacies to sushi offerings.  The buffet for the breakfast is limited, but for a reason as the good part is the à la carte menu!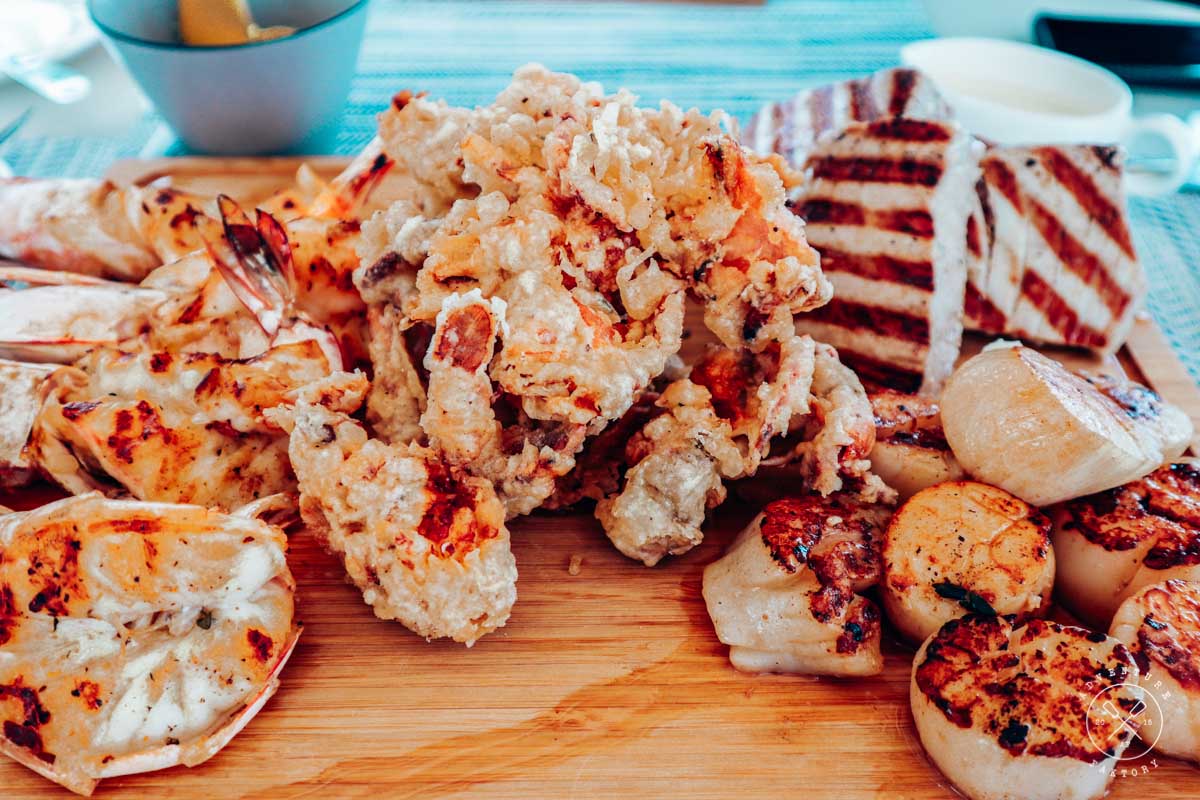 If you are staying in a villa, you must not miss to book the Oberoi chef to prepare you a BBQ dinner served by a personal butler by your pool side. Perfect set up without walking anywhere else for dinner! Menus can be personalized based on your preferences and diet. (This is only available for the Premium 2 and 3 bedroom villas with private pool) 
Oberoi Al Zorah Facilities
Although it is rare that guests uses the gym in such beautiful destinations, the gym is available with everything you need. It also has a small yoga studio for private bookings or for you to use for your own stretching/meditation session. There is a wonderful Spa and our favourite is the 80 meter long pool which is worth an early wake up call to enjoy for laps all by yourself. Guests tend to arrive only around 10 AM, so get there before! Make sure you get the yummy ice pops served either at the pool or beach, we absolutely loved them! Refreshing mist cans, water and cold towels are also served when you go to either the beach or pool! If you have work to do or feel like reading books indoors, the Oberoi has a fabulous large library with comfortable sofas where you can settle down and do what you have to do. Unfortunately it is the least used space of the hotel so we really encourage guests to go spend some time there for coffee! Note that for people travelling with their kids, there is a mini (really mini) kids pool and a playing area available. This is conveniently located beside the adults pool so parents can check on the kids regularly.
Activities at Oberoi Al Zorah
Other than enjoying the beach and in-house facilities, all activities are conducted outside the resort, but all lie within the Al Zorah property where the Oberoi is located. The concierge will give you many options of activities to do based on what you your style is. Al Zorah is definitely a destination that offers great outdoors activities. You can read more about things to do in Al Zorah.
Oberoi Al Zorah Rooms
The best rooms we recommend you to book are the villas. They are wonderful and the ones facing the beach are to die for. The regular rooms are all great with a bathtub and a shower we all want to have in our own home. Finding a room starts from 250$US. Booking and Agoda are the two links we always are able to find the best prices. Note that we will soon have preferential prices for you to benefit if you are part of the AdventureFaktory subscriber list!
Sustainability
In terms of plastic awareness, the resort isn't distributing water in glass but unfortunately plastic water bottles. Many hospitality groups have not made the shift yet, but we hope that it will the case soon for the Oberoi Group. Other than that, The Oberoi Al Zorah encourages local fishermen of Ajman to get fresh seafood from them for the delicious seafood offering. The hotel also has its own agricultural boxes where they grow tomatoes, arugula, eggplant, cucumber and basil to the least.
Our experience at The Oberoi Al Zorah
One of the things that stood out to us during our stay was how personalized the service was at the resort. Whenever there was a need for something, it always seemed to get fixed in a hurry. We also really liked the villa room facing the beach with its own pool and beach view. It is definitely a place that many guests usually book for over a week and we can definitely see why. With the private dining options and in-room dining service, you could easily stay in your villa and never be seen anywhere on the property!
Disclaimer: This article contains affiliate links. We use them as a way of assisting us in maintaining our website and follow our passion.  Please use them when you are booking as it supports us greatly. This stay is not a paid collaboration and all opinions are our own. Thank you.