Feeling like going out somewhere a little bit edgy? Maybe with some vibes from New York City considering we can't travel at the moment? Make your way to Roxy, hidden behind Miss Fitz, where you can discover some New York City inspired cocktails in a setting inspired by back rooms and rock & roll nightclubs of 1970's Lower East Side Manhattan. The new bar in Singapore has just launched and is located in the heart of the Singapore CBD at The Sail at Marina Bay. Roxy can be found through an unmarked door at The Sail or through the passageway in the back of Miss Fitz.
What to expect from the ambience? It has a vintage vibe, with a quite flamboyant red-light hue which brings you to another era. The 20-seat hidden nook will definitely transport you back in time and across the world to the 1970s in The Big Apple. Obviously, to add to the mix, find sounds of classic rock n roll, early glam bands, original punk rock and emerging disco of the era. This made Mitch quite happy because nothing beats good company, good drinks and good tunes!
There are iconic images of NYC musicians, artists and socialites around the cozy space; our favourite is the big image of younger Rod Stewart with David Bowie.
Cocktails at Roxy Bar Singapore
On the drinks menu, find different options for different tastes, from signature cocktails, classic cocktail flights, and boilermakers (a combo of a beer and a shot).
Names are inspired by iconic nightclubs, songs of the era and classic beverages from the five boroughs. Signature cocktails are priced at about S$22+ – S$25+.
Starting with our favourite drink on the list, You Don't Have to Put on the Red Light, an amaro twist on the classic Negroni named from the iconic song by Sting, "Roxanne". So much for not being a fan of Negronis last December, my palette has gone through quite an evolution!
Other highlights of this NYC cocktail journey is the CBGB Swizzle, a twist of the classic Mai Tai, named after the Lower East Side Manhattan club known as the birthplace of punk music. Then for those who prefer a sweet drink, there's a pear twist on a classic daiquiri, The Jean Genie, named after the David Bowie song "a smorgasbord of imagined Americana". The New York Dolls Sour, a whiskey sour with American apple brandy named for the legendary 1970's glam metal band.
Discover more delicious cocktails around Singapore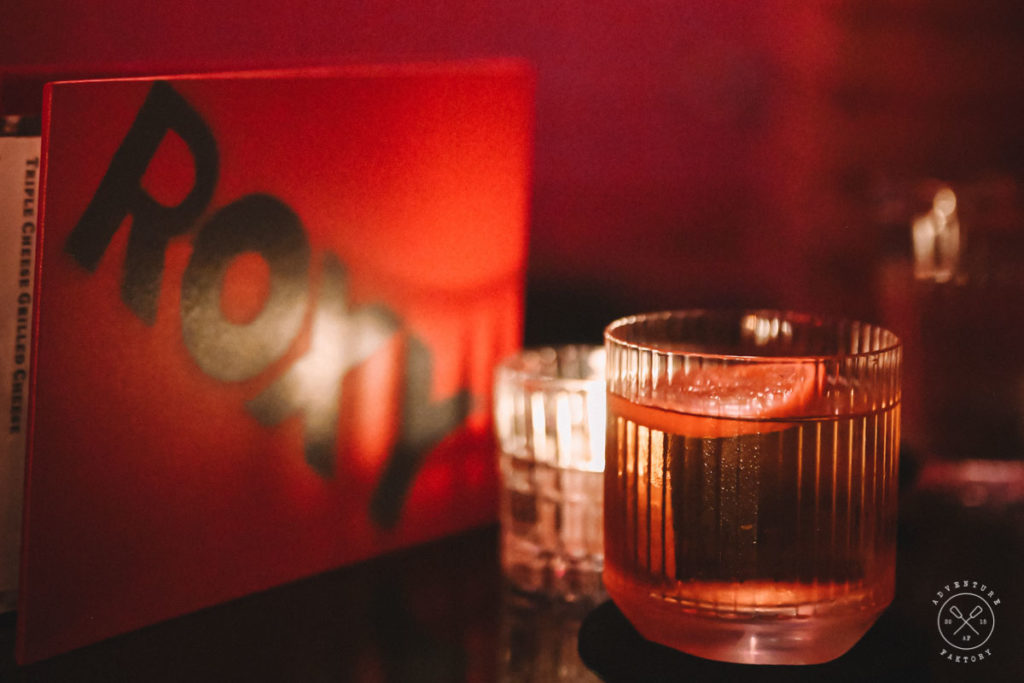 Roxy also offers cocktail flights (S$45+ – S$55+), each featuring three variations on a classic. Explore the different base spirits and speak with the staff on the evolution and history of the cocktails over time.
Through the cocktail flights, Nayar and his team offer insight into how the Italian Negroni evolved into the American version of the Boulevardier, the difference in tasting notes of the classic Manhattan versus the Greenpoint Manhattan and an understanding of different styles of the Martini, from the classic to a Hanky Panky.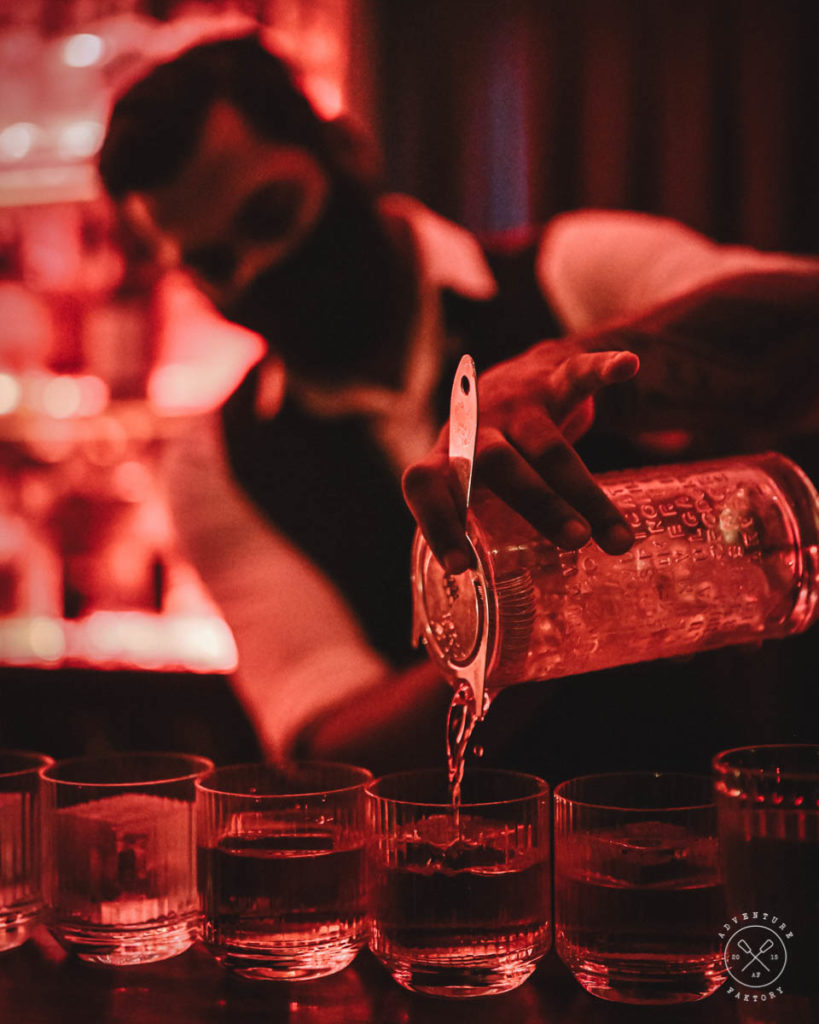 If you want something stronger, in true rock n roll fashion, get a selection of boilermakers (S$24+ – S$28+), a very simple combination of a shot with a beer. Boilermakers are a historical drink of New York typically served to longshoremen and dock workers after coming off a hard day's shift and still a favourite way to start the party or take the edge off after a long day.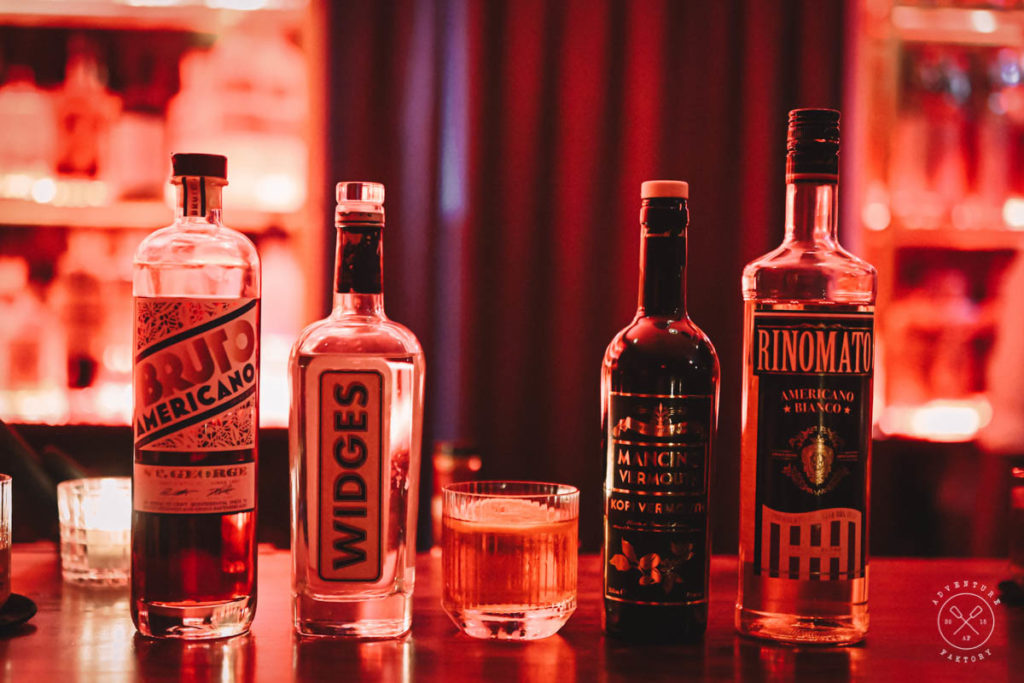 The team behind Roxy
Roxy's boilermaker menu features curated shots that combine spirits with aromatic bitters, fortified wines or flavourful liqueurs to ensure they are perfect pair alongside a rotational menu of Brown Ale, IPA or Stout.
I don't know for you, but when you get to know the team and your bartender, the experience is exponential when you visit a bar. The stories that can be told and the learnings you can get from your drink is beyond borders! This is why I usually prefer to sit by the bar. At Roxy, the team is led by head bartender Tash Nayar, who brings 10 years of industry experience to his second concept launch as a head bartender (previously at Miss Fitz).
What to nibble with your drinks at Roxy?
If you need to eat more and don't fancy bar snacks, you can conveniently book a table at Miss Fitz in front of Roxy, which offers a menu of contemporary Mediterranean cuisine.
Accompanied with your drinks, find a bar bites menu with simplistic variations on iconic New York foods like the Bagel Popcorn, popcorn tossed in the spices of an everything bagel and Pastrami Sandwich Bites inspired by the famous Katz Deli in NYC, which by the way, is an absolute MUST if you ever travel to The Big Apple. Finally, you can also get the iconic street food of NYC, a Hot Dog With Diced Onions & Cheese.
Upcoming events at Roxy: April Backstage Spirits
For the month of April, Roxy will be hosting the Backstage Spirits, a new series of weekly themed evenings with each week's menu inspired by an iconic rock and roll artist or band from the 70s.
7th April, Wednesday 6 – 8pm: Rolling Stones x Chivas Regal
14th April, Wednesday 6 – 8pm: Elton John x Rémy Martin
21st April, Wednesday 6 – 8pm: The Doors x Amass Gin
28th April, Wednesday 6 – 8pm: Billy Idol x Rebel Yell Bourbon
Guests are invited to rock out to a specially curated playlist of the selected artiste alongside a limited-run menu featuring two signature cocktails and a shot or boilermaker that are themed according to the band in collaboration with top spirit brands.