Santorini is known for it's sunsets but not always their beaches. I had to go investigate myself and ended up visiting many beautiful other spots that the island has to offer.
The Red Beach
The Red Beach (Κόκκινη παραλία) is one of the most popular beaches on the island. You must go visit it if you are in Santorini and admire the beautiful red rock formations and sand. It is not a comfortable beach to walk on without slippers as it is full of pebbles. Have a thick towel and go early as it is very much crowded. If you have your snorkelling gear, it is worth it to bring it and see the beautiful marine life.
How to get to the Red Beach
If you won't rent a quad bike like I did, you may take the bus from Thira to Akrotíri (Ακρωτήρι). You will then need to take a boat to the beach for around 5 Euros or if you feel like exercising, hike for around 15 minutes from the bus stops. If you were boat hopping, you can take a boat from Perissa beach to Red Beach or from Kamari to Red Beach.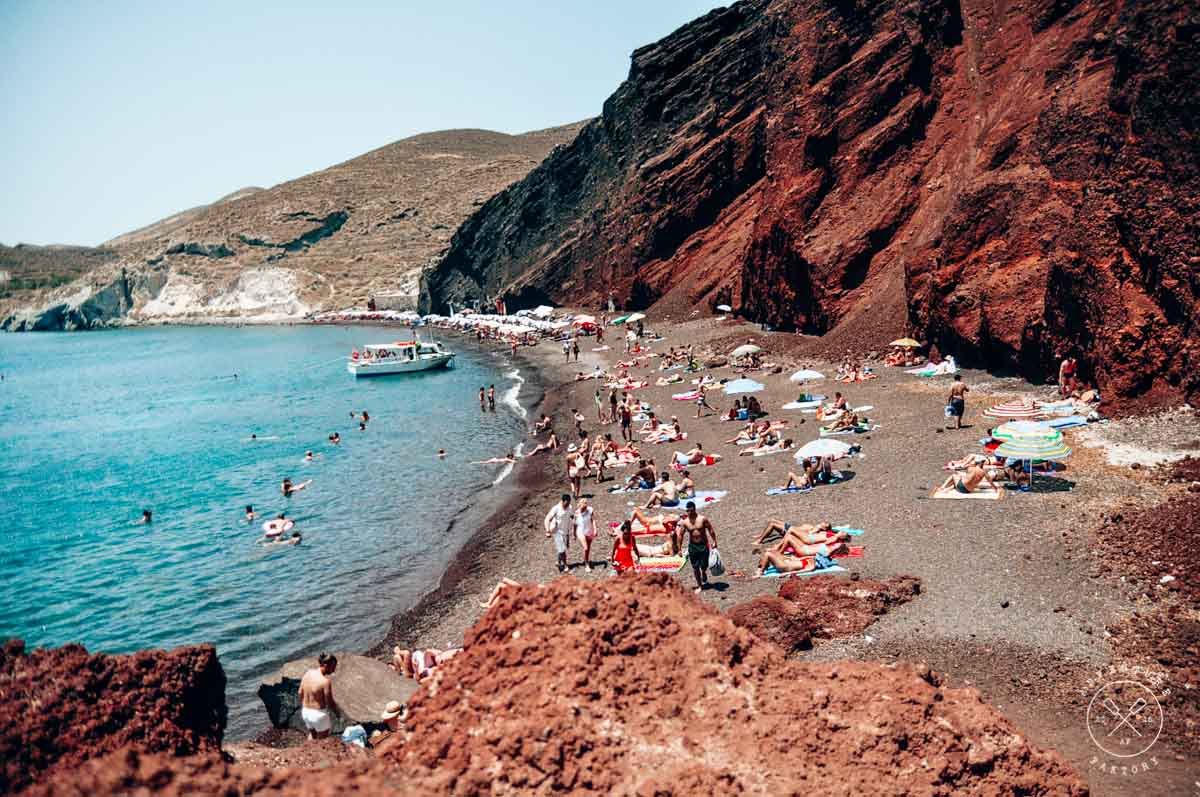 Perissa (Black Beach)
At Perissa (Περίσσα) you will find Prerissa Beach and Perivolos beach, both known to be the black beach of Santorini. They form the longest stretch of beaches in Santorini. The have tons of umbrellas and sun beds. Perissa is the most popular beach in Santorini known for its young party crowds and water sports. The Black Beach area is really known for its nightlife. If you want some more calm, you need to go to the Perivolos side. Budget travellers often stay by this seaside town which is around 1 KM from Thira (or Fira), the most popular spot of Santorini.
How to get to the Perissa Beach
You can take the bus from Thira to Perissa for around 5 Euros.
Agios Georgios
This is also part of the black beach, just 3 KM down of Santorini from Perissa . The water here is so wonderful, better than on Perissa itself, so it is worth a visit!
Vlychada
Vlychada is a cute fishing village and is known as on of the white Beaches of Santorini because of its dramatic tall white cliffs that stand against the back of the beach. It is truly a photogenic place and really worth to go visit considering not many people makes it a priority to visit compared to the two previous beaches. The water is quite shallow and good for family swimming sessions. .
How to get to theVlychada Beach
There is a Fira to Vylchada direct bus which you can get the tickets at the main bus station.
White Beach
The White Beach is the cove next to the Red beach. I really recommend you to visit it as many people skip it, so it is quite quiet. The surrounding cliffs are of a wonderful white colour. You can get there boat or by walking from the Red beach. Don't expect any facilities, except few umbrellas and sun beds along the coast.
Best way to get around for beach hopping in Santorini
By quad or moped! We rented this bad boy and it was amazing to visit the island and see tons of beaches and beautiful vistas. Would recommend you 100% to do this in order to see more of the beauty of Santorini.
Disclaimer: This page contains affiliate links. We use them as a way of assisting us in maintaining our website and follow our passion.  Please use them when you are booking as it supports us greatly. This is not a paid review and all opinions are our own. Thank you.