There are plenty of business travellers in Dubai and most of them prefer to stay close to Dubai Downtown. On Sheikh Zayed Road, the major highway of the Emirate, there are many big hotel names and the Shangri-La is among the bunch. Known for hosting a lot of business travellers, Shangri-La blends in very well as an extra wellness destination with incredible spa and jacuzzi facilities that are accessible to all guests. Most of the time you can't leave a stay here without the full spa experience. As residents, Shangri-La is known as having an amazing spa facility for relaxation and treatment. Residents can access this by paying directly a reservation or using the Privilee card.
Where is the Shangri-La Located
Shangri-La Dubai is on Sheikh Zayed Road, also known as the famous skyscraper road, only 10-15 mins from Dubai International Airport. It has a premium location to Downtown Dubai and is only 5 minute taxi to the Burj Khalifa and Dubai Mall. La Mer is  not far away, a brand new beach side area with amazing shopping options, cinema, Laguna water park and eateries, etc.
How to get around from the Shangri-La Dubai
Like most places in Dubai, the best way to get around is via taxi. Especially during summertime (May-September) it is too hot to walk outside during the day. The Metro service is only a short taxi drive away if you are looking to explore other parts of Dubai. Some adventurous people crosses the bridge (which is not far from the hotel) to get to the metro station. Airport transfers, car rental service and limousine services are available upon request and a free shuttle service to the Dubai Mall is there for guests to go shop away and come back!
Dining at Shangri-La Dubai
As residents, we can confirm that the Shangri-La is the home of our favourite restaurants in town! Vietnamese (our favourite), Chinese and Japanese options are available. All the restaurants offer a great brunch (on Friday & Saturdays) and we went to Shang Palace to feast on the Dim Sums and other Chinese dishes. Unlike a tradition buffet style, you just order as much as you want off the menu and they will make it for you. We are huge dumpling fans and they just kept coming out until we were full. A small live cooking station is also available to get some soups and peking duck.
Hoi An is the Vietnamese restaurant and is on our list of favourite restaurants in Dubai. Most of the staff there are from Vietnam, the restaurant manager's brother is the Chef and in general they can help you choose food according to your tastes plus get out of their way to make some custom dishes. We really feel like a homey ambiance and that you were welcomed at a Vietnamese household for dinner. Our favourite is the foie gras rolls wrapped in a Vietnamese type of leaf and meat noodle dishes (Bun Thit Nuong, which was made custom at our request!). Make sure you try the local street food rolls called Goi Cuon, a chef will come out and prepare everything in front of you. They are fresh and taste delicious!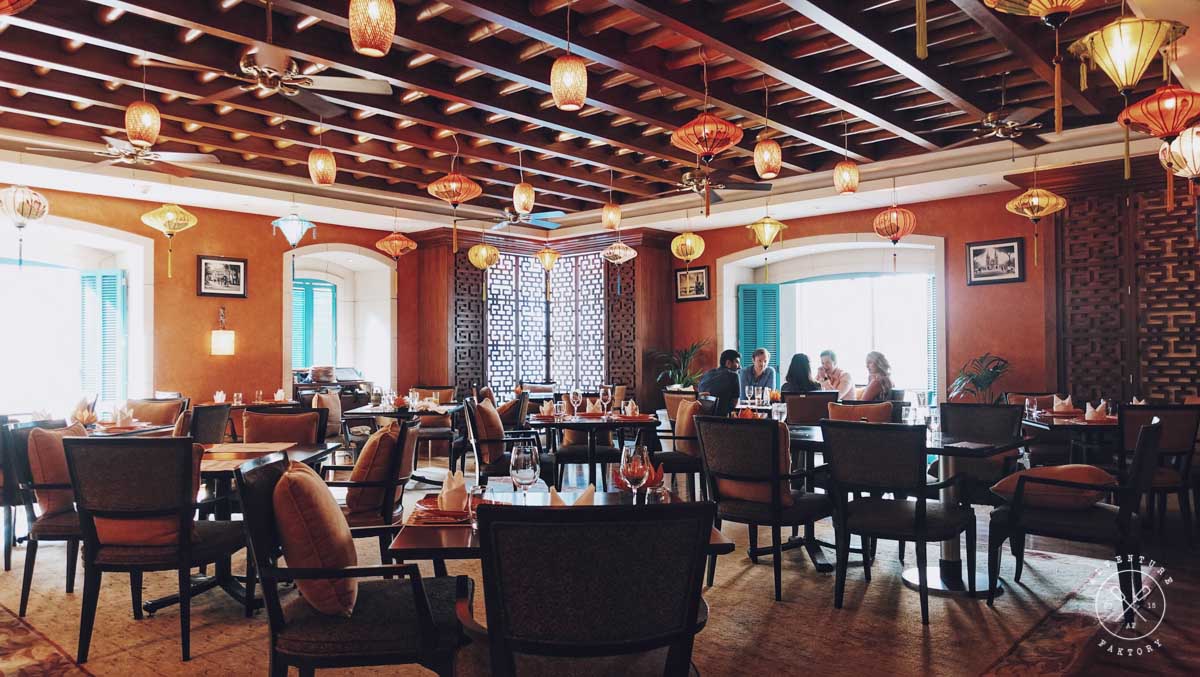 Shangri-La Dubai Facilities
In terms of facilities, Shangri-La has so much to offer that there is not enough time to get them all done if you are only staying for 2 nights. The fitness area is very much complete and has plenty of equipment to get your workout done. The area includes a free of charge squash court as well, don't forget to book in advance to make sure to have a spot. Racquets are available for hire. The change rooms are so big, with sauna, jacuzzi (3 different temperatures) and a relaxation zone with teas and flavoured waters. It is so easy to spend hours in there jumping in the plunge pools and sipping on lemon, honey tea.

Chi Spa Shangri-La Dubai
A stay at a Shangri-La isn't complete without a visit at Chi Spa. We had our first ever experience there at Shangri-La Hambatota Sri Lanka and had to try out Dubai's! The spa experience which was the perfect way to finish our evening with a relaxing 1 hour Asian blend massage, which is a mixture of strong and firm but also soft enough to relax us. The masseuse asked plenty of questions about our bodies prior treatment and was exceptional in making sure our experience was enjoyable. Unfortunately the relaxation room is quite small, if the spa was very busy and with guests finishing at the same time, we feel that our post-massage relaxation would've not been as good. Although the spa being quite busy that day, lucky for us nobody else was there after our massage!
Horizon Club Shangri-La
You can book rooms that can give you club access. This is usually how we prefer to travel when the upgrade is worth the price. If you say in a Horizon Club Deluxe room (or other rooms mentioning the Club) which granted us access to it. The lounge offers an enhanced level of service, comfort and convenience for busy travellers, including exclusive access to the Club Lounge located on Level 41 (it has an indoor pool and mini gym). It is a fantastic place to get some work done providing you all day with coffee/tea and snacks. It also has breakfasts for its members (as does Dunes Cafe). Afternoon tea and also a happy hour, to which you need to be well dressed for this (long pants, shoes and long dresses) is well appreciated. Here you can enjoy unlimited drinks and snacks before you settle into the evening. You can enjoy all the privileges of Horizon Club from an additional supplement starting from 250 AED (~ 70$US) per night. Here's a recap of what is included for a Horizon Club guest:
Wi-Fi and broadband Internet access
Wide selection of newspapers and magazines
Suit pressing and shoe shine service
Use of meeting room facilities for two hours per day
Daily breakfast
Evening cocktails and canapés
Non-alcoholic beverages served all day (alcohol is served at happy hour!)
Things to do at Shangri-La Dubai
IKandy Ultralounge is at the outdoor pool with an incredible view of the Burj Khalifa and had Spanish dancing days going well into the evening on Fridays (consult their website to see events going on). With a bar in the pool to sip away all your troubles, you can stay there for hours. Like we mentioned earlier, they even have a squash court you can book and play a game.  The spa facilities are enough for you to spend a full day there and also at the 41st floor you have another mini gym and beautiful sights to the Burj Khalifa from high up and an indoors pool.
 Shangri-La Dubai Rooms
The room that we stayed in was the Premier Burj Khalifa View King which included a massive king size bed and an office to work from. As the name suggests, we had a super view of the world's tallest building and was greeted by a fruit platter and desserts in the room. Rooms start from 149$US and you are able to find the best deals through our Booking and Agoda affiliate links.
 Sustainability at Shangri-La Dubai
While there was still plenty of plastic bottles around, there is clearly an effort to improve the sustainability in the property. This is becoming more and more a priority for most hotel groups, although there is yet a loud effort towards making major changes toward sustainable travel and operations. You can read Shangri-La Dubai efforts here but these aren't related to reduce plastic use and such environment concerns. We hope there till be change towards that soon.
Our Shangri-La Dubai Experience
Enjoying a stay-cation in Downtown Dubai was a great way to take the foot off the pedal after a busy week. The stay was very relaxing and was for us a great way to connect to Dubai considering we live far away from the surroundings. The fitness and relaxation is a favorite and the outdoor pool lounge's view of the Burj Khalifa is as good as you will find. The hotel is all you need to enjoy Dubai, whether you are here for business or pleasure.
Disclaimer: This page contains affiliate links. We use them as a way of assisting us in maintaining our website and follow our passion.  Please use them when you are booking as it supports us greatly. This is not a paid review and all opinions are our own. Thank you.