SLH is a luxury resort on a massive 60 hectare property on the gorgeous Sri Lankan South East Coastline. With world famous national parks close by, the area is well known for its scenery and wildlife. It contains 300 rooms, 21 suites, an 18 hole Golf course and an artisan village within the property, Shangri-La Hambantota is a family orientated resort that provides action for everyone. We went there for two nights before heading back to Dubai!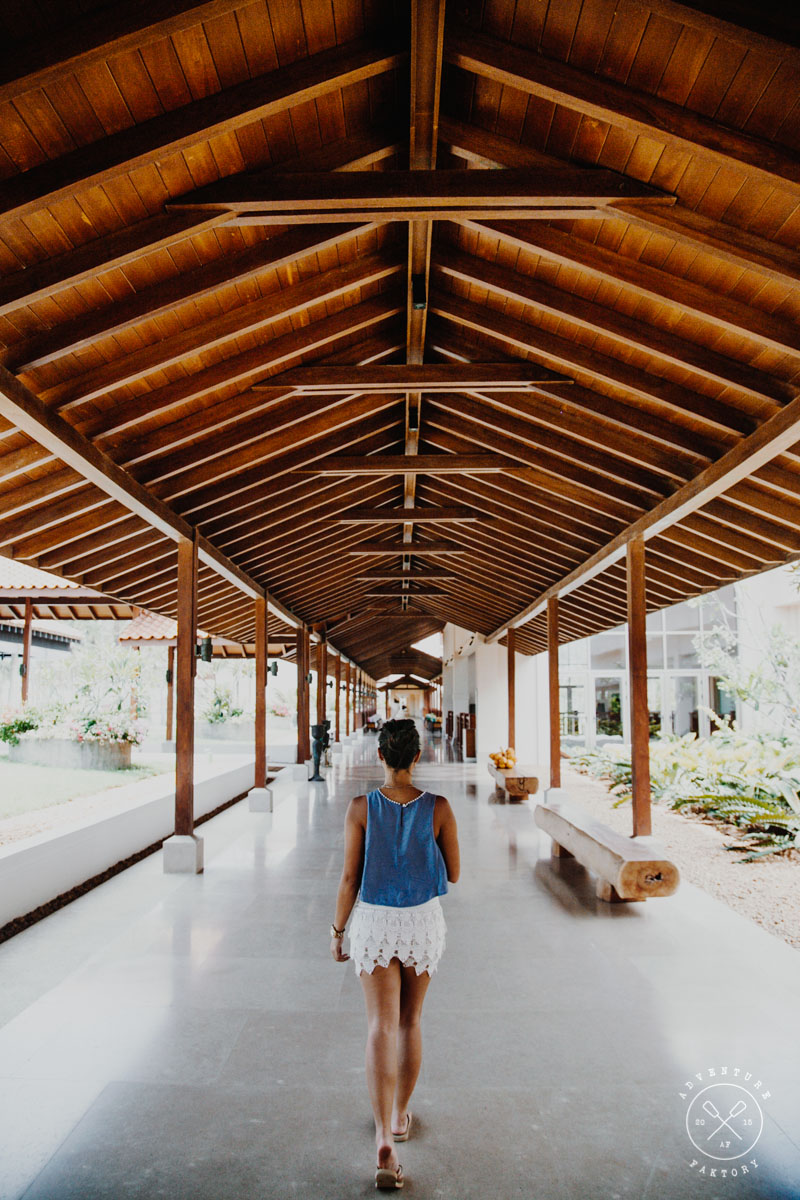 Where is Shangri-La Hambantota Located?
Shangri-La Hambantota is located on the south east shore of Sri Lanka, approximately 30 minutes from Mattala International Airport. There are plenty of Sri Lankan villages close by and outlined by miles of beaches.
If you want to come from Colombo airport (which most people will), you will need to organize an airport transfer as it is 4.5 hours away. Or, there are many buses that take you all over the island. Super cheap and an incredible adventure.
Things around Shangri-La
Like most resorts on the island, they really provide you with as many local experiences as possible. There are temple visits, safaris, water safari tours (article coming up!). If you stay here, go and see the Resorts Centre and they will arrange for you. In the resort itself they make sure you can keep yourself busy at all times. While we stayed there, we played on their WaterPark, did a gym session, did a circus trapeze, Yoga with a Master, visited an Artisan Village and played 18 holes of Golf. Not to mention the kilometres of beach and countless lounge areas to relax.
How to get around Shangri-La Hambantota
They are really good at providing a range of transport for your needs. You can hire a push bike, get a tuk tuk or have a driver for your stay. But the whole idea of staying here at Shangri-La is that they are able to provide youth everything you can imagine so if you don't want to, you do not even have to leave resort.
Dining at Shangri-La Hambantota
We absolutely were in love with the options of food we had at Shangri-La. Bojunhala (the all you can eat local and international buffets), Sera (serving the best of South East Asian cuisine), Ultpaha (the golf clubhouse) has a great range of food, try the fish and chips!
Shangri-La Facilities
Check-in: 2pm, Check-out: 12noon, Airport transfer can be arranged, 24 Hour Gym, Kids Rooms, Teen Room, Air Hockey, Pool Tables, Tea Area, Mini Water Park, Yoga Pavillion, Experience Tours, 18 Hole Golf course designed by Rodney Wright, 3 pools, Relaxation area, SPA area. There are 12 adapted rooms and lifts to every floor for guests with disabilities.
Shangri-La Hambatota Rooms
The price of Shangri-La Hambantota floats around 250$US/night and could go a little lower during low season. Don't forget packages often come with breakfast and if you pay more you get all meals covered. Activities like Trapeze and Water Park is free, which is great. Extra costs are for food at your leisure and of course the tours outside the property. You can compare prices on Booking or Agoda! If you are a member of The Entertainer, you can get a room free by using their voucher when you book one!
How was the experience at Shangri-La Hambatota Sri Lanka?
Sri Lanka really seems to shine through with Beach Resorts. From the moment we looked out at the foyer to see the water park and infinity pool, we were hooked. Family orientated, but so much space that you never felt it was crowded at all. And if you want golf and beach next to each other, then this spot has your name on it! Note that Shangri-La Hambantota does not have private villas, but don't you worry, it is divided into family and adults-only areas.
Disclaimer: This article contains affiliate links. We use them as a way of assisting us in maintaining our website and follow our passion.  Please use them when you are booking as it supports us greatly. We have not been paid to stay here and all opinions are our own. Thank you.