Getting a SIM card in Vietnam for travellers and expats has never been this easy. We remember those times when there were so many options but at complete different prices and that sometimes it was better to go to in town in local providers official shops to get things all sorted at the counter. No worries, things are so much easier now and you can also get a tourist SIM card for Vietnam easily at international airport arrivals. Here are clear instructions for getting a SIM card in Vietnam and how to do it properly and set it up properly. This guide is good for both expats and travellers. So many blogs, so many articles, questions in forums, stop it right now, this is the Vietnam SIM card guide that answers questions all over the internet about:
– Where do I get a SIM card in Vietnam?
– How much is a SIM card in Vietnam?
– Which providers I should get for my Vietnam tourist SIM?
– How do I set up the notifications in English?
– Why are my credits going down so fast?
– How to turn off spam? etc.
Our tips are accurate from January 2019, our latest visit in Da Nang. Although we lived there for a few years, if you are new to Vietnam, you will quickly learn that nothing is ever consistent. Anyways, let's start and do not hesitate to leave a comment if you are aware of some changes.
Mobile Providers Vietnam
As of 2019, we notices at the airport that there are many mobile internet providers available on the Vietnam market. Some we never heard of when we use to live in Ho Chi Minh City! There are 4 major GSM network operators in Vietnam:
Viettel
Mobifone
Vinaphone
Vietnamobile
Although, you must know that here are the 3 mobile internet providers in Vietnam in order of what we trust the most. Note that we always have used Mobifone when we were expats in Vietnam but not as travellers. We usually now always go for the cheapest that fits our needs at the airport arrivals when we land.
Viettel
Mobifone
Vinaphone
Like we said, there will be other company options. Sometimes they might have a better deals but the above ones are the most trusted with best network all around Vietnam from North to South.
USEFUL TIP: Make sure your phone is unlocked. (In Canada, at the time it cost me 50$CAD to unlock it). It should cost no more than 100,000 VND (5$USD) for a pre-paid SIM to use for long term purposes. At the time I got it, a SIM cost me ~25,000 VND with 40,000 VND credits in. It was bought at an official Mobifone store at 80 Nguyễn Du in District 1.
Where to buy a SIM card in Vietnam
A Vietnamese SIM card can be found anywhere on the streets on carts, at any phone shop, credit kiosk and at the airport on arrival. If you are travelling to Vietnam, it is recommended to get your SIM card at the arrivals at the airport as all the packages are friendly for travellers. To avoid the hassle, just get your SIM as you land since it is so cheap, it's not like you are going to save 50$US if you buy it in the city centre.
Note that if you are buying from a legit or half legit place to buy a SIM card in Vietnam, you will need to have your passport. If you are a resident or looking for a long term number, they might also ask a visa, place of residence and/or place of work, because they might ask for it! This usually happens at official stores of MobiFone, etc. For a tourist SIM card when you land, you will only need to provide your passport.
Buying a SIM card in Ho Chi Minh City or Hanoi
There are endless places to get your SIM card but like we said, we highly recommend you to buy your SIM card at the airport. We know that you might have heard a lot of recommendations to never buy SIM cards at the airport because it is more expensive but it is not the case for Vietnam. You will truly find the best deals at the airport depending on the period of time you travel like for a month, 7 days, etc.
Buying a SIM card at Ho Chi Minh City's International Airport
When you land in Tan Son Nhat International Airport, there is actually a kiosk even before you go through the custom. Quite smart as they know people wait a long time in the visa on arrival line so they can get it meanwhile! Once you past the Immigration Office, there are many kiosks selling same packages at different prices, classic Vietnam! Even after you get outside the airport, right by the coffee stalls, you will find other many stalls selling you SIM cards. Like we said, SIM cards in Vietnam never have been so easy to get.
Buying a SIM card at Da Nang International Airport
You will be able to get your SIM card after you passed the Immigration Officer where luggage belts are. There are a few counters, all distributing different Vietnam Mobile Internet SIM cards. Like we said, go for one of the three providers we recommended and go for the best package that suits you. In our case, for example, we knew we would be there for a week, so chose an unlimited internet package valid for a month. Yes you saw it right, UNLIMITED INTERNET. Although we had no credits to call which was inconvenient when we wanted to call for delivery or GrabCar. Although it is easy to buy credit anywhere and top up to get minutes to call.
How to top up credits for a SIM card in Vietnam
It's simple to top up your credits if you need to add minutes to your unlimited data package without minutes. You can buy credit anywhere and the vendor might sort the process out for you or point at the back of the scratch card to tell you to do it yourself. Instructions on what to do are clear and in English.
How much is a tourist SIM cards in Vietnam in 2019
We would love to compare all the options for you but there are just SO MANY! So what we will do instead is to explain you the standard price for what you need. We personally now use many different once every time as we compare prices and needs case by case when we land for a trip in Vietnam. The pricing is always more or less the same. Note that as a traveller, you should go for Unlimited Data packages, those are the dream!
Standard price for a SIM card plus internet package in Vietnam
The pricing in general is around 200,000 VND (9-10$US) for unlimited data including the SIM card. Add a dollar (20,000 VND) or two and get more things like minutes for local calls. It's ridiculously affordable, thank you Vietnam you are amazing. Most of these SIM cards actually should be available for a month and they are enabled for tethering so you can hot spot. If you are really that much on a budget and every penny counts, the cheapest you might be getting would be around 100,000 VND (around $5 USD) for something like 5GB/30 day package.
Best network coverage mobile internet provider in Vietnam
Viettel is the mobile network we recommend you, most importantly if you travel from North to South. There are websites to verify the coverage of the 4G network on a map and Viettel is the the one with the best coverage in Vietnam.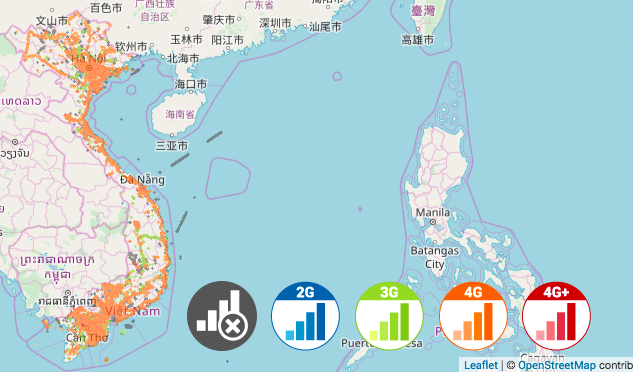 Best Vietnam SIM card for tourists
In a nutshell, what is the best SIM cards for travellers in Vietnam? For us, the most important, considering all pricing is only 2-3 $US of difference, is the coverage I get. Going for the provider that has the best coverage is what we would recommend you to go for as well. Now that you know the standard is around 10$US, go for the provider that will give you 100% some Unlimited Internet. If you plan to use Grab a lot (like Uber in Vietnam, since there is no more Uber is South East Asia), we recommend you to have a package with some minimum minutes to be able to do some phone calls. So what do we ultimately recommend?
Viettel is the recommended best prepaid SIM cards for tourists in Vietnam
There you go. The secret is out. Viettel is the company we usually go for since we are travellers. As expats, both MobiFone and Viettel are good providers but again nowadays if I was to live again in Vietnam, I would go for the company that has the most coverage. We know we went for Mobi a lot, creature of habit but things have changed for the best haha.
Best SIM card in Vietnam for off the beaten tracks
You sure should avoid Mobifone if you're heading to off the beaten track destinations. We've compared it on the coverage map for 4G and it is terrible. Again, Viettel or Vietnamobile will have better coverage and Viettel is better if you plan to keep the same SIM for Cambodia and Laos. Viettel removed roaming charges for both Cambodia and Laos in early 2017 so you can be roaming in all three countries. If anyone still has updates on the workability of this, do share it with us!
Useful tips for Expats using MobiFone
Last and not least, would like to give some advice about Mobifone if you are a longterm resident in Vietnam.
Switch Mobifone Notifications to English
Often expats hate receiving notifications in Vietnamese. The fix is simple: Text NN E to the number 901
Why are my credits going down so fast?
Your internet package is done and you are using super low internet without knowing it that is chewing up your credits. Make sure you register again for your internet data! DK + internet package you desire.
How do I turn of Spam SMS on MobiFone?
Text TC to the number 9241
How to check your balance for your Vietnam SIM
To verify how much credit you have in your balance, here is what you need to do:
For Viettel SIM cards: On the dial screen, call "*101#" to check the official balance or call "*102#" to check the promotion balance.
For Vinaphone and Mobifone SIM cards: On the dial screen, call "*101#".
Safety using your mobile phone in Vietnam
Happy Internet surfing on your mobile or tablet but remember to avoid to use your phone close to the road as they are a lot of scooter thieves that will eye you and try to grab it! Common sense travel, hold your phone tight with both hands and don't flash it away from you.