Club 5, located at the Parkroyal on Beach Road and formerly the mecca for the booming ballroom dancing circuit of the '80s and '90s. Its legendary ballroom dancing nights use to draw crowds on its famous wooden dance floor, which has been kept intact after its recent re-conceptualized interior by Singapore-based designer Emma Maxwell, into a 1920s Art Deco period cocktail bar. I am completely in love with the polished brass finishes, retro-lighting fixtures, vintage leather and velvet furniture.
You will find multiple options for seating including sofas, armchairs and table settings. For those like me that love to be sitting by the bar to see the bartenders do their magic, you can sit on the bar stools facing the impressive marble bar counter and brass-framed back bar.
The Cocktails at Club 5
With Club 5 located right in the Kampong Glam neighbourhood, Head Bartender Ong Jun Han has put together a themed menu that highlights Singapore's Cultural Heritage of Beach Road, Arab Street and Bugis Street.
The cocktails are built around unique and fresh ingredients mostly made in-house including the Club 5 Spiced Rum. Each cocktail comes with a story attached to the heritage of the neighbourhood and each ingredient is the result of many months of preparation along with processes and techniques from the bartending team.
The menu is divided into three zones of the neighbourhood: Bugis, Beach Road and Arab Street.
Beach Road Cocktails
This selection of cocktails reminisces on the history of Beach Road and Singapore's infancy. To start the night right, go for the 20 Houses Tonic, named after Stamford Raffle's town plan in 1822 made of 20 large houses for European merchants. This drink is Jun Han's take on the classic Gin & Tonic with some cardamom, fresh citrus and tonic.
Arab Street Cocktails
Next in the journey, we go to Arab Street with cocktails showcasing the diversity of the Singapore food culture impacted by different ethnicities. Go for the Nasi Lema'rgarita, a well-balanced drink mixing a house-made coconut-infused tequila, citrus, aromatic chilli-infused pandan syrup, dry curacao, garnished with cucumber with a side of Ikan Bilis (anchovies) and peanuts. Another must on the Arab Street menu, the Merchant's Old Fashioned is inspired from the spices that used to be heavily traded in open-air markets in Singapore with infused rum with gula Melaka and aromatic spices like nutmeg and clove, dry curaçao, aromatic bitters, burnt orange and vanilla. The cherry on top to fit in the theme is that the drink is served in a Turkish Teacup atop a cute tile.
A little history lesson on Arab Street, it was planned as the spine for transportation in the Muslim quarter as laid down by Sir Stamford Raffles' Town Plan. The area is very multi-cultural with Malays, Muslims, Arabs, Indians, Boyaneses, Javaneses, etc.
Bugis Junction Cocktails
Moving on to the Bugis Junction inspired cocktails, in honour of the Bugis Street, a place for entertainment, food, flowing alcohol and endless debauchery in the 1950s to the 1980s, the recommended drink of choice is Boogie Street itself! The cocktail is a complex gin sour filled with smoke and fruit notes. It is made out of London dry gin, mezcal, citrus, apricot brandy, agave and violette.
Discover more delicious cocktails around Singapore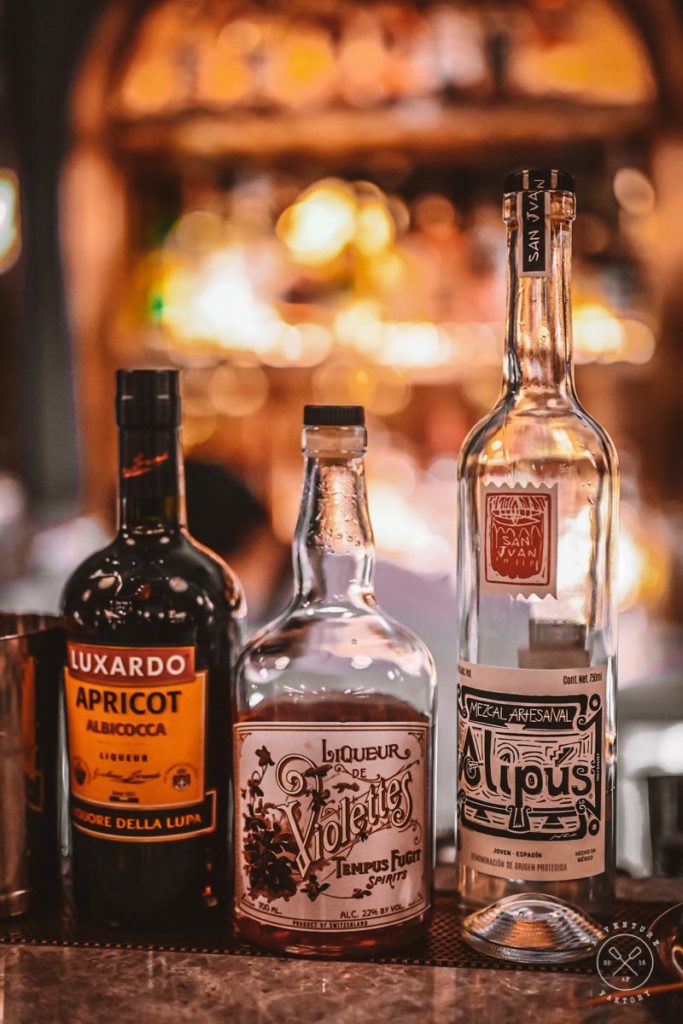 Alcohol free cocktails at Club 5
If you don't plan to have any alcohol or simply the designated driver, each cocktail section offers an alcohol-free special drink which is also delectable! Calm Waters is the drink of choice with its refreshing mix of pineapple, citrus, galangal, Thai ginger beer, providing you with dark n' stormy with a tropical spicy note.
You can consult Club 5's full cocktail menu here.
Dining at Club 5
No worries about dinner if you are going for early drinks at Club 5, their bar grub is worth it! The menu was Curated by Executive Chef Vincent Aw and to follow the theme, the dishes are inspired by the rich flavours and spices of Southeast Asia.
Don't miss the Homemade Wagyu Satay, Marinated Wagyu beef steak with turmeric and local spices grilled on a skewer. The satay is served with mildly spicy hazelnut dip, different from the usual sauce's peanut version.
Then, my favourite along with the satays, the Deep Fried Soft Shell Crabs are not to be missed. It is served with a Singapore-signature chilli crab sauce and roasted garlic.
Consult the full bar menu at Club 5 here.