Feeling like escaping Montreal? Stuck at work and have no vacation anytime soon? We got you covered. Snowbird Tiki Bar is a trendy spot in Montreal with an Instagram worthy decor where you can feel just like in Hawaii sipping on Mai Thais!
Where is Snowbird Tiki Bar
Smack bang in the Little Italy district of Montreal City, you will find the cozy little Snowbird Tiki Bar. If you arrive early enough you will be able to find some parking around the neighbourhood, otherwise you better taxi if you are planning a few drinks!
Style and looks of Snowbird Tiki Bar
On Thuymi's last visit to Montreal, I thought it would be a great idea to take her to a new spot she hadn't visited yet with a less conventional Montreal vibe. What better for a world traveller than transporting her to a new spot with a Polynesian twist. Snowbird tiki Bar came to mind. Friday night we headed out to this little spot where Hawaii meets Montreal in a very picturesque decor that makes you dream of warmer weather and luaus on the beach.
Eating at Snowbird Tiki Bar Montreal
With a great vibe and awesome drinks, we went for the Mai Tai and the Painkiller cocktails. For food we ordered the rum flamed poutine (typical Quebec delicacy), imagine an amazing portion of french fries with cheese curds and hot gravy on top, with a drizzle of rum, flamed up with a torch), the chicken wings and the Tiki burger (made with pretzel bread, a beef patty and homemade mango ketchup, topped with a pineapple and a side of fries.) We clearly weren't disappointed as not even a crumb was left on our plates. This was my third time and definitely not my last as I will most certainly be back for another Hawaiian style night and a few more tiki inspired drinks!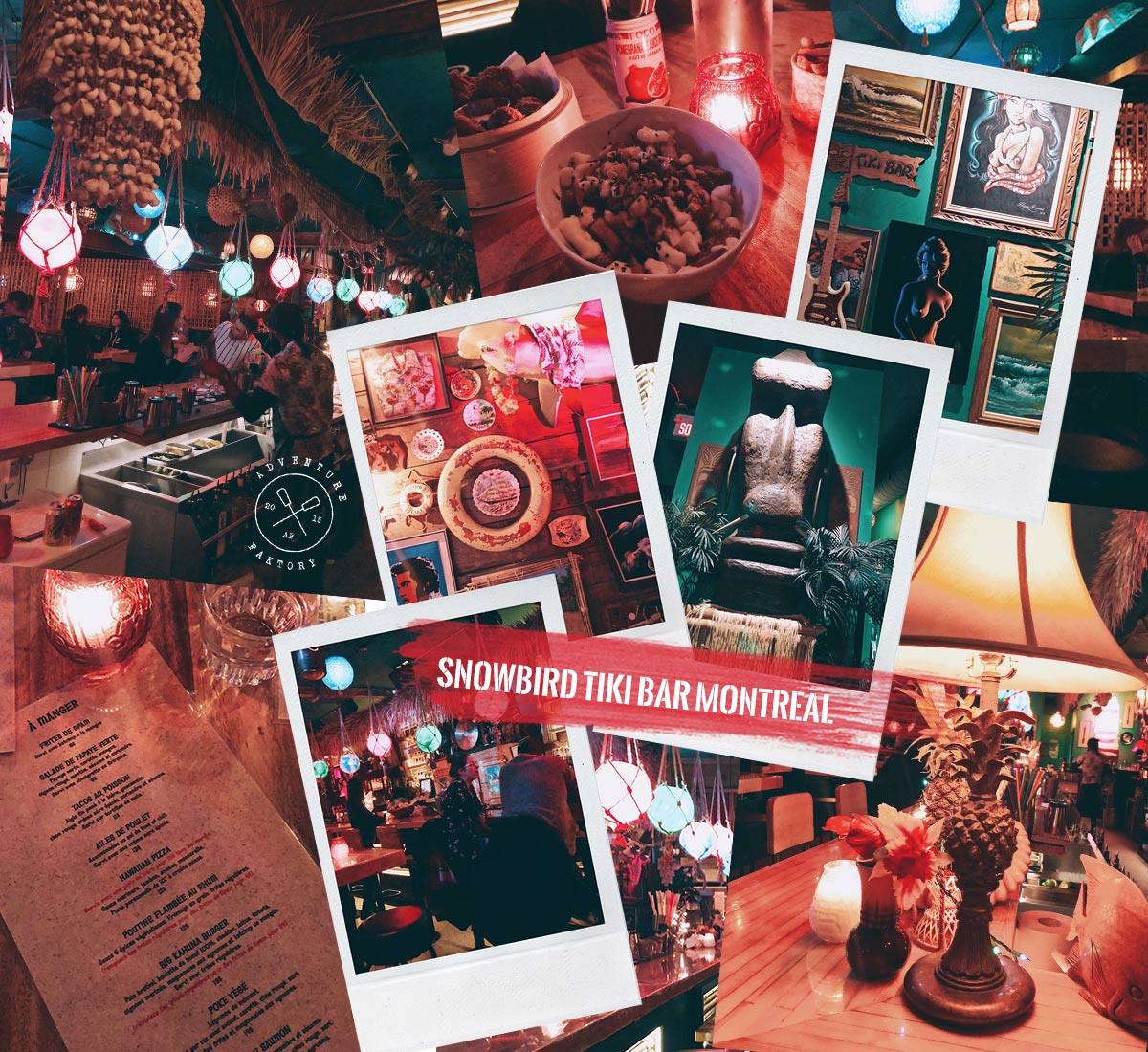 Snowbird Tiki Bar quick review
This place is ideal for a casual fun date or a night out with the girls (or boys!).
The service is very good!
The food you need to order is the Rum flamed poutine!
We loved the amazing decor and tasty cocktails.
We didn't like that they ran out of SPAM fries! Oh well, maybe next time!
Bill for two 75 $US (one drink each, one main each)
6714 St Laurent Blvd, Montreal, QC H2S 3C7, Canada | +1 514-379-6714
[$] 
Open daily from 5 PM to midnight and 3 AM from Thursday to Saturday.
This article was written by Stephanie Di Tomaso.
Disclaimer: This page contains affiliate links. We use them as a way of assisting us in maintaining our website and follow our passion.  Please use them when you are booking as it supports us greatly. This is not a paid review and all opinions are our own. Thank you.