One of the places we had dreamed about going to for years was the US island of Hawaii. We were so worried that we were getting too excited and it wouldn't be as good as we expected it to be, but we were so wrong, Hawaii is better than you can imagine. We were lucky enough to enjoy perfect weather at the hotel situated on the Waikiki Beach resort strip – the Outrigger Reef Waikiki Beach Resort. Outrigger Resorts is a well known group that originally started in Hawaii. We can't wait to see the other ones around the world already! We were in Hawaii for a wedding, but also needed a place where we could relax and enjoy for 5 days. Get ready for some amazing eye candy!
Where is the Outrigger Reef Waikiki Beach Resort Located?
Honolulu Airport is the biggest airport in Hawaii and where the majority of international flights all fly in here. The Outrigger is located in downtown Waikiki, on Oahu island and is right on the water. Waikiki is a resort district, so expect dozens of resorts next to each other all along the beach. It is approximately 20 minutes from the airport. If you are looking to get away from the grounds, Waikiki is not for you.
NOTE – make sure you let them know you are staying at Outrigger REEF Beach resort. The other Outrigger Waikiki Beach Resort is 200m away from each other.
How to get from the airport to Outrigger Reef Waikiki Beach Resort
There are several ways you can get to the Waikiki area from the international Airport. Outside united Airlines (Gate H5) is the Speedi shuttle. This costs 15USD one way but takes you straight to your hotel without any hassle or fuss. There are many other shuttle services to take but all are around the same price. There are phones on the wall where you can directly contact the shuttle connections and work out a pick up time and place.
There are all the car rental companies possible here and they have buses that take you to the cars from arrivals. During peak times (June, July, August) the cars go quickly so reserve one online
Booking an Uber costs around 25-30USD but prices change depending on time of day. (Peak up to 40USD)
Things around Outrigger Reef Waikiki Beach Resort
You are spoilt for choice at Outrigger in terms of things to do. Outrigger is one of the oldest hotel group in Oahu and they have such a central location, you are close to everything.
Sunset Chasing – Right outside the doors of the Outrigger is one of the best spots to watch the world famous Waikiki sunset. There is a little jetty that dozens of people line up and take a million photos of a pink sunset. If you are worried about the crowds, there is enough space for everyone here.
Surfing – You cannot come to Waikiki Beach without at least trying to surf. Outrigger Reef Waikiki Beach Resort provide surfboards, Stand Up Paddle Boards, Flotation devices so you can enjoy the water any way you like!
Diamond Head Crater Hike – If you use your Outrigger room card, hop on the Trolley transportation system for free and get the the Diamond Head Hike. Via the Trolley, it is only 20 minutes to get there, 1 dollar park fee and a 40 minute walk to the top. This will get you the best view of Waikiki.
For more details, check out our article coming soon – What to expect from the Diamond Head Crater Hike
Street Food Trucks – Around 100 meters straight out of the hotel, you will find on that street 5-7 food trucks! It is a super friendly hangout and locals around go for a bite, but also travellers when they bump into it! It could be a good idea for lunch or an evening to be able to escape from a normal restaurant style moment!
GHA DISCOVERY EXPERIENCES
We are also members of the DISCOVERY Loyalty programme, which allows us to enjoy local experiences that are unique to each area. The Outrigger is part of this exclusive club. Our 3 experiences were the Dinner @ Ocean House, Canoe Surfing and Ukulele lessons.
Canoe Surf Ride on Waikiki Beach + Perfect Day Package
Our morning started out with Canoe Surfing Rides on Waikiki Beach. They were action packed and it involved us catching waves in on a huge canoe, like the locals did decades ago. A bit of a thrill, but totally safe and worth it.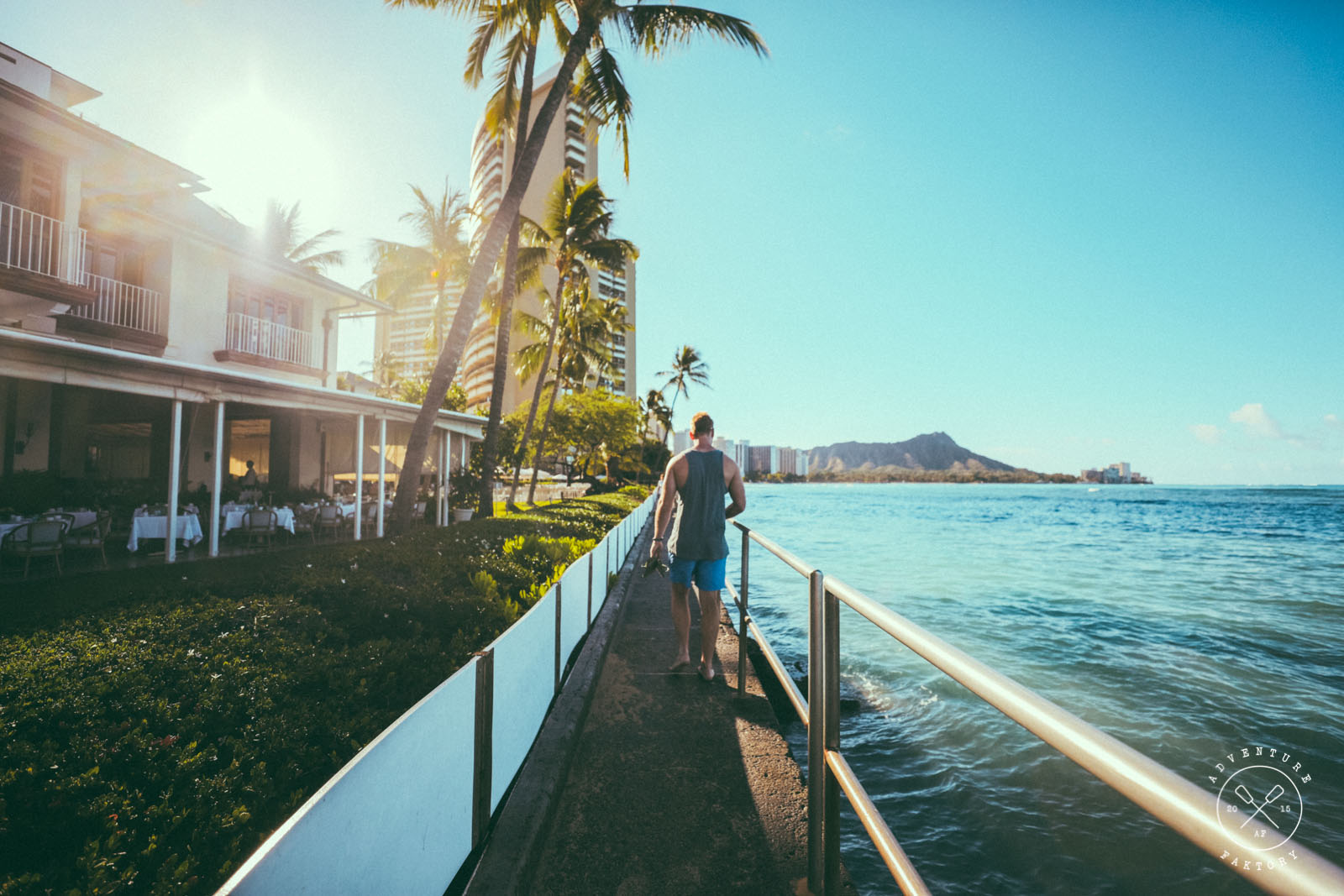 We then got a private Stand Up Paddle board lesson which gave us all the tips we needed to read the surf, where to paddle and how to stay out of trouble. After this we had 90 minutes of play time on the SUP's. Thuymi had exceptionally good balance and even caught a big wave in the shore. We SUP many times, but definitely first time that was able to catch a wave and surf it! Different game than normal surf for sure!
To compliment our day, we had lounge chairs reserved for 2 hours, waiting for us with a tanning pack to look after our skin! We loved having that tanning pack because we indeed haven't brought all of our creams for post-surfing sunblock!
Ukulele Lessons
We met with our super talented instructor, Cherwin, who gave us the run-down on how to play the famous Hawaiian instrument. We learned its history and also to play a famous song of the island. We then a received a little ukulele as a gift, which will now be used to practice all the time!
How to get around from Outrigger Reef Waikiki Beach Resort?
Trolley
All Outrigger hotel guests get free use of the transport system called the Trolley. This is a train looking carriage that takes you all around Waikiki to all the tourist hot spots. This, combined with walking around are the best ways to get to all.
Rental Car
Outrigger has a car rental place , Enterprise, inside the hotel. Enterprise Cars have a whole range of cars to choose from. We got a car arranged for a full day and were able to see parts of the island that public transport was not able to take us to. (Taxi or Uber will cost you a lot, not the way we suggest you to travel at all in Hawaii unless it is for short distances.
Walk
This has got to be the best way to see Waikiki in all its greatness. The Outrigger Reef is by the water, so you can walk along the beach walk and check out all the resorts while strolling along the sand and the clear blue water. Walk everywhere if you can!!
Restaurants at The Outrigger Reef Waikiki Beach Resort
Ocean House
As we are GHA Discovery members, one of our experiences was a romantic dinner at Ocean House. It is located right on the beach and is a prime spot to check out the sunset. It was a great place to people watch and the food was epic. The staff was lovely and as a souvenir we had our picture printed on spot! The package we were offered included a wine pairing with each course we had, a perfect experience for those that love wine!
Shorebird
One of the more famous restaurants here in Waikiki, ShoreBird is well known for its sunset views and quality cocktails. You can make your own burgers there as well and there is Karaoke there every night if you are feeling merry. We didn't go there for breakfast but there is an all-you-can-eat buffet that I was craving for the whole time.
Hula Grill
A short walk away to the other sister hotel,Outrigger Waikiki Beach Resort, Hula Grill now a favorite spot for a Hawaiian style breakfast. We went there with some new friends and they introduced us to the Strawberry Mochi Waffle and the Loco Moco (Two eggs, braised short ribs, fried rice, lomi lomi tomatoes, mushroom gravy), a must for breakfast!
Voyager 47
If you are a DISCOVERY Loyalty member or booked club, you get access Breakfast and Happy Hour at the Voyager 47 lounge overlooking the ocean. The breakfast includes juices and fruit platters and is a great way to kickstart your morning. The evenings are full of cocktails, beers (they serve local craft beer which is amazing!) and appetizers while watching the sunset over the world famous Waikiki Beach. Come early to reserve your spot right by the glass for a premiere view of the beach!
Outrigger Reef Waikiki Beach Resort Facilities
24 Gym, Pools, Car Rentals, Car Valet (not complimentary), Starbucks, Shopping, Mini Supermarket (our prime place stays the ABC Store outside of the resort), Bell Desk, close to many food outlets, Food truck park a tiny walk away, free public transportation (trolley service for guests), pretty much everything a resort should have! Was quite happy about the Starbucks, a little bit obsessed with one of their drinks. The free trolley must've been our favourite perk. If there is only one free service we would appreciated from all of the hotel stays we have been, it would be free shuttles to places in the city in question.
Outrigger Reef Waikiki Beach Resort Rooms
The rooms of the Outrigger Reef Waikiki Beach Resort are classically designed, with a simple but efficient feel about it. We recommend getting a room on the beach side where you can access a view of the famous Waikiki Beach. You can see the sunset and it is even better then people tell you. The higher the better, try and get the 9/10th floor (you also get your private elevator). However the rooms are not intended for you to stay in them. Being in Hawaii is all about being at the pool, beach or taking a hike in the beautiful nature.
Our experience at The Outrigger Reef
This was the perfect place to stay for our first time in Hawaii. It had the best location that is central to everything and close to all the landmarks. The Outrigger is right on the beach so we just went for long walks along the coast line. It is also amazing for its sunset and has premium location for this. We were so well looked after by the friendly staff who made sure we had a great time. Even though there are dozens of hotels in the Waikiki area, this one has great prices and so much to do for couples and for families, it is the place to be!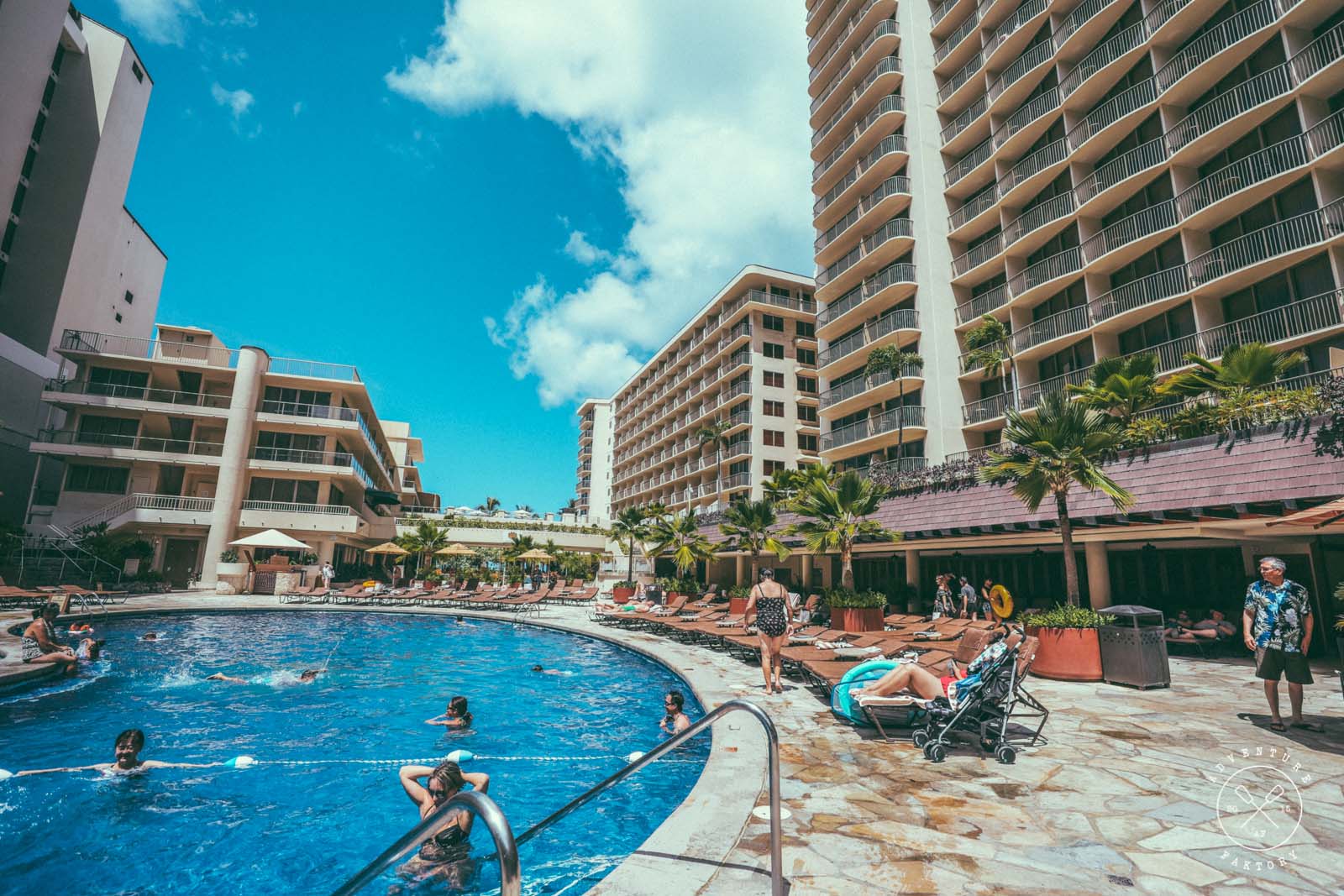 Are you a DISCOVERY Loyalty Programme Member?
OutriggersHotels are part of DISCOVERY Loyalty, an amazing program we are signed up with. From staying at many hotels & resorts from the DISCOVERY Loyalty programme, you can get to the BLACK membership which gives you many perks. To name a few of the BLACK Membership, we can get upgraded to the next room category at check-in (happens upon availability), late check-out privileges until 6pm, etc. You can get Local Experiences with the PLATINUM status as well, so don't you worry! When you are a member and have enough "points", you can redeem at the Outriggers the activities we have listed previously. Don't miss out!
Disclaimer: This article contains affiliate links. We use them as a way of assisting us in maintaining our website and follow our passion.  Please use them when you are booking as it supports us greatly. We have not been paid to stay here and all opinions are our own. Thank you.