Looking for somewhere to stay in Cape Town? We made sure we were staying at the most centrally located hotel, The Taj Cape Town with all the historical sights right on our doorstep. The Taj property is originally home to the South African Reserve Bank, Temple Chambers and then the Board of Executors (BoE). It gives it a classical appearance of grandeur and you can even take the stairs down into the haunted cellar.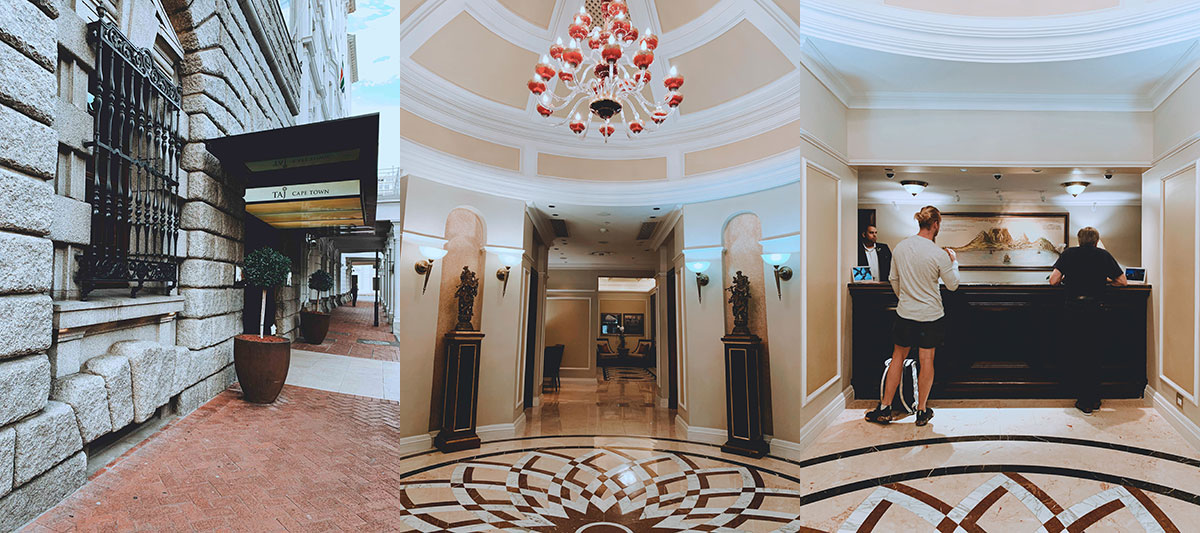 Where is Taj Cape Town Located
The Taj Cape Town is located right in the cultural heart of Cape Town's city centre, nearby Long Street, the main walking street of the city with bars, restaurants and tons of shops. Not far away by car is the bar street as well. It is quite vibrant at night if you are that way inclined. It is within walking distance of a park (Company's Garden), Cape Town's historic landmarks and attractions like museums, the Houses of Parliament, St. Georges Cathedral, St. Georges Mall and the Ou Kerk (Old Church). From our room, we were able to see the gardens and the church.
Our favourite part about the location of The Taj Cape Town is the proximity to Bo-Kaap Museum and Bo-Kaap itself being walking distance. It is a neighborhood full of colourful houses. At the museum, you will find everything about the local Islamic culture, heritage, and history. The Bo-Kaap area became home to many Muslims and freed slaves after the abolition of slavery. The walking street behind the hotel is full of snacks, coffees, and souvenirs.
How to get around the hotel
In Cape Town, Uber is operating very well and actually quite fast compared to Dubai. If you book an Uber, make sure you are ready by the time to book it. Although, when staying at the Taj Cape Town, you get complimentary chauffeur service for a 10km radius from the hotel in a lush Jaguar SUV with still and sparkling water at your disposition. Not to mention the free wi-fi on board! Needless to say, it is a free airport transfer but you simply need to book it in advance so they know when to pick you up or know when is the right time for departure from the hotel for your flight. The system is very organized on the schedule sheet they manage so if you need to use it to go somewhere specific, book your car in advance. Last minute usage is only possible when the car is available and going nowhere, which we were lucky to grab one to get to the Cape Town Waterfront. Don't miss the complimentary Taj Cape Town guided City walk tour.
Dining at Taj Cape Town
The Lobby Lounge
The Taj Cape Town is home of many great restaurants and bars in the city. Starting with the impressive Lobby Lounge, right by the check-in area. It is dominated by a barrel-vaulted skylight which is supported by four big marble columns. Their guests enjoy breakfast, extended into Mint, or Afternoon Tea or even the perfect setting for drinks as it turns into a cocktail bar and cigar lounge.
Mint Restaurant and Terrace
Mint is the casual all-day dining restaurant where you can have breakfast as well. We personally preferred sitting in the beautiful lobby area for breakfast. Mint has an incredible outside terrace and indoor show kitchen. The menu is quite international including some South African local dishes.
Bombay Brasserie
Bombay Brasserie is the signature speciality restaurant which offers fine-dining Indian gourmet cuisine with a menu created by world-renowned Chefs from India. We made sure to have our Indian cuisine fix by trying out the 6-course set menu. The restaurant's atmosphere is very elegant with a classic feel which was perfect for us to make it a date night!
The Cigar Lounge
If you are a cigar lover, you must stop by The Taj Cape Town Cigar Lounge for a few cocktails to accompany your cigar.
Spa & Wellness at Taj Cape Town
The award-winning Jiva Grande Spa at the Taj Cape Town is the premier spa destination for residents and travelers alike. It has 6 Treatment rooms, including a Double Massage Suite for couples which is huge with a beautiful tub! We were booked in for a good pampering session knowing after the stay we would begin our drive from Cape Town to Johannesburg, doing a loop to Namibia, Zambia, and Botswana. Our couples massage started with a leg and feet scrub followed by a dreamy but firm massage of 60-minutes before being redirected to the relaxation area with some tea and fresh fruits served. Gotta say, we really enjoyed the treatment as the therapists are really strong and firm and it feels like you are actually getting a strong massage, something we really value during a session. We always prefer firm and sports massages!
The fitness centre is a fully equipped Technogym with everything you need to fit in a good exercise session to be completed with a plunge into the heated indoor pool. It is small but the length is perfect enough to fit in many laps as exercise as well. The Sauna, Steam room and Jacuzzi were not working and with no water in the tub considering the water draught Cape Town has been through. If guests really want them to function, the hotel will make it happen but this is an initiative to encourage guests to be aware of their water use during their journey in Cape Town.
Rooms at Taj Cape Town
Spread across two heritage buildings, The Taj Cape Town has 176 rooms and suites with either a spectacular city view or Table Mountain view. There is also a Presidential Suite and the Taj Club Rooms and lounge, where we were directed to lounge until our room was ready. During our stay, we were situated in the Luxury Heritage Room with a Table Mountain View. From our room, we had our own balcony and was able to see the mighty new 7 Natural Wonder of the World Table Mountain soar over us. It also gave us a unique opportunity to watch the weather roll in over the mountain which is very temperamental. Our room was large and we were able to spread all our bags over the room.
Note that guests with kids are well taken of as they are automatically enrolled in the [email protected] programme. To entertain them, there are complimentary gaming consoles and board games available on request if available. Babysitting service is also available but not for free.
Sustainability at Taj Cape Town
Glass bottles are used to offer guests complimentary water in the room. Water saving via reusing your linen is strongly encouraged as well. No plastic straws are distributed but hard paper starts are used if you need one for your drink. Water saving is quite important and the awareness is strong at the property considering the water drought in Cape Town since the last several years. As we mentioned earlier, they have turned off some of the luxuries to do their bit for their environment.
Our experience at Taj Cape Town
A stay at the historic building of the Taj Cape Town was extremely special, not to mention the incredible room view over Table Mountain and the St. George's Cathedral. We were greeted to the room with a glass of delicious red wine and a platter of cheese, nuts and delicious biltong. What a great South African welcome which we made sure to enjoy standing on the balcony.
The Taj Cape Town is so well situated we absolutely enjoyed walking around. We particularly really enjoyed the complimentary chauffeur service as it was really convenient for us to catch to get around town, in addition to having the WiFi during the ride. We got a lift to our helicopter experience as well in a Jag!
We then made sure to request the Taj team to show us The Reserve, which is a historical building built in 1894, which occupied the old African Banking Corporation Building, to then later became home to the Standard Bank in 1927. There are a few ghost stories about this place so we absolutely had to see it!
We forgot something at the hotel and sent an email a few hours after check-out to let them know about it but it took a bit longer to get back to us. It is unfortunate but the e-mail must've been lost amongst all the reservations e-mail as we sent it to that generic e-mail. The team was very apologetic and happy to fix the situation to turn it to a positive experience. We were very happy with the professionalism of how it was handled, exactly what would be expected from such quality of a hotel.
Disclaimer: This article contains affiliate links. We use them as a way of assisting us in maintaining our website and follow our passion.  Please use them when you are booking as it supports us greatly. This stay was hosted and is not a paid collaboration. All opinions remain our own. Thank you.