Brooklyn is a hip place to be. Walking around Williamsburg, enjoying great coffee and eating delicious breakfasts. So many things to do. Enjoy my recent pictures of our day in Brooklyn and a list of things you must do in Brooklyn.
Brooklyn c'est une place à ne pas manquer lorsque tu visites NY. Marcher Williamsburg, profiter du bon café et manger le meilleur déjeuner de sa vie à Egg. Voici des photos de ma dernière visite à Brooklyn/Williamsburg. Les recommendations sont à venir bientôt!
Visit the Brooklyn Bridge
Actually, cross it if you can! By bike, by car or, better, by walking! It is such a beautiful bridge and for sure an iconic one! The best time we recommend to cross the bridge is quite early in the morning. Built in 1883, it is known as one of one of the oldest suspension bridges in the world.  The earlier you go, you have higher chances of avoiding the many tourists. This also means you can get the best pictures! Walking the bridge will take you about one hour.
Brooklyn Bridge Park
A must! We went in the evening for a wonderful view of Manhattan from Brooklyn. This park has beautiful art installations and, of course, the amazing views. You can also see the piers which 1 to 6 is open for visitors.
Brooklyn Museum
We are not too much into museums, but the Brooklyn one is quite beautiful with its large atrium. It is considered as one of the top things to do in Brooklyn, but again, if you are into art and architecture! This museum has a primarily focus on special exhibits, which is a paradise for all you art lovers!
Eating in Brooklyn
Just like what it is expected from NYC, Brooklyn is filled with delicious dining options. Get the BEST breakfast at Egg Brooklyn, a MUST. Aska is probably the #1 spot being a Michelin two-star restaurant. Don't forget your reservation. Olmsted is a must and the garden is a very cute hanging space for lunch with friends! Sunday in Brooklyn is a very nice clean space that also have daily brunches (not the alcoholic Vietnam and Dubai type of brunches haha). If you feel like a steak, Peter Luger is a classic of Williamsburg since 1950. Feeling for some good food and a fab cocktail? Maison Premiere Brooklyn is a must and its menu will make you discover the taste of New Orleans. Consider a visit at Diner with its cure handwritten menu with dishes changed daily. It is truly a place to experience where you can expect American food with a gourmet touch. Need a coffee? Stop at Toby's Estate!
You must walk around Brooklyn
Okay the neighbourhood is HUGE. But select a neighbourhood and make sure to walk around and discover funky and weird things. It is such a vibrant spot and there is nothing better than walking around and feeling the Brooklyn soul!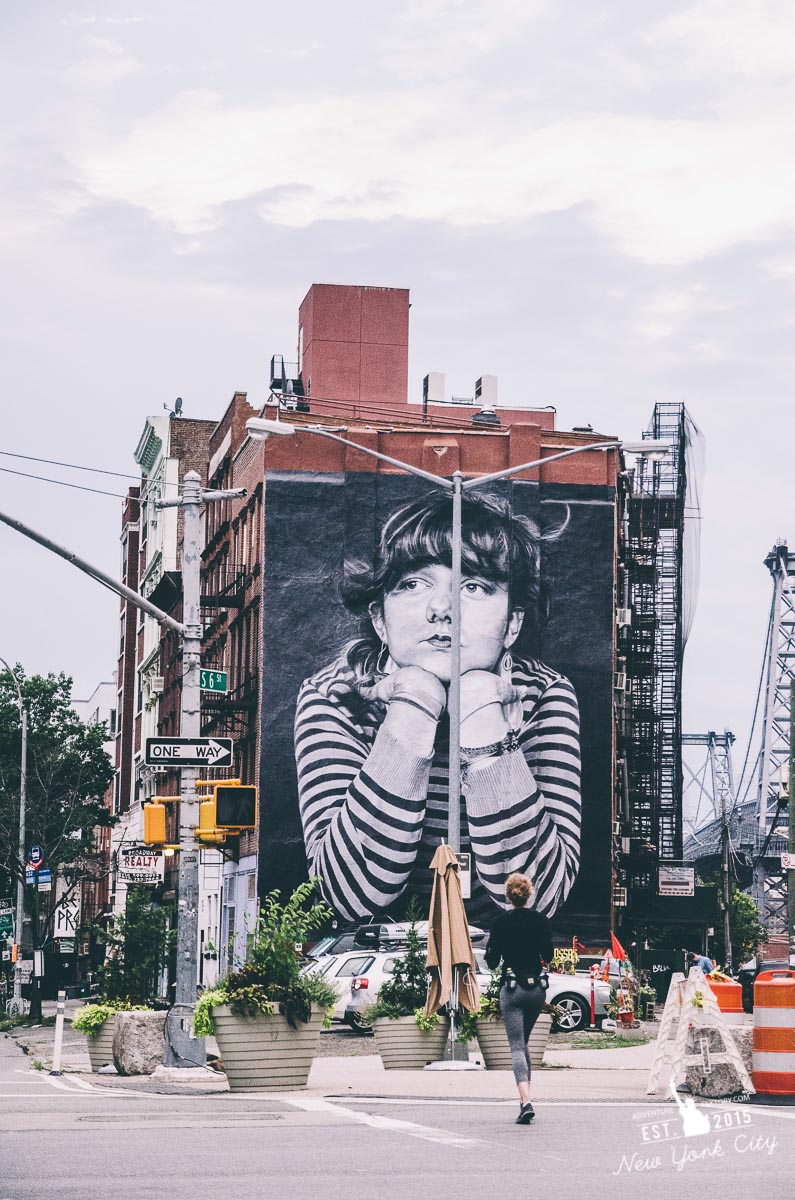 Disclaimer: This page contains affiliate links. We use them as a way of assisting us in maintaining our website and follow our passion.  Please use them when you are booking as it supports us greatly. Thank you.