After spending 4 amazing days in the capital of Cuba, we could have given you a list of 100 different things that you can try here. However, we have compiled a little list for you of things to do that you simply cannot miss!
Get lost in Old Havana
Every corner has a different story. From a random store, kids playing football against the wall, a hidden cocktail bar or a children's playground, the streets of Old Havana
have so much character. It must be noted that there is plenty of poverty and perceived oppression here (as it is a communist nation) but all the locals we spoke to are happy and friendly and very accommodating.
Taking in the colours of the city
Pictures. Take plenty of them. Even if you are not a huge picture person, it is a great way to capture the city. As you have seen with countless images, there is so much colour in this city, in weird and wacky colour combinations. Finding a pink wall next to a green and blue house is not uncommon and unique to Havana.
Taste the amazing Mojitos
Havana is home to the daiquiri. So when you are here you simply need to have one. Most streets have bars with their very own Cuban blended version of a mojito, but if you want the most famous, there is only one place to go. El Floridita, the cocktail bar was made famous by writer Earnest Hemingway, known for "the best daiquiris in the world"! This is a tourist hub, so it will be busy. Try and get there as soon as they open to avoid a crowd.
La Floridita – Obispo #557 esq. Monserrate Old Havana
Find other good Mojito Places here.
Visit the Revolution Museum
The museum has a rather intimidating exterior full of protected fighter planes and army tanks with guards surrounding the building in a somewhat menacing manner. However, one you get inside, you will be surprised at how much information there is. You will also develop an appreciation for the culture and understand their way of life a whole lot better.
 Calle Refugio 1, Havana 10600, Cuba
Take a sunset on Malecon
Plenty of locals and tourists spend their time in the late afternoon looking out towards the ocean watching the sun disappear. There are people fishing with wooden poles, musicians playing their songs and ladies selling fruit and sugary goodies. The El Morro castle is opposite where everyone sits, and provides an awesome backdrop for the sunset. Bring some spare change for some snacks.
Enjoy a classic car ride
Every single street you visit, there are literally thousands of 1950's classic cars which are immaculately maintained. The city is stuck in a time warp from before the trade embargos set by the US Government. Most of the cars are available for hire, so get your negotiation skills ready as you can see who gives you the lowest price for a drive.
Chase decent food
One thing Cuba is known for is: not having great food. Most of your friends that have been would probably say that they hated the food. So did we. Although, if you take some time to chase around some decent places, try to look carefully to locals houses if they have a sign on their window. They might have delicious seafood for you to feast on starting from 10 CUC.
Then you must go to El Cocinero, in Vedado in an abandoned factory where is also La Fabrica, a known fun bar/art gallery. La Barraca in Hotel Nacional is quite popular among the visitors of Cuba. San Cristóbal in Central Havana looks like someone's house… because it is! The the Obamas, Mick Jagger, Beyonce, Jay Z and probably others have eaten here. Don't miss out!
Find other good food joints here.
Walk into Havana Vieja
As you walk into this square, you can feel how grand it is. The size is immense and makes you feel tiny standing in it. This is a great photo spot with plenty of symmetry and unique architecture.  There are some really cool little bars (charging tourist prices of course) where you can sit back with a Cuban coffee and people watch all day.
Get cultured in Callejon de Hamel
One of our favorite spots in Havana and also the most colourful. A little side street full of unique Cuban artwork is full of random cool wall paintings and metal statues that ooze creativity. There are wall murals of every colour and they use every bit of recycled metal to create. We loved the bathtubs on the wall (yes, you read that correctly). There is a very cool lemonade stand there which is the most refreshing thing you can have on a steamy hot summer day.
Have a drink and watch the sunset at the Kempinski
The newly opened first Luxury hotel of Cuba, the Kempinski, has a beautiful view down the Central Plaza, overlooking the capitol and the art museums' beautiful rooftop. If you are not a guest of the hotel, you HAVE to come have a viewing of this great sight from the 6th floor, where is the rooftop bar you can see behind us. Note that you won't be able to pay to use the pool as it is exclusively for guests only.
Our awesome hotel Kempinski overlooking the Capitol   ? Shot on @GoProME @GoPro HERO5.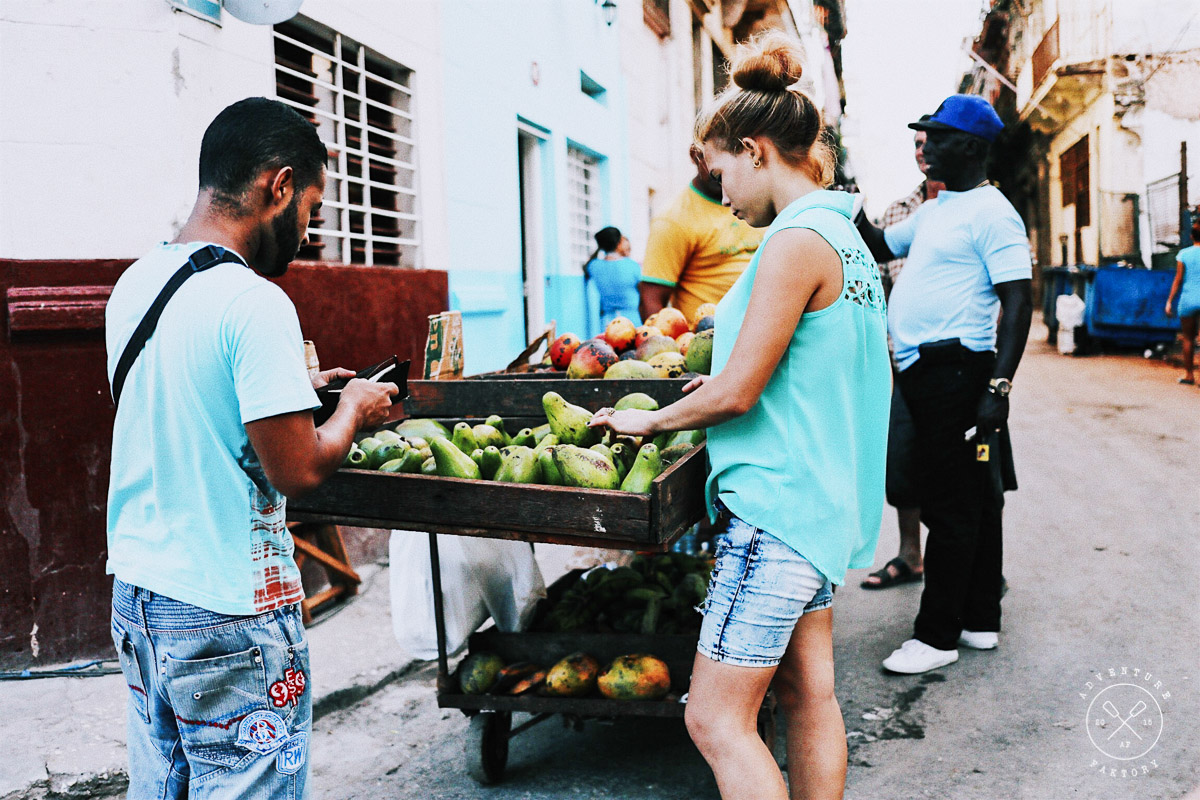 Voilà. That was our guide to Havana. Hope it will help you prioritize the things you must do while visiting the city and get the most out of it. As for us, we personally loved it. As it was the summer, it was quite hot and difficult to visit at midday, so we stayed long at the hotel in the AC and in the beautiful pool at the Kempinski. We wish that at that temperature, we could've had more time to be able to stroll the streets and get lost. We thought Havana seemed sketchy at first, as we felt uncomfortable holding expensive camera equipment. Now that the trip is over, we have to admit that in the end, it was quite safe as the locals really get in trouble if they mess with the tourists. Make sure that if you visit Havana, save yourself 3-4 days. Safe travel!
Adiós!
So here is our list! Do you like it? Have we missed out on anything that you believe needs to be included? Let us know!
Don't forget to book your travel insurance before travelling.
If you don't have your flights, check out ways to book the cheapest fares here, but if planning and booking your trip is a hassle, let us help! Contact us now.
---
If you like this article, follow our Adventures on Facebook, YouTube, Twitter, Instagram @adventurefaktory, Snapchat AFtravels, to keep up with new posts and updates!