Portuguese cuisine has been a big part of my family life since I was a young child. It is rather common that Brazilian households during special occasions will serve the traditional Bacalhau à Gomes de Sá, a codfish dish that is native to Portugal. As the stories of the two countries deeply intertwine, so do their food. That is to say one thing: I was excited to visit Tasca.
Located at the Mandarin Oriental Hotel Dubai, Tasca means Tavern in Portuguese. The restaurant is the new concept of renowned chef José Avillez and his first international location. A Dubai-kid at heart, I highly enjoy anything location at the Jumeriah area, let along a beautiful hotel with flawless decor. At I made my way up to the sixth floor, where Tasca is located, I found myself exhilarated.
The view. I don't think there are enough adjectives to describe the open view of the Arabian Gulf and its high seas. As I set foot inside of Tasca, I was taken aback by the immense blue where the sky met the sea and immediately asked for an outdoor table. Accompanied by my husband (and on these occasions, personal photographer), I wanted to bask in the view and capture plenty of photos.
We were soon met by our waiter João. I think that he was one of the most friendly and polite waiters I have ever met anywhere in Dubai – and I am a fan of dining out, so that's saying a lot. João did not hesitate before recommending the sangria and we of course obliged. I was extremely please with the choice as we received a pitcher of refreshing red wine sangria prepared to perfection.
It was clear to me that Joāo had an-depth knowledge of the menu – he was able to recite every recipe to its last ingredient and gave fantastic insights on what he thought were the best choices. It's refreshing when a restaurant has staff that clearly loves its food. To be met with such a level of culinary passion and excitement made us ever more curious about every dish. At the end, we settled for Joāo's suggestions and I embarked on a culinary journey that I wished would never end. It went a little like this:
Starters:
Algarve Prawns Ceviche: This was the most highly recommended dish by João. It consists of two pieces of prawn with different ingredients upon a lime. Our friendly waiter explained that we should pick up the lime and eat the prawn in one bit, biting the lime simultaneously. I left such a large array of flavors hitting my tastebuds. The dish was fresh, light and citric. Definitely a must try.
Tuna and Wagyu Tartare: We were having a hard time deciding which tartare to order, so we got both – as everyone should. I preferred tune, while Matheus (the beforehand mentioned husband) liked wagyu better. Without a doubt they were both great.
Garlic Prawns: I am a firm believer that two of the best things in life are garlic and seafood – therefore this was an absolute hit for me. Pair it with the bread that Tasca serves all of its guests and you can't go wrong.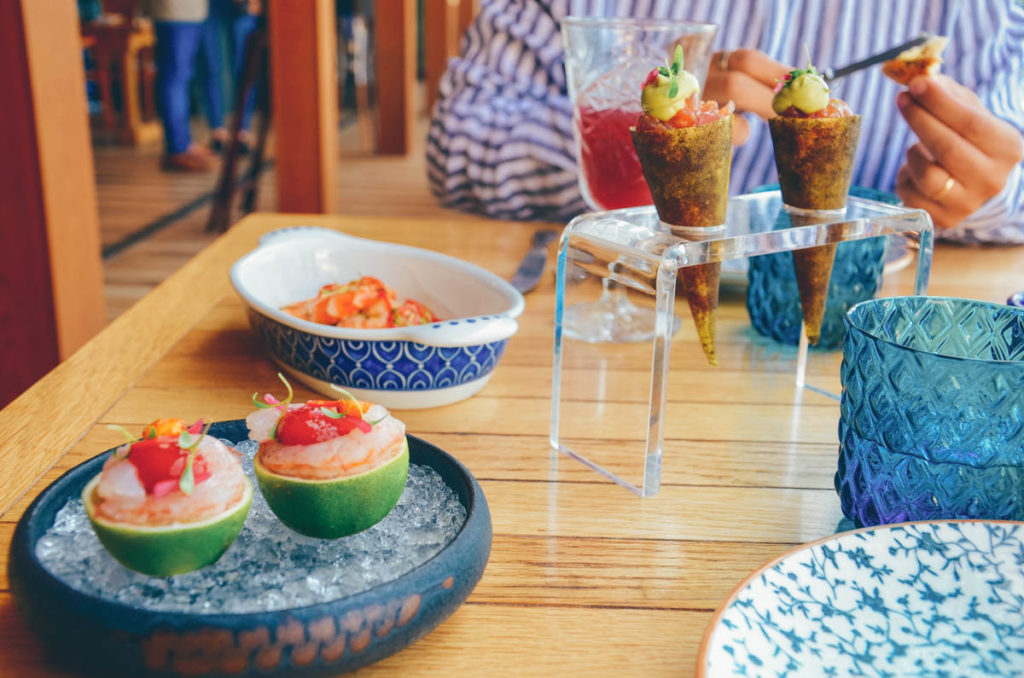 After feasting on the starters, it was time for the main attraction. What I love about tapas style restaurants is that you get to enjoy lots of different dishes in small amounts, by the time we got to our main course, we were so pumped with starters that we opted to share. The beef tenderloin stake, again suggested by the wise Joāo, was our choice. Topped with a fried quail egg and truffle, this dish was everything I could have hoped. The stake was prepared to perfection, so soft it gave you the illusion that it was melting in your mouth. Quail eggs have always been a staple in my house growing up, so this dish tasted like luxury meets comfort. My mouth is currently watering just writing about it. Please, Dear Reader, go to Tasca and try it.
To sweeten the palate, I ended my meal with the Hazelnut. This Jose Avillez classic includes several forms of hazelnut in one incredible little dish: ice cream, foam and freshly grated hazelnut. Sweet and salty, this was the "happily ever after" this magical meal.
If you still haven't gathered from this review so far: I loved Tasca. It's hard to be unbiased and objective when a restaurant is just ticks all the boxes. Foot, service, ambiance – they had it all. Congratulations to Jose Avillez, he really knocked it out of the park with this one.